Kirkpatrick contributes to Women Who Impact
Special to WC Online
KANATA – Kanata's Stacey Kirkpatrick is the lone Canadian contributor to the book Women Who Impact: A collection of powerful stories to reconnect, empower and impact your soul's journey, the fourth book in the Inspired Impact series.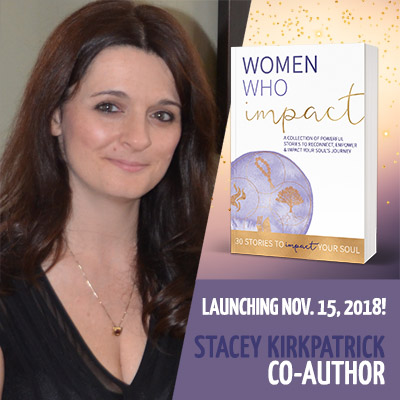 The book launched Nov. 15 and quickly became a #1 international best seller.
Kirkpatrick, whose parents live in Dunrobin and more family in Carp, is a former federal government worker who, in her own words, "broke free from the golden handcuffs" of a 17-year government job to pursue her passion.
Going back to school to complete a master's degree in counselling psychology, Kirkpatrick is now a registered psychotherapist in Kanata where she makes therapy more accessible.
"I tell people that with my sliding scale, I don't ask income questions, but rather ask people what they can afford, based on their budget, she said. "I want people to be able to continue service as long as they need, not as long as their insurance holds out. I never want finances to be a barrier to service."
Kirkpatrick says she has always been a writer, but when the opportunity to become a published author and contribute to this book arose, she jumped on it.
"I am humbled to have been chosen to contribute my story, amongst so many wonderful women who are doing amazing work around the world," she said.
The book is made up of 30 inspiring stories to 'reconnect, empower and impact your soul's journey.'
"It was a little terrifying, putting a piece of my story out there for the world to read, but if just one person gets something out of it, then it was worth it," Kirkpatrick said. "I have always wanted to share my story and this allowed me to dip my toe in and see how it feels to be so vulnerable."
Kirkpatrick says the experience has inspired her to move ahead on her auto-biography that tells the story of growing up poor in Ottawa and surviving years of sexual abuse that destroyed her self-esteem.
You can buy your copy of Women Who Impact on Amazon.ca and you can contact Stacey at StaceyKirkparick@gmail.com or through StaceyKirkpatrick.com.