Kids fish Buckham's Bay on new day
By Jake Davies - West Carleton Online
BUCKHAM'S BAY – It wasn't their usual day, but the Constance Bay Kids Ice Fishing Derby returned to Buckham's Bay Saturday (March 4) after a two-year absence due to COVID-19.
Originally the tournament was scheduled for its normal Family Day weekend (Feb. 19), spot. But a spell of warm weather had organizers Kevin and Shadine Robinson concerned about the quality of the ice. So they took another risk, postponing what would be the 14th edition of the fun fishing tournament.
Approximately 70 kids, from as far away as Stittsville and Carleton Place, reconvened, battling through more than 20 centimetres of snow that fell the night before, to take part in the return of the derby.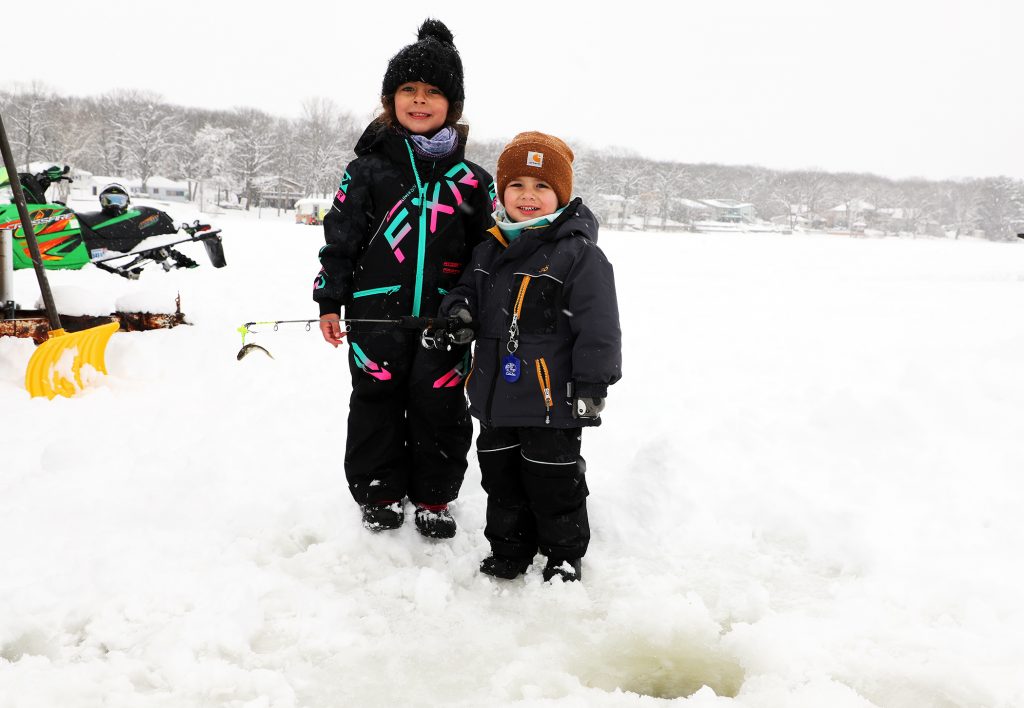 But besides the snow, the weather was perfect to be out on the hard water fishing, chatting around the fire and enjoying some top quality family time.
There were prizes and trophies, but more importantly, there was hot chocolate, marshmallows, snacks and drinks.
"After a couple of years, and COVID, we're back at it," Shadine told West Carleton from the bonfire just after noon. "Postponed again this year, two weeks, because of the ice conditions, but this year we're able to do it. We got the fire going, we got hot chocolate with marshmallows brought in by the local fire department. We got the hay bales brought in by John Smith. We got Lex bringing out the minnows, and the kids ripping around on the snowmobiles, and four wheelers and toboggans. The snow just hasn't stopped, and the kids love it. It's a fun day."
And the fish were biting.
"We've had a few in," Shadine said. "A couple little perch. And some big ones. Four pounds 11 ounces is the biggest one I think so far. A couple of two poundsers. And you just saw one little one come in over there. So, quite a few have come in already."
And Shadine says, no matter how big or small the fish are, it's just nice to have the tournament back.
"Oh it's good, it's happy," she said. "Just watching the kids come out and be able to be outside again is great. I think we're at 70 kids. A little smaller than we had the last couple years (in 2020 they had more than 140), but weather conditions prevailed with a couple of feet coming down. Family Day is obviously a good weekend to have it. There are some hockey tournaments and stuff happening this weekend, but it's good and happy to be out here."