Kelly: Summer fun
The Councillor's Column
Concerts in the Park
While the rainstorms may have tried to dampen our spirits, the West Carleton-March community, with lawn chairs in hand, came out in full force for another great Concert in the Park this past week. I was happy to be able to welcome the crowd and thank organizers before handing the microphone over to Jamie McMunn and Family Tradition.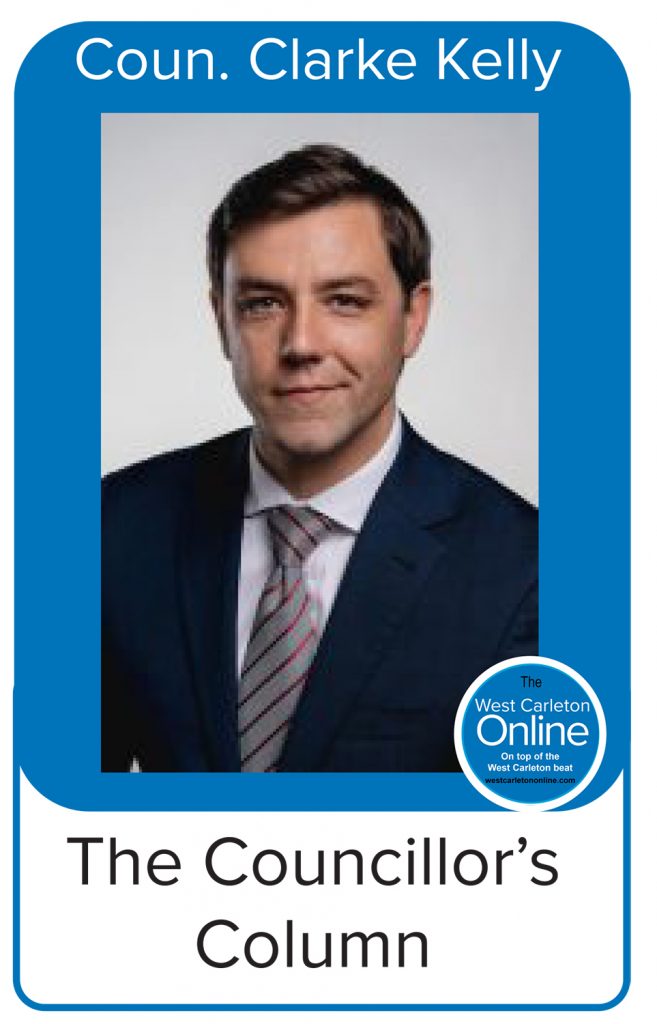 Last night, Ambush entertained a large crowd for the final concert of the series.
These wonderful events have been happening for decades and the free concerts in the park really bring the community together in the beauty of the Fitzroy Provincial Park. Money was raised for CHEO and West Carleton Disaster Relief (WCDR), and we thank all who donated for showing just what the people of Ward 5 can do when we come together in celebration.
Thank you to Waste Management, the major sponsor for this event, for continuing this important summer tradition. I would also like to acknowledge the work of West Carleton Disaster Relief in organizing the concerts as well as the West Carleton/Arnprior Scouts and Merge Robotics for their help in organizing parking and feeding hundreds of concert goers.
MVCA Flood Forecasting and Mapping
I met with staff from the Mississippi Valley Conservation Authority this week to discuss their work on flood forecasting and mapping, and all the important work they do to help inform our discussions about water use and planning. Their task can be a difficult one as they further the conservation, development, and management of watersheds from Constance Bay to Sharbot Lake.
We discussed the importance of clarity in flood warnings. We hope to be able to help people gain a better understanding of what might be in store for their property, without needing an advanced understanding of water management or environmental sciences.
We would like to help residents be better informed and more prepared to make the types of decisions that can save their property from rising waters. We discussed the challenges being dealt with in West Carleton-March and heard about the studies and work being done to help the City with its decision-making going forward.
Solid Waste Management and Trail Road Facility
I attended the first meeting of a Council Sponsors Group that's looking into solid waste management opportunities and options at the Trail Road Facility in Ward 21. We heard about the work being done to help the city manage its waste as sustainably as possible. We discussed options for helping all involved in this conversation come to a common understanding of the issues we face to help us work toward a solution.
We learned about the many projects happening, like a program that converts methane produced at the facility to energy. We also met with the team of trainers and hawks that help keep the facility clear of gulls for the safety of planes and the cleanliness of the water surrounding the area. It is encouraging to see natural solutions being undertaken to address the problems that come with running an operation of this size.
We received numerous communications from the Solid Waste group about what can be done with garbage in an effort to extend the life of the Trail Road facility. We will be sending these out to residents hoping that we can encourage a conversation about how we deal with our Solid Waste. I feel this is the most important part of our city's conversation about solid waste management. I would like to focus on education so that the previous policies that the City has put in place, have a realistic opportunity to work as intended before we start to look too far ahead.
I would like to encourage residents around here to use their recycling and green bins. Unlike garbage, our green bins are picked up weekly and using them helps to keep organic waste out of our landfill, reducing the accumulation of gases. Residents can ensure the cleanliness of their bins by locking and rinsing them often. Freezing organic waste is another option for those who have concerns about flies or other pests keeping their green bin unusable, especially in the warmer months.
Councillor's Award for WCSS Grads
Though we are in the middle of the summer I must underscore the importance of education. With this in mind, I sponsored a Councillor's Award for graduates at West Carleton Secondary School and was happy to present it to Jorja Jaakkola in recognition of her hard work and dedication to her studies. Jorja is pursuing a postsecondary education in Political Science and Law. I wish her nothing but the best in what, I am sure, will be a very bright future.
With July almost over, it feels like the summer is flying by and four weeks' worth of heavenly smells await those who visit the Carp Farmers Market during Garlic Saturdays in August. I look forward to seeing all of West Carleton-March out to enjoy themselves in the warm weather.