Kelly: Busy autumn begins
The Councillor's Column
The summer has come to an end and the business of everyday life is top of mind for many of our residents as the busy autumn season begins.
We have much to look forward to but also much to look back on and be thankful for. My first summer as your councillor has gone by too quickly but being able to join so many of you at events around the ward has been a true pleasure.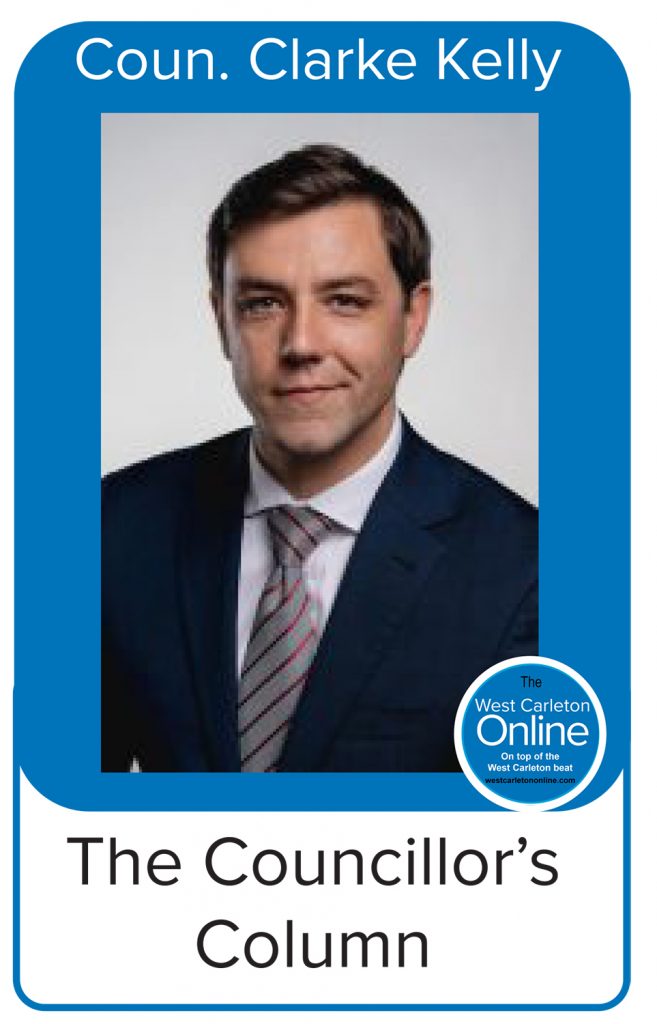 These past weeks, I got to visit the gorgeous building at St. Mary's North March Anglican Church to spend time at a corn roast with the community. I had the pleasure of meeting with 107-year-old resident Juanita Snelgrove and got to tour the church that opened in 1909 and was happy to immerse myself in the history that surrounds us in this beautiful area of the city with a very welcoming and enthusiastic group led by the equally welcoming and enthusiastic Rev. Dr. Alana McCord. I thank all involved for allowing me to join in the celebration.
2023 Plowing Match
I took a trip to the 2023 Plowing Match for the Ottawa Carleton Plowmen's Association and got a hands-on lesson in the fanciest tractor they had available and, while I was given the opportunity to recognize that my current occupation was likely a better choice than offering my plowing services, I am thankful for the demonstration of the skills required to undertake such work. It is important to understand what so many of the residents in our area do year in and year out to work the agricultural land that this ward has in abundance.
Ward 5 Community Association Presidents' Meeting

My office hosted a meeting of the local community association presidents to support collaboration between the associations and provide support and relevant information. We had a great round table discussion where the members worked together to find solutions to issues that affect all groups. This was the third of four quarterly meetings, and we were happy to host Donna Williams from the city who presented on the Community Partnership Program for minor and major funding. These meetings are an important part of my goal to better connect our residents with the work of city council.
Vacant Unit Tax
At the recent city council meeting, Coun. Laura Dudas introduced a motion to rescind the Vacant Unit Tax that was not voted on as it was replaced with a motion to continue the program but enhance aspects of its implementation to ensure it is better targeted.
I voted against this motion as I was hoping to see a vote on the original motion. I was disheartened to feel the legitimate concerns many residents of West Carleton–March had brought up about this tax were not being considered moving forward. I understand and appreciate the importance of affordable housing and have shown that, in my role as a member of the Planning and Housing committee, I welcome programs that generate revenue to be put into affordable housing projects. I do worry about how the program is being applied and would like to see more discussion of that topic in the future.
Waste Management Landfill on Carp Road
We held the first Public Liaison committee meeting of this term of council for the Waste Management landfill on Carp Road. As the Ward 5 councillor, I chair the committee that is working to provide input and guidance and make recommendations for all aspects of the landfill expansion project during both its development and its ongoing operation. We were happy to share updates on an expansion that focuses on waste diversion that is currently taking place at the site. We are excited to be a part of this work towards better waste management solutions.
The group will be meeting quarterly and providing the public with updates on the expansion project as well as operations moving forward. Minutes from our meetings and relevant information for the public will be posted at West Carleton Environmental Centre – About Us | Waste Management. Work is currently underway to update the information on this website and should be up to date soon.
School Transportation
Finally, parents in our ward have been struggling trying to provide transportation to their children to our schools. There have been many conversations with school boards, transportation authorities, and city groups to try to determine what can be offered. Living in the rural area of the city, our schools are spread out, often on gravel roads, and our students need to travel long distances for their studies.
The safety of our children is of utmost importance to all of us, and I have been stressing the need for a safe method of student transportation in each of these discussions. Our roads are not prepared for the increased traffic twice every day, and I have been ensuring that anyone with decision-making power is aware of this.
It seems that our area has been hit exceptionally hard at this time and may leave some feeling abandoned by their schools or the board. I am working trying to come up with solutions that are both safe and make sense for our community, but those options are limited. We may not find the solution overnight, but I will continue to work with the groups involved and impress upon them the importance of the safety for young students, many of whom live several kilometres from their schools.