KCSBN auctioning off team-autographed Senators jersey for Kanata Food Cupboard
By Jake Davies - West Carleton Online
WEST CARLETON – It's a jersey so nice, you put it on your wall, not your back.
Kanata-Carleton Small Business Network (KCSBN) founder and Kanata Food Cupboard (KFC) board member Dr. Rouba Fattal is auctioning off a one-of-a-kind Ottawa Senators jersey, signed by the entire 2020-2021 Senators' roster, in support of the KFC called the Sens 4 Kanata Food Cupboard.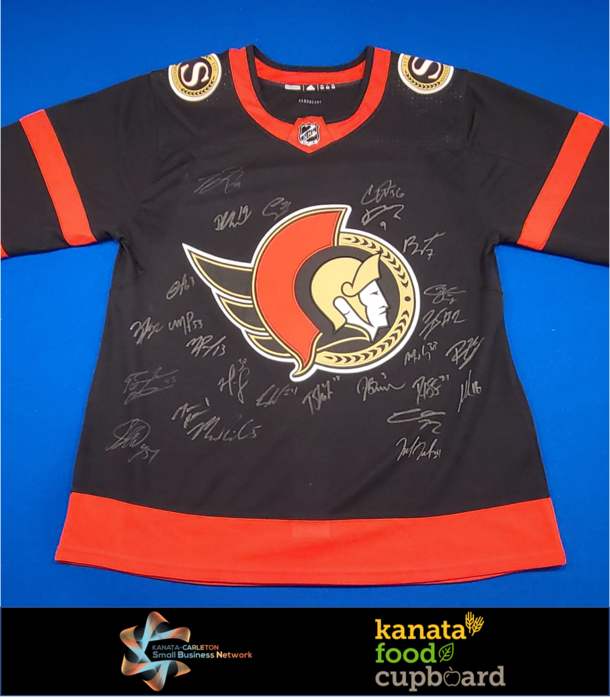 "Because of COVID-19 and the rising price of food, we have seen an increase in demand," Fattal told West Carleton Online Monday (Dec. 6). "We do a Christmas hamper, an Adopt a Family program and other things during the holiday season, but it's not enough."
On top of that, many of the KFC's popular fundraisers have had to be cancelled in the age of COVID-19.
Already a networking expert, Fattal visited her neighbour an Ottawa Senators player who did not want to be identified, looking for ideas to further support the KFC.
"I actually contacted him a while ago," Fattal said. "I thought he forgot. But he surprised me this past weekend."
He gifted her with the Senators new-look jersey, signed by every member of the 2020-2021 team.
"He said he's happy to support the KFC," Fattal said.
Fattal says the proceeds will go to support the KFC's Adopt a Family program – a program where families "adopt" a needy family to provide them with a Christmas dinner as well as some presents.
Now that she has her hands on the unique souvenir, Fattal wants to let the entire Kanata-Carleton community know about the auction.
"Now we need to get as many people informed as possible," Fattal said. "We want this gift to stay local."
Fattal thought a raffle might bring in more funds, but due to the requirement of a raffle license and the limited time left in the holiday season, Fattal felt the silent auction was the way to go.
"We don't have time for that," she said. "With a deadline of Dec. 21, that will give us time to prepare some gifts and food for the program."
The deadline to bid on the jersey is Dec. 21 at 10 p.m. The bidding starts at $500 and will increase in increments of at least $50. The winner will have to pick up the jersey at the KFC warehouse at 340 Legget Drive.
Fattal said when she came to Canada, she knew absolutely nothing about hockey, but now she is a fan.
"I'm learning a lot about hockey because of my neighbour," she said. "The KCSBN and the KFC both want to thank the Ottawa Senators. We did not expect such an amazing gift."
The jersey (or sweater for the older hockey-loving generation) is an Adult, size 52 Canadian (large) made by Adidas, the NHL's official jersey maker the last two seasons.
If you would like more information, or to bid on the jersey, click here.
To learn more about the Adopt A Family program please visit: www.kanatafoodcupboard.ca/adoptafamily.