HCC's Team LIKE wins first bonspiel
By Jake Davies - West Carleton Online
PEMBROKE – The Huntley Curling Club's (HCC) newly formed competitive girls U15 team is bonding quickly winning their first bonspiel of the year.
"Team LIKE is a newly formed competitive girls U15 curling team representing the Huntley Curling Club in Carp." coach Lou Frlan told West Carleton Online today (Dec. 9). "They were super proud to win the recently held U15 bonspiel at the Pembroke Curling Club."
The tournament was held that last weekend in November at the Pembroke Curling Centre. Team LIKE won both their games by identical 11-4 scores and managed a close overall win in the points-based bonspiel.
The team is made up of Carp's Erika Wainright, 12, Kanata's Katrina Frlan, 12, Kanata's Samantha Wall, 12, Carp's Lauren Norman, 11, and Kanata's Isabella McLean, 12.
Samantha is the team's spare but was called in to duty for the tournament when Isabella was unable to attend.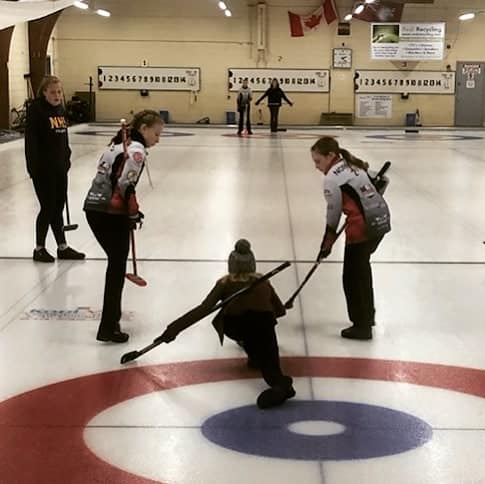 "The team practices twice a week at the HCC and competes in both the Ottawa Youth Curling League (OYCL) every Sunday and in the HCC Friday after school league," Frlan said. "Mixed into their busy curling season is a bonspiel about once a month. The girls love and have great enthusiasm for the game of curling and is supported by some great local sponsors who are proud to support the team."
Team LIKE receives sponsorship from Myers Ottawa Nissan, Ridge Rock Brewing Company, Kristine in the City, Cool Curling, Boston Pizza Kanata, Rycraft Construction and Pikaso Software Inc.
The young team, compared to most U15 curling teams, will be doing some fundraising in the near future. Team Like will be raffling off a "cool curling game table," and tickets will be available from team members and their supporters as well as at the HCC.
In other HCC news, the young Huntley Curling Club Little Rocks team competed at last weekend's Manotick Little Rocks Bonspiel and finished second. Unfortunately we were unable to connect with team supporters to provide any more information.