Flood: Ottawa River to peak Saturday
By Jake Davies - West Carleton Online
CONSTANCE BAY – While much lower than anticipated rainfall hit West Carleton Easter Weekend, the community is not out of the woods yet as the Ottawa River continues to rise.
Coun. Eli El-Chantiry updated West Carleton Online on flood conditions and the sandbagging effort as Easter Weekend comes to a close today (April 22).
"The Ottawa River Regulation Planning Board (ORRPB) told us today they expect the river will peak next Saturday (April 27)," El-Chantiry said. "Those are their best estimates and that can change."
The ORRPB said "significant spring runoff from the central and southern parts of the basin is expected to continue over this week, keeping flows and levels of the Ottawa River above minor flood levels in most locations," in a statement released today. "From Ottawa/Gatineau down to the Montreal region, water levels are expected to continue to rise slowly over the next few days. Conditions will remain close to major flood levels depending on precipitation and snowmelt runoff for the coming week. Reservoirs throughout the basin are being used to store runoff and minimize flooding."
Coun. El-Chantiry said the ORRPB is predicting the peak will be about 24 centimetres below 2017's peak.
El-Chantiry said that peak is still in the 'severe flood' level.
"Even with that, some of those vulnerable areas will be affected by that level," he said.
El-Chantiry visited areas along Bayview Road in Constance Bay and Armitage Avenue which runs along the Ottawa River – both spots are flood-prone. He said there are about six properties along Armitage that already have sandbags, but the river is now kissing those bags.
"We're planning for the worst, but hoping for the best," El-Chantiry said. "You can't be too prepared."
El-Chantiry said he is grateful for the city's help in ensuring efficient sandbagging facilities were set up a week in advance of the start of the northern spring freshet, and the volunteers who have donated their Easter Weekend to fill those sandbags.
"We can't say thank you enough," he said. "Everyone is volunteering. People are coming from everywhere and of course we have neighbours helping neighbours."
El-Chantiry said more than 500 volunteers filled more than 20,000 sandbags in West Carleton yesterday (April 21).
"We're overwhelmed," he said. "We were asking for volunteers in 2017 after that flood, we were asking for volunteers in 2018 after the tornado and now we're doing it again. It's really great to see the numbers coming out on Easter Weekend. We're so grateful."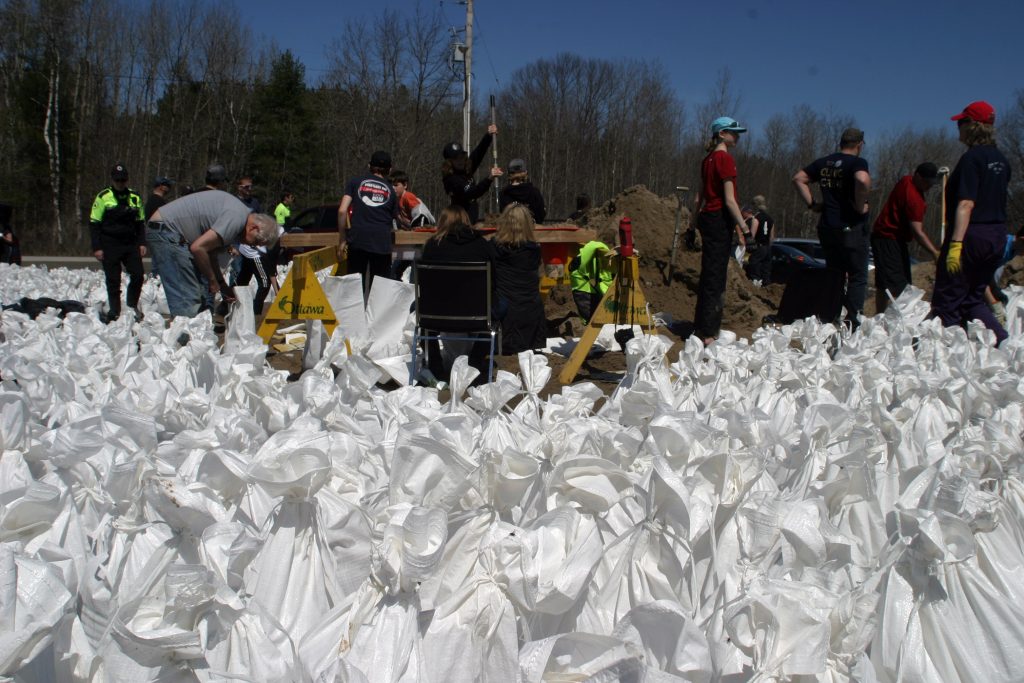 Today looks like another strong day of volunteer effort. The sun was out with a high of 17 Celsius it was perfect dirt-shoveling weather. Joining the volunteers in Constance Bay were tornado heroes, the West Carleton Warriors peewee team. As promised, the team and their parents continue to support the West Carleton community when called upon.
With the extended deadline, El-Chantiry says residents in flood-prone areas should continue to prepare for the worst.
"Now until Saturday please be prepared," El-Chantiry said. "People might look out their window today and say why? Even warm weather can cause issues by melting the snow too fast. Do whatever you can do to protect your property."
With 2019 signaling the second major flood threat to several communities along the Ottawa River in West Carleton, El-Chantiry doesn't think it's time to abandon the highly sought-after waterfront properties.
"The Mississippi Valley Conservation Area is going a great job with the new standards," he said. "The new regulations state you have to build to a 110-year flood level. That's why you see so many new builds look like they are on top of a mountain. Even those who live above the water are at risk during the spring thaw. It's not just the river, but ground water and the snowpack that can cause threats as well."