Farmers' market kicks off season in rain
By Jake Davies - West Carleton Online
CARP – There were two essential items for the first Carp Farmers' Market of the season last Saturday (May 8) – masks and umbrellas.
And if you didn't wear sensible shoes, you had wet feet.
Saturday was opening day for the Carp Farmers Market's 31st season and vendors and shoppers were met by a steady rain that pooled on the ground. But the weather was mild and even though it was a wet Saturday morning, hundreds still wanted to go to market.
It is the second year in a row for the popular market to open during the COVID-19 pandemic. The pandemic has changed things at the Carp Farmers' Market. What, for years, was a gathering spot for hundreds and possibly thousands of market goers each week has new rules and a new set-up (instituted last year) as West Carleton and the world navigates through a global pandemic. Families would spend the day shopping, buying prepared food from one of the several kiosks, enjoying live music and soaking it all in.
The pandemic ruined large crowds, and now market organizers encourage shoppers to be efficient, get their favourite products and move on so organizers can let in more shoppers. There is no live music or prepared food or even picnic tables to sit at. Traffic is one way; hand sanitizer and masks are everywhere; and volunteers can only allow a limited number of people in the market at one time. Still, the Carp Farmers' Market was something to do in a part of the world under strict stay-at-home provincial orders means there isn't much to do at this time.
Corkery jeweler Jacqueline Mahon was happy to have her Wrist Joy stand open for business.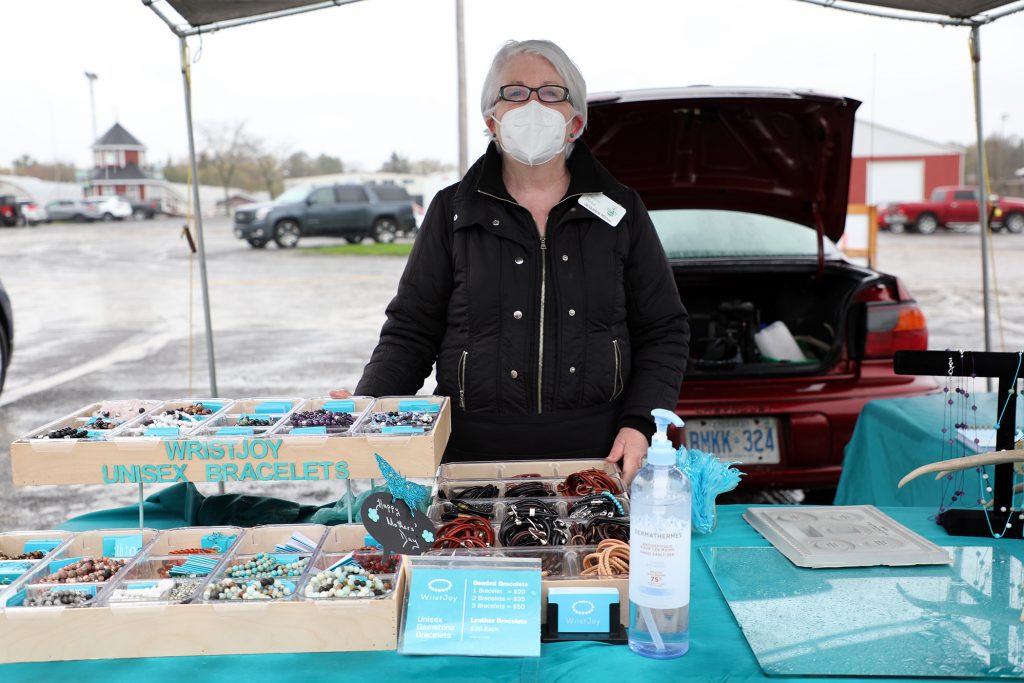 "Very different yes," Mahon told West Carleton Online Saturday morning. "I wasn't here all of last year because I was afraid to come due to COVID-19 for part of the time."
Mahon, whose stand used to be located in the Exhibitor's Hall, is happy to be back at the market despite the quiet morning.
"Today you can't really judge because of the weather, but the Christmas markets last November were as full as usual despite COVID," she said. "Today is very slow. Very, very slow, and you can understand why. People aren't coming out today. To be honest, if I was a customer, I wouldn't be coming out today. I've had a lot of my regulars come by and say it's too cold today, we'll be back next week. That sort of thing, because they know I'll be here for the season. Personally, I think it's the weather."
And she's right. While numbers were certainly down last year due to COVID-19, there was always a line-up to get in at the start of the day, and often that line-up existed for most of the morning.
"Before people would make a day of it," Mahon says of the pre-2020 Carp Farmers' Market. "They would go to the shops in Carp, they ate food here, they had their breakfast or lunch here, it was a day out. I used to be in the rotunda inside. Great people and a terrific atmosphere. Wonderful chats. Even if you didn't sell anything. Wonderful people and they were always in a really good mood. It was terrific."
Mahon, who has called Corkery home for more than 30 years, says all the market needs is a little bit better weather.
"Next week, if the weather is better, we'll have the same larger crowds out again," she said.
Although that, combined with COVID-19, is what kept her away for the early part of last year's season, Mahon has no concerns about the coronavirus.
"The precautions are incredible here," Mahon said. "You can see, you can't get close, you are actually closer than I would let customers get. It's very safe, I feel. Masks, hand-sanitizer is everywhere, you can't touch anything without sanitizing first. That sort of thing. And they are enforced, they're not just written on paper. Ennio (Marcantonio) the manager really makes it clear to us, the rules we have to adhere to, which I fully agree with because nobody wants to catch it. And all the customers, it's amazing, when I was here last November, we were really crowded but nobody crammed in, they kept their space, and everybody kept safe."
West Carleton Online ran in to two market regulars Saturday morning as well. Despite the rain, they were happy to be there.
"We were hoping for a nice day to open up, we were looking for that day, but unfortunately we got the rain, but there's still quite a few people coming in," Coun. Eli El-Chantiry told West Carleton Online.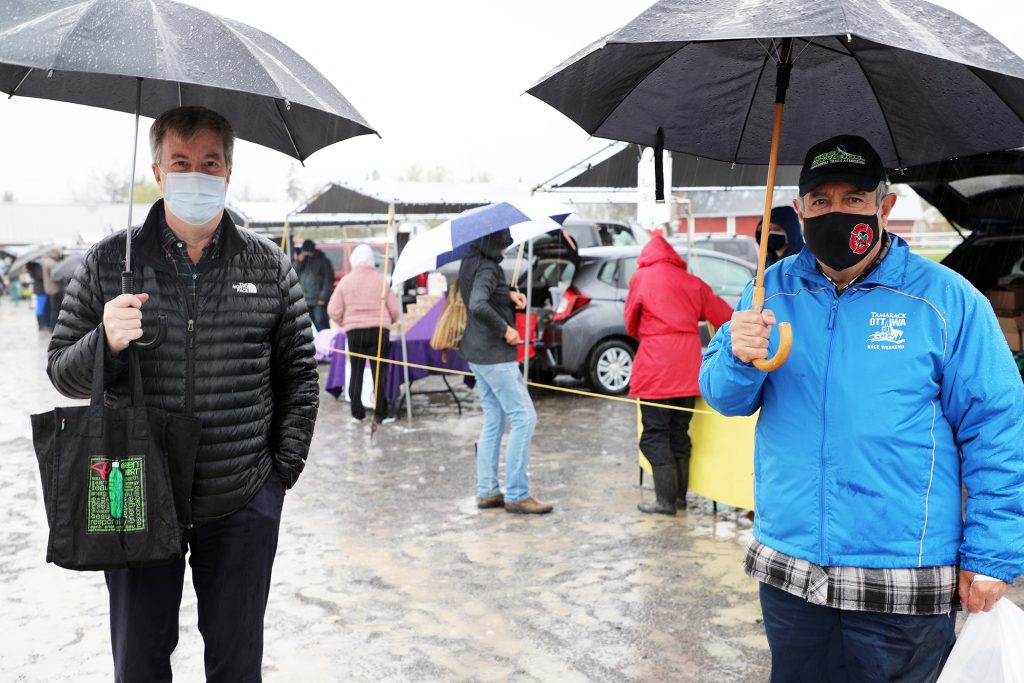 But even a smaller-than-normal opening day has its benefits.
"There's no line up today when we would normally wait for an hour, but there's no line ups today and there's still some pecan pies left, so that was important for me," El-Chantiry said. "We were really looking forward to the market opening. People like to come out and support the local farmers. We have farmers' markets across the city, and as a city councillor I am so proud to have them in the community. Kanata, Stittsville, all the way to Cumberland, this is great support for our local farmers and our local residents. If I have to be honest, I would say it's great even though its raining to come out to see the people, see the mayor, you get tired working from home staring at a tiny screen. Any excuse to get out safely, is good news."
The mayor El-Chantiry referred to was also happy to be at the market and back in Carp after a while away.
"On my way in I was just saying I miss coming to Carp because it's such a beautiful village and the farmers' market is always impressive," Mayor Jim Watson told West Carleton Online. "Unfortunate about the rain, but it's good for the crops and we still have a crowd coming out. The last time I was out was for the Easter market last year and it was packed. Today, no lines and I got my maple butter tarts so I'm all set for the week."