Fitzroy Harbour Winter Carnival
February 7, 2019 @ 5:00 pm

-

February 9, 2019 @ 5:00 pm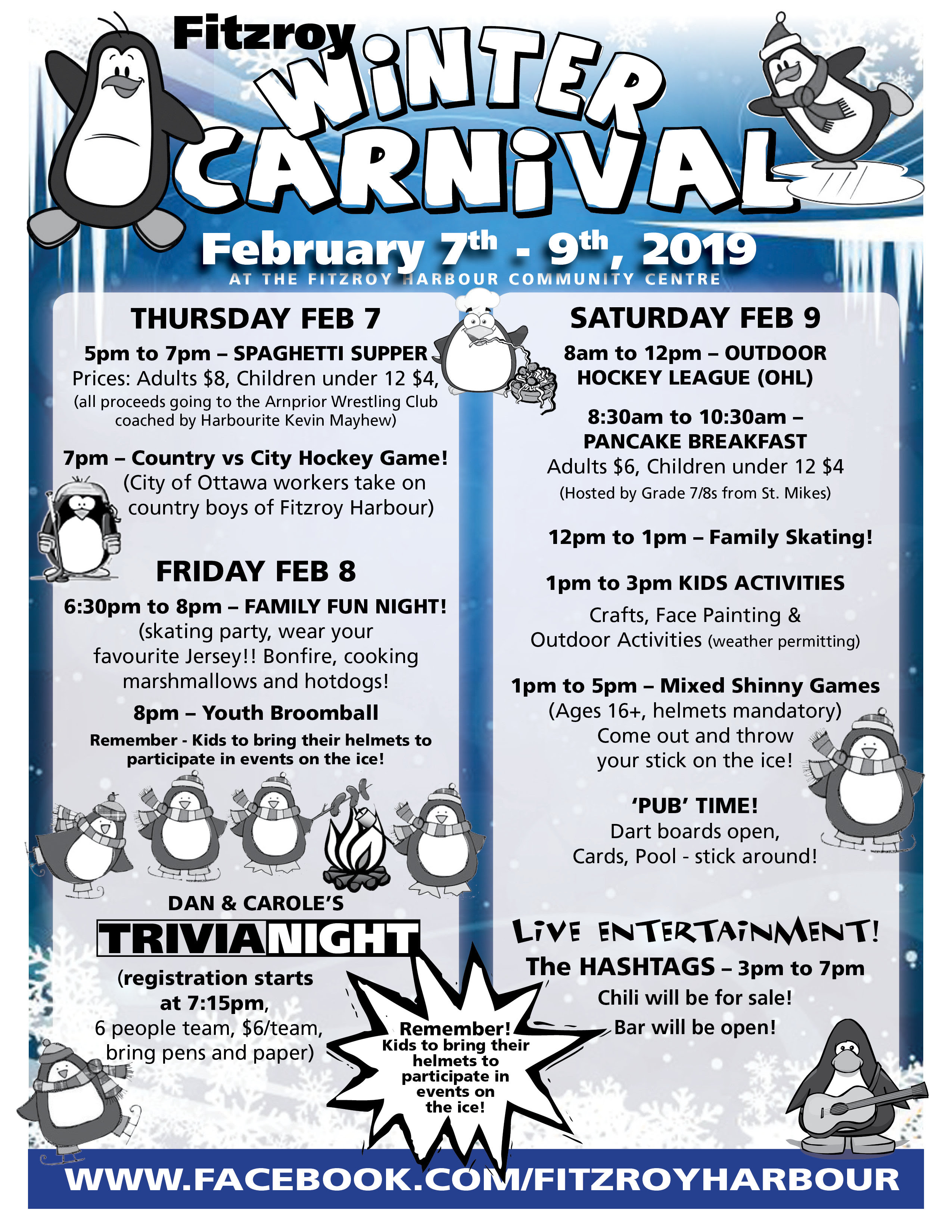 The Fitzroy Harbour Community Association Winter Carnival gets underway Thursday, Feb. 7.
The weekend kicks off Thursday evening with a Spaghetti Supper. Adults are $8 and children under 12 are $4. All proceeds go to the Arnprior Wrestling Club coached by the Harbour's own Kevin Mayhew.
At 7 p.m. a team of Fitzroy Harbour country boys will play hockey against a team of City of Ottawa staff on the ODR.
On Friday (Feb. 8) it's Family Fun Night from 6:30 p.m. to 8 p.m. There's a skating party (be sure to wear your favourite jersey) and a bonfire with marshmallows and hotdogs. At 8 p.m. youth can try their hand at broomball.
Also Friday night is Dan and Carole's world-famous Trivia Night. Registration starts at 7:15 p.m. Six people per team and it's $6 per team. Bring your own pens and paper.
There are activities scheduled all weekend. On Saturday, live music will be provided by The Hashtags who will play from 3 to 7 p.m. Come out for some music, homemade chili and cold beverages.
SATURDAY FEB 9
8 a.m. to 12 p.m. – OUTDOOR HOCKEY LEAGUE
8:30 a.m. to 10:30 a.m. – PANCAKE BREAKFAST
Adults $6, Children under 12 $4
(Hosted by Grade 7/8s from St. Mikes)
12 p.m. to 1 p.m. – Family Skating
1 p.m. to 3 p.m. – KIDS ACTIVITIES
Crafts, Face Painting & Outdoor Activities (weather permitting)
1 p.m. to 5 p.m. – Mixed Shinny Games
(Ages 16+, helmets mandatory)
Come out and throw your stick on the ice!
Pub Afternoon – cards, darts & pool
Live Band – The Hashtags – 3 p.m. to 7 p.m.