El-Chantiry: West Carleton storm update for May 26
The Councillor's Column
My team and I are doing everything we can to share news and updates on this wide-scale power outage, which has impacted our entire City, from West Carleton-March to Cumberland and beyond.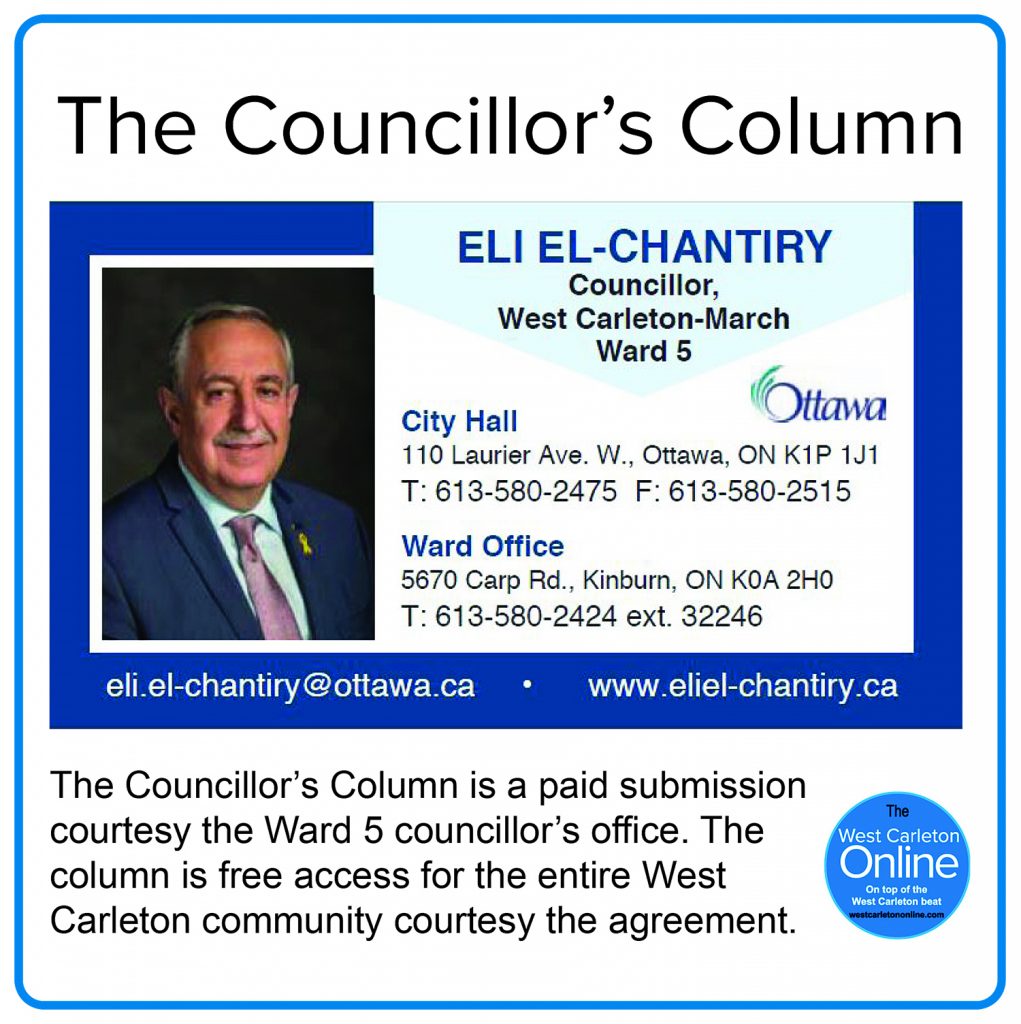 We continue to advocate to our contacts at Hydro Ottawa and Hydro One. We know many Ward 5 residents are suffering, frustrated, worried, stressed and feeling alone. I am heartened by the outpouring of support our residents have provided in support of their neighbours in need. An enormous thank you to neighbours helping neighbours.
Thank you to our firefighters for conducting wellness checks in our impacted communities. Please reach out to me if you are in need. Call 613-580-2424 ext. 32246 or email eli.el-chantiry@ottawa.ca.
We are working to respond to each enquiry, and we appreciate your patience.
Rural Residents
Mayor Jim Watson recognizes that Ottawa's rural residents continue to be without power and are facing unique challenges, with flooded basements and impacts to livestock, among other serious challenges. He is urging people to check on their rural friends, family members and neighbours. Mayor Watson has also asked Premier Ford for more Hydro One capacity in our rural areas, including West Carleton-March, Rideau-Goulbourn, Osgoode and Cumberland Wards.
Emergency Reception Centres
The City's emergency reception centres remain open daily 10 a.m. to 10 p.m. until at least the evening of Friday, May 27 to provide amenities for those in need. The weekend schedule for these centres will be forthcoming. The W. Erskine Johnston Arena in Carp is open 10 a.m. to 10 p.m.
Residents in need can access washrooms, showers, fill containers with potable water, charge their devices and pick up bottled water. The Constance & Buckham's Bay Community Association has opened the Constance Bay Community Centre 6 a.m. to 9 p.m. daily. Impacted residents can charge their devices and access washrooms, accessible washrooms and a very large accessible shower. For the full list of reception centres where impacted residents can access a range of amenities, please visit www.ottawa.ca/stormrecovery.
Food Resources Available
The City of Ottawa is partnering with community agencies to connect residents in need to food resources during the storm recovery. Food resources, including home delivery and pick-up options, are available throughout the city. To find a food resource near you, visit ottawa.ca/resident-support.
Residents in need can also call 211 for information on government and community-based health and social services, including food resources.
Residents affected by the power outage who are in need of financial help can also complete an application and be assessed for emergency assistance for loss of food, and in exceptional circumstances, help with medication, medical supplies or personal care. To apply, visit the online application for emergency assistance or call 311 and select option 4. If you are already in receipt of Ontario Works, please call your case worker directly.
**Please note 311 is experiencing a higher number of calls than usual. Ottawa residents are asked to remain patient as workers respond to calls as quickly as possible
Food Waste Bins
Food waste bins will continue to be stationed in locations across the City until at least the evening of Friday, May 27. A food waste bin is located at the Constance Bay Community Centre at 262 Len Purcell Drive. A food bin is also stationed at the CARDELREC Recreation Complex Goulbourn in Stittsville at 1500 Shea Road. The full list of food bin locations is available here: www.ottawa/ca/stormrecovery.
Curbside Collection
The City's curbside collection of garbage, green bins and recycling continues. Residents are asked to leave their smaller leaf and yard waste in bags at the curb for regular collection. City staff are currently developing a plan for larger tree debris, including tree trunks and tree stumps. My office will share that information as it becomes available.
Additional green bin collection – Tomorrow (May 27) – Dunrobin area
Please ensure all packaging is removed from food before going into the bin and place your green bin at the curb for collection.
This is in addition to regular scheduled pick up. Place your green bin out by 7 a.m. tomorrow, May 27 along these routes in the Dunrobin area:
Dunrobin Road in the approach to Thomas A Dolan Pkwy, up to West Carleton Secondary School
Thomas A. Dolan between Constance Creek Drive and Woodkilton
Porcupine Trail
Cricket Crescent
Grasshopper Lane
Galway Street
Casey Creek Lane
Constance Creek Drive
Duck Pond Lane
Blackberry Way
Windigo Way
City Updates
You can also sign up to receive City of Ottawa news and updates here: https://app06.ottawa.ca/esubscriptions/signup-form-en.html
Volunteer Opportunities
Information will be forthcoming about volunteer opportunities in response to the many offers of help by people wanting to assist with clean-up and recovery efforts. City staff and community agencies, as well as firefighters, continue to make wellness visits in impacted communities.
Your safety
For your safety, please rely on flashlights rather than candles, if possible. Generators must be operated outdoors and not in your home or garage due to the risk of carbon monoxide poisoning.
Stay Connected
If you or your neighbours and loved ones do not have power and are without Internet, please tune in to local radio stations for updates if you have a battery-operated radio. CBC Ottawa: 91.5FM, CFRA 580 AM, CityNews: 1310 AM or 101.1 FM.
Power Outages
Ward 5 is unique in that West Carleton-March is served by Hydro Ottawa and Hydro One. My team and I continue to communicate daily with our contacts at Hydro Ottawa and Hydro One, ensuring they are aware of impacted streets in our communities.
If you have not already done so, please let me know your address by emailing me at eli.el-chantiry@ottawa.ca or call and leave me a voicemail at 613-580-2424 ext. 32246.
Hydro One
A team of more than 3,200 power workers, including resources from out-of-province utilities and contractors, have restored power to more than 652,000 customers affected by Saturday's devastating storm. Crews continue to work tirelessly through the widespread and significant damage to make repairs, rebuild local electricity infrastructure and restore power to the more than 61,000 Hydro One customers who are still without power.
The company anticipates power will be restored to 99 per cent of customers affected by the storm by Friday evening. Due to the severity of damage, some customers in rural, remote and island locations in the Perth and Bancroft areas that will be without power for several more days. In the Tweed area, a small number of customers may be without power for several more weeks due to the extraordinary level of damage.
Hydro One has seen a record 1,900 broken poles and the company is working closely with its suppliers to ensure crews have the necessary materials to make repairs.
When rebuilding after a storm, Hydro One prioritizes restoration to bring power back to the greatest number of customers in the shortest period of time. Crews need to repair and rebuild main power lines along with other key pieces of infrastructure before repairs can be made to power lines that serve smaller numbers of customers.
It is critical to stay at least 10 metres back from a fallen power line, even if it does not appear to be live. Report it to the police and call Hydro One at 1-800-434-1235.
Customers can report and track the status of their outage using the company's outage tools, including its map and app, by texting WATTS (92887) or calling 1-800-434-1235.
Hydro Ottawa
As of May 26, power has been restored to more than 137,000 Hydro Ottawa customers. Approximately 46,000 Hydro Ottawa customers are still without power. City staff and hydro crews are making progress restoring power and reopening transportation networks. Electrical crews from across Canada and the United States are here working to re-energize the system.
At the peak, approximately 180,000 customers were impacted and there were 1,000 outages across Ottawa. Hydro officials say that this weather event was unprecedented with 190 km/h winds. Hydro infrastructure suffered catastrophic damage. They say this storm was 4-5 times worse than the 2018 tornadoes. They are working to replace more than 300 damaged poles and counting.
The bulk of Hydro Ottawa customers are expected to have power restored by tomorrow night. However, there may be pockets of impacted neighbourhoods still without power beyond Friday night due to damage and debris. It will take time to reconnect everyone but Hydro Ottawa assures residents it has the resources and crews needed to do the work.
Hydro Ottawa continues to work on its outage map, which has been experiencing difficulties this week due to the sheer scale of the damage to its infrastructure system across the entire City.
If you are concerned you haven't seen Hydro Ottawa crews and trucks in your community, please know this does not mean they are not working on the problem. Hydro Ottawa's system is highly automated and controlled centrally. Hydro Ottawa can and does move power around from other parts of the city, so a physical presence is not necessarily needed.
Hydro Ottawa is working to get the power back to its bulk system. The bulk system is the main power lines going into a community. Within that community, there are "branches" off of the main system that lead down streets and avenues, etc. Hydro Ottawa's experience with this storm is that they energize the system hoping to pick up 1,500 customers in a community and only end up picking up 1,200 because there are trees and other debris that have taken down part of that branch network. Even when they power up the system, there may be stranded and isolated pockets within communities that will not be powered. Additional work is required in those areas. The good news is that Hydro Ottawa has lots of crews and staff to get to these areas. They will continue with their 24/7 repair efforts until the work is done.
A message from Rogers re: Internet Outages
Following the storm in Ontario causing severe and extensive damage to trees, infrastructure and power, close to 95 per cent of Rogers services are now back online. Specifically:
Our crews have mobilized dozens of portable generators to bring sites back online while prioritizing areas with critical services such as police stations, hospitals, and long term care facilities.
We're working closely with Hydro Ottawa and our teams will continue working around the clock until full restoration.
As the hydro crews restore power and leave an area, our teams move in to re-run damaged distribution cables and resolve outstanding issues.
Rogers crews from Atlantic Canada have travelled to the region to help with the restoration.
Once services are restored, customers may still need to restart their modem and other services.
Ward 5 & City Resources
City of Ottawa Storm Recovery updates and resources: https://ottawa.ca/en/health-and-public-safety/emergency-preparedness/storm-recovery#support-residents-need
Emergency financial assistance: Click the following link to access the online application or call 3-1-1, selected 1 for English, 4 for Social Services, then 3. https://ottawa.ca/en/family-and-social-services/employment-and-financial-assistance#financial-support-individuals-who-need-urgent-help.
Community supports
West Carleton Food Access Centre
The West Carleton Food Access Centre provides emergency food assistance to West Carleton residents. Please email wcfoodaid@gmail.com or leave a voicemail by calling 613-832-5685.
Western Ottawa Community Resource Centre
The Western Ottawa Community Resource Centre, which provides many services to West Carleton-March residents, offers crisis support services, among other supports. If you are feeling overwhelmed, down or anxious and need someone to talk to, you are welcome to access the centre's crisis walk-in hours.
Monday 8:30 to 11:30 a.m.
Tuesday 1 to 3:30 p.m.
Wednesday noon to 7 p.m.
Thursday 1 to 3:30 p.m.
Friday 1 to 1:30 p.m.