El-Chantiry: Ward 5 weekly news, May 4
The Councillor's Column
COVID-19 – LATEST NEWS
Lower age limit for community clinics: Beginning Thursday, May 6 at 8am, all Ottawa residents age 50 and over (born in or before 1971) can begin booking appointments to receive the COVID-19 vaccine at community clinics. In addition, priority populations who have been only able to book via the provincial call centre will now also be able to book online, including individuals with the highest risk health conditions, child care workers in licenced child care settings and education workers who provide direct support to students with special education needs. Visit Ontario.ca/bookvaccine to access the provincial booking system or call the provincial vaccine booking line at 1-833-943-3900 between 8am and 8pm, seven days a week. Only book or call if you are eligible.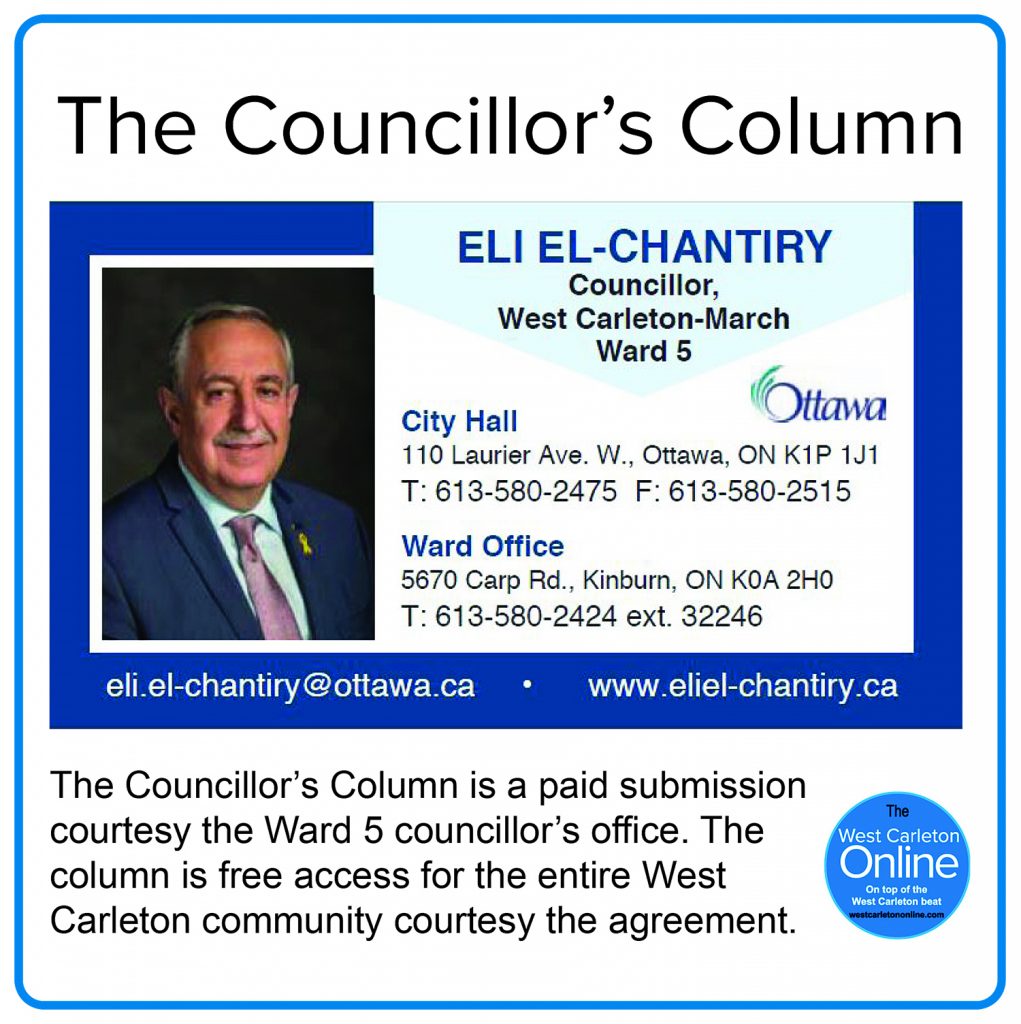 Lower age limits for "hot spot" communities: The Province has lowered the age limit for individuals living in one of the three provincially defined "hot spots" that have postal codes beginning with K1T, K1V or K2V. Residents 18 and over (born in or before 2003) living in one of these areas, can also visit Ontario.ca/bookvaccine to book an appointment at one of the City's community clinics. When you book your appointments through the provincial booking system, you will receive a confirmation code. Please bring this code with you when you go to your appointments. If you do not have a confirmation code, your appointment was not successfully completed and you will need to revisit the provincial booking system or call 1-833-943-3900 to book your appointment.
Voluntary Isolation Centre: Ottawa has recently opened a Voluntary Isolation Centre (VIC) for people who do not have access to an adequate shelter or cannot self-isolate safely in their own homes. There are no costs associated to stay at the Centre. This is an opportunity for people to rest and recover, without fear or anxiety of transmitting the virus to their family, loved ones, roommates and others they live with. Voluntary isolation is a proven way to help reduce the risks of spreading the virus among household contacts. The VIC provides a secure, comfortable and private space to self- isolate and is part of the emergency response of Ottawa Public Health (OPH) for the COVID-19 pandemic. Do you need help to self-isolate? If yes, please call 613-580-2424 ext. 25890 or email OPHisolationcentre@ottawa.ca for more information on how to apply. CLICK HERE for more details on the Volunteer Isolation Centre. (Please note that OPH is obligated to provide your COVID-19 status, either positive or not positive, to the hotel so that they can take the necessary infection prevention and control measures. Your COVID-19 status will only be shared with the necessary staff.)
Request to reopen outdoor activities: On April 28, I signed a letter along with 15 of my Council colleagues, which was sent to Premier Doug Ford to urge the provincial government to consider reopening outdoor recreational activities that can be safely enjoyed in a physically distanced manner, including golf, tennis and pickle ball. The City of Ottawa has not yet received a response, but I remain hopeful this request is being considered by Premier Ford. CLICK HERE to read letter in its entirety.
CARP FARMERS' MARKET – OPENING DAY MAY 8
Opening day of the 2021 market season for the Carp Farmers' Market is set for Saturday, May 8 from 8:30am to 1pm at the Carp Fairgrounds. All COVID protocols that the Market implemented last season will remain in effect for this season in order to operate in a safe manner during the pandemic. Please read their COVID protocols before attending the market. The Market will run Saturdays until October.
DRAFT COMMUNITY EMERGENCY MANAGEMENT TOOL KIT & TEMPLATE – PUBLIC FEEDBACK
Emergency Preparedness Week is May 2 to May 8, which is a national event asking Canadians to take action to become better prepared for a range of emergencies in their region. Our Ottawa community has responded to several significant emergency responses over the course of the past few years (tornadoes, flooding and the pandemic to name a few!). The relationship between the City of Ottawa and community partners is vital. To support communities in understanding how they can increase their preparedness, the City of Ottawa's Office of Emergency Management has developed a draft 72-hour community plan template and tool kit for its use.
The City is now seeking feedback from residents and community groups. The draft Community Emergency Management Tool Kit & Template is posted on Engage Ottawa along with a short survey, which is available until May 28, 2021. The public is encouraged to take some time to review the Tool Kit and Template prior to taking the survey to help inform the feedback.
Once the community engagement feedback period has closed, staff will incorporate resident's feedback and finalize the Community Emergency Management Tool Kit and Template.
CARP HEALTH ACCESS – GIVESHOP
Carp Health Access recently partnered with a new and innovative online marketplace called GiveShop, whose unique business model allows users to donate or purchase gently used items with sale proceeds benefiting not-for-profit organizations such as theirs. Here's how it works: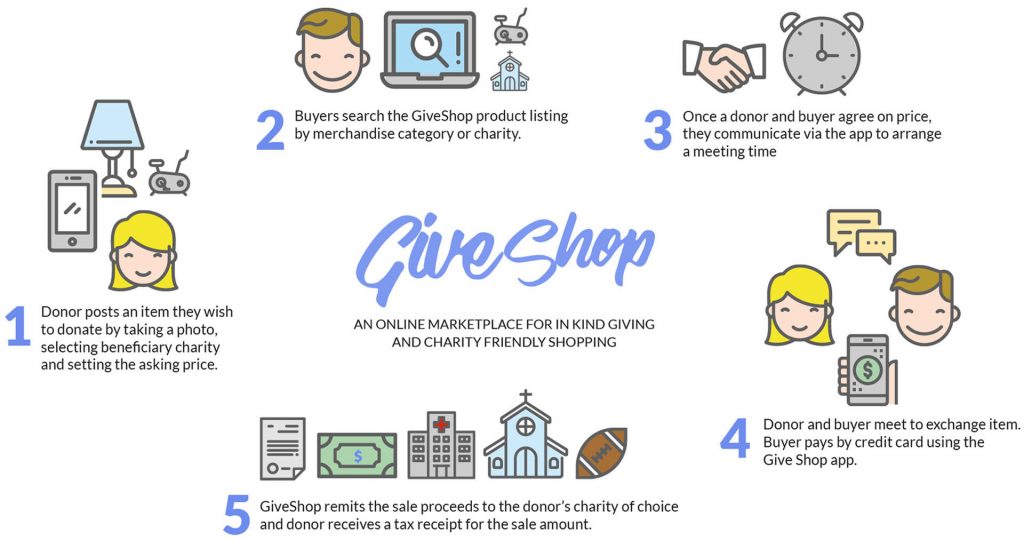 Until recently, GiveShop has only been available through their mobile app, but they have just finished launching their online version with full eCommerce capabilities! This means you can easily access the marketplace through your desktop computer, just like you would with Kijiji or Facebook Marketplace. The only difference is items purchased through GiveShop go directly towards the benefit of the greater good. Now more than ever, not-for-profit organizations need your support, and Spring is a great time to consider donating one or two of those no-longer-needed items that have been gathering dust or taking up space in your closets, basement, garages or storage units. An added bonus is that item donors receive a tax receipt when their item sells!
On the flip side, there are also many great deals to be had and no shortage of unique and interesting items to choose from. You can make your purchase with the knowledge that proceeds are going towards a good cause and that you're helping to keep items out of landfills! Please visit CHA's dedicated marketplace HERE. All the items you'll (eventually) see are in their marketplace are in support of many great causes. As they are just getting started with this, you may not see a lot of items right away. More items will appear as awareness spreads. GiveShop invites you to please consider donating an item to help them populate their marketplace.
CITY OF OTTAWA SUMMER CAMPS VIRTUAL & IN-PERSON
The City of Ottawa has released the eGuides for COVID-modified summer in-person day camps for ages four to 12 years old. But for those who want to stay home, there will also be a great selection of virtual options. Please note that the decision to start in-person camps and activities will be on the condition that the current COVID-19 situation improves, and municipal and provincial restrictions are relaxed. Registration starts on May 5 at 9 p.m.
2021 WILD PARSNIP STRATEGY
The City of Ottawa's 2021 Wild Parsnip Program will start on May 25, 2021, weather permitting. Similar to past years, the goal is to reduce the growth of wild parsnip in highly infested areas while ensuring the environmentally sensitive areas and public safety are not adversely impacted. The City of Ottawa may be applying herbicides adjacent to resident properties to control and reduce the infestation of wild parsnip. Highly infested areas along rural roadsides and pathways will be treated. The herbicide Clearview has been selected considering its effectiveness to control wild parsnip, the protection of public health and environmental impacts. Wild parsnip is identified as a noxious weed by the Ontario Ministry of Agriculture, Food & Rural Affairs. Toxic sap found in wild parsnip leaves, stems and flowers can cause severe skin rashes and makes skin hypersensitive to sunlight. Rural residents who do not wish to have the roadside adjacent to their property sprayed can opt-out of the program. Residents can opt out by completing the online form at ottawa.ca/wildparsnip by May 14, 2021 or by calling 311. Please note, residents opting out of this program, will be responsible for removing and controlling the wild parsnip infestation on the City right-of-way and on private property.
HUNTLEY TOWNSHIP HISTORICAL SOCIETY UPCOMING MEETING
On Tuesday, May 18, 2021 at 7:30pm via Zoom, the Huntley Township Historical Society presents Charlene Johnston: The History of the Johnstone Family from Scotland in the 18th century to Northern Ireland and finally to Huntley Township in 1818. Topics include emigration, religion, births, marriages, deaths, military service and culture. Charlene is the 6th generation of the Johnston family in Huntley. Everyone welcome. Register at huntleyhistory@gmx.net to receive the meeting identifier and password. To download and install Zoom software go to zoom.us/download and choose "Zoom client for meetings."
UPCOMING ARAC MEETING – MAY 6
The Agriculture & Rural Affairs Committee's (ARAC) next regularly scheduled meeting is taking place on Thursday, May 6 at 10am. The meeting is being held through electronic participation. The general public can review the agenda here and can watch the meeting live via the City of Ottawa's YouTube channel. Anyone interested in providing written or oral comments on any of the items on the agenda can do so by 4pm on Wednesday, May 5. Please contact ARAC's Committee Coordinator for more information and assistance: marc. desjardins@ottawa.ca, 613-580-2424 x28821.