El-Chantiry: Ward 5 weekly news, March 23
The Councillor's Column
COVID-19 – LATEST NEWS
Pop-up clinics in rural communities: If you are age 75 or over (born in or before 1946) or an adult recipient of chronic home care, and you live in a rural community, you will be able to book your appointment at a pop-up clinic starting today. Rural clinics will be available at the following locations:
West Carleton Community Complex
Greely Community Centre
Navan Memorial Centre
Osgoode Community Centre
R.J. Kennedy Memorial Centre
Richmond Memorial Arena and Community Centre
The rural pop-up clinic schedule for West Carleton-March is:
Thursday, April 1
Friday, April 2 (Good Friday)
Saturday, April 3
If you live in Ward 5 (West Carleton-March), call 613-691-5505 to confirm your eligibility and book an appointment. Please remember that walk-ins will not be accepted, so book your appointments in advance.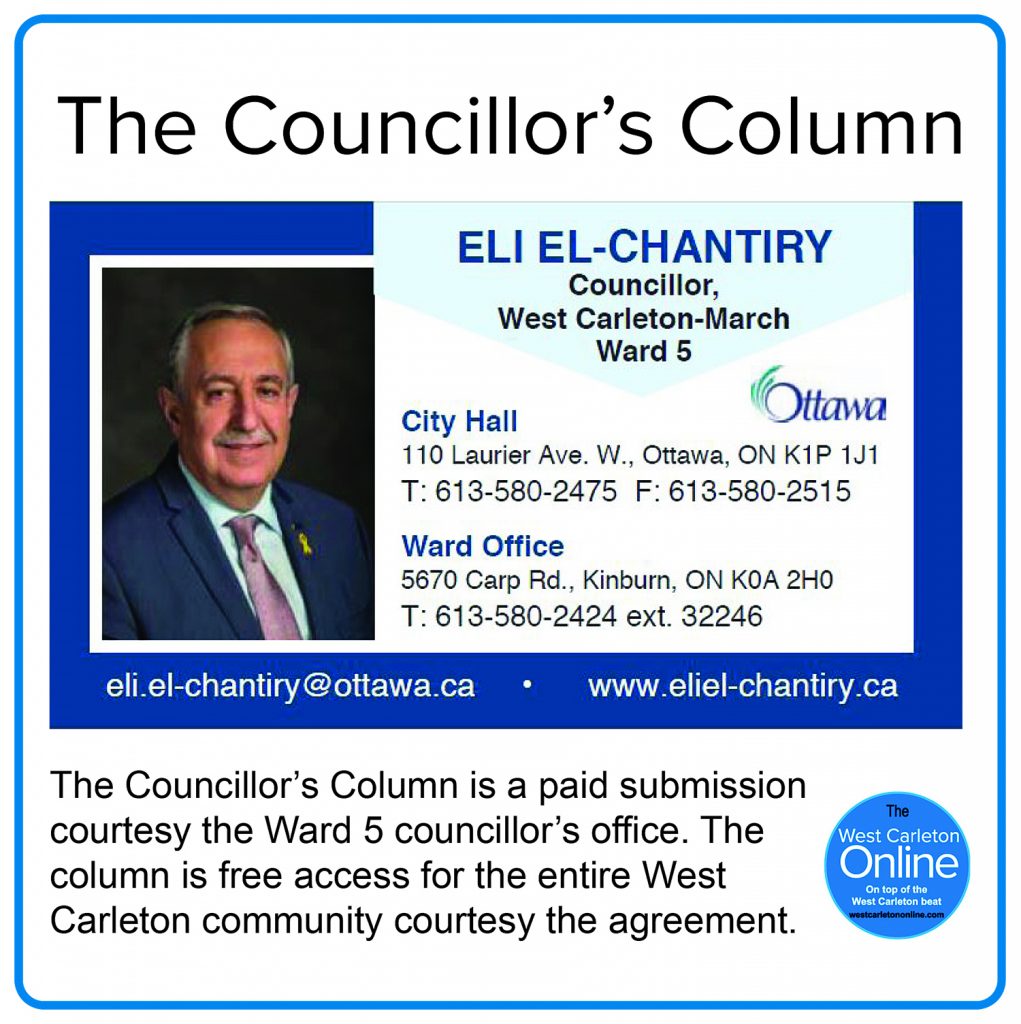 Before trying to book your appointment, confirm your eligibility using Ottawa Public Health's COVID-19 vaccine eligibility tool. PLEASE NOTE: If you want to book your appointment at the West Carleton Community Complex pop-up vaccination clinic happening April 1, 2 and 3, you must call 613-691-5505 to make the appointment. You cannot book pop-up clinic appointments via the Province of Ontario's online or telephone booking system. Western Ottawa Community Resources Centre (WOCRC) offers West Carleton-March residents with accessibility needs rides to a vaccination clinic. Residents can call WOCRC at 613-591-3686 to schedule a drive.
My office has received a number of inquiries relating to this latest round of vaccination appointments for the 75+ age group and the pop-up clinic taking place at the West Carleton Community Complex. There have been a few glitches with messaging coming from Ottawa Public Health (including incorrect address information for the West Carleton Community Complex). We have contacted City Staff and Ottawa Public Health to ensure all future messaging going out to the public is accurate. This mass vaccination is a huge undertaking and the messaging is constantly evolving as vaccine roll-out progresses. I do apologize for the confusion inaccurate messaging may have caused and I ask for your continued patience when booking your vaccination appointments. To reiterate, if you live in West Carleton-March and are aged 75+ or an adult recipient of chronic home care, and want to book your vaccination appointment at the West Carleton Community Complex at 5670 Carp Road, you must call 613-691-5505 to schedule your appointment. Residents looking for general information regarding COVID-19 and the vaccination program should call Ottawa Public Health directly at 613-580-6744.
All residents 75 and over can now book to receive a COVID-19 vaccination: Starting March 22, all Ottawa residents age 75 and over (born in or before 1946) can begin booking appointments to receive the COVID-19 vaccine. Visit Ontario.ca/bookvaccine to access the provincial booking system or call the provincial vaccine booking line at 1-833-943-3900 between 8am and 8pm, seven days a week. Only book or call if you are eligible. Appointments will be available at four community vaccination clinics:
Nepean Sportsplex (now open)
Ruddy Family YMCA-YWCA (now open)
Eva James Memorial Community Centre (opens Tuesday, March 23)
City Hall (opens Tuesday, March 23)
To enable physical distancing and to reduce the number of people in the clinic, please arrive for your vaccine no more than 10 minutes before your appointment time.
Ottawa has moved into Red Control Zone: On March 19, the City of Ottawa moved back into the Red-Control Zone due to COVID-19 cases rising in Ottawa. CLICK HERE to read messaging from Dr. Vera Etches regarding this move to the Red Control Zone. Below is a graphic that illustrates the differences residents will experience moving from the Orange to Red Level.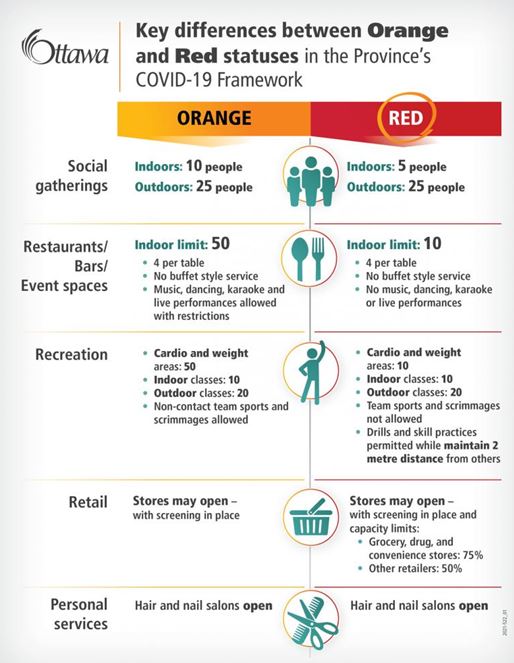 Some community clinic vaccination appointments to be re-booked: Some Ottawa residents who have COVID-19 vaccination appointments booked through the Province of Ontario system for the March 23-25 period will have those appointments re-booked, due to scheduling issues within the Provincial system. Vaccination appointments at community clinics, mostly at Eva James Memorial Community Centre in Kanata and Ruddy Family YMCA-YWCA in Orléans, were double booked due to a data-entry error. The Province is re-booking the appointments. If your appointment is affected, you will receive a call to re-schedule or an email from the Ministry of Health advising you to call the Provincial Vaccine Booking Line at 1-833-943-3900 to reschedule your appointment. People with appointments, who are not contacted by the Province, should show up for their appointments as planned.
NEW OFFICIAL PLAN QUESTION & ANSWER SESSION
Ottawa residents are invited to a public Official Plan Q&A session on March 24 from 6 to 8pm. The City of Ottawa has received many questions regarding the new Official Plan and they're looking to provide answers. Residents can register for the meeting here: https://bit.ly/3vQ43mT and can submit questions ahead here: https://bit.ly/3r2L1WC.
PATIO SEASON BEGINS IN OTTAWA
With Ottawa now in the COVID-19 Red Control Zone, patio season for restaurants/bars has been fast-tracked. Any restaurant/bar/business that had a patio last summer or during this winter can start their patio season. Please make sure:
– Your business has required insurance
– Your business respects accessibility standards
– You follow up ASAP with patios@ottawa.ca with your application
Patios patrons must be seated a minimum 2 metres from other patrons or impermeable barriers required between tables. There is also a limit of 4 patrons seated together.
Please note, Ottawa City Council recently approved the "2021 Patio Innovation Program" for restaurant/bar patios for spring and summer 2021. Under this program, bar and restaurant patios are allowed to stay open until 2am, so long as the City is in the COVID Green Zone. Since Ottawa is now in the Red Control Zone, this 2am timeframe does not apply. Under the Red Control Zone, last call is at 9pm with a 10pm closure for all establishments.
ONTARIO POWER GENERATION – TELEPHONE TOWN HALL
Ontario Power Generation invites residents to a telephone town hall on Tuesday, March 23. The meeting will focus on OPG's operations on the Ottawa and Madawaska Rivers.
Ottawa River: 6 to 7 p.m.
Madawaska River: 7:30 to 8:30 p.m.
Residents who live along the Madawaska and Ottawa Rivers and have a landline may receive a call at the above time with an option to participate. For those who do not have a landline or do not receive a call, please call toll-free 1-877-229-8493 and enter code 114208. The town hall will also be streamed online at access.live/opg.
STONECREST ELEMENTARY FUNDRAISING PLANT & RAIN BARREL SALE
Stonecrest Elementary School is launching a fundraiser in the theme of World Water Day offering rain barrels and garden plants. Please see the details below including ordering instructions.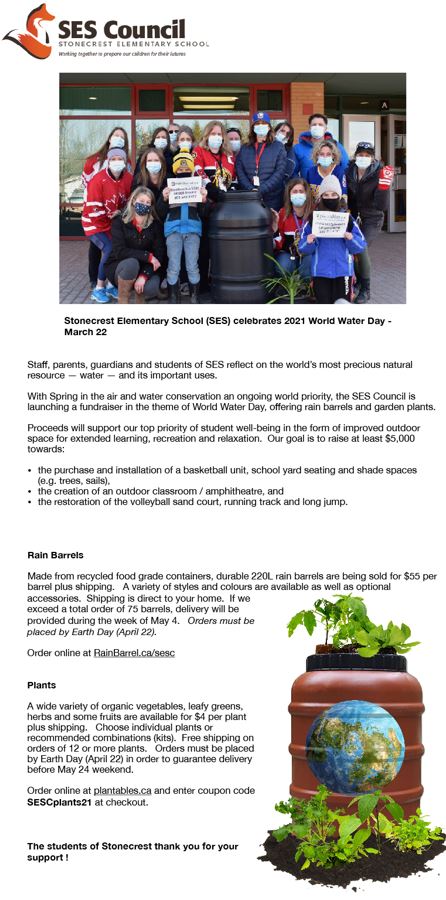 NEW & IMPROVED WASTE EXPLORER
Not sure if an item should go in the black box, blue box, green bin or the garbage?
The City of Ottawa's new waster explorer app to search any item you would like to dispose of and help keep items out of the landfill. Give it a try here: ottawa.ca/en/garbage-and-recycling/waste-explorer.
REGISTRATION FOR CITY OF OTTAWA SPRING RECREATION PROGRAMS
Registration for City of Ottawa swim lessons and aquafit classes is now open. Aquatics have already been COVID-modified and are not impacted by the move into red zone. Classes will be just as fun as you remember, but with safety precautions in place, such as a parent or guardian accompanying younger students in the pool. Go to Ottawa.ca/recreation to book your spot.
If you would prefer to take a class from the comfort of your own home, then registration for spring virtual programs begins this evening (March 23) at 9 pm. Fitness, cooking, arts, dance, STEM, languages, music and more will be offered. Register at ottawa.ca/virtualprograms.