El-Chantiry: Ward 5 weekly news, March 16
The Councillor's Column
COVID-19 – LATEST NEWS
All residents 80 and older can now receive a COVID-19 vaccination: As of March 15, all Ottawa residents age 80 and over can begin booking appointments to receive the COVID-19 vaccine. There are two options for booking, depending on where you live, so please consider the options carefully to determine which one is right for you:
1. Residents over 80 citywide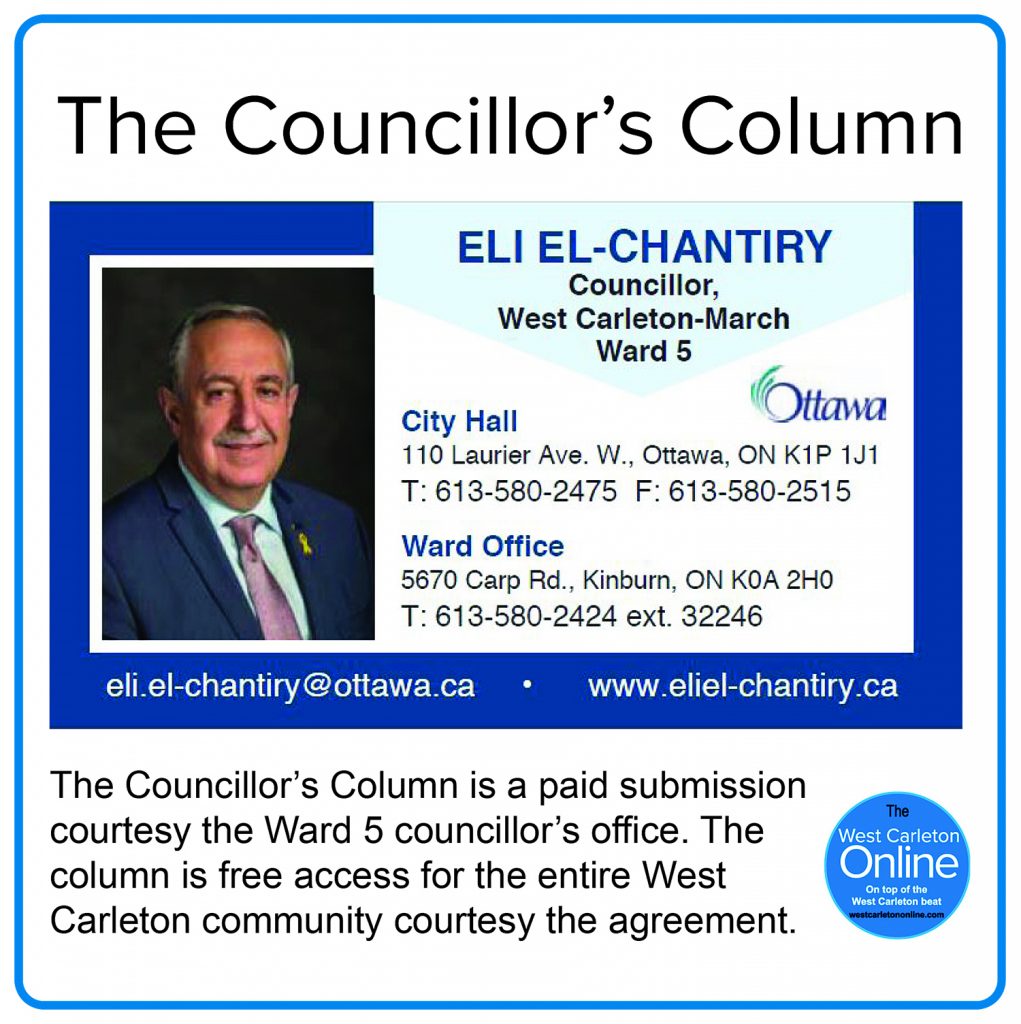 All Ottawa residents 80 and older (born in 1941 or earlier) regardless of where they live in the city can book an appointment through the Province of Ontario's online booking system. This includes adults 90 and older who do not yet have an appointment booked. Visit Ottawapublichealth.ca to access the provincial booking system or call the information line at 1-888-999-6488 between 8am and 8pm, seven days a week. Only book or call if you are eligible. Appointments will be available at four community vaccination clinics:
Nepean Sportsplex (open)
Ruddy Family YMCA-YWCA (opens Wednesday, March 17)
Eva James Memorial Community Centre (opens Tuesday, March 23)
City Hall (opens Tuesday, March 23)
To enable physical distancing and to reduce the number of people in the clinic, please arrive for your vaccine no more than 10 minutes before your appointment time. Walk-ins will not be accepted, so please book your appointment in advance.
2. Residents over 80 in high-priority neighbourhoods
If you are 80 and older (born in 1941 or earlier) or an adult recipient of chronic home care, and you live in the following communities, you can call 613-691-5505 to book an appointment at a pop-up clinic location close to your neighbourhood. For a list of clinic locations see Ottawa's vaccine distribution.
Britannia Village
Carleton Heights – Rideauview
Carlington
Sandy Hill
Whitehaven – Queensway Terrace North
Other groups were made eligible in previous weeks and remain eligible today. Please visit Ottawapublichealth.ca/COVID19vaccine to see if you belong to one of those groups or use Ottawa Public Health's COVID-19 Vaccine Eligibility Screening Tool to check your eligibility. Service providers can take your call between 7:30 am and 6 pm, Monday to Friday, and 8:30am to 4pm Saturday and Sunday.
We know that there is a high demand for these vaccines, so we expect very high call volume for these bookings. When calling into the booking line, callers will be put into a queue where there is the potential for long wait times. You may also select an option for a call back.
Confirm your vaccine eligibility: Please visit Ottawa Public Health's COVID-19 Vaccine Eligibility Screening Tool to confirm your vaccine eligibility. If you are unable to book an appointment when your eligibility is first announced, you can still receive the vaccine at a later date.
Transportation options available to vaccine appointments for those with accessibility needs: Accommodations will be made for residents who need help with accessibility and all clinic locations are accessible. If you are a Para Transpo user, you can book your ride to the clinic through the COVID-19 Vaccination Trip Reservation line at 613-842-3600. If a transportation option is not available to you, you can request a ride to and from the clinic through Ottawa Community Transportation after you have booked your appointment. In addition, residents of West Carleton-March, who have accessibility needs and require a ride to a vaccination clinic, can call the Western Ottawa Community Resource Centre at 613-591-3686.
Preparing for your vaccination appointment: The following people need to consult their healthcare provider to discuss vaccination risks and benefits before their appointment and will be required to verbally attest that they have done so:
Pregnant individuals
Those receiving stem cell therapy, CAR-T therapy, chemotherapy, immune checkpoint inhibitors, monoclonal antibodies, and other targeted agents
It is also recommended that you do not receive another vaccine in the 14 days prior to the COVID-19 vaccine.
Next steps in vaccine roll-out: Residents of all ages who are not yet eligible for the vaccine are encouraged to follow announcements on the City of Ottawa and Ottawa Public Health websites and social media channels, and from your local news media to learn when they can receive their vaccine. Resident can also sign up for the COVID-19 vaccination update e-subscription for regular news on the vaccine roll-out. Please refer to Ontario's vaccine distribution plan for details on other priority groups within Phase 1 of the plan. The provincial government will make vaccines available to additional groups in Phase 2 between April and July, including individuals with health conditions and people between the ages of 60 and 79. Vaccinations are expected to start for the oldest age group and decrease in five-year increments as vaccine supplies are available.
MISSISSIPPI VALLEY CONSERVATION – WATER SAFETY
With warmer weather upon us, the Mississippi Valley Conservation Authority issued a water safety statement on March 10 as noted below:
"With above seasonal daytime temperatures and several millimetres of rain forecasted over the next few days, the Mississippi Valley Conservation Authority (MVCA) is reminding residents that no ice is safe ice. Runoff amounts may result in higher water levels in area creeks and streams and along roadside ditches.

Ice thickness can change drastically due to increased flows and rising temperatures. The shoreline adjacent to lakes, rivers and creeks is very slippery and poses a serious hazard. Falling into open water could result in hypothermia or drowning.

The MVCA reminds the public to exercise extreme caution around all water bodies:
The public and pets should stay off all frozen water bodies
Parents are urged to remind children about the dangers of playing on or near ice covered surfaces and open water
No flooding is anticipated at this time, although, rainfall can cause ice jams to occur along the river. This can cause water levels to rise rapidly without warning. Residents in flood prone areas are advised to maintain a close watch on water levels and flows and take the necessary precautions to protect their property by:
Ensuring sump pumps are clear, in good working condition and have backwater valves.
Having a portable generator and backup pump available.
Ensuring downspouts are clear and the outlet is at least 3 m from any structure.
Removing or securing items that might float away as flows increase.
Please note that the MVCA does not monitor ice conditions. The MVCA's Flood Forecasting and Warning program monitors weather conditions and snowpack, estimates high water conditions and issues watershed conditions messages.

This message will be in effect until (or updated before) Wednesday March 31, 2021 at 4:30pm. For more information contact: Jennifer North, Water Resources Technologist
613-253-0006 ext. 243, jnorth@mvc.on.ca, www.mvc.on.ca."
WHEN SPRING ARRIVES, SO DO POTHOLES
Potholes are formed when water or melted snow gets into small cracks or holes in the road. The water freezes as temperatures drop, pushing the pavement up and creating a hole which can be pushed down when cars travel over it. Over time, the hole can grow causing potholes.
Every spring we experience freeze-thaw cycles. Our Roads and Parking Department at the City of Ottawa will be out throughout the spring to fill potholes. Some potholes in high traffic areas may need to be refilled more than once. This is not due to poor asphalt or workmanship, but can happen if water gets back into the hole preventing the asphalt from forming an adhesive bond with the existing pavement. Residents can expect to see City asphalting teams deployed across Ottawa in the coming weeks. Residents are encouraged to report potholes immediately by creating a service request online.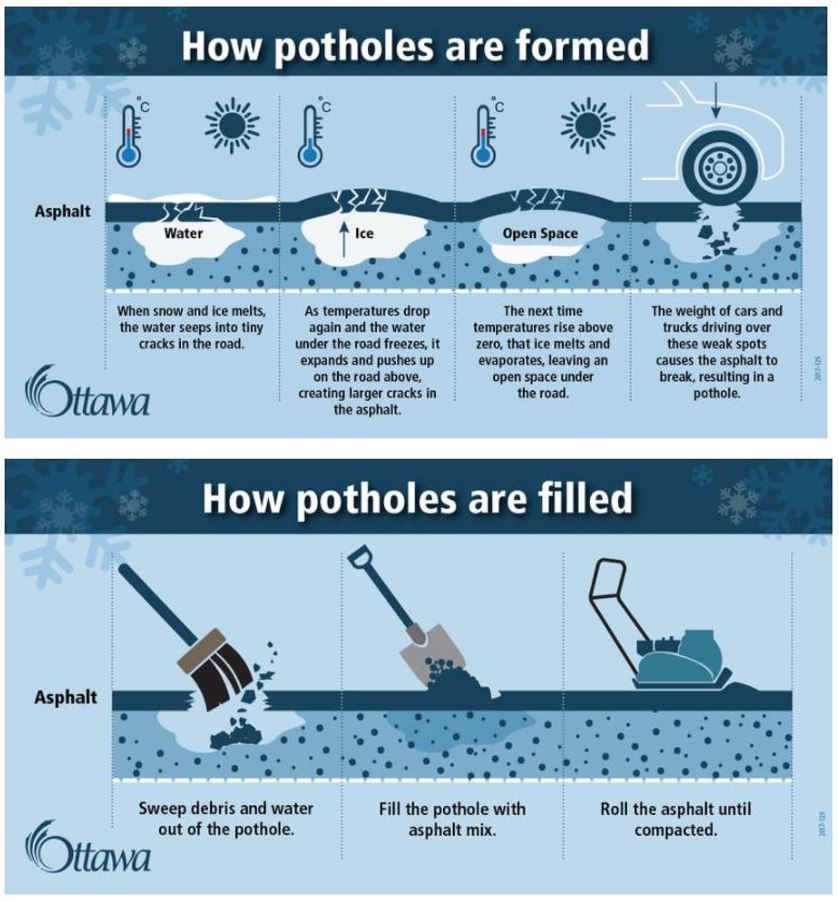 2021 SPRING CLEANING THE CAPITAL
This year marks the 28th year of Cleaning the Capital in Ottawa. This is a popular program that engages residents to help keep Ottawa clean, green and litter free! Key dates for this Spring's campaign are:
March 15: Early-bird registration begins
April 15 to May 15: Cleaning the Capital Spring Campaign
April 22: Earth Day
May 15: Last day to register
May 31: Deadline to complete projects and submit cleanup project
Participants can register their cleanup projects by using the online registration form available at ottawa.ca/clean or by calling 613-580-2424, extension 13458. An interactive map on our website will show the locations chosen for cleanups. Cleanup kits, which include garbage bags and gloves, will be made available for pick-up by registrants at one of seven City of Ottawa facilities across the city. Upon request, graffiti removal kits can also be provided. Don't forget that this is a great opportunity for high school students to earn their volunteer hours.
The City of Ottawa is taking into consideration COVID-19 as it relates to this campaign. Program staff have liaised with Ottawa Public Health to ensure cleanup projects follow the recommended public health measures an safety guidance. Additionally, the City will not be holding a dedicated Capital Cleanup Weekend, nor loaning tools such as pickers and safety vests.
HAPPY ST. PATRICK'S DAY
I'd like to wish a Happy St. Patrick's Day to everyone celebrating on March 17. This year, please consider staying home and celebrating with only those you live with. Save your Guinness for next year when it'll be much safer to get together and celebrate in our local pubs.
You can still celebrate the day safely from home. Most restaurants in West Carleton offer beer/wine to purchase when ordering food. So why not order dinner on March 17 with a side of Guinness from a local establishment for take-out or delivery! This is a responsible way to celebrate while also supporting our local small business community.
CITY COUNCIL MEETING – MARCH 10, 2021
At the City Council meeting on March 10, Council dealt with the following items:
Council approved a long-range financial plan that promises funding to support the objectives of the City's 10-Year Housing and Homelessness Plan. The financial plan commits $198.4 million over the next 10 years to fully fund the City's share of between 5,700 to 8,500 new affordable housing options and to ensure Housing Services has the funding it needs to deliver its programs and services. Housing Services will focus on maintaining service levels and supporting select strategic growth, working on approved strategies to address funding gaps, including advocating for enhanced support from the provincial and federal governments.
Council also approved a two-year work plan for the 10-Year Housing and Homelessness Plan that outlines 42 actions the City will take to create and preserve affordable housing, increase housing affordability, expand homelessness programs, integrate services and better meet the needs of the Indigenous community and equity groups. This plan puts the City on track to deliver 694 new affordable housing units before the end of 2022.
Council approved the purchase of 1010 Somerset Street from the Government of Canada for $11 million, subject to final Treasury Board approval. The City and Ottawa Community Housing will work together to build about 1,160 residential units at Gladstone Village, which includes this property and one immediately south at 933 Gladstone Avenue. Most of the purchase price would be funded through an agreement with Canada Mortgage and Housing Corporation, leaving the City to cover $2.85 million. Conditions of sale include developing an agreement with the Algonquins of Ontario to explore potential for future uses and dedicating about 25 per cent of the site as a new City park. The property at 1010 Somerset falls within the area where Council today approved a new secondary plan. The plan will help guide future development near Corso Italia Station, which is scheduled to open along O-Train Line 2 at Gladstone Avenue in 2022. Much of the nearby land is vacant or underused, and the station will offer significant opportunities for new transit-oriented development that also supports the City's intensification goals. The policies in the secondary plan will encourage development that reduces dependence on cars, concentrating density along the O-Train and introducing appropriate transitions to existing low-rise areas. The plan will ensure new development builds on the area's heritage and character and enhances the public realm.
Council extended measures established last year to support outdoor dining and vending as part of the City's COVID-19 economic recovery efforts. The measures to be extended until the end of 2021 include temporarily closing sections of roads to accommodate patio expansions and physical distancing, removing capacity restrictions for café seating and permitting pop-up retail vending within the right of way. Council also approved a 2 am closing time for all patios and outdoor café seating.
A new youth services facility could soon open in Heatherington after Council moved to rezone the former municipal public works yard on Heatherington Road, south of Walkley Road. In line with the neighbourhood revitalization strategy that Council approved in 2018 through the Building Better Revitalized Neighbourhoods initiative, the Boys and Girls Club would lease a portion of the site to offer youth programming in a new facility.