El-Chantiry: Ward 5 weekly news, June 8
The Councillor's Column
COVID-19 – LATEST NEWS
A second COVID-19 Pop-up Clinic in Ward 5 has been secured: Last Friday (June 5) I sent out a special e-newsletter to subscribers regarding my work on trying to secure a second COVID-19 vaccination pop-up clinic at the West Carleton Community Complex, which would have been used to provide the second vaccination doses to the Ward 5 residents age 70 and older that received their first dose at the pop-up clinic on April 1, 2 and 3. At that time, I received word from senior City staff advising that a second pop-up clinic would not be happening.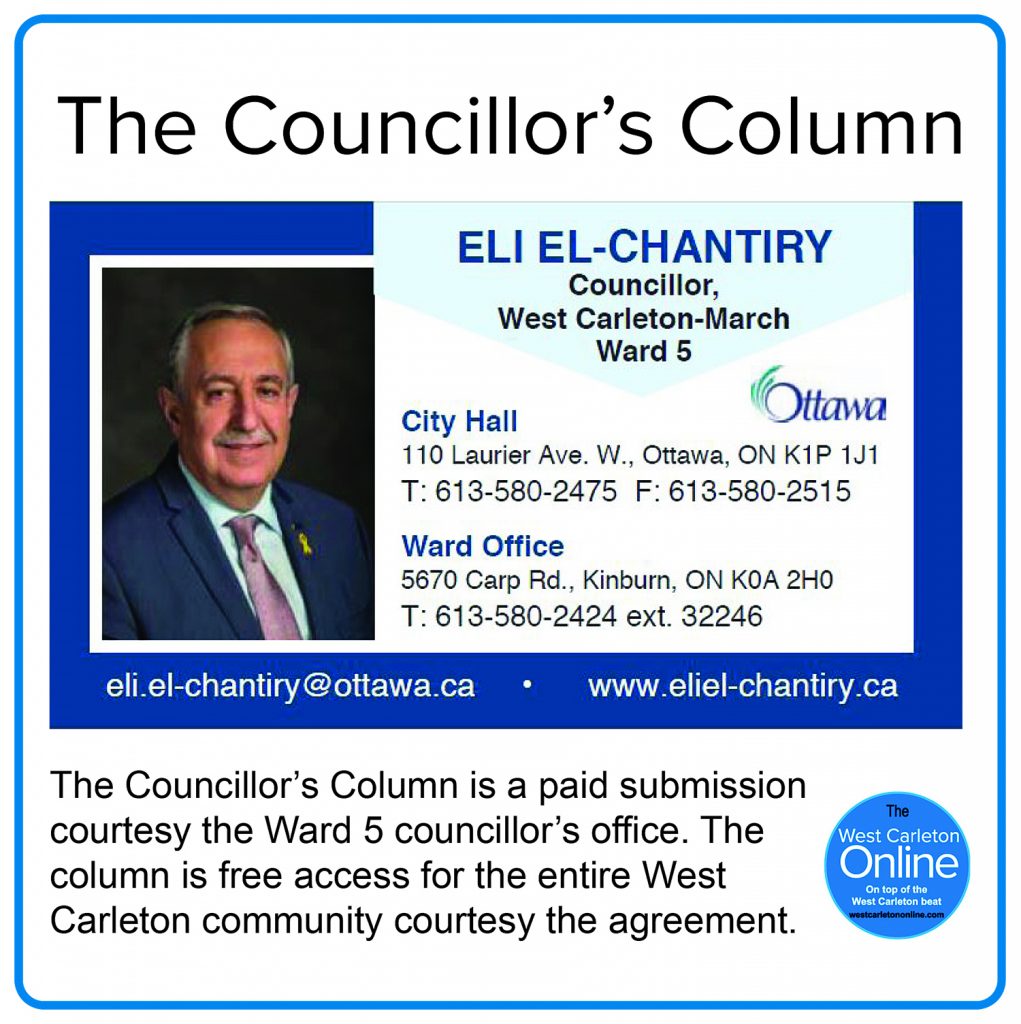 Given the importance of this issue to the residents who participated in the first pop-up clinic, I worked with City staff over the last several days to insist that staff to come up with a solution and honour the original commitment Ottawa Public Health made in April to run a second pop-up clinic. I insisted Ottawa Public Health provide the same level of care that my residents received when provided their first dose. I am very happy to report that Tony Di Monte, General Manager of Emergency & Protection Services, has now agreed to coordinate a second pop up clinic in Ward 5 (along with second pop-up clinics in the other rural wards). In an email sent to me yesterday afternoon Mr. Di Monte confirmed:
"As a follow up to our discussions on the possibility to return to the rural communities with mobile vaccination of second doses I wish to provide you supplemental information. After discussion with the medical officer of health she now agrees that this can be done if we have the capacity. I have asked the team to work on an operational plan to return to the rural areas as we had done the for first doses. We have a plan in place and can accomplish this operation logistically. The current issue is we do not have the vaccine supply. Therefore, we are looking at how to get supply to begin this task over the next two weeks. In the interim we would continue to ask any residents that can find another source to get their second dose to do so, such as the provincial booking system for a city clinic, contact pharmacies directly, or get an appointment at their doctor office. We are committed to following up once we have secured supply to confirm dates, we will be returning to complete those residents that have not been able to secure a second appointment via our mobile team."
To reiterate, any residents aged 70+ that received their first vaccine dose at the April 1, 2 or 3 clinic at the West Carleton Community Complex will be able to receive their second dose at a future planned pop-up clinic in the coming few weeks. Given the current short supply of vaccines in Ottawa, I will only have firm details of the date, time and location of this pop-up clinic in the coming couple of weeks. Any eligible residents who do not want to wait for the pop-up clinic can use other options to receive their second dose. Any eligible residents who do not want to wait for the pop-up clinic can use other options to receive their second dose. You can still book an appointment via:
The provincial booking system: calling 1-833-943-3900 between 8 a.m. and 8 p.m., seven days a week or going online at covid-19.ontario.ca/book-vaccine.
Contacting local pharmacies offering vaccinations:
Ontario to move to Step 1 of reopening on Friday, June 11: Based on the province wide vaccination rate and continuing improvements in key public health and health system indicators, the provincial government announced that Ontario will move into Step 1 of its Roadmap to Re-open at 12:01am on Friday, June 11, 2021. Step 1 of the Roadmap to Reopen includes but is not limited to:
Outdoor social gatherings and organized public events with up to 10 people
Outdoor religious services, rites, or ceremonies, including wedding services and funeral services, capped at the number of people that can maintain a physical distance of two metres
Indoor religious services, rites, or ceremonies, including wedding services and funeral services permitted at up to 15 per cent capacity of the particular room
Non-essential retail permitted at 15 per cent capacity, with no restrictions on the goods that can be sold
Essential and other select retail permitted at 25 per cent capacity, with no restrictions on the goods that can be sold
Outdoor dining with up to four people per table, with exceptions for larger households
Outdoor fitness classes, outdoor groups in personal training and outdoor individual/team sport training to be permitted with up to 10 people, among other restrictions
Day camps for children permitted to operate in a manner consistent with the safety guidelines for COVID-19 produced by the Office of the Chief Medical Officer of Health
Overnight camping at campgrounds and campsites, including Ontario Parks, and short-term rentals
Concert venues, theatres and cinemas may open outdoors for the purpose of rehearsing or performing a recorded or broadcasted concert, artistic event, theatrical performance or other performance with no more than 10 performers, among other restrictions
Outdoor horse racing tracks and motor speedways permitted to operate without spectators
Outdoor attractions such as zoos, landmarks, historic sites, botanical gardens with capacity and other restrictions.
The province will remain in Step 1 for at least 21 days to evaluate any impacts on key public health and health system indicators. If at the end of the 21 days the province has vaccinated 70 per cent of adults with one dose and 20 per cent of adults with two doses and there are continued improvements in other key public health and health system indicators, the province will move to Step 2 of the Roadmap.
Vaccine availability limited in Ottawa & limited appointments available at this time: Even though the province is continuing to accelerate their vaccine roll out program and advancing the eligible age groups able to book vaccine appointments, Ottawa Public Health simply does not have the supply of vaccines on hand at this time to keep up with the demand. Due to the high volume of people accessing the provincial booking system and the provincial call centre for COVID-19 vaccine appointments, some residents may experience issues or delays while trying to book. For those who have experienced difficulties, you may wish to keep trying. While vaccine availability is limited, there are still a limited number of appointments available in Ottawa. Also, new appointments are continually appearing on the provincial booking site due to cancellations and changes in scheduling. Residents can visit Ontario.ca/bookvaccine to access the provincial booking system or call the vaccine booking line at 1-833-943-3900 between 8am and 8pm, seven days a week. Please rest assured, everyone that wants to be vaccinated will be! It's just a matter of waiting for vaccine supplies to increase so that Ottawa Public Health can keep up with demand. I highly recommend residents stay informed on the latest regarding vaccine roll out by signing up to receive up-to-date news and information in your inbox. Sign up here.
Was your first dose the AstraZeneca COVID-19 vaccine? To receive a second dose of AstraZeneca, contact the pharmacy or primary care provider where you received your first dose. If you prefer Moderna or Pfizer instead, then you have options. The provincial government updated their AstraZeneca second dose guidance indicating that first and second doses for different COVID-19 vaccines can be safely combined. For more information read the province's news release.
WASTE DIVERSION PRESENTATION – JUNE 16
Please join us Wednesday, June 16 at 6:30pm for a presentation on Waste Diversion from the City of Ottawa. This presentation is designed to inform residents on the Municipal Recycling Program as well as the Green Bin Program, what is accepted/what is not and how to find out where items belong. The presentation will also provide an overview of how household waste is processed at the Trail Road Landfill, how recycled materials are processed at the Material Recycling Facility and how organic waste is processed at the Convertus Facility. If interested, please use the following Zoom link to join the virtual presentation on June 16:
311 ASSISTANCE FOR RESIDENTS LIVING ALONG THE WATER IN WARD 5
I have heard from residents who live along the water that their calls for service using 311 sometimes results in their calls being received by Quebec dispatch. If you require assistance and live on the water, please call 613-580-2400. Your call will then be forwarded to 311, which allows agents to notify the appropriate City of Ottawa department to dispatch crews for immediate action.
GIVE FEEDBACK ON FIRST-EVER PARKS & RECREATION FACILITIES MASTER PLAN
The City wants to hear your feedback on our draft report document for the City's first-ever combined Parks and Recreation Facilities Master Plan (PRFMP), in support of the new Official Plan (OP). Visit engage.ottawa.ca to see our preliminary recommendations and provide your feedback between now and June 17 by completing a survey or by attending one of four online sessions.
Earlier this year, you shared your knowledge and experiences through online surveys and virtual public consultations to help us develop these recommendations for future growth, which focuses on the quantity and ratio of parks and recreation facilities and amenities – such as pools, ice pads and tennis courts – for every 1,000 residents. The Parks and Recreation Facilities Master Plan provides a roadmap up to 2031 on how to develop new parks and recreation facilities to meet the demand from our growing community. Feedback that we have heard includes adding gymnasiums as its own needs assessment, discussing field houses as community buildings and identifying ways to improve comparisons of sizes of recreation complexes across the city. If you are new to this plan or need a refresher, the Engage Ottawa page has frequently asked questions, as well as a highlights of the plan. This will provide participants with some great context before taking part in the survey.
To participate, complete the online survey on the Parks and Recreation Facilities Master Plan page on Engage.Ottawa.ca or register for one of the following virtual bilingual consultation sessions:
Tuesday, June 8, 2021 from 7 to 9pm; Register here (see note below on session focus)
Wednesday, June 9, 2021 from 9 to 11 am; Register here
All sessions, including the presentation and discussion, will be offered in English and French. Upon registration, registrants will indicate their preferred language and they will receive a link for either the English or French session. The June 8 session will be co-hosted by Ottawa Sport Council and will focus on sports fields and the wide range of outdoor and indoor sports courts and amenities and the needs of sport clubs and organizations.
For those who cannot attend the live virtual sessions, you can have your say:
Round 2 survey – on Engage.Ottawa.ca (seeking feedback on the Draft Parks and Recreation Facilities Master Plan survey: open now until Thursday, June 17)
Send a note to City of Ottawa c/o Parks and Recreation Facilities Master Plan, Attention: 26-51,100 Constellation Drive, Ottawa, ON, K2G 7E6
The plan will go to the Community and Protective Services Committee and Council for approval in fall 2021. It will be a contributing document to the City's Official Plan.
GYPSY MOTHS IN OTTAWA
The population of gypsy moths, an invasive forest defoliating insect, have been increasing in the Ottawa area. My office has received a few inquiries from residents relating to this matter. The City of Ottawa is carefully monitoring the situation. The City of Ottawa is conducting gypsy moth surveys which started in February 2021 throughout the urban and rural area to determine the extent of the outbreak. The City has communicated with other partners such as the Ontario Ministry of Natural Resources and Forestry who report increased populations of this insect in other areas of the province. City staff continue to monitor this issue and staff have provided an information package on gypsy moths for residents to review. More information can also be found on the City's website here.
CITY HAS OPENED SOME IN-PERSON COUNTER SERVICES
With Ontario transitioning from the Stay-at-Home Order to its three-step reopening plan, the City has now resumed many of its in-person counter services. Click here for a complete list of all services now available and further information regarding making appointments for service as required.
2021-2022 BEFORE & AFTER SCHOOL PROGRAMS
The City of Ottawa's 2021-2022 Before and After School programs at various locations are now available to browse online. Registration will take place on Wednesday, June 9 at 9pm. Programs are offered in English and French. The start of Before and After School programs are dependent upon COVID-19 restrictions being relaxed sufficiently to allow in-person learning this September. It is important, however, to proceed with registration for Before and After School Care programs to allow enough lead time to help residents, especially parents and guardians, to plan for the upcoming 2021-2022 academic year. Prior to the program beginning, parents will receive a Before and After School Parent Handbook with additional information on expectations and protocols. The COVID-19 modified activities will include creative physical-distancing games, sports, and arts and crafts. Quiet homework time will also be provided. Registration is easy. Explore program offerings to select your program and follow these simple steps:
Go to ottawa.ca and browse Before and After School programs or visit JoinOttawa
Click the relevant barcode – it will take you to the course page, with details about the number of spaces available, fees and dates
Add the class to your cart and then proceed through the checkout. You will be emailed a receipt
DOORS OPEN OTTAWA – VIRTUAL EDITION
Doors Open Ottawa is a free annual architectural event that celebrates our community's built heritage. This year, Doors Open Ottawa is running virtually from June 4 to 11 to pay homage to Ottawa's history, culture and stunning architecture! It's the perfect way to discover how Canada's Capital has become the beautiful city it is today. Click here for a list of this year's participating buildings.
CITY COUNCIL MEETING – JUNE 9
Ottawa City Council's next meeting is Wednesday, June 9 at 10 a.m.. Review the agenda here and watch live via the City of Ottawa's YouTube channel.