El-Chantiry: Ward 5 weekly news, June 15
The Councillor's Column
COVID-19 – LATEST NEWS
Second pop-up clinic in Ward 5 confirmed for June 22: I am very pleased to advise that I have been able to secure a second rural pop-up COVID-19 vaccination clinic on Tuesday, June 22.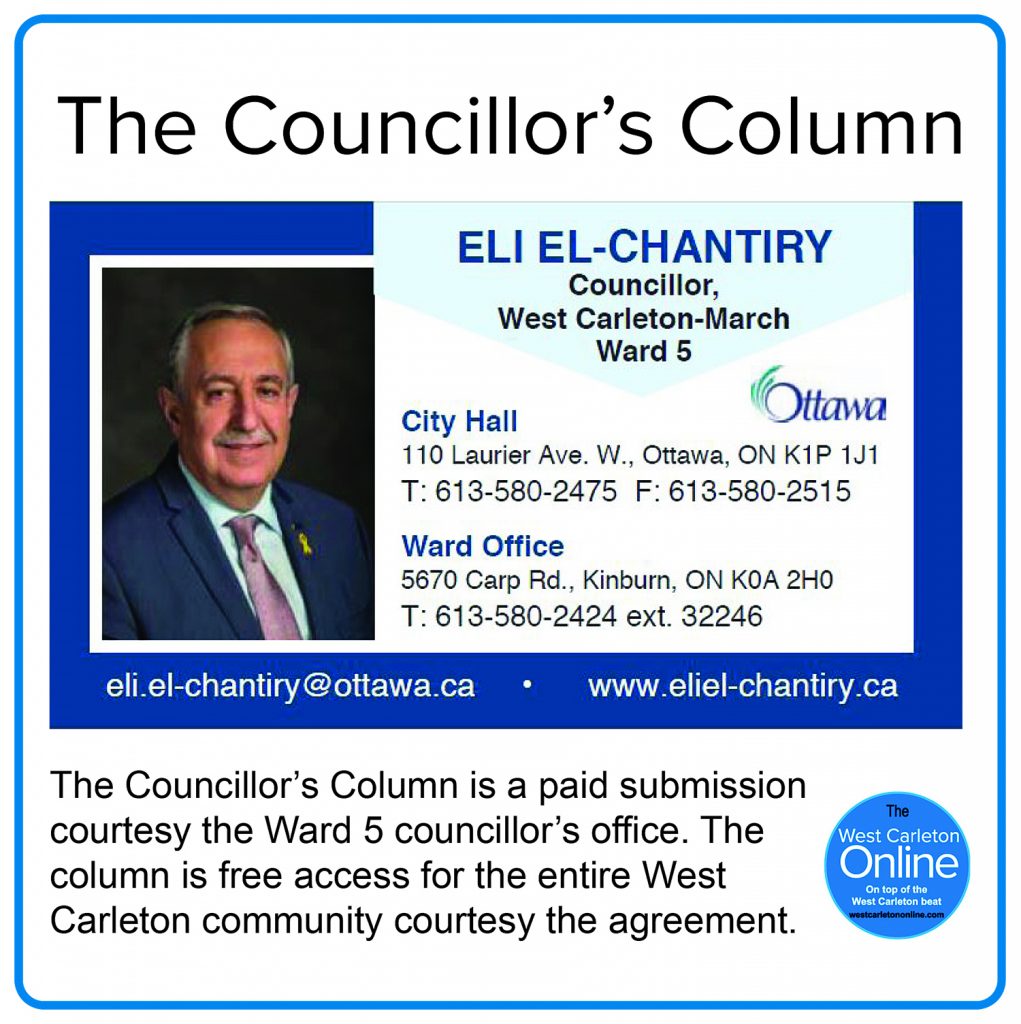 This clinic will be taking place at West Carleton High School, 3088 Dunrobin Rd.
The priority for this pop-up clinic is to reach those older adults (70+) and recipients of chronic home care that received their first dose at a rural pop-up in early April and do not currently have a planned second dose appointment at a local pharmacy, primary care team or community clinic. Ottawa Public Health will reach out to these individuals directly over the next few days for assistance with booking.
The City of Ottawa will be issuing a PSA at some point soon which will provide further details. Once an effort has been made to reach these priority individuals, the City team will evaluate the number of remaining appointments available, if any, and advise of any expanded eligibility at that time through public outreach.
Follow public health guidelines as we slowly reopen: This past weekend we were able to take cautious first steps toward reopening. To keep us moving in this positive direction, Ottawa Public Health (OPH) wants to remind residents that the same public health guidelines still apply: keep 2 m apart, wear a mask if you can't stay 2m apart, wash your hands, stay home if you're sick.
Step 1 reopening guidelines: Here are some reminders of what's permitted now that Ottawa is in Step 1 of reopening:
Outdoor food and beverage service is now permitted. Seating is limited to 4 per table. Stay two metres from other patrons and wear a mask when physical distancing is difficult
New rules in Ontario now allow street-facing, non-essential retailers to open at 15% capacity. Malls are not open, with the exception of their street-facing stores
Essential and other select retail is permitted at 25 per cent capacity
Outdoor social gatherings and organized public events are allowed with up to 10 people
Outdoor fitness classes with up to 10 people now permitted
Day camps for children permitted
Overnight camping at campgrounds and campsites, including Ontario Parks, and short-term rentals
Concert venues, theatres and cinemas may open outdoors for the purpose of rehearsing or performing a recorded or broadcasted concert, artistic event, theatrical performance or other performance with no more than 10 performers
Outdoor horse racing tracks and motor speedways permitted to operate without spectators
Outdoor attractions such as zoos, landmarks, historic sites, botanical gardens with capacity and other restrictions.
For more information on the City of Ottawa and provincial guidelines click here.
Support and resources for businesses and workplaces: Ottawa Public Health has compiled some resources and support for businesses and workplaces in adapting COVID-19 measures each step of the way of reopening. Visit ottawapublichealth.ca/workplaceCOVID19 and ottawa.ca/businesstoolkit. As a handy reminder to businesses and workplaces, OPH has prepared this flyer: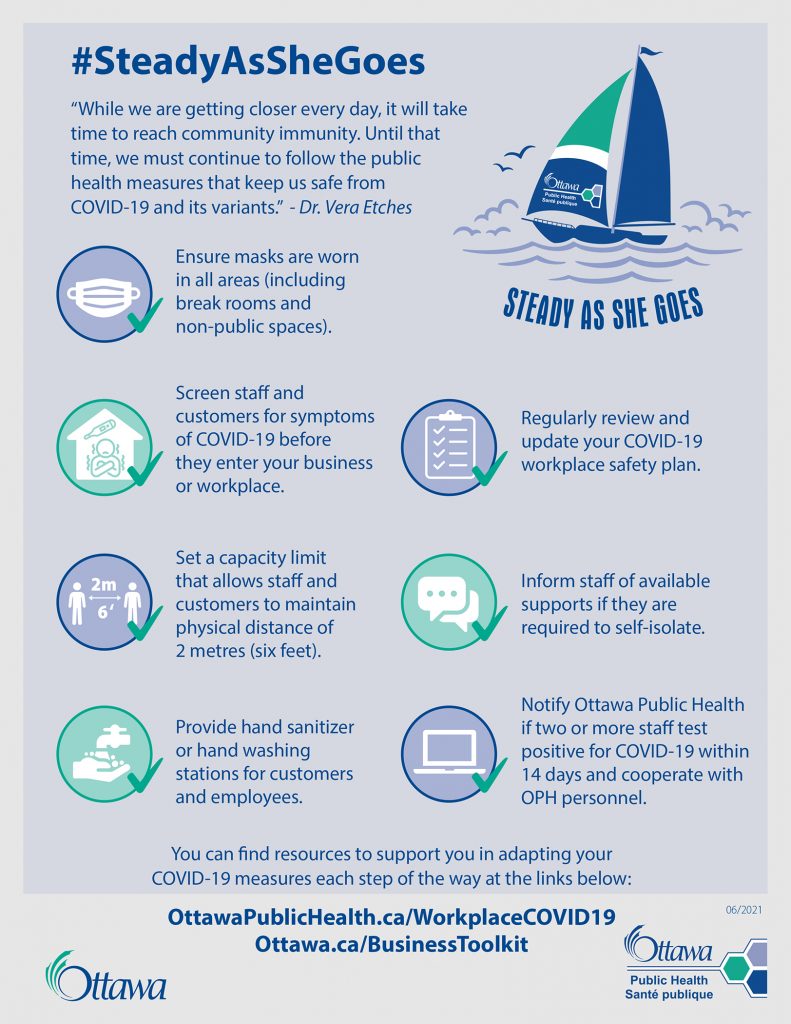 WASTE DIVERSION PRESENTATION – JUNE 16
Please join the City of Ottawa on Wednesday, June 16 at 6:30pm for a presentation on Waste Diversion. This presentation is designed to inform residents on the Municipal Recycling Program as well as the Green Bin Program, what is accepted/what is not and how to find out where items belong. The presentation will also provide an overview of how household waste is processed at the Trail Road Landfill, how recycled materials are processed at the material recycling facility and how organic waste is processed at the Convertus facility. If interested, please use the following Zoom link to join:
Join Zoom Meeting: https://ottawa-ca.zoom.us/j/98362411854
Meeting ID: 983 6241 1854
Find your local number: https://ottawa-ca.zoom.us/u/aAhA424zx
HAVE YOUR SAY – ASSET MANAGEMENT PLANS: WATER, WASTEWATER, STORMWATER & TRANSPORTATION
The City of Ottawa is seeking feedback from the community to help support the development of the first four of a series of service-based Asset Management Plans (AMPs) for water, wastewater, stormwater and transportation services. An Asset Management Plan is a document with a 10-year view of the strategies that will be applied to infrastructure assets in order to achieve service-delivery expectations, aligning with the City's financial status. These assets are essential to our quality of life and critical to providing services to residents, businesses and visitors. Feedback from the community will be considered in a report to Council later in 2021. The information will also help support long term planning and strategy for how the City manages assets and investments now and into the future. To participate, please go here. Responses and comments can be submitted until June 16, 2021.
NEW OFFICIAL PLAN CITY-WIDE INTERIM AS WE HEARD IT REPORT
The draft New Official Plan City-Wide Interim As We Heard It Report is now available for review on the New Official Plan website. In the report you will find a summary of the key themes the City has heard throughout their engagement process and how City Planners propose we amend policies to address this feedback. The City-Wide report will be followed by the release of 23 Ward specific interim reports which will reflect the feedback received from the ward residents in more detail.
The City will host a public session on each transect. These sessions will help residents learn how feedback was responded to by City Planners. Please register using the links below:
If you have additional comments or questions you are always welcome to email newop@ottawa.ca.
ST. GABRIEL'S BOTTLE DRIVE – JUNE 19
St. Gabriel's upcoming bottle drive is happening this coming Saturday. All those empties you've been storing can be dropped off between 10am and noon. The empties will help with the church's fundraiser.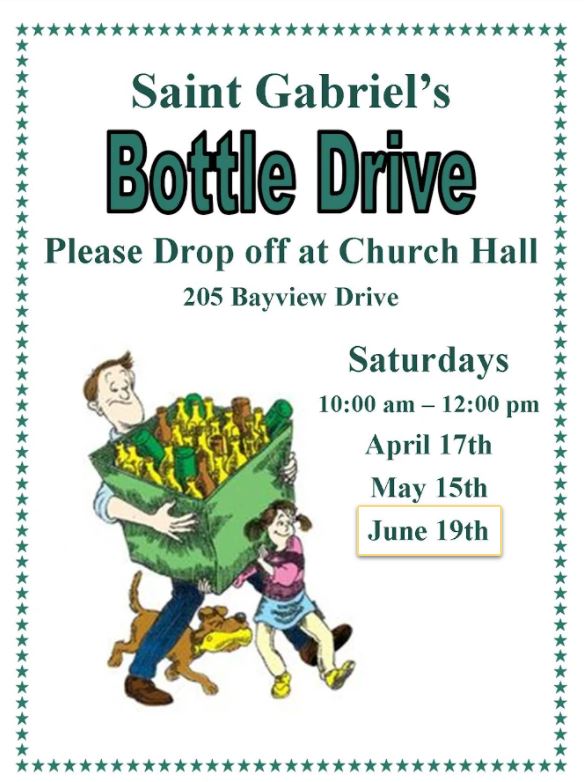 HUNTLEY COMMUNITY ASSOCIATION – FREE NATIVE TREE DISTRIBUTION EVENT
Huntley Community Association is proud to partner with Ecology Ottawa to host a free native local tree distribution event on Sunday, June 20. Free trees will be available for pick up from 11am to 3pm on June 20, in front of the Huntley Community Centre (by the outdoor rink). Trees will be provided on a first-come, first-served basis. To receive a free tree, you must complete the pre-participation survey.
SCRAP METAL & ELECTRONICS RECYLCING DRIVE
On June 18-20 the Huntley Community Association (HCA) is offering local Carp residents an environmentally convenient way to recycle its metal waste. At last year's event in November over five metric tons of metal were recycled with the proceeds ($390) used to support other HCA initiatives. Metro Scrap Metal has generously agreed to supply two storage bins for this semi-annual event at no cost. All types of metal will be accepted including e-waste, insulated wiring and appliances that do not contain freon or flammable liquids. The two bins will be located across from the outdoor rink at the Carp Fairgrounds. An HCA volunteer will be onsite from 9am-12pm on June 19 for those residents who may need assistance placing their recyclable metal in the bin. Note that current COVID-19 rules will prevent the HCA from carrying items out of residents' vehicles. The HCA will also be offering to pick up large/heavy metal goods (i.e. appliances) from Carp residents on Saturday June 19 from 9am-12pm. Please contact the HCA at recycle@hca-carp.ca by Tuesday Jun 15 so they can add your request to their pick-up schedule. Please note: pick up of large items will be limited to items that are placed curbside only. Volunteers are not able to enter a residence.
CITY COUNCIL MEETING – JUNE 9
Ottawa City Council met on June 9, and the following agenda items were dealt with:
Council directed staff to develop a tax regime for a vacant unit tax program to be implemented in 2022, with billing to start in 2023. The tax would help increase Ottawa's housing supply by encouraging homeowners to occupy or rent their properties. The revenue generated would be used to support affordable housing programs. Staff will bring forward a report for the tax regime that would see owners of residential properties left vacant more than half the year pay a tax of about one per cent of the property's value as part of their final property tax bill. The tax would not apply to an owner's principal residence.
Council received a report outlining City parking management activities in 2020 that notes a 7.8-per-cent decrease in operating expenses from the year prior – a saving of $1.12 million. The difference is due primarily to higher winter maintenance costs in 2019. While parking generated $8.9 million in revenue, reduced demand due to the COVID-19 pandemic means those revenues were down $8.2 million from the previous year. The City has allocated $7.9 million from the Province's Safe Restart Agreement funding to address the revenue gap. Parking Services spent $1.1 million on sustainable transportation, notably on maintenance of Park & Ride facilities, bike parking and transportation demand management initiatives. The City developed a new Public Bike Parking Strategy and better processes to track and manage bike parking needs.
The City ended the first quarter of 2021 with an overall surplus of $6.5 million, according to the 2021 Operating and Capital Budget – Q1 status report. Council received the report, which notes the City ended the first quarter with a $12.7 million surplus for programs supported by property taxes and a $6.2 million deficit for rate-supported services. The update outlines expenses related to the COVID-19 pandemic, which cost the City $27.5 million in tax-based expenses and $5.7 million in rate-based expenses – all of which were offset by $25.5 million in federal and provincial funding. The City anticipates the Province will reimburse the $1.5 million spent to date on Ottawa's vaccination program.
Council received an update on the work of the City's Anti-Racism Secretariat, including community highlights from the first phase of public engagement that will inform Ottawa's first anti-racism strategy. Staff will conduct more public engagement before presenting the strategy to Committee and Council in 2022.
Council also received the Ottawa Community Housing Corporation's annual report.
The next regularly scheduled City Council meeting takes place on Wednesday, June 23 at 10 a.m.