El-Chantiry: Ward 5 weekly news, Aug. 17
The Councillor's Column
COVID-19 – LATEST NEWS
COVID-19 FIRST & SECOND DOSE POP-UP VACCINE CLINIC RETURNING TO FITZROY HARBOUR – AUGUST 17, 18, 19: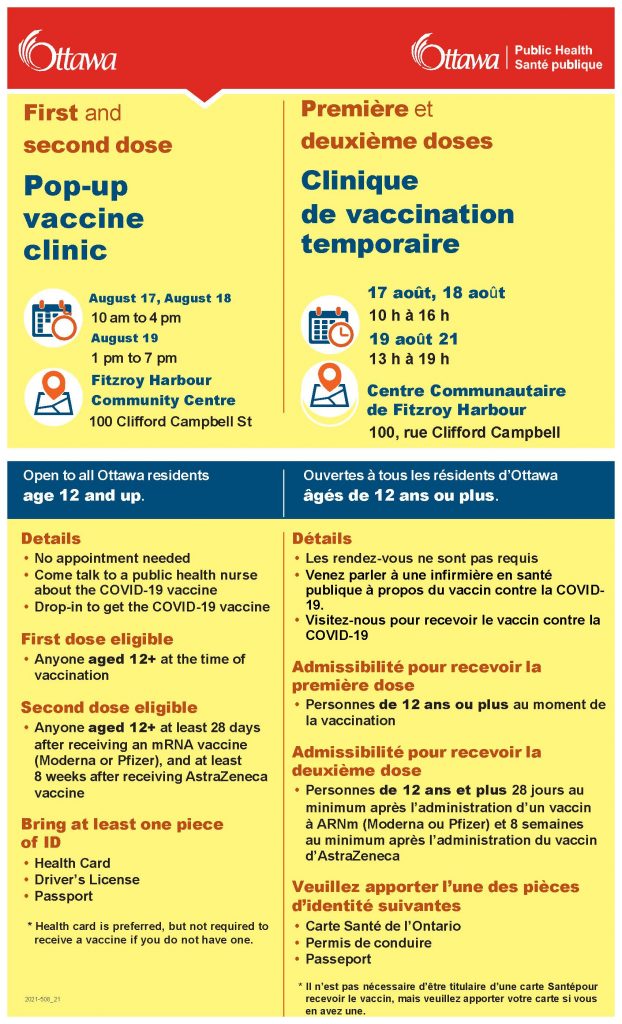 LATEST SPECIAL STATEMENT FROM DR. ETCHES: AUGUST 11, 2021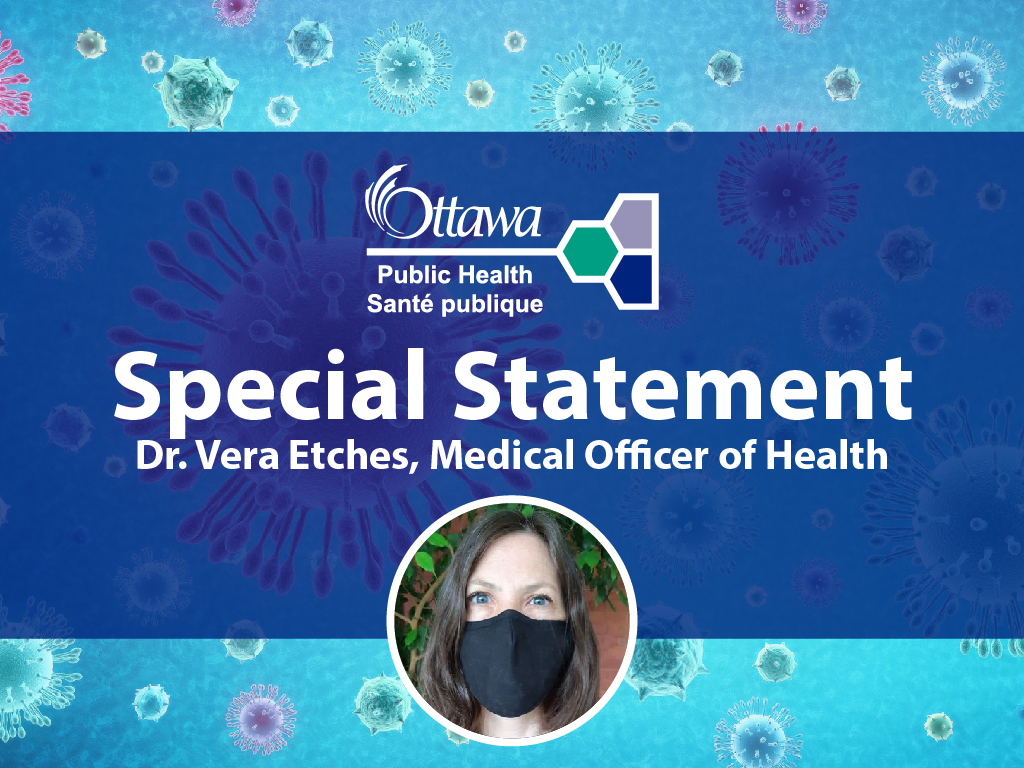 Today we are releasing information that outlines COVID-19 vaccination coverage by neighbourhood in Ottawa. An interactive mapping tool provides a snapshot in time of cumulative percent of individuals aged 12 and over who received at least one dose of COVID-19 vaccine and those who are fully vaccinated, based on geography established by the Ottawa Neighbourhood Study. This is the same neighbourhood approach we used to provide information about people testing positive for COVID-19, testing and per cent positivity rates by neighbourhoods in Ottawa. The vaccination data by neighbourhood will be updated every four weeks. Read the full statement here.
WARD NEWS
AUDITION NOTICE – RURAL ROOTS THEATRE

Rural Root will be performing: The Great Kooshog Lake Hollis McCauley Fishing Derby by Norm Foster, directed by Helen and Martin Weeden (November 7th matinee, November 9-13 evening performances). What better way to start off a renewed theatre season but with a comedy? The play is "a fish out of water tale" centering around James, a naive, business techie who thinks he is really going places in his career. Due to car problems (on his way to a big conference where he is scheduled as a guest speaker) he finds himself stranded and frustrated for the weekend in the small town of Lake Kooshog during their annual fishing derby. While stuck there four other "locals" have a good time at his expense.
Auditions will take place:
Dates: Wednesday, September 1st and Monday, September 6th
Time: 7:00 pm
Place: The Northwind Centre, 262 Len Purcell, Constance Bay
Roles (remaining) to be filled:
Sienna (female, 55 plus, 356 lines)
James (male, 30-45, 455 lines)
Melanie (female, 30 plus, 311 lines)
CARP FARMERS' MARKET: GARLIC MONTH CONTINUES

Raise your hand if you love garlic! With the success of last year's Garlic Month, the Carp Market Board of Directors decided to continue with a month-long garlic filled celebration as the Market continues to operate in a reduced capacity due to COVID-19 restrictions. During the month of August (all 4 Saturdays) you will be able to purchase locally grown garlic at the farmers' market Saturday's, from 8:30am to 1:00pm, at the Carp Fairgrounds.
CITY NEWS
CLEANING THE CAPITAL RETURNS!

The Cleaning the Capital campaign is a citywide cleanup that occurs in the spring and fall of every year. Residents come together as a community and combine efforts to make our city clean and green. Litter pickup projects must be registered, and participating teams, upon request, receive a cleanup starter kit to assist them with their projects. Participants who register their cleanups during the campaign's early bird registration period and/or submit their on-line cleanup reports after their cleanup are eligible to win prizes donated by the campaign's generous sponsors.
2021 marks the 28th year of the Cleaning the Capital Program! Registration opened August 16; visit Cleaning the Capital Program | City of Ottawa for more information on how you can take part and 'clean the Capital'.
POST PROMISE: IN COLLABORATION WITH OTTAWA BOARD OF TRADE
The City has collaborated with the Ottawa Board of Trade to relaunch its POST Promise Campaign. The POST Promise is an initiative designed to help Canadians confidently and safely shop and work in local businesses. It signifies a business's commitment to implementing and practicing key steps to workplace safety to prevent the spread of COVID-19.
If you are a business owner interested in receiving a kit, visit to secure a pick-up time – https://calendly.com/ottawabot/post-promise-kit-pick-up?month=2021-08.
You can find more information on POST Promise here: https://www.ottawabot.ca/post_promise/.
OTTAWA TOURISM'S FUNDING PROGRAM TO HELP BUSINESSES IMPACTED BY COVID-19
Have you spent money getting your business ready to welcome visitors now that restrictions are beginning to lift in order to adapt to COVID protocols and safety? You may be eligible to receive 80% reimbursement of that money through Ottawa Tourism's Tourism Relief and Investment Program, which provides up to $20,000 in non-repayable grant funding. Funds are still available, with businesses such as yours benefiting from this relief funding that is meant to help get businesses in rural and semi-urban locations back up on their feet after a challenging time. Don't delay – the program will be in place until funds run out, so while there isn't a deadline, there is some urgency to apply before funds are depleted. Funds are available to cover expenses from June 1, 2020 through to December 31, 2021, and eligibility details can be found here.
NOTICE OF SPECIAL MEETING: JOINT PLANNING COMMITTEE AND AGRICULTURE AND RURAL AFFAIRS COMMITTEE
The City of Ottawa has actively been reviewing and tracking public feedback on the draft new Official Plan, which has resulted in a number of recent revisions. The proposed revisions are being published on the City's Engage Ottawa webpage for public review as they become available. It is anticipated that the final revised draft of the proposed new Official Plan will be published on the Engage Ottawa webpage later this month.
In order to provide additional time for public review in advance of Committee and Council consideration of the final staff report, the Planning Committee co-Chairs and the Agriculture and Rural Affairs Committee Chair have agreed to move the joint statutory meeting of the Planning Committee and Agriculture and Rural Affairs Committee to October 14, 2021.
Please be advised of the following revised dates in respect of the consideration of the comprehensive final draft of the new Official Plan:
– Wednesday, September 29th – Public Open House.
– Thursday, October 14th – Joint statutory meeting of the Planning Committee and Agriculture and Rural Affairs Committee. The location and format of this meeting is to be determined. Details will be communicated at a later date.
– Wednesday, October 27th – City Council Consideration of the report on the final draft of new Official Plan.