El-Chantiry: Ward 5 weekly news, April 6
The Councillor's Column
COVID-19 – LATEST NEWS
Ottawa Public Health calling for province-wide stay-at-home order: On April 4, Dr. Vera Etches, Ottawa's Medical Officer of Health, signed a letter along side the Medical Officers of Health for both the City of Toronto and the Region of Peel to request the province of Ontario move into a province-wide stay-at-home order. Read their letter here.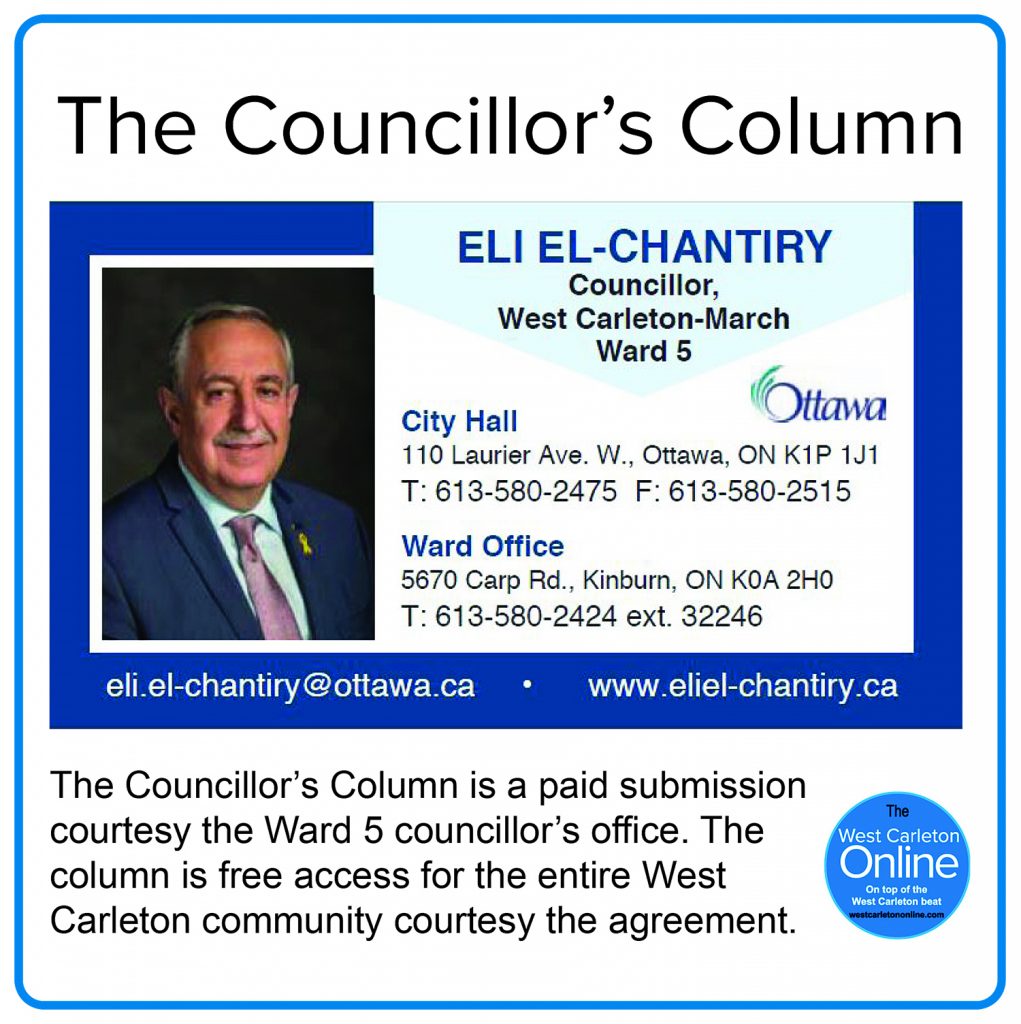 At this point, this is simply a request and it not yet enacted. Please stay tuned to local media. If the province moves in this direction it will be widely publicized.
West Carleton's Rural Pop-Up Clinics a success: The COVID-19 rural pop-up clinic that took place on April 1 – 3 at the West Carleton Community Complex was a huge success! 450 doses of the vaccine were administered to Ward 5 residents over three days with no booking cancellations or leftover vaccines. Due to the success of the pop-up clinics that took place in all rural areas of Ottawa, Ottawa Public Health is now considering the possibility of holding future rural clinics. If and when future rural pop-up clinic are confirmed for West Carleton-March, I will be sure to widely publicize this ahead of time – stay tuned!
I would like to acknowledge the incredible work and professionalism of Ottawa Public Health and the staff who helped run the pop-up clinic at the West Carleton Community Complex. I was happy to share with Ottawa Public Health a few complimentary emails I received from area residents regarding their positive experience while attending the clinic.
Vaccines available at some local pharmacies: The AstraZeneca COVID-19 vaccine is now available in select Ottawa pharmacies for eligible people ages 55 or older. These vaccinations are separate from Ottawa Public Health. Find out how to book.
VIRTUAL COMMUNITY MEETING – 910 MARCH ROAD
Councillor Jenna Sudds is hosting a virtual community meeting regarding the proposed development at 910 March Road. The meeting takes place April 12, 6:30 – 8 p.m. via Zoom or Facebook Live. This meeting may be of interest to some Ward 5 residents. Meeting details are below:
Join via Zoom:
https://us02web.zoom.us/j/85182262580?pwd=Q1I5Q0tObWg1LzhoZ1RIR0JIRzBQUT09
Meeting ID: 851 8226 2580
Passcode: 619100
Join via Facebook Live:
CLICK HERE for Facebook Live link
RURAL ROOT THEATRE – UPCOMING AUDITIONS
Rural Root Theatre Company is getting back into action this Spring and they will be producing two plays to be broadcast virtually. Online auditions are being held April 7 and April 8 at 7 p.m. (with possible call backs on April 11). Those interested in auditioning should email auditions@ruralroot.org for registration forms.
The two plays being produced are set to happen June 3, 4 and 5 with a matinee on June 5. The two plays are:
Fishing for Fate Taxi: Imagine hailing a cab only to find your life suddenly taking a u-turn! A young man and women meet under seemingly coincidental circumstances when they reluctantly agree to share a taxi. But is anything really just coincidence? As the two perfect strangers get to know one another, they are maneuvered along by their boisterous wise-cracking taxi driver. The pair realize they have more in common than ever could have imagined, so they have to wonder if their meeting was serendipity….. or fate.
Tea with Roger: Joan and Mavis may be the best of friends but Joan hasn't seen Mavis since Mavis met Roger. So when an invitation to Mavis's wedding comes in the mail the same day as an invitation to tea, Joan has questions. Who exactly is Roger? What's with the exotic new tea? What are those strange sounds coming from the closet? What is that noise? Racoons?
For more information including purchasing tickets, please contact Rural Root Theatre directly.
HUNTLEY TOWNSHIP HISTORICAL SOCIETY
The Huntley Township Historical Society is presenting Wib Paul: The Paul Family Irish Ancestors Come to Canada (1841) and Life on the 4th Line of Huntley Twp. on Tuesday, April 20 at 7:30pm. There is no cost to attend and everyone is welcome. Please register at huntleyhistory@gmx.net to receive the meeting identifier and password.
OTTAWA RIVER CANOE CLUB SUMMER CAMPS
Ottawa River Canoe Club (ORCC) has opened registration for summer camps. The ORCC is a non-profit committed to creating a safe and fun environment for people from all walks of life to develop their paddling skills while building connections in their community. They have been serving the West Ottawa community since 2002 and are excited to do so again in 2021. During the summer, the ORCC offers four types of camps that cover the whole spectrum of youth. They offer Jr Canoe Kids (6-7), Canoe Kids (8-11), Youth Camps (11-14), as well as Paddle All Camps for youth and adults with intellectual and/or developmental disabilities. CLICK HERE for more information on programming and registration information.
OC TRANSPO OUTLINES COVID-19 SERVICE ADJUSTMENTS
The City of Ottawa's Transit Commission received a report on March 31 received a report entitled COVID-19 Service Adjustments Update, which provides an update on service adjustments that will be implemented by OC Transpo on June 20, 2021 to better match the connectivity and capacity of the transit system to the current travel needs in Ottawa. OC Transpo's top priority continues to be the health and safety of its customers and employees. With the onset of the COVID-19 pandemic in early 2020, OC Transpo implemented a series of measures to help keep customers and staff as safe as possible, including:
Mandatory masks in all vehicles and at all stations and shelters.
Enhanced cleaning of buses, trains, and stations.
Installation of barrier shields around operator cabs on buses.
Controlling the flow of buses into busy transfer stations.
Installation of hand sanitizer dispensers at stations.
Provision of touch-free fare payment.
On March 25, 2020, OC Transpo service levels were reduced by approximately 50 per cent. This was done to preserve operational capacity in case the virus had been transmitted much more quickly through the population than proved to be the case. Over the months that followed, the full transit network was restored on June 27, 2020, and transit service continued to be adjusted on an ongoing basis to reflect ridership levels.
While ridership has declined across the system during the COVID-19 pandemic, it has not done so uniformly. Ridership on routes used primarily by customers travelling from suburban areas to points downtown have declined the most, while ridership on routes serving hospitals, shopping areas, and some employment locations has remained higher.
The federal and provincial governments provided funding through the Safe Restart Agreement (SRA) to make the City financially whole from April 1, 2020 to December 31, 2020, after the reduced fare revenue and the additional COVID-19 costs. The remaining Phase 1 and Phase 2 Transit Safe Restart Agreement funding from 2020 can be used until March 31, 2021 to make OC Transpo financially whole, however any unused funds must be returned. The City has received confirmation of additional Transit SRA Phase 3 funding for April to December 2021 of $73.3 million.
Through 2020 and continuing into 2021, City staff have been reducing operating expenses and capital spending while still maintaining service across the entire transit network. Moving forward, further transit service adjustments are required to better reflect current ridership needs and to help decrease costs where possible.
There are five components to the COVID-19 service adjustments, which include:
The temporary suspension of selected peak-period routes with very low ridership and where there are other nearby transit service options available.
Frequency reductions on certain routes to better match actual current ridership levels.
Routes being shortened where parallel service is available.
Service improvements on several routes, including those serving hospitals, shopping districts, and growing employment areas, to respond to current travel needs.
A net reduction in operating costs resulting from these changes.
Transit service will continue to be provided in all parts of the urban area where currently available. All parts of the urban area will continue to receive transit service that meets the applicable service standards. These service adjustments are based on current ridership counts and on suggestions from customers, employers, Councillors, Commissioners and staff.
Service adjustments will result in a reduction in OC Transpo operations by approximately 2170 service hours each week and a cost saving of approximately $5.5 million in 2021 in addition to the already approved $30 million in savings in the 2021 budget. If the effects of the pandemic continue into the full year of 2022, OC Transpo will see a cost savings of approximately $11 million.
Workforce reductions will be achieved by attrition and reassignment. By the end of 2021, there will be approximately 70 fewer staff members funded from the transit operating budget than there are currently. There are no layoffs associated with this workforce reduction plan.
Service adjustments will go into effect on Sunday, June 20, 2021. Full details will be communicated on octranspo.com(link is external), through signage and electronic materials, and will be accompanied by in-person customer outreach at key stations and times of day when the adjustments take effect. OC Transpo will continue to monitor and adjust transit service on an ongoing basis to safely meet the travel needs of Ottawa residents.