El-Chantiry: Ward 5 bi-weekly news, Nov. 16
The Councillor's Column
COVID-19 – LATEST NEWS
UPDATE ON COVID-19 VACCINATION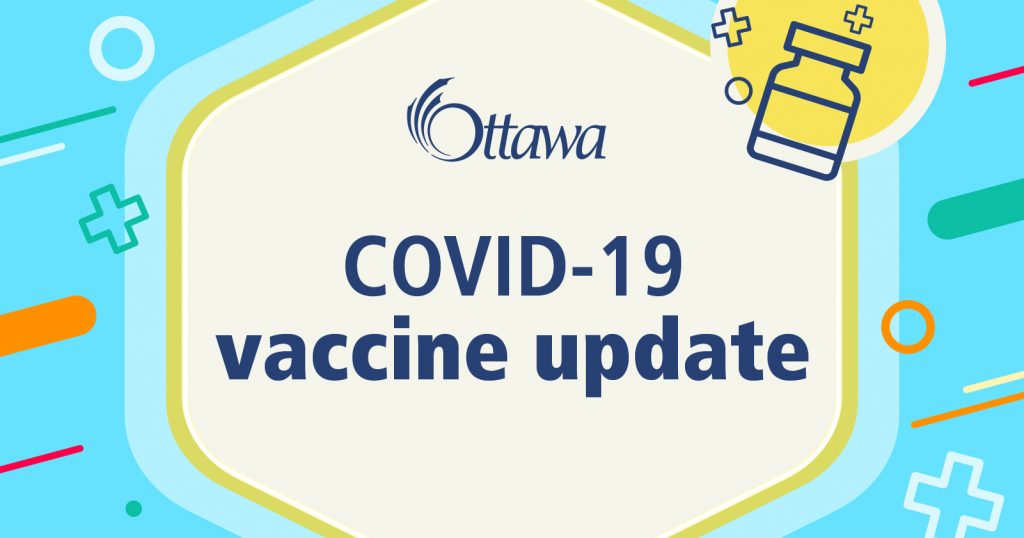 Though Ottawa continues to make progress in increasing our COVID-19 vaccination coverage, uptake has been declining week over week. People 18 to 39 years of age have the lowest rates.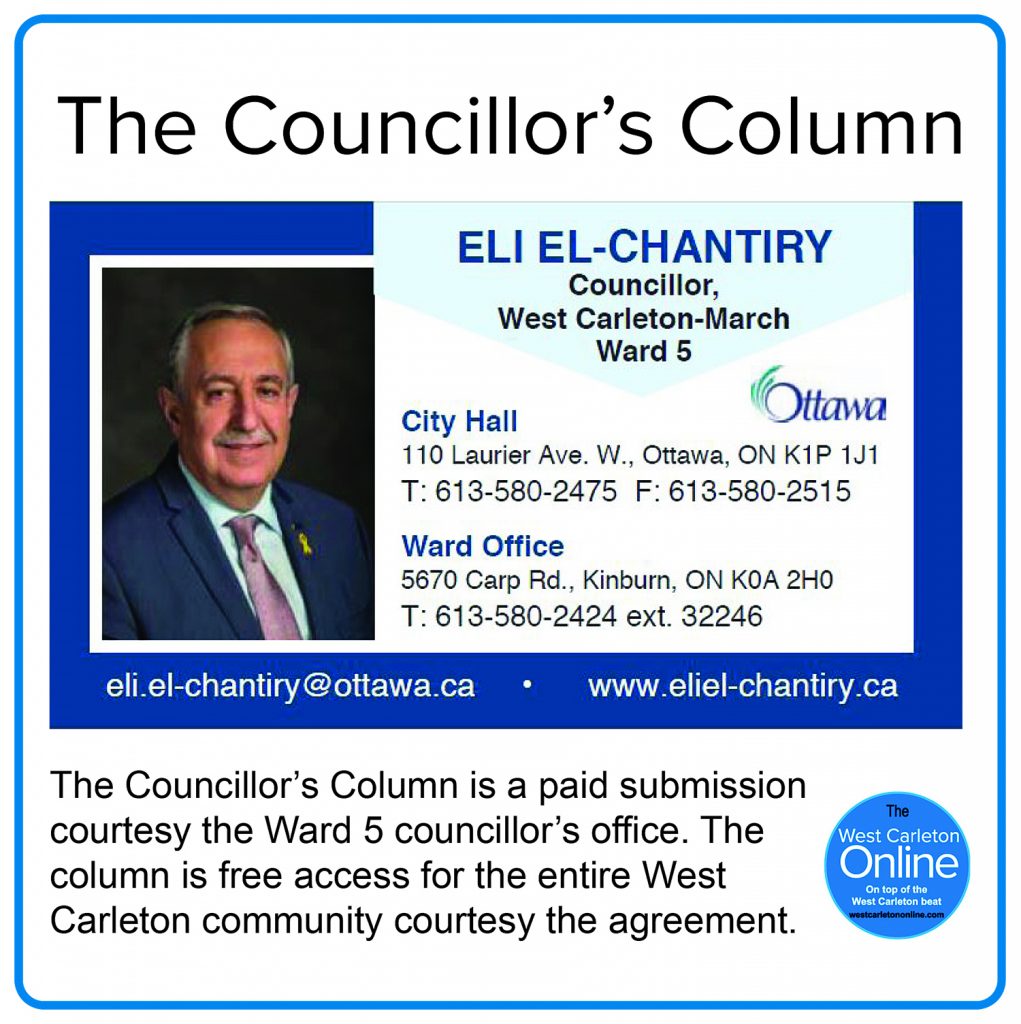 For more information on the latest rates in Ottawa, please visit our COVID-19 vaccination dashboard.
On October 18, Ottawa reached the milestone of 90% first dose vaccination among the eligible population. In terms of vaccination coverage for our total population, 79% have received one dose and 76% are fully vaccinated. COVID-19 vaccines continue to be available to people born in 2009 or earlier at our community clinics, pop-up clinics, neighbourhood vaccination hubs across the City, some family physicians' offices, and a large number of participating pharmacies. Workplaces, community organizations, places of worship and other groups can also still request a mobile vaccination team to administer first and second doses of the COVID-19 vaccine on-site, at their own location. For more information on COVID-19 vaccines, please visit OPH's website.
OTTAWA PUBLIC HEALTH: INFLUENZA VACCINE CAMPAIGN
As a result of the ongoing COVID-19 vaccination efforts, this year's 2021 – 2022 Ottawa Public Health influenza vaccine campaign is different from previous years. OPH is using a targeted approach to accommodate the anticipated COVID-19 vaccination program for children aged 5 to 11 and the expansion of third doses of the COVID-19 vaccine for some individuals. Read more about the anticipated program for children aged five to 11 here.
Getting your annual flu vaccine is an important way to help protect yourself, your family and high-risk individuals in your community against seasonal flu. We can help reduce flu transmission in the community and keep our hospitals from being overwhelmed while COVID-19 continues to be present.
As of November 1, participating pharmacies and family doctors have been able to offer residents their flu vaccine. New this flu season, individuals two years of age and older can visit participating pharmacies to receive their flu vaccine. Individuals aged six months and older may also receive their flu vaccine from their family doctor or nurse practitioner. Anyone aged six months and older who lives, works or attends school in Ontario is eligible to receive the publicly funded flu vaccine at no cost.
Only eligible residents can book flu vaccines by appointment at an OPH Community Clinic. Those eligible for appointments at these clinics include:
Children aged six months to two years and their household members
Individuals experiencing barriers to getting the flu vaccine which include:
Being a newcomer to Canada
Having no Ontario Health Insurance Plan (OHIP) card
Having no primary care provider, such as a doctor or nurse, and those who have had difficulty accessing the vaccine at a pharmacy
Individuals in these groups can book their flu vaccine appointments by visiting OttawaPublicHealth.ca/Flu.
Ottawa Public Health cannot guarantee drop-in requests at its clinics for flu vaccine and it is recommended to book an appointment.
GUIDANCE FOR UPCOMING HOLIDAY SEASON
As we head into the winter months many people are starting to plan holiday events. Here is some guidance from Ottawa Public Health on how to go about hosting and attending events.
Community transmission can happen easily when our guard is let down. As such, attending community events and gatherings in a Social Wise manner will help to control the spread of COVID-19 in our community.  
Transmission has been linked to both enclosed spaces and outdoor events. Generally, outdoor events and gatherings are a safer option than indoor events. However, you can still catch the virus outdoors and the virus survives better when temperatures are colder and when there is less sunlight.  
Some risk can be mitigated by following basic public health measures.  For residents who may be considering attending a special event, OPH recommends the following: 
Stay home if you have symptoms, even if they are mild.  Get tested for COVID-19 and self-isolate
Maintain two metres of physical distancing from anyone you do not live with and limit close contact to members of your household
Wear a mask indoors and wear one outdoors if physical distancing cannot be maintained or if a mask required
Wash your hands or use alcohol-based hand sanitizer frequently and always before touching your face or mask 
When gathering outdoors with people from multiple households who are unvaccinated, partially vaccinated or their vaccination status is unknown, you should wear a mask if physical distancing cannot be maintained. 
Older adults and people who have serious underlying medical conditions are at higher risk for severe illness from COVID-19.  We should all consider our risks as well as the risks of those in our household prior to participating in events in case you were to bring COVID-19 home.   
While many older adults will likely have been vaccinated, vaccine effectiveness is lower in older age groups, and COVID-19 variants of concern can also impact the effectiveness of COVID-19 vaccines; vaccination can still leave 5% to 15% (or more) people unprotected from severe illness depending on the age group and underlying medical conditions. 
Public health measures, like screening and masking, help to reduce the risk of COVID-19 transmission, but do not eliminate it. Screening can miss up to half of infected individuals, and the effectiveness of masks that people wear is variable (because of mask type, fit, and how correctly people wear them). 
For indoor gatherings, the type and level of ventilation can vary greatly from one facility to another. The longer a person remains in a shared airspace with someone who may be shedding the virus, the higher the chance of contracting the virus. The risk that someone who is infected with COVID-19 is present increases as the number of people increases. 
Information for Event Organizers: 
Ottawa Public Health recently released a new Special Event Toolkit. This toolkit can support event organizers to implement safe special events of any size, that are permissible under the Provincial Regulations. Please note that permissions will vary depending on where the event or gathering will take place.
Ottawa Public Health also encourages event organizers to consult the toolkit and to use the included resources, such as the Operational Guidance Document and the Safety Plan Checklist when preparing for your special event.   
Please note that Ottawa Public Health does not review or approve event safety plans. It is the responsibility of the event organizer to ensure that the necessary control measures are in place to help protect people attending the event. 
WARD NEWS
UPCOMING GALETTA COMMUNITY ASSOCIATION BOARD MEETING
Live and/or work in the Galetta community? The Galetta Community Association's board of directors wants to hear your ideas on what you think the board should focus on in the future. Consider yourself invited to the association's next meeting on Monday, November 22, 7:00pm at the Galetta Community Hall, 119 Darwin Street. Proof of vaccination will be required.
VILLAGE OF CARP BIA PRESENTS: Light up the Village!
Break out those holiday decorations, Carp Village!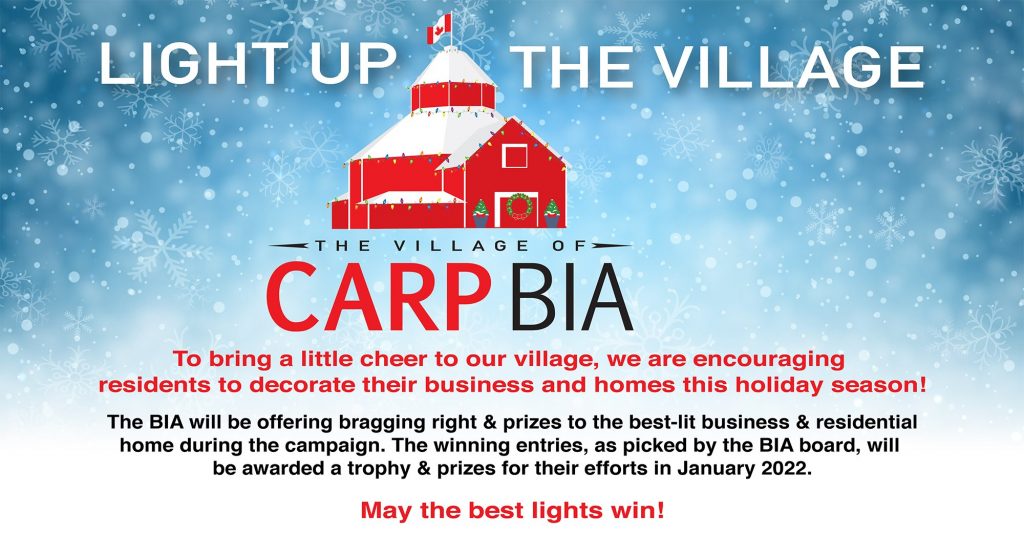 12th ANNUAL SANTA CLAUS PARADE
Santa Claus is coming to town! Please remember, donations to the West Carleton Food Access Centre will be accepted by way of cash, gift card or non-perishable food items.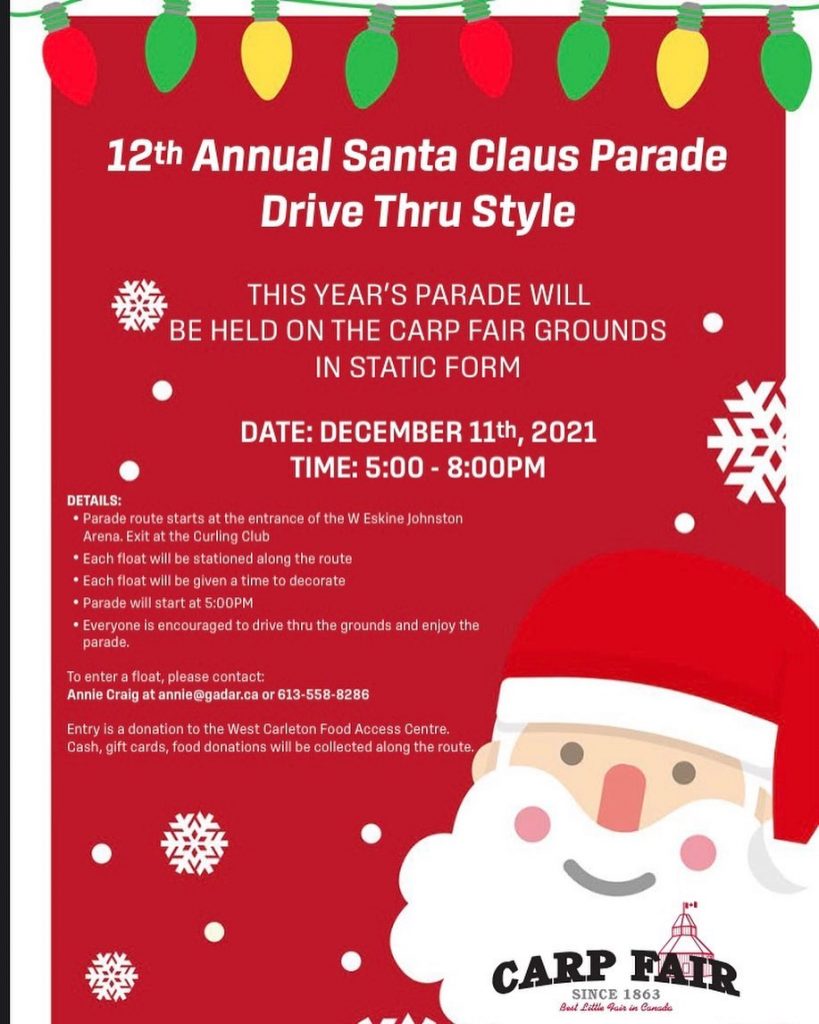 ST. THOMAS COOKIE SALE
Don't miss your opportunity to get some delicious baked goods from the St. Thomas Cookie sale! Details on how to place your order are below: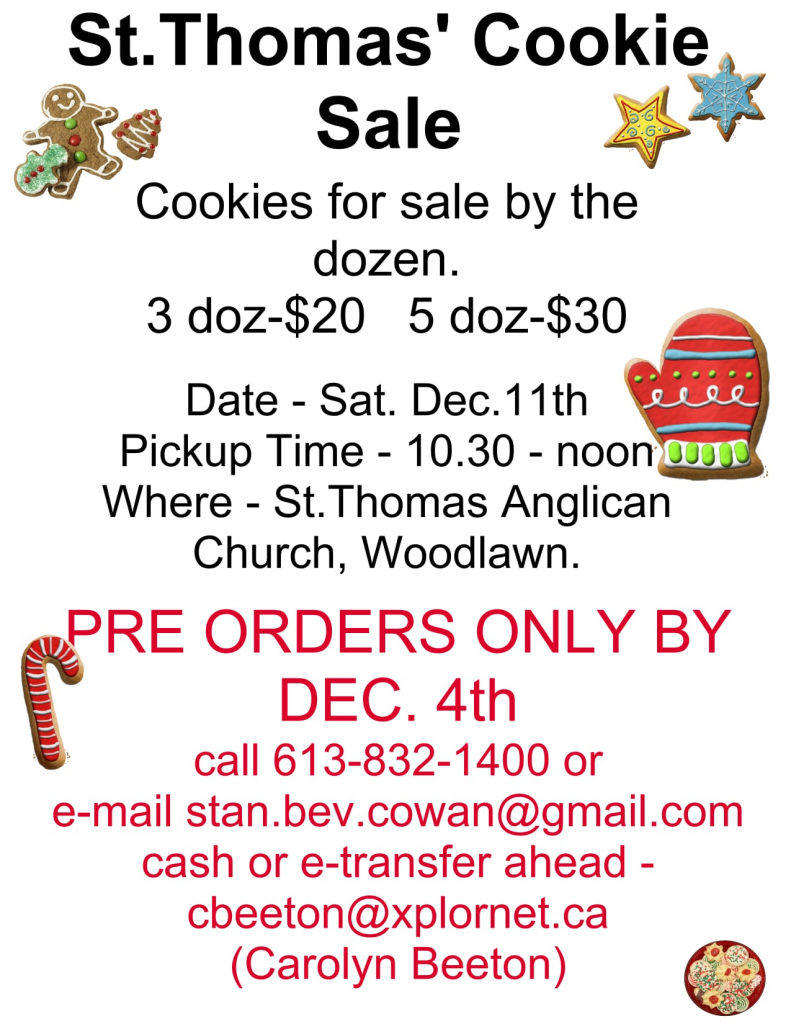 WEST OTTAWA LADIES CHOIR: FREE VIRTUAL CONCERT
Treat yourself to some Christmas joy on Friday, December 3 at 7:30pm. Click this link to watch the virtual concert.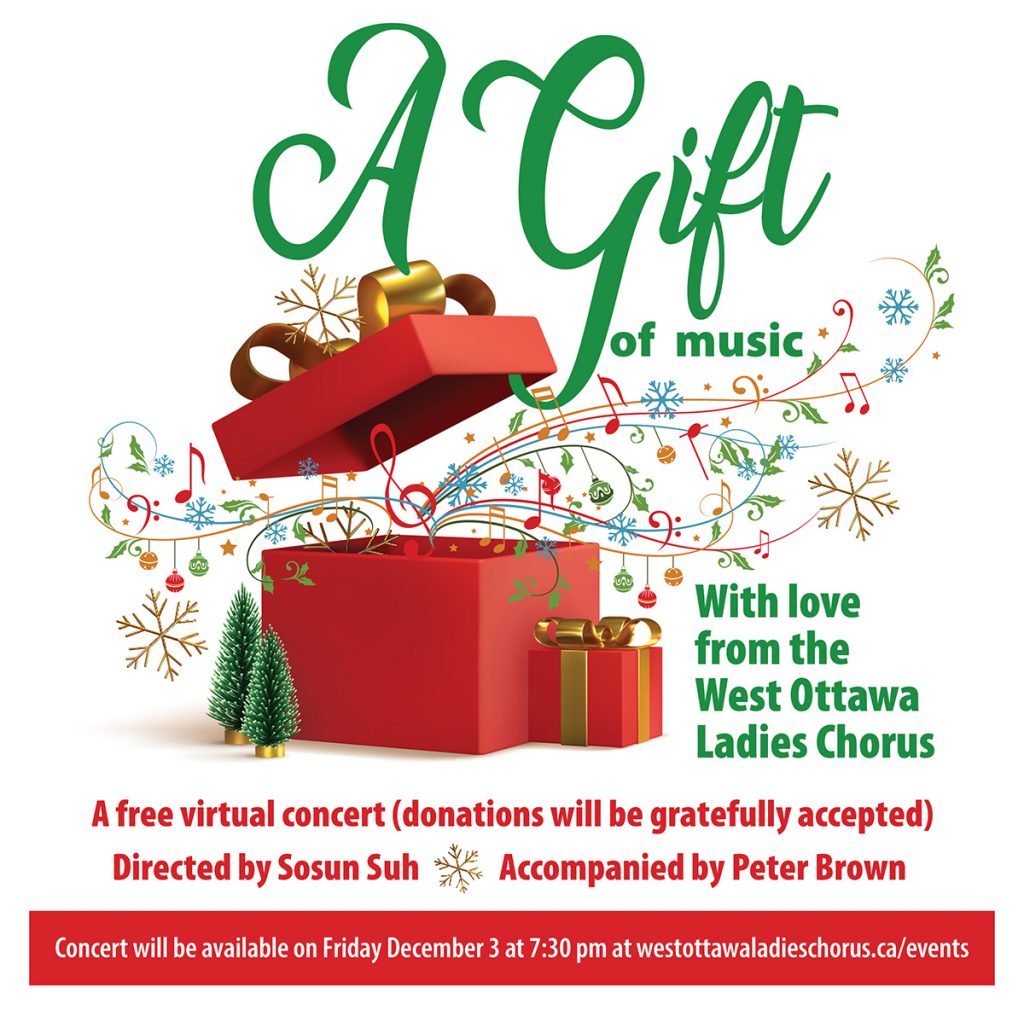 CITY NEWS
BUDGET 2022
Draft Budget 2022 will ensure the City continues to deliver essential services while still advancing Council priorities, including affordable housing and support for social services. At the same time, it prioritizes the health and safety of residents. The draft budget focuses on affordability by capping the overall municipal tax increase at 3 per cent, as directed by Council. This would see the average urban homeowner pay an additional $119 per year, while the average rural homeowner would pay an additional $91 per year.

Here is what is earmarked in the 2022 draft budget for Ward 5:
Infrastructure
$156,000 to rehabilitate Second Line Road Bridge north of Murphy Side Road
$4.1 million to build 43 drainage culverts
$245,000 to design 13 drainage culverts
$2.1 million for upgrades to the Carp Wastewater Pumping Station
$1 million to increase capacity at the Carp Well
$12.6 million to renew roads, including:
$50,000 on Grainger Park Rd from Upper Dwyer Hill Rd to 1 km east of Upper Dwyer Hill Rd
$640,000 on Loggers Way from Rabbit Path to Riddledale Road
$60,000 on Old Almonte Road from Beavertail Road to Spruce Ridge Road
300,000 on Allbirch Road between Bishop Davis Drive and Shady Lane
$1.3 million on Donald B. Munro Drive between Thomas Argue and March Roads
$1.4 million on Greenland Road between Vances Side Road and Armitage Avenue
$1.2 million on Huntmar Drive north of Campeau Drive to just south of the railway crossing
$170,000 on Madawaska Boulevard between Ottawa Road and Connifer Lane
$1.2 million on Marchhurst Road between Murphy Side and March Roads
$2.1 million on Torwood Drive between Thomas A. Dolan Parkway and Farm Lane
$4 million on Upper Dwyer Hill Road between March and Grainger Park Roads
$50,000 on Old Carp Road from Old Second Line Road to 120 meters east of Second Line Road
Transportation
$10,000 to replace streetlight poles on Donald B. Munro Drive
$50,000 for temporary traffic calming measures
$550,000 to build sidewalks on Fitzroy Street between Harbour Street and Old Ship Road, and on Harbour Street between Nicholson Street and Crossland Drive
Parks and Facilities
$60,000 to replace a condenser and install handrails at the W. Erskine Johnston Arena
$110,000 to repair and repaint walls at the Pinhey's Estate Main Building
The process for establishing the City of Ottawa's budget for 2022 is currently ongoing. Each standing committee, board and commission is reviewing the budget of the specific service areas that reports to them, and each are holding dedicated budget meetings. A few meetings have already occurred. In the link below you will find the remaining meeting dates. At these meetings, there is an opportunity for public delegations to register and make a brief presentation. Please reach out to the committee coordinator to do so (contact information can be found here).
Click here to view the schedule for virtual budget committee meetings in the coming weeks.
After each committee has met, Council will table and adopt the entire budget on December 8, 2021 at 10:00am. The approved budget details will be published on Ottawa.ca in the new year.
For more information on Budget 2022, click here.
CITY OF OTTAWA GEARING UP FOR FALL AND WINTER OPERATIONS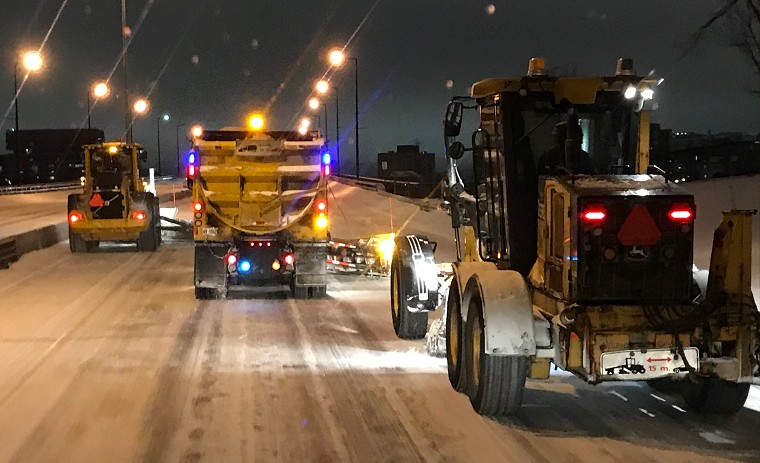 The City's Roads and Parking Services team is responsible for the City's winter maintenance program. The team is committed to helping make Ottawa's roads, sidewalks and winter cycling network safe and passable for vehicles, pedestrians and cyclists. Staff are currently transitioning from summer activities like sidewalk repairs, rural ditching and mowing to winter operations of snow clearing and removal. I would encourage residents to visit the Winter Maintenance website and sign up for the Winter Parking Alerts eSubscription to get winter parking updates sent straight to your email. Here are other ways you can stay informed:
Follow the City on Twitter or on Facebook to get the latest updates
Download the City of Ottawa app for your Android or Apple device and turn on notifications
Visit Ottawa.ca/winter to stay up to date on our winter operations
OC TRANSPO OFFERS FREE TRANSIT FOR THE MONTH OF DECEMBER

OC Transpo will be offering unlimited no-charge service on all forms of transit (buses, O-Train and Para Transpo) to customers in December, in recognition of the considerable disruption faced by transit users following the suspension of O-Train Line 1 service.
OC Transpo is making unlimited no-charge transit in December as easy as possible for customers:
From December 1 – 31, fare gates at all O-Train stations will be opened and fare boxes and smartcard readers on all OC Transpo buses will be covered
Monthly December passes will not be sold
Presto customers with auto-renew subscriptions will see a one-cent charge which will be credited back to their account
U-Pass customers or customers with a school board-issued pass do not need to tap their card at O-Train stations or on OC Transpo buses
All Para Transpo trips during December will be at no charge
Regular fares continue to apply to transit customers travelling on the STO system
Customers who had a monthly pass on their Presto card in November and U-Pass customers should tap their card as they board but no charges will be applied
Other customers will need to pay the applicable STO fare
BETTER HOMES OTTAWA LOAN PROGRAM
It's now easier and more affordable for Ottawa residents to pay for energy improvements to their homes after this weeks' launch of the City's Better Homes Ottawa – Loan Program (BHOLP).

The program allows Ottawa homeowners to apply for a zero-interest loan of up to $125,000 or 10 per cent of the current value of the home to cover the cost of home energy improvements. It also gives homeowners guidance on how to decide which retrofits to implement based on cost-benefit and greenhouse gas reduction potential.
Eligible projects include:
thermal envelope upgrades (basement/attic/exterior wall insulation, window/door replacements)
mechanical systems (thermostats and controllers, air/ground source heat pumps, solar hot water systems)
renewable energy (solar photovoltaic systems)
and electric vehicle chargers
The City is working with EnviroCentre, an Ottawa-based non-profit organization, to administer the program and connect homeowners with qualified contractors.
The BHOLP is part of the City's Climate Change Master Plan. Funding is provided through the Community Efficiency Financing initiative, which is offered through the Green Municipal Fund and delivered by the Federation of Canadian Municipalities and funded by the Government of Canada.

To learn more, including eligibility and application requirements, please visit betterhomesottawa.ca.
CITY COUNCIL AND COMMITTEE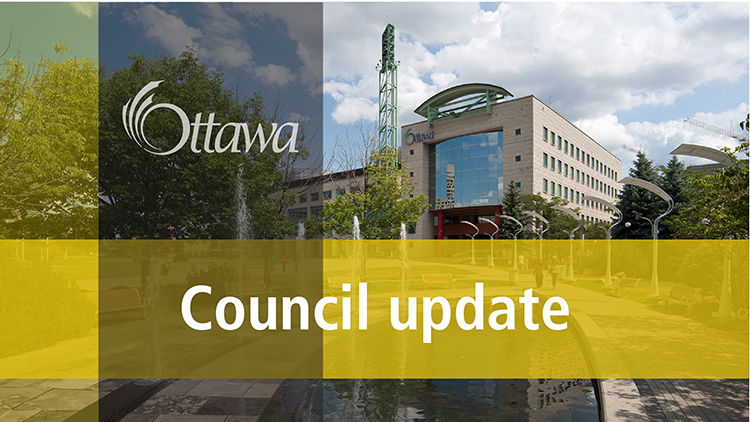 UPDATE: NOVEMBER 10 CITY COUNCIL MEETING
Council has approved a revised work plan and budget needed to prepare a new Zoning Bylaw for Ottawa, consistent with the New Official Plan.
The approved work plan will ensure the new by-law is in place by the end of 2024. Over the next three years, the City will engage with residents, community associations and other stakeholders about changes to current zoning regulations within each community.
Council received an update from the Anti-Racism Secretariat about progress on the City's anti-racism strategy. Feedback has focused on six key priority areas: employment equity, housing, governance, economic development, health and youth. The City has established an Anti-Racism Advisory Table composed of 24 individuals who will bring forward their knowledge, perspectives, and experiences to inform the strategy and advise the Anti-Racism Secretariat on actions, key indicators and desired outcomes.
Council approved replacing the Parkdale Market By-law and the ByWard Market By-law with a combined new Ottawa Markets Bylaw. New operating procedures outlined in the by-law would allow the Marchés d'Ottawa Markets Corporation more ownership of operational matters like daily market procedures, on-site regulations, how market stands are allocated, annual fees, vendor eligibility and permits.
During a special meeting, Council appointed Cathy Curry to the Office of Councillor for Ward 4, Kanata North. The new Councillor was sworn in by the City Clerk during a Declaration of Ottawa ceremony at City Hall on Friday, November 12. She will remain in the role until the end of the 2018 – 2022 Term of Council.
Here is the list of committee meetings happening this week (November 15 – 19).
I sit on the Community and Protective Services Committee which will have its budget tabling and adoption meeting this Thursday, November 18 at 9:30am.
To view the agenda in advance of the meeting, please click here.
To watch the meeting live, please click here.