El-Chantiry: Ward 5 bi-weekly news, March 16
The Councillor's Column
COVID-19 Update

As more public health measures are lifted, it is important to know that COVID is still present in Ottawa.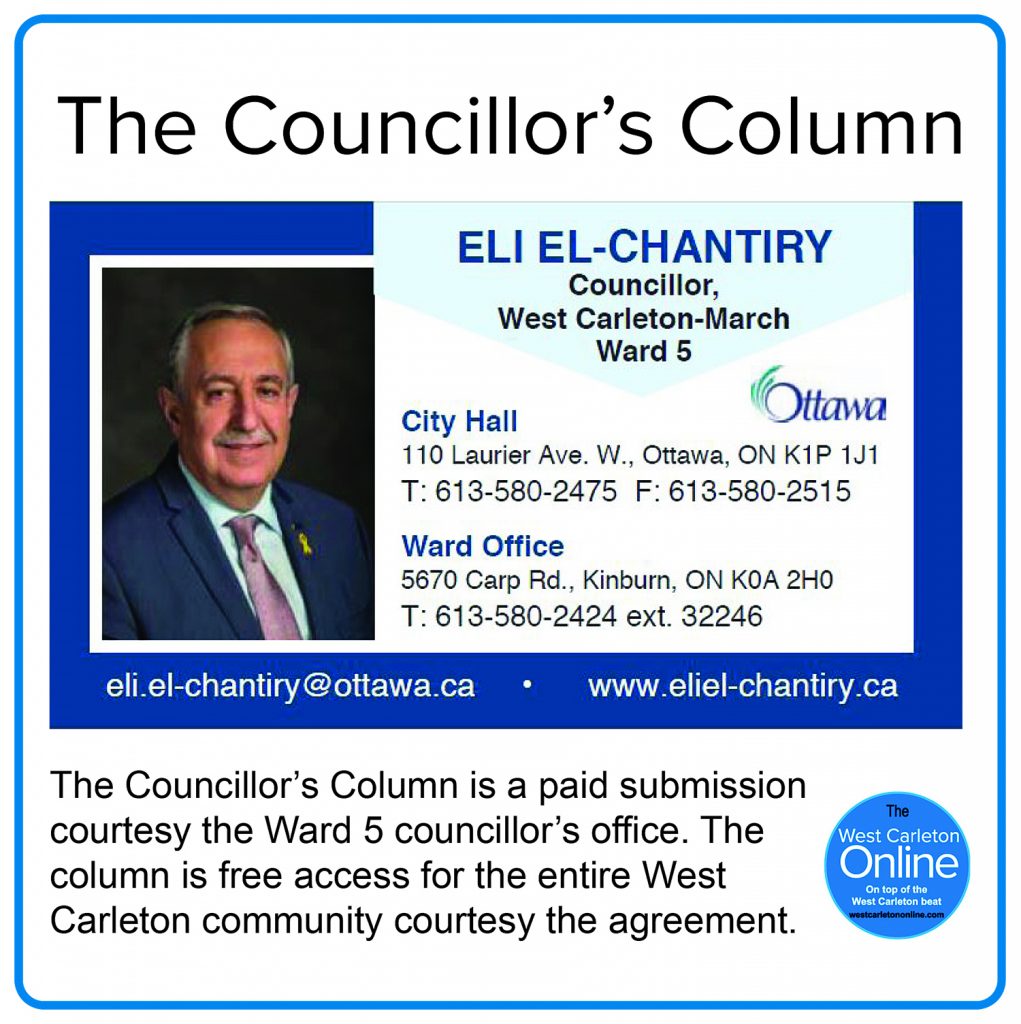 There is still risk of transmission and infection, and severe outcomes from COVID-19 are greater for some individuals than others. Visit OttawaPublicHealth.ca/RiskReduction to learn how to make informed decisions regarding activities and personal levels of risk in this changing environment.
Ottawa Public Health's Role
Ottawa Public Health will continue to monitor the COVID-19 situation in Ottawa using a variety of monitoring indicators such as wastewater signals, test positivity, vaccination levels, outbreaks, hospitalizations, and deaths.
This information will continue to be available on our website. At this time, Ottawa Public Health is not planning to recommend further public health measures for Ottawa as provincial restrictions are lifted. Ottawa Public Health will continue working with Ontario's Chief Medical Officer of Health, Dr. Kieran Moore, to assess options should key indicators, including hospitalizations, start trending upward in a concerning way.
Ottawa Public Health will work with health and community partners to continue to provide regular updates on the ongoing work being done at the local level during the COVID-19 pandemic.
Working Towards Recovery: Workplace Health and Wellness Guide
Ottawa Public Health has developed the Working Towards Recovery: Workplace Health and Wellness Guide to help support the mental health and wellness of employers and employees in the workplace.
To read the March 9 Special Statement from Dr. Vera Etches, please click here.
Your Councillor in the Community
ROMA board meeting

As I do each month in my capacity as Vice Chair, I virtually spent the morning of March 11 with my Rural Ontario Municipal Association board colleagues discussing a number of important issues, including our strategic objectives, policy updates, rural opportunities, a report on the Association of Municipalities of Ontario's Housing Strategy and the success of ROMA's 2022 Conference earlier this year.
Huntley Community Association board meeting

Thank you to the Huntley Community Association's board of directors for inviting me to speak at their March 10 monthly board meeting at the Huntley Mess Hall. It was wonderful meeting in person once again. Congratulations on your very successful winter carnival!
Mike and Peter's 15th annual Fishing Derby

It was great connecting again with Mike, Julie, Cindy and Peter for Mike & Peter's 15th annual Fishing Derby in Constance Bay on March 6. The fish were biting and there were a lot of prizes to be won, plus great food on The Bay. Thank you to everyone who came out for this event.
Kinburn Walking Audit

My thanks to Mary of the Kinburn Community Association for inviting my office to join her and Jamie, with the City's Roads Department, on a March 2 tour to assess sidewalk conditions and walkability in the Village of Kinburn. Mary participates in The Council on Aging of Ottawa's Snow Mole campaign. Learn more about the program here coaottawa.ca/snowmoles.
Ward 5 News
Sandbag-Filling Stations & Water Levels


Google Maps image of John Shaw Public Works Yard
Sandbag-filling stations will be available at the John Shaw works yard at 4127 John Shaw Road and the March Road works yard at 2941 March Road by end of day Thursday, March 17. Deployment of sandbag-filling stations at this time is to ensure residents have early access to materials should they feel the need to begin preparations. The City of Ottawa does not have any information or indications of flooding risks along the Ottawa River at this time. The City encourages residents to be prepared for the possibility of flooding related to a fast spring melt and/or large or ongoing rain events. As always, residents are encouraged to remain up to date on river conditions.
For information on water levels and flood plains, see the following websites:
You are invited to participate in a Ward 5 Clean-up Challenge

I am issuing a friendly challenge to all West Carleton-March residents, community associations and businesses to take part in Ottawa's Spring Cleaning the Capital Campaign. In addition to earning major bragging rights, the team that collects the most trash during their registered clean-up this spring will be eligible to win Tim Hortons gift cards (one per person, up to a maximum of 20). Invite me to your clean-up event so I can see how much garbage and waste was collected and removed from our beautiful Ward 5. Email me at eli.el-chantiry@ottawa.ca or call 613-580-2424 ext. 32246.
The Cleaning the Capital campaign is a citywide cleanup that occurs in the spring and fall of every year. Residents come together as a community and combine efforts to make our city clean and green. Litter pickup projects must be registered, and participating teams, upon request, receive a cleanup starter kit to assist them with their projects. Fill out the online registration form at ottawa.ca/clean or call 3-1-1 to register your project. If you need supplies, remember to request your project starter kit and to select your desired pickup location while registering.
Important dates 2022
March 15, 2022: Registration opens
April 15, 2022 – May 31, 2022: Spring Cleaning the Capital campaign
April 30, 2022: Registration closes
June 15, 2022: Deadline to submit your online cleanup report.
City's recreation and arts spring eGuides available now

Registration for City of Ottawa aquatic and other recreation and arts programming is underway now. Below is an overview of the programming available in West Carleton-March. To register and for details, please see the eGuide at bit.ly/3HH0aFz.
Drive Safe!
My office has received calls asking that motorists turn on their lights when driving at night. This is required under the Ontario Highway Traffic Act and the Ottawa Traffic and Parking Bylaw. It increases your visibility to oncoming motorists as well as those travelling behind you. It's especially important at this time of year when weather conditions can change suddenly. Please fully turn on your headlights regardless of the time of day. This will activate your tail lights as well.
Loggers Way Sewer Replacement Project – For residents who live on Loggers Way, from Kinburn Side Road to Early Avenue
Do you live within the project scope? Please refer to the below 5 Ws:
What: Sewer Replacement – Project scope covers 293m
Why: To address structural deficiencies
When: April 18, 2022 – June 10, 2022
Where: Loggers Way from Kinburn Side Road to Early Avenue
Who: Main Contractor – Core Civil Construction; Sub-Contractor – Englobe (for pre-construction inspections)
Traffic Impacts: A road closure will be in place for the duration of the project. Residents, businesses and emergency services will have full access.
Please note: If your property is located within the project scope, you have received a Pre-Construction Survey Notice. This pre-construction inspection is 100 percent voluntary. Its purpose is to document the existing condition of your home to get a baseline condition inspection prior to construction. Any potential or realized claims for damage go through the contractors, who are all insured against damages. Should you decide to not participate in this pre-construction inspection, you may have difficulties proving your claim and case to the contractors.
232 Donald B. Munro Drive Development Application – Public Meeting

A public meeting will be held in the coming weeks for a development application for 232 Donald B. Munro Drive. More information will be provided on my social media channels and the events section of my website as it becomes available. The zoning By-law amendment and plan of subdivision application is available at the City's DevApps website:
1015 March Road Proposed Plan of Subdivision – Public Meeting

Meeting details: The City of Ottawa will hold a public meeting April 4 at 6:30 pm on Zoom to discuss a proposed zoning By-law amendment and plan of subdivision application for 1015 March Road.
Application: Property owner 13533441 Canada Inc. is proposing to develop one future mixed-use block, one future institutional block and a new street which will connect to March Road.
Details: Additional information relating to the proposed plan of subdivision is available on the City's DevApps website.
Contact: Lisa Stern, Assigned Planner, City of Ottawa Planning, Real Estate and Economic Development Department, 613-580-2424 ext. 21108, or e-mail Lisa.Stern@ottawa.ca.
Seasonal load restrictions for heavy vehicles serving Ottawa

Seasonal load restrictions came into effect March 16. Commercial vehicles or trailers with a gross vehicle weight in excess of five tonnes or 11,000 pounds per axle will be prohibited on roads where restriction signage is posted, and on all truck routes identified as restricted on the Urban Truck Routes and Rural Truck Routes lists. These restrictions also apply to all non-truck routes. Heavy vehicles that exceed weight limits on restricted-load roadways during the spring thaw period will be subject to fines. Once the pavement strength has been restored, load restrictions will be removed.
Web Series for Military Families

I'd like to welcome new and returning Canadian Armed Forces and Veteran families to the National Capital Region. For more information on the programs and services available to support you and your family in your new community, please visit The Welcome, a virtual web series from Military Family Services in the National Capital Region and their community partners. For details, please visit Welcome to the National Capital Region.

Ottawa Cohousing
-Article submitted
Have you dreamed of a home that has a closer connection to neighbours and a more supportive environment? Cohousing may be a good fit for you. Ottawa Cohousing provides the expertise for like-minded people to build new homes and cohouse communities together in Ottawa. Our focus is on developing communities within the urban boundary of Ottawa efficiently, cost effectively, and with environmental integrity. Cohousing combines private homes with generous communal spaces and shared resources. Cohouse communities are formed by a group of people that have shared values and goals. Similar in structure to a condominium but what members of a cohouse share and with whom is by the choice of the group of residents. The Ottawa Cohousing Team has comprehensive skills in coordination, management and group facilitation, and a deep knowledge of the planning, development and building industries specific to urban infill in the Ottawa region. We hold the tools needed for the success of local cohouse communities. Discover the possibilities at ottawacohousing.ca. Contact us for more information by emailing info@ottawacohousing.ca.
Ward 5 & City Events – For event details, please visit my website.

Registration for the Spring Cleaning the Capital Campaign begins March 15. Visit ottawa.ca/clean to register.

Enjoy a St. Patrick's Day Party at West Carleton Branch 616 of the Royal Canadian Legion in Constance Bay – March 17 at 4 pm. For details, click here.
Carp Agricultural Society Euchre – March 19 at noon at the Carp Agricultural Hall. Click here for details.

Kiwanis Kanata-Stittsville Trivia Night Fundraiser – March 19 at 6:30 pm.
Click here for additional information.
The West Carleton Arts Society's Spring Fling Art Show is featured at the Kanata Arts Civic Art Gallery, 2500 Campeau Drive, until March 20. Learn more here.
Crackup Comedy Festival in Ottawa – March 22 to 24. Visit www.crackup.ca for details and tickets.
Applications are open for the City's Paint It Up! mural program until April 4. The location pre-approval deadline is March 23. Click here for more info.
Rural Transportation Solutions Webinar – March 23 at 7 pm. Click here for information and to register.
2022 Ontario Farmland Forum – March 24. To learn more, visit: ontariofarmlandtrust.ca.
Friends of the Carp Hills Webinar – March 24 at 7:30 pm. For details, click here.
872 Kiwanis Kanata Air Cadet Parents Trivia Night – March 26 at 6:30 pm. Click here for info.
Transportation Master Plan Open House – March 29 at 6:30 pm. Surveys are open until April 5. For details, click here.
Rural Transportation Solutions Webinar – March 30 at 7 pm. Click here for information and to register.
Applications are open for the City's Community Environmental Projects Grant until March 31. Learn more at ottawa.ca/cepgp.
Rural Root Theatre Company presents "Drinking Habits." April 3 to 9.
For information and tickets, please click here.
Applications are open for the City's Music On Hold and City Sounds! programs until April 5. Learn more at ottawa.ca/ottmusic.
Carp Agricultural Society Euchre – April 9 at noon at the Carp Agricultural Hall. Click here for details.
City of Ottawa News, Programming & Engagements
Help Clear Catch Basins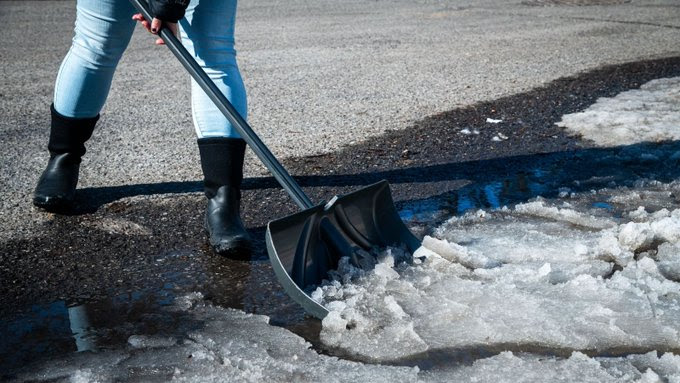 During significant rain events or melts, the City's Roads and Parking Services team may go into local communities to open up catch basins. Using backhoes, plows and even shovels, they will clear known problem areas or blocked basins of ice to open them up again. Residents who spot significant water accumulation that won't drain or who need assistance in clearing a catch basin can report it online.
The City asks for resident support to clear their local catch basin as a proactive measure, if they are able. Residents can find where their local catch basin is online, or by looking for the yellow "T" markings on the roadway.
Pothole Repair

In winter, conditions are not ideal for pothole repairs. Unstable conditions, including ice and water in the holes, as well as the cold temperatures and frequent freeze/thaw cycles, prevent the patch from adhering as well to the roadway, making the repair temporary. City of Ottawa staff repair potholes during the winter months with Cold Patch and Warm Mix asphalt. Cold Patch asphalt is a blended asphalt material which can be stored for extended periods of time.
It can be used in all temperatures, does not require special equipment to compact and can be applied directly to the roadway without heating. Warm Mix asphalt can be used year-round and produced at a lower temperature using different adhesives in the mix. Once the material is heated, the adhesives become thinner allowing improved workability and flow. The material can be manually compacted with a tamper, or shaped and compacted with power plate tampers or rollers.
Residents wishing to report a pothole can create an online Service Request or call 3-1-1. Please remember to record your SR number should you need to request an update on your request.
City grants will help make your community more sustainable

The City of Ottawa is now accepting applications for the 2022 Community Environmental Projects Grant Program for non-profit organizations. The application deadline is March 31 at 4 pm. Learn more here: ottawa.ca/cepgp.
Transportation Master Plan – Surveys & Open House
The Transportation Master Plan is an important document that will guide our transportation decisions and networks to 2046 and the public requires ample time to engage on these significant policies and projects. As a result, the City will be delaying the original approval date for Part 1 of the TMP from Q2 2022 to Q1 2023. This will allow staff sufficient time to complete the consultation process and review all feedback. This timeline also ensures we do not engage the public during the Municipal Blackout Period.
As a next step, the Public Open House has been rescheduled for March 29 at 6:30 p.m. Those who wish to register can do so here. Residents are encouraged to submit their questions ahead of time here. Please note that questions submitted for the previous meeting have been noted and do not need to be resubmitted.
The surveys and online tools will remain open until April 5, and the TMP team will continue to review all comments and submissions received. Learn more about the Transportation Master Plan at Engage Ottawa.
Do you know a Snow Angel who deserves recognition?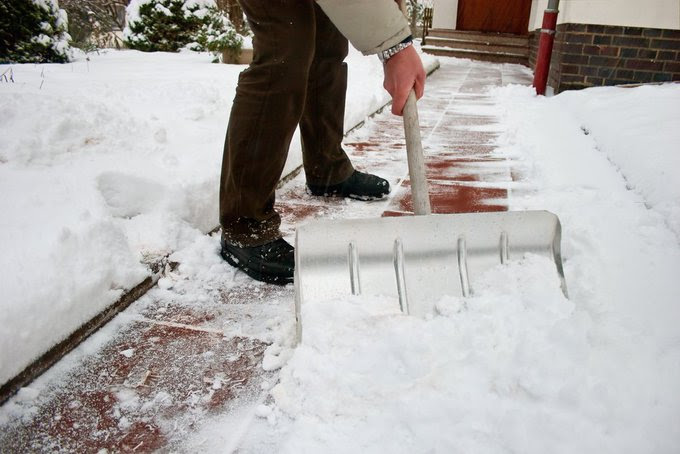 A Snow Angel is a neighbour or friend that has volunteered to help you, or someone you know who is elderly or has a disability, by clearing snow or ice from their driveway, steps or walkway. If you know a Snow Angel, the City of Ottawa wants to thank them! Snow Angels will receive a certificate signed by the Mayor. Snow Angel nominations are accepted from December 1 to April 30. To recognize a resident as a Snow Angel, complete a Snow Angel Nomination Form or call 3-1-1. For more information, please contact communitypride@ottawa.ca.
Short-Term Rental Permits
Are you a property holder and want to rent your principal residence or secondary vacation property as a short-term rental? Please note that you now must apply for a short-term rental permit, which becomes an enforceable requirement on April 1. For details, please visit bit.ly/3HVzQr3.
Review and Update of Ditch Alteration Policy – Public Meeting

The City's Planning, Real Estate and Economic Development Department is hosting a Ditch Alteration Public Information Session on April 5 at 6:30 pm. The Department is asking for your input on the proposed recommendations for the updated Ditch Alteration Policy. The following site has additional information about this session as well as a place to submit questions: