El-Chantiry: Ward 5 bi-weekly news, March 1
The Councillor's Column
Recovery Phase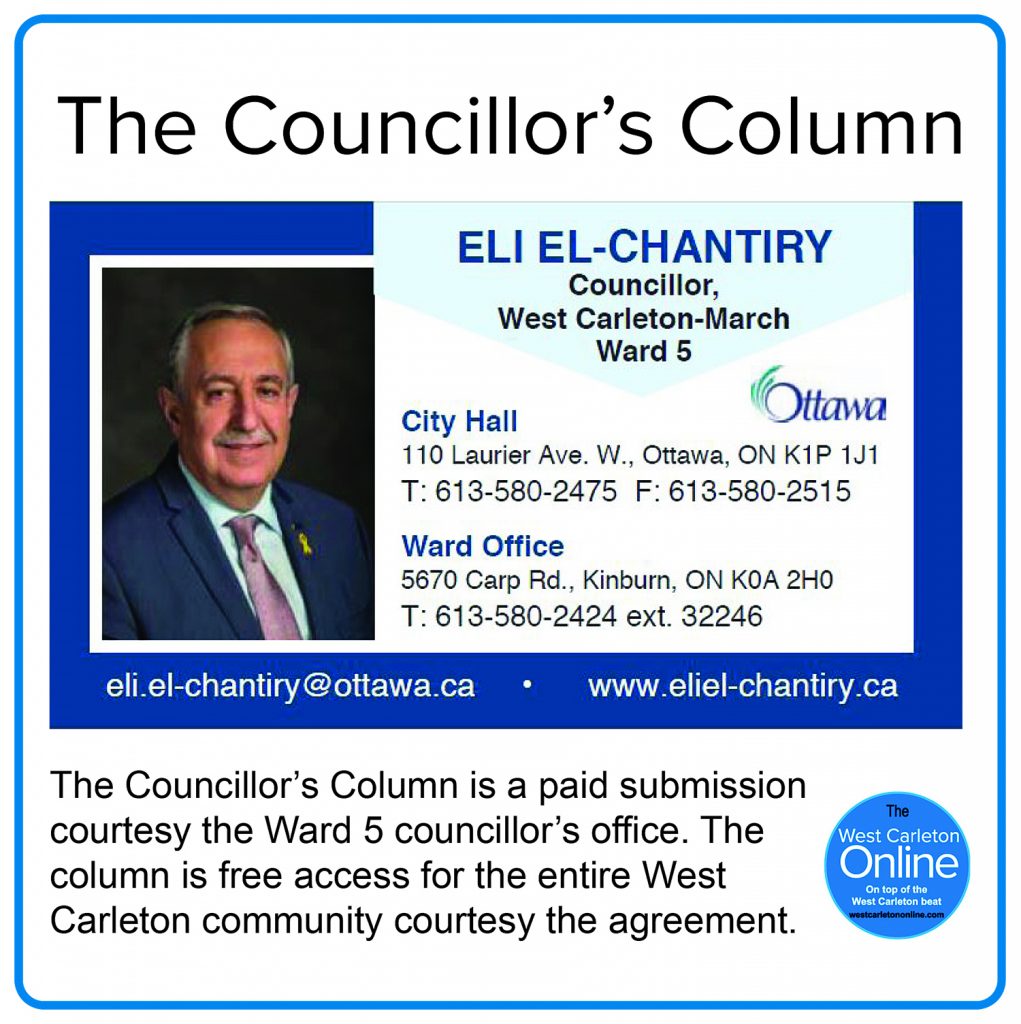 Our City is in a period of deep reflection and healing following the unlawful occupation. Supporting that is vitally important for City Council and the Ottawa Police Services Board. Council recently approved a package of support measures for downtown businesses and residents. I have also offered my assistance with my downtown Councillor colleagues to organize meetings for impacted communities. My thanks to Ottawa police officers and their partner agencies, and all emergency services and City of Ottawa personnel who worked around the clock with a focus on public safety.
These last several weeks have been extremely difficult for those who live and work in the downtown core, and very unsettling for all of us living in Ottawa and the surrounding municipalities. There are resources available, including:
• Distress Centre of Ottawa and Region support line 24 hours a day, 7 days a week, at 613-238-3311. In French there is Tel-Aide Outaouais – 613-741-6433
• Counselling Connect offers free counselling sessions over the phone or video call the same day or the next day.
• The Walk-In Counselling Clinic (reachable by phone at 613-755-2277) offers free counselling without an appointment. Sessions are offered in French, English, Arabic, Spanish, Somali, Cantonese, and Mandarin by phone or video call.
• AccessMHA helps residents over the age 16 years connect to mental health and substance use health services.
• 1Call 1Click helps connect children, youth and their families (from birth to 21 years of age) to mental health and addiction services and resources.
• Mental Health Crisis Line – 1-866-996-0991
COVID-19 Updates
Vaccinations
More than 2.3 million doses of the COVID-19 vaccine have been administered in Ottawa to date. Currently, 88 percent of residents over five years of age have received two doses of the COVID-19 vaccine. Ottawa's rates of vaccination coverage for COVID-19 boosters are now at 63 percent of residents over 18 years of age.
Youth aged 12 to 17 can now receive their third (booster) dose of the COVID-19 vaccine at Ottawa Public Health vaccination clinics. Drop-ins are welcome at all the clinics. Please consult our Vaccines Page for clinic locations and hours.
Ontario Reopening Schedule – Ontario moved to its next phase of reopening on March 1, 2022.
City lifts capacity limits at recreation and cultural facilities – Following the Province of Ontario easing some public health restrictions, the City of Ottawa lifted COVID-19 related capacity limits on February 17 at many of its drop-in recreation and cultural activities now being offered at select locations. Learn more at Ottawa.ca.
Proof of vaccination no longer required at City-operated recreation and cultural facilities – Following the Province of Ontario's next phase of its reopening plan, the City will be removing the proof of vaccination requirements for the public currently in place for its recreation and cultural facilities, effective March 1. Mandatory masking requirements remain, in accordance with the provincial public health measures. For more details, please visit Ottawa.ca.
Your Councillor in the Community
Old Sled Run
It was just like old times as snowmobilers came from across the region with their modern and vintage machines to enjoy the traditional Old Sled Run in Constance Bay on February 27. The event was made possible thanks to the dedicated volunteers with Branch 616 of the Royal Canadian Legion. This event serves as an important fundraiser for the West Carleton Legion branch.
Carp Winter Carnival
Thank you to the many volunteers who worked behind the scenes organizing this year's Carp Winter Carnival February 25 and 26. The many events and activities provided some long overdue community fun for local residents. There was a bonfire, family skating, breakfast on a bun, a tasty spaghetti dinner and Riverwalk activities. My thanks to the Huntley Community Association and its supporters for making this event such a success.
Ottawa Fire Services Promotions
Congratulations to Lieutenant Rick Chester, of Station 45 in South March, second from left, who was promoted to that rank during a ceremony at the West Carleton Community Complex on February 23. West Carleton-March is fortunate to have such strong leadership within the fire service.
Congratulations also to Chief Paul Hutt, third from left, on being recently named the new Chief of Ottawa Fire Services. Chief Hutt started his journey as a volunteer firefighter and since then has accumulated more than 28 years of experience and a record of success in emergency and fire service management. His training and experience will ensure Ottawa Fire Services moves forward as a respected and innovative service for the residents of our city.
Ward 5 Family Day Free Skate – A big thank you!


Thank you to the many West Carleton-March residents who enjoyed my Ward 5 Family Day Free Skate at the Cavanagh Sensplex on February 21. It was wonderful seeing so many local families enjoying time on the ice together.
Ward 5 & City Events – For event details, please visit my website.

Ward 5 News
City's recreation and arts spring eGuides available now
Hop into spring by registering for a City of Ottawa spring 2022 program. Browse the eGuides for your favourite activity or take up something new. The City's spring recreation and arts eGuides are now online. Registration for aquatics programming opens on March 7 at 9 pm. Registration for all other in-person and virtual programming begins on March 9 at 9 pm.
West Carleton Programming:
Preschool
Twinkling Toes Dance at the Carp Memorial Hall
Twinkling Toes Dance with a parent at the Carp Memorial Hall
Adult Fitness
Total Muscle Conditioning at the Kinburn Community Centre
Yoga at the Fitzroy Harbour Community Centre
Adult 50+
Strength and Balance for Older Adults Lite at the Huntley Community Mess Hall & the West Carleton Community Complex
City's March Break Camps
Residents are reminded there's still time to register for City of Ottawa March Break camps. There are a number of in-person and virtual options for preschoolers up to and including teens, as well as inclusive programming for all ages. The March Break recreation guide is available here.
Secure your Garbage
My office has received calls from Ward 5 residents regarding the mess left behind by creatures rummaging through garbage. Tamper-proof containers are available for purchase and are effective at preventing animals and birds from tearing through garbage bags.
Snowmobilers and Private Property
I have heard concerns about snowmobilers travelling on private property without permission, including between the sandpits south of Greenland Road and on private property along Greenland Road between Thomas A. Dolan Parkway and Vances Side Road. Please do not trespass without securing prior permission.
3-1-1 – Keep your Service Request number handy
Please call 3-1-1 at the City of Ottawa to submit your request for service. Requests can also be submitted online at ​​https://ottawa.ca/en/3-1-1 or by email at 311@ottawa.ca.
Once submitted, please write down the Service Request number you are provided so that you can track it and request updates. If you require assistance with your request from my office, the Service Request number is required to ensure a timely response. Track your request here: https://ottawa.ca/en/3-1-1/track-your-service-request.
Police Seek Witnesses to Fatal Collision
The Ottawa Police Service Collision Unit's investigators are seeking witnesses to a fatal collision that occurred on February 18. At approximately 6:20 pm, frontline patrol officers responded to a motor vehicle collision involving a pedestrian on Galetta Side Road on the overpass of Highway 417. The pedestrian, a 34-year-old man from Arnprior, was walking on Galetta Side Road when he was struck by a 2010 black Ford F150 pickup travelling southbound on Galetta Side Road, police said in a press release. He was pronounced deceased at the scene. Investigators would like to speak with anyone who saw a pedestrian on Galetta Side Road, assisted emergency responders, or may have dashcam footage of this incident who has not yet spoken to police. Anyone with information is asked to contact the Collision Investigation Unit at 613-236-1222, ext. 2481. Anonymous tips can be submitted by calling Crime Stoppers toll-free at 1-800-222-8477 or at crimestoppers.ca.
Ice Rescue Operation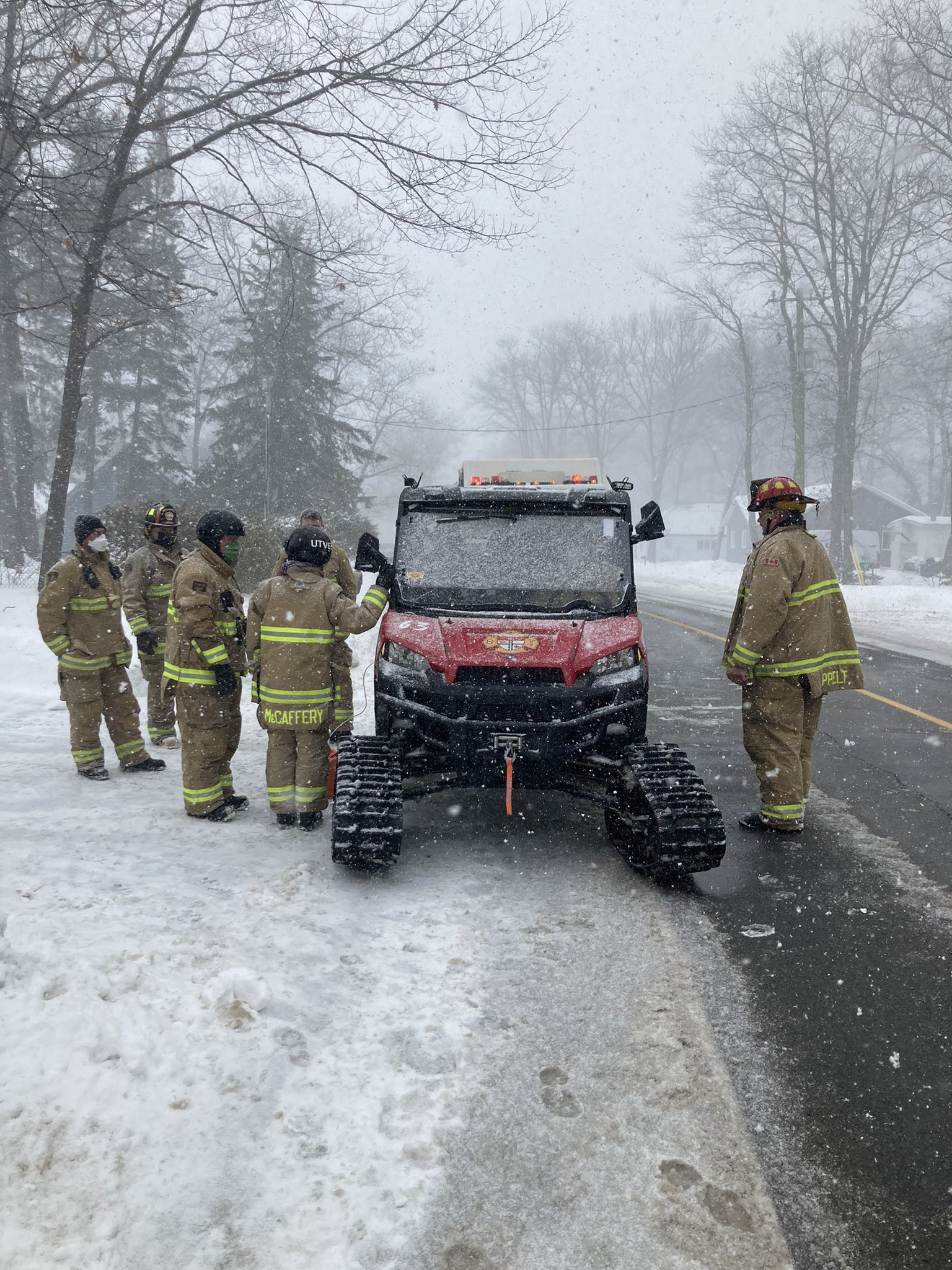 Photos courtesy District 6 Sector Chief Bill Bell/Twitter
On the weekend that District 6 firefighter recruits conducted medical training in response to snowmobile accidents, District 6 received a call for an actual snowmobile accident, according to District 6 Sector Chief Bell. The Ottawa Fire Services Communications Division received a call on February 27 at 10:40 am from the Ottawa Police Service reporting a snowmobile accident on the Ottawa River near the intersection of Bayview Drive and Macrostie Lane in Constance Bay. An ice rescue response was dispatched and the first crew arrived on scene at 10:47 am. A single snowmobile with one occupant rolled over approximately 200 feet from shore. Due to the thick ice in the area, firefighters deployed a utility terrain vehicle to quickly get to the patient. Firefighters made patient contact at 10:50 am and began assessing the injuries. Firefighters treated the patient for upper body injuries and administered oxygen while safely loading the patient on the UTV. The lone occupant of the snowmobile was brought back to shore at 10:57 am. At 11:16 am, the patient was transferred into the care of the Renfrew Paramedic Service.
Guidebook for On-Farm Diversified Use

As Chair of the Agriculture and Rural Affairs Committee, it is my pleasure to present this Guidebook for On-Farm Diversified Use and to apprise you of the programs and services that support you, our valued and essential farmers in rural Ottawa. It is my sincere hope this guide will assist you in creating and promoting your own on-farm diversified business. Using this guide, take a look at your current agricultural operation from a new perspective – it could expand into something new and exciting! Let's keep the conversation and dialogue going and let me know if there are other programs and services that we can share with each other to support you, our important rural connection in the City of Ottawa. For details, please click here.
Meeting Space Available in Fitzroy Harbour – No-cost or low-cost options for Ward 5 not-for-profits

The Olde Meeting House, located in the village of Fitzroy Harbour, has been offering meeting and training facilities since 2019. It offers a warm and welcoming home-cottage atmosphere and can accommodate up to 30 people. Our entrances and washroom facilities are wheelchair accessible. We are not open during the months of January to March inclusive. And though we are in the business of renting our space, we are very much committed to assisting and supporting our community in its needs. We are pleased to share that we offer low-cost or no-cost options for the use of our facilities by not-for-profit organizations in Ward 5. Simply reach out to us at sagravel@sympatico.ca for more information. Our website is at www.theoldemeetinghouse.ca.
Huntley Community Centre says goodbye to propane heating and saves more than $2,400 a year
In 2018, the Huntley Community Centre's aging propane heating system was upgraded to a ground source heat pump. Although propane is a reliable choice for heating, it is more expensive and has a higher carbon footprint than natural gas or electricity. The heat pump is into its third winter and continues to do a great job of keeping the building warm. The community centre now uses 76 percent less energy for heating, saves more than $2,400 a year on energy bills and has reduced its annual greenhouse gas emissions from 14.4 tonnes to just 0.6 tonnes.
City of Ottawa News, Programming & Engagements
Solid Waste Master Plan – Multi-Residential Waste Program

For a lot of people in Ottawa, the green bin is part of daily life. Food scraps and other organic materials go in, and they're collected at the curb once a week. But if you live in a multi-residential unit, it's a different picture. Only 43 percent of multi-residential properties use the green bin program. It's time to change that. If you have ideas about how we can improve how waste is managed in multi-residential properties, we want to hear them! On March 2, from 7 to 9 pm, the City is hosting a dialogue session to talk about:
how the City can best support residents when the green bin program is first introduced in multi-residential properties;
strategies to make it easier to participate in recycling and green bin programs in multi-residential properties.
Space is limited. Please register now for the Zoom session and visit Engage Ottawa to review helpful background information before the session. Don't live in a multi-residential property but want to provide feedback? The Solid Waste Master Plan Team will be seeking feedback from residents on multi-residential waste program options through the Solid Waste Master Plan's Engagement Series 2, set to start in March.
Applications open for 2022 Paint It Up! Mural Program

Looking for a way to help deter vandalism while empowering our City's youth through community arts? Look no further than the Paint it Up! mural program. The Paint it Up! mural program is done in partnership with Crime Prevention Ottawa. More than 2,754 youth between the ages of 12 and 25 have participated in the program since it began in 2010. Almost 90 murals are now beautifying many areas of the city with local art. Want to learn more? Crime Prevention Ottawa is hosting two virtual information sessions on
March 3. You can register for one of these sessions by visiting crimepreventionottawa.ca.
Those interested in participating will need to keep two deadlines in mind:
You will need to have coordinated with mural@ottawa.ca and have a pre-approved location for the mural by March 23, 2022.
The full application will need to be submitted by April 4, 2022.
For more information on the Paint it Up! mural program, visit crimepreventionottawa.ca.
Music Industry and Scenes in Ottawa's Rural Ward – Call for Focus Group Participants

Are you an artist, producer, industry worker or avid audience member? Do you live in one of Ottawa's four rural wards (West Carleton-March; Cumberland; Osgoode; Rideau-Goulbourn)? Outside the Lines is a small-scale research project focused on better understanding how rural Ottawa residents participate and contribute to local music scenes and industries to help inform future cultural industries policy. If you live in rural Ottawa, are currently active in music and would be interested in participating in one of our two focus groups in March 2022 please contact Nik Ives-Allison, Cultural Industries Development Officer at nik.allison@ottawa.ca by March 4.
Review and Update of Ditch Alteration Policy

The City updated the Local Improvement Policy and has initiated the review of the Ditch Alteration Policy. The updated Ditch Alteration Policy will provide direction for ditch alterations and alignment with the City's enforcement activities. Council has directed the City to update the Ditch Alteration Policy to increase consistency and transparency, better educate property owners about the importance of ditches, and increase protection of public and private property. The City is hosting a public information session on March 22 at 6 pm to present the proposed recommendations and obtain feedback from residents of Ottawa. For details, please click here. To register for the meeting, please click here.
Call for Projects to Improve Ventilation in Cultural Venues
The deadline to submit a funding application to the City of Ottawa Cultural Facilities Fund (Major Capital Projects) is March 22. This funding program is designed to improve cultural facilities. It provides funding to organizations for major cultural facility renovation, construction, restoration and specialized equipment projects. For the March 22 deadline, priority will be given to projects aimed at improving ventilation systems in cultural facilities, as public cultural venues reopen during the pandemic, and all local, not-for-profit Ottawa cultural organizations that have operated for at least one year are eligible to apply. For more information, please contact François Lachapelle, Cultural Developer, at Francois.Lachapelle@ottawa.ca.
Transportation Master Plan – Surveys and Open House

As a result of the recent state of emergency in our City, the TMP team made the decision to cancel the Open House which was scheduled for February 15. The TMP team is currently reviewing the project timelines and, in the interim, has extended the deadline for the online surveys and Metroquest tool until the end of March 2022. More information will be made available on the project website in the coming weeks on a new date for the Open House. For more information, please click here.
Share your views on municipal commemoration methods

The City of Ottawa is developing a municipal commemoration policy to guide commemorative programs and activities in our city. Public engagement and resident input on suggested ways to commemorate our collective memories are key. Most of us are familiar with commemoration that involves plaques, statues, memorials and the like. What other traditional, cultural, artistic or innovative methods of commemoration would you propose? Your responses will help us widen the policy scope to consider lesser known and creative commemoration forms. Submit your responses and comments at Remembering Ottawa: Your Ideas by March 31. For more information on the project, visit Remembering Ottawa: Stories and Legacies and stay tuned for more public engagement opportunities.
Community Safety and Well-Being Plan

The City of Ottawa's first Community Safety and Well-Being Plan was approved at City Council this past fall. The plan includes six priority areas:
Discrimination, marginalization and racism

Financial security and poverty

Gender-based violence and violence against women

Housing

Integrated and simpler systems

Mental well-being
A community safety and well-being plan is a collective impact plan that addresses the local risks to safety and well-being at the community level and proposes both priorities as well as action items to be undertaken by various governments, institutions, groups, and agencies who are working together in order to mitigate those risks. The immediate next steps for the CSWB Office are to create a governance structure, develop detailed action plans for each priority, develop and implement an evaluation framework to measure success and develop a financial strategy to support the plan moving forward. Sign up to receive the e-newsletter by visiting the City's eSubscriptions page. For details, please click here or email the team at CSWB/SBEC@ottawa.ca.
Vacant Building Strategy Review
The City's Emergency and Protective Services Department is conducting a review of the City of Ottawa's 2013 Vacant Building Strategy. This strategy introduced a proactive inspection and enforcement regime for vacant buildings and lots, with the aim of reducing community nuisance and public health and safety issues for these properties. A report to the Community and Protective Services Committee is currently planned for the second quarter of 2022. Do you own a vacant building or lot? The project team would appreciate your input on this review. Please contact us through the email or phone number provided below. Members of the public with questions or comments are also invited to contact the project team at bylawreviews@ottawa.ca or 613-580-2424, ext. 29529. For details, please click here.
Data Stories from the Covid-19 Pandemic
The Ottawa Culture Research Group is planning an 'exchange of data stories' to share how data has been used by the cultural sector during the COVID-19 pandemic. Culture has been one of the sectors hit hardest by the pandemic. Data has been used to illustrate these implications, explain the needs of the sector to policymakers, and to plan for recovery. If you or your organization has a story you would like to share, please contact the Co-Chair of the OCRG, Eva Walrond, at eva.walrond@ottawa.ca or the Project Manager, Ben Dick, at ben.dick@ottawa.ca. For more information, please visit the OCRG website.
Engage Ottawa – Get engaged, stay informed!
You can weigh in on different online engagement opportunities using the City's innovative engagement platform, Engage Ottawa. See a full list of current engagement opportunities by visiting the public engagement event page.
CITY COUNCIL & COMMITTEE
Finance and Economic Development Committee meeting – March 1