El-Chantiry: Ward 5 bi-weekly news for Oct. 19
The Councillor's Column

Proposed Changes to the Federal Electoral District Boundaries – Public Consultation in Ottawa Oct. 20
If the proposed redistribution of the districts is approved, West Carleton-March Ward 5 would be represented at the federal level by three different Members of Parliament instead of one. West Carleton-March Ward 5 is currently part of the Kanata-Carleton riding represented by Kanata-Carleton MP Jenna Sudds.
Public Consultations
There are a number of public hearings planned this month, which Ottawa residents can attend – in person and virtually. An in-person public consultation is scheduled for Thursday, Oct. 20 at 6:30 pm in the Rotunda of the Canadian Museum of Nature, located at 240 McLeod Street. The deadline to submit written submissions to the Ontario Commission regarding the proposed changes is Oct. 29, 2022. Learn more about the proposed changes here.
Upcoming Household Hazardous Waste Depot – South of Carp – Oct. 23
The City's last Household Hazardous Waste Depot of 2022 is scheduled for Sunday, Oct. 23 from 8 am to 4 pm at the Westbrook Snow Dump, located between Carp and Stittsville at 200 Westbrook Road off Carp Road.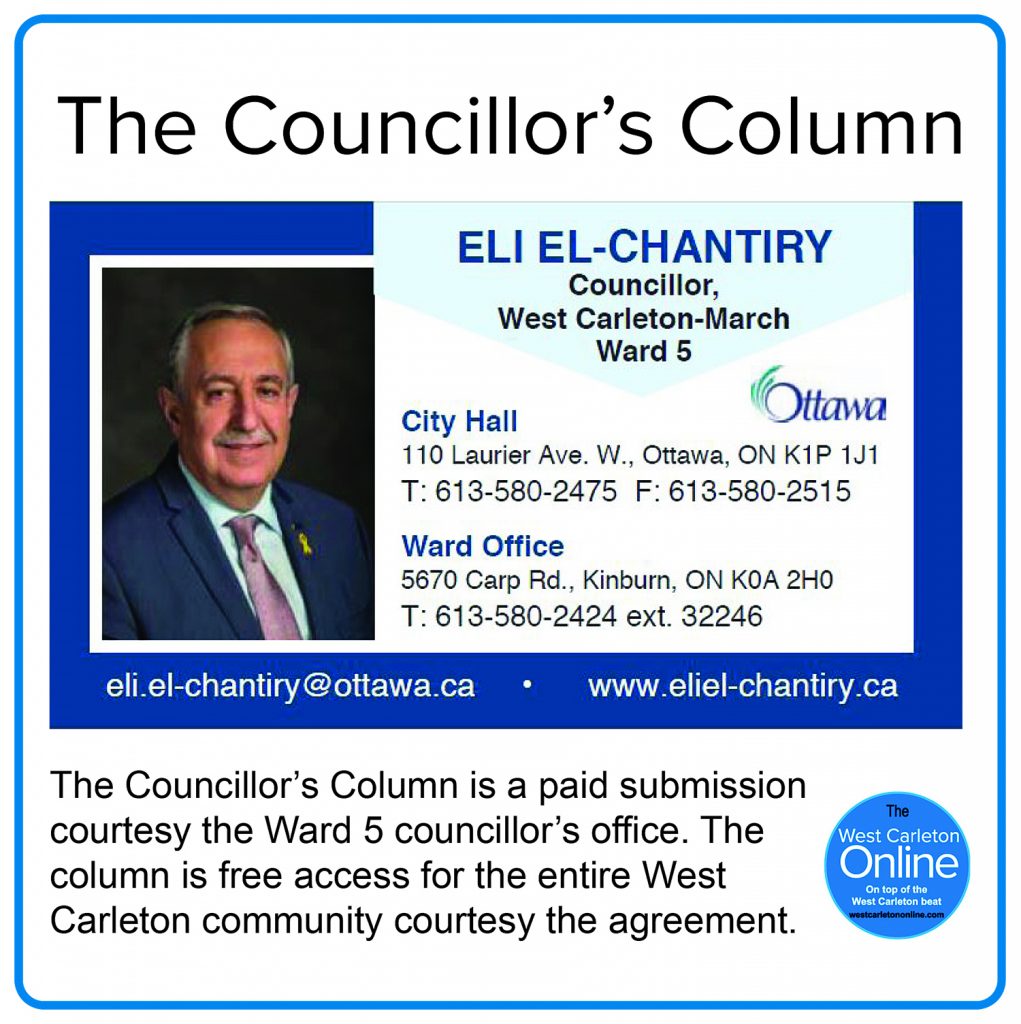 The last vehicle will be emptied at 4 pm.
No electronic waste will be accepted.
Residents can bring their electronic waste to the Trail Road Landfill Facility at no cost, can contact participating Take it Back! members to arrange for proper disposal by checking Ottawa.ca/WasteExplorer, or can attend electronic waste drop-off events hosted by Junk That Funk.
Household hazardous waste materials include:
Aerosol containers
Propane cylinders
Disinfectants
Fluorescent bulbs/tubes
Fire extinguishers
Fertilizers and pesticides
Mercury switches/thermometers
Motor oil
Needles and syringes
Oil filters
Pharmaceuticals
Paints and coatings
Oven and window cleaners
Pool chemicals
Gasoline
Perfume and aftershave
2022 Ottawa Municipal Elections – Voting Day is Oct. 24
Voting Day
Voting Day is Monday, Oct. 24, 2022. On this day, you can vote in your ward at your assigned voting place from 10 am to 8 pm, with the exception of long-term care centres and retirement homes which may have reduced hours.
Voting Locations
Electors can verify when and where they can vote on their voter notification letter or by using the Where Do I Vote? tool at ottawa.ca/vote.
Mayoral, Councillor and School Board Trustee Candidates and Registered Third Party Advertisers
For the list of certified Mayoral, Councillor and School Board Trustee candidates in the City of Ottawa as well as Registered Third Party Advertisers, please click here.
Remembrance Service in Constance Bay – Public Invited for Nov. 5
West Carleton Branch 616 of the Royal Canadian Legion is hosting its Remembrance Service in Constance Bay on Saturday, Nov. 5. The parade will form at 1 pm at the Constance Bay Grocery, located at the corner of McConnell Lane and Constance Bay Road. It will proceed to the Cenotaph at the Legion Branch, located at 377 Albirch Road. A ceremony will begin at approximately 1:30 pm. The public is welcome and encouraged to attend the proceedings.
Remembrance Day Service in Carp – Cancelled for 2022 (Public invited to lay their own wreaths and pay homage on Nov. 11 at 11 am)
Volunteers sought for 2023 ceremony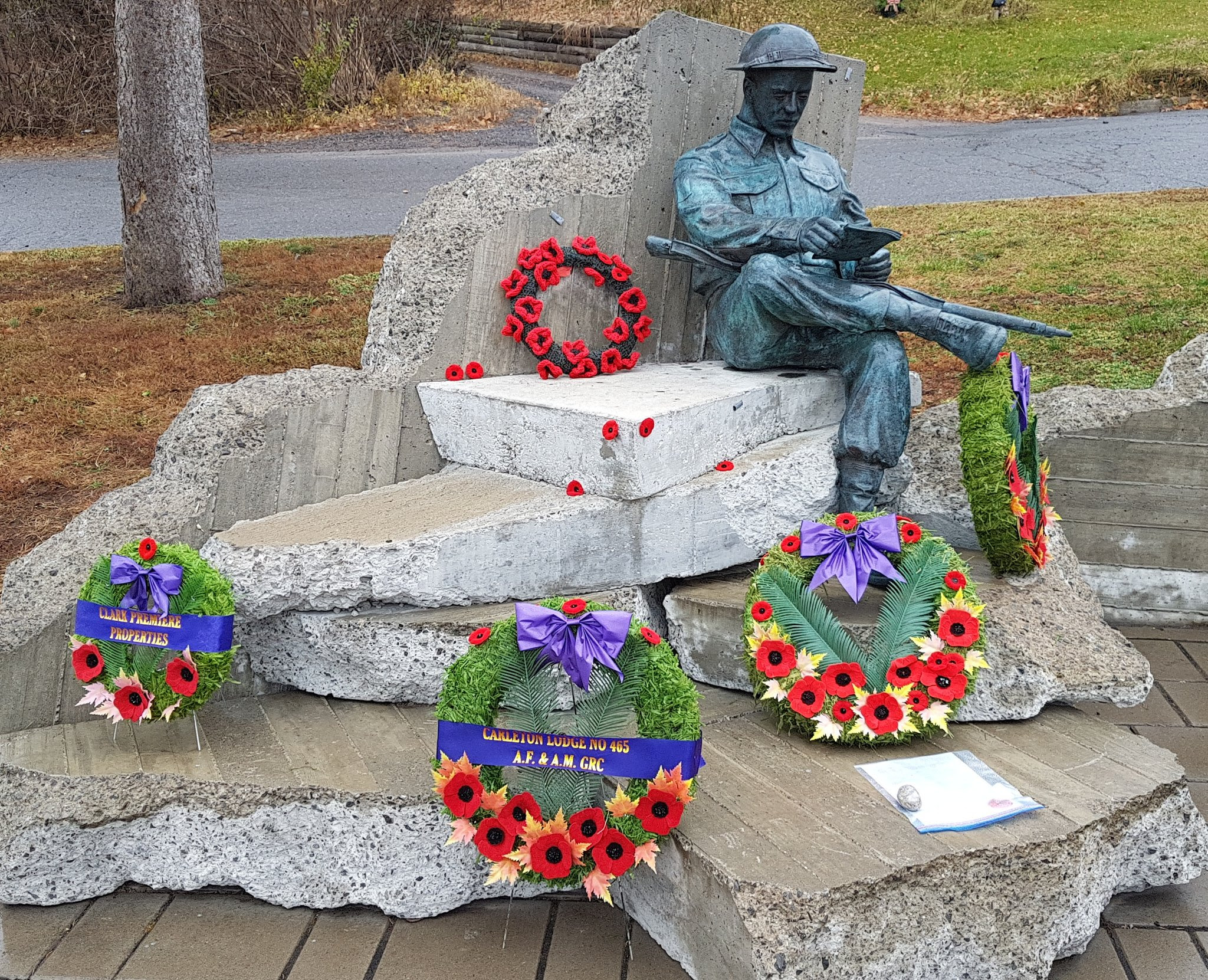 The Remembrance Day Service typically held each Remembrance Day at the West Carleton War Memorial in Carp will not proceed this year, according to a statement issued on Facebook by members of the West Carleton War Memorial Committee:
It is with regret that we announce that there will be no formal Remembrance Day service at the West Carleton War Memorial in Carp on Friday, 11th November 2022. We do invite the community to visit the War Memorial site and lay your own wreaths and pay homage to the many fallen from the area, and watch the flagpole shadow slowly pass across the face of the memorial plaque at 11:00 am. Those of us who have organized these events in the past, since the site was inaugurated in June 2016, are no longer able to carry out the preparation and event scheduling, due to many other personal pressures.
VOLUNTEERS NEEDED FOR 2023
We are therefore looking to others from within the Carp community to take up this volunteer activity for next year's Remembrance Day service, which we hope will be as well attended and supported as in previous years. We are therefore asking those of you interested in organizing this annual event to contact us through this Facebook page. We are of course more than willing to walk you through what is involved.
Thank you for your understanding.
Stuart Hodge and Peter Maddocks
Your Councillor in the Community
2022 Small Business Week

Photo by Chris Bricker/City of Ottawa
On behalf of Mayor Jim Watson, I joined representatives from the City of Ottawa, Ottawa BIAs, small businesses and the local culture and tourism industry during a reception at City Hall on Oct. 17 to proclaim Small Business Week in the City of Ottawa.
Ottawa Police Service Gala 2022

Thank you to the Ottawa Police Service for a wonderful Gala evening at the Shaw Centre on Oct. 15. I was very honoured to deliver remarks as Chair of the Ottawa Police Services Board and speak about the importance of building relationships. Thank to the sponsors for supporting this event, which raised an estimated $50,000 for Mamawi Together and YouTurn Youth Services. Since its inception, the OPS Gala has raised just over $1 million for local charities, helping organizations across Ottawa help those most in need. And to all of those at the Ottawa Police Service – thank you for your commitment to our communities!
9runrun
Maha and I participated in the 2022 edition of the 9RunRun event the morning of Oct. 15. It was great exercise in support of mental-health programs for our First Responders. We didn't break a world record but we finished the 10 km course. Mayor Jim Watson and Stittsville Councillor Glen Gower helped kick off the event.
Rural Ontario Municipalities Association Board Meeting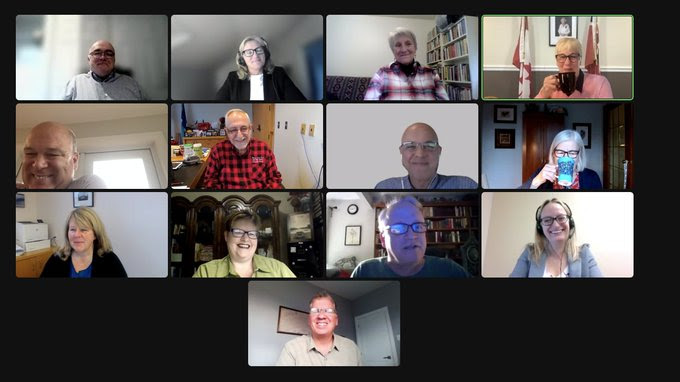 I participated in my final meeting with my colleagues on the board of the Rural Ontario Municipalities Association on Oct. 14. Thank you, Board Members, for your hard work and commitment representing rural Ontario.
Kinburn Community Association AGM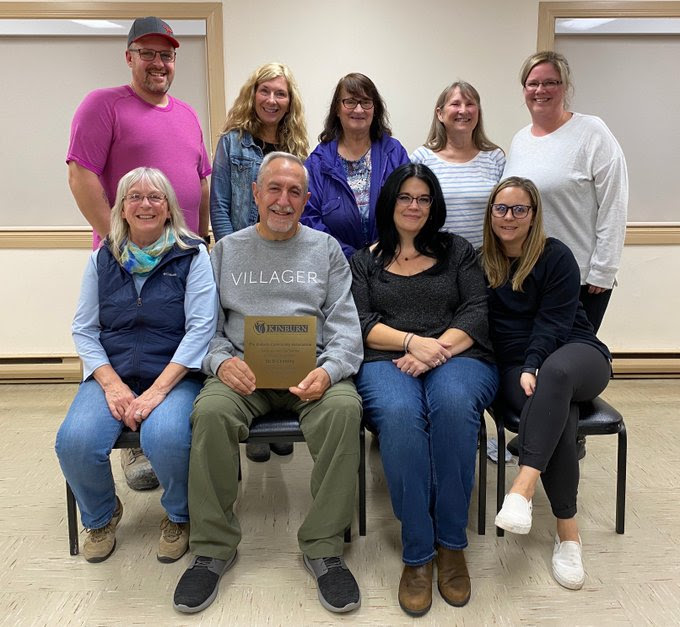 I was truly honoured by the Kinburn Community Association during their AGM on Oct. 13 for dedicating their new sun shelter to me in honour of my 19 years of public service. Congratulations to the new and returning volunteer directors, including new President Sandra Gray. My sincere thanks and appreciation to outgoing President Laurie Chauvin for all that she has given back to the community. Volunteers are truly the heart of every community!
Ward 5 Development Applications, Road Works and Culvert Projects

Sidewalk Renewal – Langstaff Drive in Carp
This project will involve the replacement of damaged concrete sidewalk panels on Langstaff Drive, between Donald B. Munro Drive and Juanita Avenue. It is is expected to be completed by mid-July 2023. The start date is not yet confirmed. More information about the project's timeline will be posted here as it becomes available.
Terry Fox Stormwater Management Facility – Sediment Clean-out
The City's Stormwater Management Branch will be undertaking a clean-out of accumulated sediment from the Terry Fox Stormwater Management Facility, which is located on the southwest side of Terry Fox Drive, across from the intersection of Terry Fox Drive and Kanata Avenue. Work was expected to begin the week of October 11, when a biologist will be on-site to remove turtles from the pond and the contractor will be installing temporary fencing to prevent turtles from re-entering the pond. After this week, the site will be mostly inactive until January 2023, when the contractor will return to prepare for the sediment removal by mechanical excavation. This sediment will initially be too wet to haul off-site for disposal, and must be left on-site until it has de-watered sufficiently to allow it be removed from the site. In order to achieve this, the contractor will construct a temporary sediment storage/drying area on the southwest side of the pond in mid-January. The excavation of wet sediment will take place in late January, and it will be left on-site to dewater until late August 2023, after which it can be hauled away for disposal. The site clean-up and restoration is scheduled to be complete by mid-September 2023.
The location of the temporary sediment storage/drying area will result in the temporary closure of the access road around the pond. This access road is also used as a pathway. The portion around the southwest side of the pond will be inaccessible to the public for the duration of the project. Additionally, the access from Terry Fox to the pond will be subject to occasional short term closures, as contractor vehicles and equipment enter or leave the work site.
Carp Road Widening Project
The Carp Road Widening project between Richardson Side Road and Highway 417 was scheduled to begin Oct. 3, 2022. The project is being done by Tomlinson on behalf of Waste Management (WM). The widening includes a left turn lane into the Waste Management (WM) site. This is not a City-led project. Please watch for signs and flaggers.
Culvert Improvements: Highway 417, from 2.1 km east of Campbell Drive to the Highway 7/417 Interchange
Thomas Cavanagh Construction Limited has been retained by the Ministry of Transportation to perform construction work on Highway 417 from 2.1 km east of Campbell Drive to the Highway 7/417 Interchange.
UPDATE: Construction activities related to a culvert replacement have been rescheduled to take place October 24 to 28, 2022 at the following location:
• Highway 417 single lane closure adjacent to Bearhill Road (150m past the eastbound kilometre marker 158.0km)
Construction signs will be placed in advance of any on-going work to provide notice to drivers. Please visit the Ontario 511 Traveler Information Services website to access the Interactive Map showing construction work and delays on ministry highways.
Baird Side Road culvert at approximately 0.01 km west of Carp Road. UPDATE: Baird Side Road from Diamondview Road to Carp Road will be closed from Oct. 17 to 21. A signed detour will be in effect.
Carp Road culvert at approximately 0.90 km south of Thomas A. Dolan Parkway. UPDATE: Lane reductions and flagging will be in place on Carp Road from Craig Side Road and Thomas A. Dolan Parkway fro Oct. 19 to 21. The roadway will remain open to vehicles.
Moran Street culvert. UPDATE: Moran Street from Bathurst Street to Cameron Harvey Drive will be closed Oct. 31 to Nov. 2. A signed detour will be in place.
Dunrobin Road culvert at approximately 1 km north of Porcupine Trail. UPDATE: Lane reductions and flagging will be in place on Dunrobin Road from Porcupine Trail to Vances Side Road from Nov. 2 to 4. The roadway will remain open to vehicles.
Richardson Side Road culvert – 0.25 km west of Carp Road. UPDATE: Richardson Side Road, from Carp Road to William Mooney Road, will be closed from Oct. 17 until Oct. 21 for a culvert replacement. An extension of this project is proposed for Oct. 24 to 26. A signed detour will be in effect.
March Road Sanitary and Watermain Upgrades – October 2022 Update
All lanes on March Road have now been reopened. The following operations are anticipated to be ongoing over the coming month:
Continuation of the trenchless work on Shirley's Brook Drive from Inverary Drive to March Road.
Several sections of asphalt reinstatement along the edge of March Road in the rural section (north of Halton Terrace/Maxwell Bridge) will be completed over the next month. Work is anticipated to be done in off-peak hours with localized lane narrowing as required.
Landscaping touch-ups and ditch re-seeding will be completed in the upcoming weeks with localized lane or shoulder closures as required to facilitate the works.
Shirley's Brook Park grading is being completed this week with landscaping reinstatements anticipated to be completed in the upcoming weeks.
The following general impacts are anticipated due to this work:
Significant groundwater is continuing to be encountered on Inverary Drive which has necessitated operating pumps 24hrs a day. Pumping is required on Shirley's Brook Drive until the completion of the trenchless works.
Most of the trenchless work on Shirley's Brook Drive between March Road and Inverary Drive is has been completed. However there is remedial work to be completed over the next month.
The contractor has requested to use blasting for the completion of the trenchless sewer work on Shirley's Brook Drive. Blasting is expected to start Tuesday, October 3, 2022.

The Sandhill Road sidewalk and pathways through and around Shirley's Brook Park have been substantially reinstated. The remaining section between the park and Inverary Drive has been temporarily reinstated until the trenchless work is completed.
Travel lanes on March Road have been fully reinstated.
Intermittent and localized lane shifts during working hours will be required in the rural section of March Road (north of Maxwell Bridge) and March Road southbound (Morgan's Grant to Maxwell Bridge/Halton Terrace).
Westbound Shirley's Brook Drive is reduced to one lane at the March Road intersection.
Lane narrowing along Shirley's Brook Drive, McKinley Drive to March Road, with intermittent flagging during working hours for Inverary Drive.
The substantial completion date is projected to be November 2022, with final asphalt reinstatements on Shirley's Brook Drive to be completed in Spring 2023.
Ward 5 & City-wide Events

The Goulbourn Male Chorus, which practises every Tuesday evening at 7 pm in West Carleton-March at Trinity Presbyterian Church, 1817 Richardson Side Road, is looking for new members. Visit goulbournmalechorus.com for details or to enquire.

The Western Ottawa Community Resource Centre is hosting its Youth Zone program at West Carleton Secondary School on Wednesday afternoons from 3 to 5 pm. The program at is available for WCSS students only, will be cooking-based and requires registration. Please email youth@wocrc.ca. The new program begins Wednesday, Oct. 19.
The current Bay Waves Square Dancing season continues until April 21, 2023. Come by the NorthWind Community Centre, 262 Len Purcell Drive, in Constance Bay every Friday evening at 7:30 pm to join in the fun. Singles are welcome. For details, email bay.waves@live.ca.

Visit the Diefenbunker Museum's 2022 Artist-in-Residence exhibition, "Justin Case: The Enemy Within," by Ottawa artist Christos Pantieras. The exhibition, which explores the LGBT purge, opened Oct. 14 and continues until Feb. 15, 2023. Admission to the exhibition is included with general admission to the museum. Details: diefenbunker.ca/artist-in-residence

The Arnprior Region Federation of Agriculture hosts a roast beef dinner and annual general meeting on Oct. 21 at the Kinburn Community Centre. Social hour begins at 6 pm. Dinner gets underway at 7 pm. Donations for the West Carleton Food Access Centre are welcome. Tickets are available from all ARFA Board Directors or by calling Sue Dicks at 613-323-5499.

The Red Trillium Studio Tour takes place Oct. 22 and 23 from 10 am to 4 pm each day. Discover the beauty of rural West Ottawa and some very talented artists. For details, please click here.

The Great Galetta Garage Sale is scheduled for Oct. 22 to 25 at the Galetta Community Hall, 119 Darwin Street. The sale schedule is Oct. 22 from 8 am to 1 pm, Oct. 23, from noon to 2 pm, Oct. 24 from 6 to 7 pm and Oct. 25 from 9 am to noon. Visit galetta.info/our-association for details.

The Carp Farmers' Market's last regular market of the season will coincide with its Halloween Market on Oct. 29 at the Carp Fairgrounds. Market hours are Saturdays from 8 am to 1 pm. Kids who come dressed in their Halloween costumes will be able to trick-or-treat from booth to booth.

The Kinburn Community Association hosts a Halloween Party on Oct. 29 at 4 pm at the Kinburn Community Centre, featuring food, trunk or treat, dancing, games, activities and prizes! For details and to contact the association, please visit the Kinburn Community Association on Facebook.

The Fitzroy Harbour Community Association is hosting a Halloween Party at the Fitzroy Harbour Community Centre on Oct. 29 from 5:30 to 8:30 pm. There will be crafts, games, entertainment, snacks, a raffle table and a haunted house! For details, please click here.

Trick or Treat with the Mayor and a cast of costumed characters at Ottawa City Hall on Oct. 29, from 5 to 8 pm. Admission is with a non-perishable item or cash donation to the Ottawa Food Bank's Baby Basics Program. Click here for details.

St. Mary's in Dunrobin hosts an afternoon community social event featuring bridge and euchre games on Nov. 2 and Dec. 7, from 1 to 4 pm. The cost is $10 per person including refreshments. Reservations are required by emailing terence.hawkes@gmail.com. For details, please click here.
The Galetta Community Association is sponsoring six-hand euchre at the Galetta Community Hall, 119 Darwin Street, on Nov. 3, 10, 17 and 24. Doors open at 6 pm. Start time is 7 pm. Admission is $5. Prizes and refreshments will be available. Details: galetta.info

After farming in Kinburn for almost 100 years, the Yuck family has sold their dairy farm and are having a large farm machinery and household auction on Nov. 5, beginning at 10 am. The sale will take place at the farmstead located at 328 Yucks Lane in Kinburn. Rain, shine, or snow! Click here for details.

The Constance Bay Community Market's season continues at the NorthWind Community Centre, 262 Len Purcell Drive in Constance Bay, on Nov. 5 and Dec. 3, from 9 am to 1 pm.
Visit marketinthebay.com for details.
The Rural Root Theatre Company presents A Red Plaid Shirt Nov. 6 and Nov. 8 to 12 at the NorthWind Community Centre in Constance Bay. Tickets can be purchased at ticketsplease.ca or by calling 613-485-6434.
Saint Gabriel's upcoming bottle drive fundraisers are Nov. 12 and Dec. 10, from 10 am to 12 pm. Drop off your empties at 205 Bayview Drive in Constance Bay. Click here for details.
The Kinburn Community Association presents its 40th Annual Kinburn Christmas Craft & Gift Sale on Nov. 12 from 9 am to 3 pm at the Kinburn Community Centre, 3045 Kinburn Side Road. Details: kinburn.ca.

A Farewell Roast & Toast of Mayor Jim Watson and myself takes place Nov. 24, from 6 to 9 pm at the Brookstreet Hotel in Kanata. Enjoy a fun evening of food, friends and funny stories. Proceeds will support the Dave Smith Youth Treatment Centre's construction of a new centre in West Carleton-March. Visit davesmithcentre.org or call 613-594-8333, ext. 1201 for tickets, to sponsor the event or to donate an auction item.

There will be a two-day Carp Farmers' Christmas Market on Dec. 2 from 3 to 8 pm and Dec. 3 from 8 am to 2 pm at the Carp Fairgrounds.

The CHEO Foundation hosts a 24-hour Tremblant 2022 winter sport event and fundraiser Dec. 9 to 11. Click here for details.

Santa is returning to Carp. There will be an old school Carp Christmas Parade with a nighttime twist on Dec. 10 at 6 pm. Keep checking the Huntley Community Association's Facebook page and website for more details.
For event details, please visit my website. To submit an event, please email Ward5@Ottawa.ca.
Ottawa Public Health News
COVID-19 Bivalent Booster
Bivalent COVID-19 fall booster vaccines are now available to all those 12 and older. This vaccine protects against COVID-19 Omicron variants, and Ottawa Public Health strongly recommends you get yours as soon as you are able. Appointments and drop-ins are available.
COVID-19 Snapshot for Oct. 13, 2022
Monitoring Indicators
Wastewater virus detection levels are high and remain relatively unchanged since the last update
Per cent positivity is very high and increasing
New COVID-19 hospitalizations are moderate and decreasing
New confirmed outbreaks are moderate and remain relatively unchanged since the last update
Key Takeaways
The levels of COVID-19 in our community are still high.
If you're eligible, now is the time to visit your local pharmacy or any of our clinics to get a bivalent Omicron booster dose, so you'll be better protected against the Omicron variants. Our clinics do accept drop-ins to make things easier, though priority will go to those with appointments if they're busy.
We still strongly recommend wearing a well-fitted mask in indoor and/or crowded public places. It's a simple and very effective way to help protect yourself and those around you.
Lastly, the fall respiratory virus season is here, and we need to think about those added risks. Remember: the layers of protection we've all used throughout the pandemic (like masks, cough etiquette & staying home when sick) also work to protect us against colds and the flu.
Flu Vaccine
Flu shots will be available through your health-care provider, public health unit and in participating pharmacies, starting Nov. 1. Flu shots may safely be given at the same time, or at any time before or after the COVID-19 vaccine. Please visit OttawaPublicHealth.ca/Influenza for the latest updates.
Monkey Pox
Based on provincial guidance, individuals who received their first dose of the monkeypox vaccine at least 28 days ago can now receive a second dose. OPH is reaching out to people in order of when they received their first dose to book their second dose appointment. Learn more here: OttawaPublicHealth.ca/MPXSecondDose
City of Ottawa News, Programming & Engagements
2022 National Small Business Week – Support a small business and support a neighbour
You probably know someone who owns a small business or works at one, and we all enjoy the variety, service and convenience of shopping at local small businesses. In fact, Ottawa has an estimated 28,000 small businesses. So much to choose from! So, in recognition of the 2022 Small Business Week, October 16 to 22, click here for five ways to show your support.
Send a message to your young driver: Put down the phone
In our highly connected world, our handheld devices keep our finger on the latest news, updates and messages from friends, family and work, wherever we are. The chimes, rings and beeps seem to beckon our immediate attention. But one place where our attention cannot be diverted is behind the wheel of our vehicle. Just a split second can change the course of life for you and your young driver. Distracted driving is the theme of this year's National Teen Driver Safety Week, October 16 to 23, presented by Parachute, Canada's national injury prevention organization. It's a great time to remind yourself and the young drivers in your family about the importance of keeping an eye on the road and not the phone. According to Parachute Canada, road collisions are the third-highest cause of death among young people, between the ages of 15 and 24. Click here for more details.
Phishing scam regarding unpaid parking tickets
The City is warning residents about a phishing scam currently underway in Ottawa. People are receiving text messages regarding unpaid parking infractions. The texts include a link to a website that looks like ottawa.ca. Staff have worked with various internet service providers to have the fraudulent site taken down. It may take up to 24 hours for the site takedown to be reflected across the internet. The City never requests or communicates about financial information through text message. If you receive one of these text messages, do not reply to it and do not follow the link. Those who may have fallen victim to this fraud are asked to file a report with the Ottawa Police Service's online reporting tool.
Ottawa Book Awards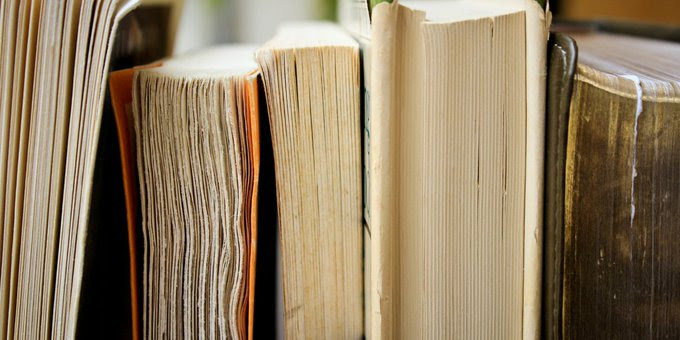 Who doesn't love a good book? Join the City of Ottawa on Wednesday, Oct. 19 for the 2022 Ottawa Book Awards ceremony and help celebrate the top English and French books published in the past year by Ottawa authors! Click here for details regarding the finalists and ceremony.
The deadline to return special mail-in ballots for the 2022 Municipal Elections is less than one week away
Please return your special mail-in ballot by 4:30 pm on Monday, Oct. 24. If you applied for a special mail-in ballot between Sept. 1 and Sept. 16 and wish to vote by mail, you must return your completed ballot to the Elections Office or any Client Service Centre by Monday, Oct. 24, at 4:30 pm in order for your vote to be counted. Any special ballots received after 4:30 pm on Monday, Oct. 24, will not be counted.
Voting Day is less than one week away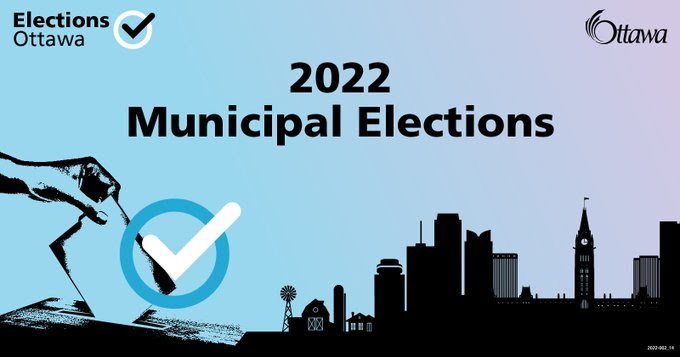 Voting Day in the 2022 Municipal Elections is only one week away. On Monday, Oct. 24, eligible electors will have the opportunity to cast their vote at their assigned voting place for the offices of Mayor, City Councillor and School Board Trustee. Voting places are open from 10 am to 8 pm with the exception of long-term care centres and retirement homes which may have reduced hours. Electors can verify when and where they can vote on their voter notification letter or by using the Where Do I Vote?(link is external) Tool on ottawa.ca/vote. Click here for more information.
Advance Voter Turnout – By the Numbers
A total of 26,773 voters made their mark on Advance Voting Day 1 on Oct. 7.
In West Carleton-March, 558 ballots were cast that day.
A total of 33,842 voters cast their ballots on Advance Vote Day 2 on Oct. 14.
In West Carleton-March Ward 5, 985 people voted that day.
Give out Trick or Swim or Skate Tickets for Halloween
What is Trick or Swim or Skate? It is a fun and healthy alternative to the usual chips and chocolate. For $10, you can get 10 tickets that can be handed out to kids, between the ages of three and 15, to redeem for a regularly scheduled public swim or skate session at City pools and select arenas. Tickets can be redeemed between Nov. 1, 2022 and Jan, 31, 2023. Be sure to check that your facility is participating first. Tickets are now on sale. Click here for details.
Better Buildings Breakfast – Funding Decarbonization
The City's Better Buildings Ottawa team is glad to announce a collaboration with Better Buildings Breakfast to bring back a series of in-depth morning events focused on sustainable buildings. The first event on Oct. 18, from 7:30 to 11 am at Ottawa City Hall, will take a deep dive into the many financial programs in the market seeking to support deep energy retrofits in commercial and large residential buildings. Learn more about Better Buildings Breakfast and get your ticket.
Talk Climate to Me
The next run of Talk Climate to Me is Oct. 18 to Nov. 5. Talk Climate to Me is the climate course you wish you'd had at school. It's a fun and free online, team-based climate education experience for women in Canada. Lunchtime, evening and weekend courses are available. Visit talkclimatetome.ca/take-the-course to find out more and to register.
Trick or Treat with the Mayor
Trick or Treat with the Mayor and a cast of costumed characters in the "Weird and Wonderful" Heritage Building, where you will be welcomed by the Enchanted Witches of Elgin Street! See what's brewing inside City Hall and meet your best-loved characters in Jean Pigott Place. Meet the Tooth Fairy and decorate your very own miniature pumpkin in the Pumpkin Patch. The City of Ottawa is proud to partner with Treat Accessibly to help make trick-or-treating accessible and inclusive for everyone.
Date: Saturday, Oct. 29
Time: 5 to 8 pm
Location: Ottawa City Hall, 110 Laurier St. W. Heritage Building (Elgin Street) and Jean Pigott Place
Admission: A non-perishable item or cash donation to the Ottawa Food Bank's Baby Basics Program.
The Ottawa Food Bank's Baby Basics Program helps parents in need by providing items in high demand such as formula, baby food and diapers. Chronic shortages of these basic needs make stocking the baby supplies one of the Food Bank's most expensive, but most precious priorities.
Please email ProtocolRSVP@ottawa.ca to advise us of any accessibility-related accommodation. Please note this is not a nut-free event. Dress warmly as the queue to enter the Heritage Building from Lisgar Street will be outdoors. Please bring your own treat bag.
Call for Projects to Improve Ventilation in Local Cultural Venues – Deadline is Nov. 1
Nov. 1 is the final deadline in 2022 to submit a funding application to the City of Ottawa Cultural Facilities Fund (Major Capital Projects). This funding program is designed to improve local cultural facilities. It provides funding to organizations for pre-feasibility and feasibility studies, major cultural facility renovations, construction, and restorations, and specialized equipment projects. For the Nov. 1 deadline:
Projects aimed at improving ventilation systems in local cultural facilities will be accepted, since the COVID-19 pandemic has highlighted the need for HVAC and other ventilation improvements to reduce airborne transmission of the virus in indoor spaces.
All local, not-for-profit Ottawa cultural organizations that have operated for at least one year are eligible to apply.
For more information, please contact Cathy Shepertycki, Co-ordinator, Cultural Development and Initiatives at Cathy.Shepertycki@ottawa.ca.
Nominations are open for the 2023 Ottawa Heritage Awards – Deadline is Nov. 4
The City of Ottawa has many beautiful heritage buildings and it wants to recognize outstanding achievements in heritage conservation! Why not nominate your conservation project for the 2023 Ottawa Heritage Awards? The deadline for applications is Friday, Nov. 4, 2022. For more information or to nominate a heritage property, visit ottawa.ca. Awards will be presented in January 2023.
Nepean Sportsplex Christmas Craft Show
Before you know it, it will be time for some Christmas shopping, if you haven't started already. Save the date for the Nepean Christmas Craft Show, happening Thursday, Nov. 3 to Sunday, Nov. 6. There will be 100+ vendors offering local handmade items over the four-day show. It's a great chance to get a unique gift or stocking stuffer for friends or family. Come by on Thursday, Nov. 3 for 2-for-1 admission day. Find out more.
Live shows at City theatres
Shenkman Arts Centre and Meridian Theatres @ Centrepointe recently announced shows for the first half of 2023 and there is something for everyone. Jeremy Fisher and Paddington Bear entertain the youngest audiences, while adults will be wowed by music from the Irish Rovers, Mardi Gras Mambo and Séan McCann – to name a few. There's comedy with Just for Laughs and Paul Reiser and much more in between. Check out Shenkmanarts.ca and Meridiancentrepointe.com for a full list of shows.
Stay up to date with City of Ottawa news and public consultations

There's a lot happening in the City of Ottawa. There are 33 different e-newsletters to help you stay informed. City news, for example, provides you with the latest news, announcements and traffic impacts that matter to you. Sign up to stay in the loop!
Emergency Services News
Operation Impact Education and Enforcement Campaign results
Over the Thanksgiving long weekend, Ottawa Police officers conducted traffic enforcement as part of the National Operation Impact campaign. "Operation Impact is a public awareness campaign focused on education and enforcement of impaired driving due to alcohol, drugs and fatigue, aggressive driving, distracted driving and the use of seat belts and child car seats," said Staff Sgt. Denis Hull, head of the OPS Traffic Unit.
"These are the main causes of death and injury on Canadian roadways." Frontline Patrol Officers, Neighbourhood Resource Officers and members of Traffic Services all participated in this road safety initiative. From October 7 to 10, a total of 425 Provincial Offence Notices were issued. Stunt driving continues to be a concern on Ottawa roads. Police charged 26 motorists for stunt driving. Of these offences, 17 happened on Regional Road 174 in a construction zone. RIDE programs and traffic stops by Patrol officers resulted in numerous charges. "These numbers show that drivers are engaging in behaviours that put the safety of all road users at risk," said Staff Sgt. Hull. "Make safe driving your number one priority every time you are behind the wheel." Click here for more details.
First Responders Hone Skills During Emergency Training Exercise
Firefighters from Station 45 in South March, Station 63 in Constance Bay, Station 64 in Carp and Station 66 in Dunrobin joined Ottawa Police officers and Ottawa paramedics to participate in an emergency training ceremony at the Carp Airport the week of Oct. 10. District 6 Rural Sector Chief Bill Bell said there was great teamwork by all agencies involved.
City Council & Committee News
Upcoming Committee and Council Meetings
Environmental Stewardship Advisory Committee meeting – Oct. 20 at 6:30 pm
Planning Committee meeting – Oct. 27 at 9:30 am
Ottawa Police Services Board meeting – Oct. 31 at 4 pm
Finance and Economic Development Committee meeting – Nov. 1 at 9:30 am
Special meeting of the Agriculture and Rural Affairs Committee – Nov. 3 at 10 am
Board of Health meeting – Nov. 7 at 5 pm
Ottawa Public Library Board meeting – Nov. 6 at 5 pm
City Council meeting – Nov. 9 at 10 am
To view the full list of upcoming Council and Committee meetings and to review the meeting agendas, please click here.
To watch the meetings live, please click here.