El-Chantiry: Ward 5 bi-weekly news for Nov. 9
The Councillor's Column

Rick Lytle Park Commemorative Plaque
A commemorative plaque was recently installed along a pathway at Rick Lytle Park, a wooded area in the Country Meadow Estates subdivision southwest of the Village of Carp. Those who use the trail can now learn more about the contributions of the park's namesake, Mr. Rick Lytle. He was an exceptional athlete who worked to improve sports in West Carleton. Thank you to Rob, Debbie, Curtis, Chris and Jeff Lytle for providing such thoughtful messaging and for selecting the location. The following is featured on the plaque:
RICK LYTLE PARK
This park is named in recognition of the historical significance of
Rick Lytle
Rick was an exceptional athlete who worked to improve sports in West Carleton.
Rick, a direct descendant of the very first settler in Huntley Township, continued
to display the pioneering spirits of friendship and support of your neighbor through sportsmanship.
This park was gifted to the City of Ottawa as a memorial to Rick's legacy by
Rob, Debbie, Curtis, Chris, & Jeff Lytle
Approved by Ottawa City Council July 23, 2003
Mayor Jim Watson
Councillor Eli El-Chantiry (West Carleton-March)
Congratulations to Janet Mason and Kevin Ling
Congratulations to the 15 residents who were inducted into the Order of Ottawa on Nov. 3, including Carp resident Janet Mason. She co-founded Friends of the Carp Hills, has sat on the board of directors with the Mississippi Valley Conservation Authority for many years and is Chair of the Ottawa Stewardship Council. Janet also assisted with Ducks Unlimited's successful acquisition of the 440 acres adjacent to the Village of Carp, in partnership with the City of Ottawa and the Government of Canada. Janet is truly devoted to the environment and to our community.
Congratulations also to Kevin Ling, owner and head coach of the Ottawa Sooners Football Club, CEO of Arlington Group, fitness business owner, industry leader and entrepreneur. At the Order of Ottawa ceremony, Mr. Ling was awarded the Brian Kilrea Award for Excellence in Coaching. He also has ties to Galetta.
West Carleton Country Knitters Seek Donations of Yarn
I recently contributed yarn to Eleanor Reynaud for the West Carleton Country Knitters. They use donated yarn to knit and crochet for local charities, schools, seniors' residences, food banks and emergency shelters. Donations of yarn are welcome. For details and to contribute, please visit their website at sites.google.com/site/wccknitters or email wccknitters1@gmail.com.
Client Service Centres – Schedule of Operation
City of Ottawa Client Service Centres are now providing expanded in-person service hours for residents. Some locations are now open Monday to Friday, 8:30 am to 4:30 pm, including the Kanata Client Service Centre at 580 Terry Fox Drive. Rural locations continue to be open one day a week. The Client Service Centre at the West Carleton Community Complex, located at 5670 Carp Road, is open every Wednesday from 8:30 am to 4 pm. Residents can schedule an appointment for all services on ottawa.ca/csc. Walk-ins will be accepted between 8:30 am and 4 pm but priority will be given to scheduled appointments. For more information and a list of locations, please visit bit.ly/3DyuRN9.
A Message from the Galetta Community Association
Thank you and a standing ovation to everyone who helped set up the Galetta Community Association's annual Great Galetta Garage Sale on the weekend of Oct. 22 and those who returned to help with the clean up. It was a smashing success in all aspects and the association is very grateful to all who participated!
Outdoor Hockey League Registration Opens
Registration to join the West Carleton Outdoor Hockey League opened Nov. 1 for children and teens ages 5 to 15 to play hockey in Constance Bay, Dunrobin, Carp and Fitzroy Harbour. Volunteer parent coaches are needed. Details: facebook.com/WCODR
Remembrance Day in Carp
There will be no formal Remembrance Day service at the West Carleton War Memorial in Carp on Friday, Nov. 11, 2022. Residents are invited to visit the Memorial and lay their own wreaths, pay tribute to the fallen and watch the shadow pass slowly across the Memorial plaque at 11 am. Volunteer Opportunity: The West Carleton War Memorial Committee is unable to continue organizing the ceremony and are looking for volunteers to organize next year's Remembrance Day service. Those interested are invited to contact the Committee on Facebook.
West Carleton Food Access Centre Launches Christmas Basket Program

The West Carleton Food Access Centre is preparing for its Christmas Basket Program for 2022. Require some extra help this Christmas? The deadline for basket requests is Dec. 19. If you would like to support this important program, monetary donations are appreciated. For more information, please email WCfoodaid@gmail.com or call 613-832-5685.
Your Councillor in the Community
Plaque of Appreciation from the Diefenbunker Museum
Christine McGuire, executive director of the Diefenbunker: Canada's Cold War Museum in Carp, and her staff visited me at the Ward Office to present me with a Plaque of Appreciation and a piece of the Bunker on Nov. 8 on behalf of the Bunker Team. Thank you very much for this thoughtful tribute. The Diefenbunker is truly a jewel in West Carleton-March.
Remembrance Parade and Service in Constance Bay
I was very honoured to represent Ward 5 and the City of Ottawa at the Remembrance Parade and Service hosted by Royal Canadian Legion Branch 616 West Carleton in Constance Bay on Nov. 5. Thank you to everyone who attended to pay tribute to those who have lost their lives in service of our country and to honour those who continue to serve.
Certificate Presentations to Exceptional Loch March Estates Neighbours
On behalf of Mayor Jim Watson, I presented Certificates of Appreciation on Nov. 2 to Jeff Birch and Steve Ashfield, both residents of Loch March Estates in Ward 5. As their neighbour Pat McKinnon said, they are truly exceptional neighbours as demonstrated in the aftermath of the devastating storm on May 21, 2022 that resulted in downed trees and sweeping power outages. Right away, Jeff and Steve checked on their neighbours to see who needed help and assisted them with their generators. They helped cut and clear large, downed trees, including those that were blocking the road. Jeff and Steve worked at all hours following the storm. They are the very essence of what it means to be a kind and compassionate neighbour.
Market Gives Back in Ennio's Memory
In honour of Ennio Marcantonio, the Carp Farmers' Market donated $1,000 on Oct. 29 to the West Carleton Food Access Centre, a cause close to Ennio's heart. I joined Market President Randy McGuire to present the cheque to Food Access Centre Chair Mary Braun, third from right, and Vice-Chair Sharon Roper, left. Thank you to the community for supporting this wonderful volunteer organization and our residents in need.
Ottawa River Canoe Club Year-End Banquet
Thank you to the Ottawa River Canoe Club for honouring me during your year-end banquet on Oct. 28 held at the West Carleton Branch of the Royal Canadian Legion in Constance Bay. And thank you for your wonderful inclusive programs designed to ensure everyone can enjoy paddling.
2022 Poppy Campaign
On Remembrance Day we honour those who gave their lives to serve our country. Please wear a poppy in memory of those who gave their lives to serve. The Royal Canadian Legion's 2022 National Poppy Campaign began Oct. 28 and continues until Nov. 11. Royal Canadian Legion Branch 616 West Carleton have poppy boxes at several local businesses on March Road, Carling Avenue, Schneider Road, the Metro plaza, Sobeys plaza, the Klondike mall, at the Brookstreet Hotel and at Duntech Automotive on Campbell Reid Court. Many thanks to the Centurion Sea Cadets of Kanata for helping to distribute poppies.
Thank you Ginny Fobert
On Oct. 27, on behalf of Mayor Jim Watson, I presented Morris Island resident Ginny Fobert with a Letter of Commendation in recognition of her incredible leadership during the record-high flooding that impacted many waterfront communities along the Ottawa River, including in West Carleton-March Ward 5. As noted by her nominator, Patrick Garbutt, Ginny was instrumental in sharing crucial information about Vydon Acres, such as the urgent need for more sand and bags, to flood-response coordinators in Fitzroy Harbour. She also assisted her neighbours and helped ensure that volunteers could remain in active response mode in Vydon Acres by providing them with food organized out of Fitzroy Harbour. Ginny's communications and flood-coordination efforts, and her steadfast assistance to the Vydon Acres community are greatly appreciated. She served as a vital community link, helping protect Vydon Acres from sustaining even greater damage. For these remarkable actions, West Carleton-March Ward 5 and the City of Ottawa are grateful.
Board of Health
It has been a pleasure working with my Council colleagues and the wonderful staff at Ottawa Public Health, including Dr. Vera Etches, on the City of Ottawa's Board of Health during this term of Council. I was presented with a Certificate of Service by Dr. Etches and Board of Health Chair Councillor Keith Egli at our final Board of Health meeting on Nov. 7. It has been an honour to serve with them.
Great Galetta Garage Sale
It was wonderful to be back at the Great Galetta Garage Sale on Oct. 23. The volunteers once again put on a great event, with all proceeds supporting the work of the Galetta Community Association.
Arnprior Region Federation of Agriculture AGM
Thank you to the Arnprior Region Federation of Agriculture for inviting me to attend and speak at your AGM dinner on Oct. 21 in Kinburn. And thank you for your gift of Farmgate Cider products. As I noted in my remarks, we need to continue to work together to protect the farmland in our community, as this is where our food comes from. I am so very grateful for and appreciative of our farmers and agri-producers.
Ontario Commission Public Hearing
I was impressed that so many West Carleton-March residents registered to speak to the Ontario Commission on Oct. 20 regarding the proposed redistribution of the federal electoral district boundaries. Such public engagement is very encouraging.
Highland Park Cemetery Grand Opening
Congratulations to the Cole family and their staff on the grand opening of Cole Funeral Services at Highland Park Cemetery, located at 2037 McGee Side Road south of the Village of Carp. The grand opening on Oct. 19 was a very happy occasion with so many West Carleton-March residents in attendance. The beautiful new building features 14,000 square feet on 120 acres in a beautiful rural setting, and there are plans to add another 10,000 square feet in the future.
Meeting to Assist Ottawa's Storm-Impacted Agricultural Community
Mayor Jim Watson, Councillor Catherine Kitts and I met with representatives from the Ontario Federation of Agriculture on Oct. 21 to discuss how we can engage with the Ontario government to help Ottawa farmers and agri-producers who were impacted by the derecho storm on May 21, 2022.
Thank you to the West Carleton Snowmobile Trails Association
Thank you to Paul McDonald for presenting me with this special plaque on Oct. 21 on behalf of the West Carleton Snowmobile Trails Association. I am so very grateful to the club's executive for this thoughtful gift. I appreciate the club's volunteers for all of the work they do behind the scenes and on the trails in West Carleton-March. I will see you out on the trails this winter!
Thank you Laurie Chauvin
I was pleased to present Laurie Chauvin on Oct. 19 with a letter thanking her for her long-time volunteer work with the Kinburn Community Association and with West Carleton Disaster Relief. As I noted in my letter, Laurie, Ward 5 has been truly fortunate to have been the beneficiary of your generosity of time and commitment of service. Thank you!
Ottawa Police Service Badge Ceremony
On behalf of the Ottawa Police Services Board I participated in the Ottawa Police Service Badge Ceremony on Oct. 18 during which I joined senior police leadership in officially welcoming 13 new police officer recruits hired earlier this year. During my remarks I thanked the new officers for taking on the responsibility of serving our community. I also thanked their families and friends, as they are an extremely important part of our officers' support networks. Congratulations!
Ward 5 Development Applications, Road Works and Culvert Projects
Development Applications
Development applications can be viewed at this link: Ward 5 – West Carleton-March. The City of Ottawa's Development Application Search Tool is available by clicking here.
Pipe repairs – Donald B. Munro Drive
Crews will be completing repairs of the City's sanitary and storm sewer network at 33 locations city-wide throughout the remainder of 2022 and into 2023. As part of this project, work will completed at 396 Donald B. Munro Drive in Carp. The scope generally includes spot repairs by open cut with trench reinstatement. Pre-construction activities have started. Impacted residents are being notified.
Enbridge gas main installation – March Road
Crews will be installing an Enbridge gas main along the east shoulder of March Road, between Thomas Argue Road and Diamondview Road. The work was scheduled to begin Monday, Oct. 31 and continue for approximately one week. The roadway will remain open to vehicles.
Sidewalk Renewal – Langstaff Drive in Carp
This project will involve the replacement of damaged concrete sidewalk panels on Langstaff Drive, between Donald B. Munro Drive and Juanita Avenue. It is is expected to be completed by mid-July 2023. The start date is not yet confirmed. More information about the project's timeline will be posted here as it becomes available.
Terry Fox Stormwater Management Facility – Sediment Clean-out
The City's Stormwater Management Branch will be undertaking a clean-out of accumulated sediment from the Terry Fox Stormwater Management Facility, which is located on the southwest side of Terry Fox Drive, across from the intersection of Terry Fox Drive and Kanata Avenue. Work was expected to begin the week of October 11, when a biologist will be on-site to remove turtles from the pond and the contractor will be installing temporary fencing to prevent turtles from re-entering the pond. After this week, the site will be mostly inactive until January 2023, when the contractor will return to prepare for the sediment removal by mechanical excavation. This sediment will initially be too wet to haul off-site for disposal, and must be left on-site until it has de-watered sufficiently to allow it be removed from the site. In order to achieve this, the contractor will construct a temporary sediment storage/drying area on the southwest side of the pond in mid-January. The excavation of wet sediment will take place in late January, and it will be left on-site to dewater until late August 2023, after which it can be hauled away for disposal. The site clean-up and restoration is scheduled to be complete by mid-September 2023.
The location of the temporary sediment storage/drying area will result in the temporary closure of the access road around the pond. This access road is also used as a pathway. The portion around the southwest side of the pond will be inaccessible to the public for the duration of the project. Additionally, the access from Terry Fox to the pond will be subject to occasional short term closures, as contractor vehicles and equipment enter or leave the work site.
Carp Road Widening Project
The Carp Road Widening project between Richardson Side Road and Highway 417 was scheduled to begin Oct. 3, 2022. The project is being done by Tomlinson on behalf of Waste Management (WM). The widening includes a left turn lane into the Waste Management (WM) site. This is not a City-led project. Please watch for signs and flaggers.
Ward 5 & City-wide Events

The Goulbourn Male Chorus, which practises every Tuesday evening at 7 pm in West Carleton-March at Trinity Presbyterian Church, 1817 Richardson Side Road, is looking for new members. Visit goulbournmalechorus.com for details or to enquire.

The Western Ottawa Community Resource Centre is hosting its Youth Zone program at West Carleton Secondary School on Wednesday afternoons from 3 to 5 pm. The program is for WCSS students only, will be cooking-based and requires registration. Please email youth@wocrc.ca. The new program began Oct. 19.
The Bay Waves Square Dancing season continues every Friday evening at 7:30 pm until April 21, 2023. Come by the NorthWind Community Centre, 262 Len Purcell Drive in Constance Bay to join in the fun. Singles are welcome. For details, email bay.waves@live.ca.

Visit the Diefenbunker Museum's 2022 Artist-in-Residence exhibition, "Justin Case: The Enemy Within," by Ottawa artist Christos Pantieras. The exhibition, which explores the LGBT purge, opened Oct. 14 and continues until Feb. 15, 2023. Admission to the exhibition is included with general admission to the museum. Details: diefenbunker.ca/artist-in-residence

Registration to join the West Carleton Outdoor Hockey League opened Nov. 1 for kids ages 5 to 15 to play hockey in Constance Bay, Dunrobin, Carp and Fitzroy Harbour. Volunteer parent coaches are needed. Details: www.facebook.com/WCODR
The Rural Root Theatre Company presents A Red Plaid Shirt Nov. 8 to 12 at the NorthWind Community Centre in Constance Bay. Tickets can be purchased at ticketsplease.ca or by calling 613-485-6434.

The West Carleton Garden Club & Horticultural Society's Annual General Meeting, seed swap and presentation on High Performance, Low-Maintenance Plants with Master Gardener Lee Ann Smith is Nov. 8 at the Memorial Hall in Carp and on Zoom. For details, please click here.

West Carleton Disaster Relief is holding its Annual General Meeting on Nov. 8 from 6:30 to 8 pm at the Huntley Mess Hall, 2240 Craig Side Road in Carp. All welcome.
The Galetta Community Association is sponsoring six-hand euchre at the Galetta Community Hall, 119 Darwin Street, on Nov. 10, 17 and 24. Doors open at 6 pm. Start time is 7 pm. Admission is $5. Prizes and refreshments will be available. Details: galetta.info
Saint Gabriel's upcoming bottle drive fundraisers are Nov. 12 and Dec. 10, from 10 am to 12 pm. Drop off your empties at 205 Bayview Drive in Constance Bay. Click here for details.
The Kinburn Community Association presents its 40th Annual Kinburn Christmas Craft & Gift Sale on Nov. 12 from 9 am to 3 pm at the Kinburn Community Centre, 3045 Kinburn Side Road. Details: kinburn.ca.

The Huntley Township Historical Society hosts its Annual General Meeting on Nov. 15 at 7 pm via Zoom. Charlene Johnston will moderate a Huntley History Quiz beginning at 7:30 pm. Everyone is welcome to participate and test their Huntley history skills. Please email huntleyhistory@gmx.net to request the meeting link.

A Farewell Roast & Toast of Mayor Jim Watson and myself takes place Nov. 24 from 6 to 9 pm at the Brookstreet Hotel in Kanata. Enjoy a fun evening of food, friends and funny stories. Proceeds will support the Dave Smith Youth Treatment Centre's construction of a new centre in West Carleton-March. Visit davesmithcentre.org or call 613-594-8333, ext. 1201 for tickets, to sponsor the event or to donate an auction item.

There will be a two-day Carp Farmers' Christmas Market on Dec. 2 from 3 to 8 pm and Dec. 3 from 8 am to 2 pm at the Carp Fairgrounds.
The Constance and Buckham's Bay Community Association is hosting a Santa Claus Parade on Dec. 3. Save the date and keep checking cbbca.ca for details.

The Constance Bay Community Market's season continues at the NorthWind Community Centre, 262 Len Purcell Drive in Constance Bay, on Dec. 3, from 9 am to 1 pm.
Visit marketinthebay.com for details.

St. Mary's in Dunrobin hosts an afternoon community social event featuring bridge and euchre games on Dec. 7, from 1 to 4 pm. The cost is $10 per person including refreshments. Reservations are required by emailing terence.hawkes@gmail.com. For details, please click here.

The CHEO Foundation hosts a 24-hour Tremblant 2022 winter sport event and fundraiser Dec. 9 to 11. Click here for details.

There will be an evening Carp Christmas Parade on Dec. 10 at 6 pm. Keep checking the Huntley Community Association's Facebook page and website for more details.
For event details, please visit my website. To submit an event, please email Ward5@Ottawa.ca.
Ottawa Public Health News
COVID-19 Snapshot for Nov. 3, 2022:

Dr. Vera Etches, Medical Officer of Health, recently issued a statement.
Monitoring Indicators
Wastewater virus detection levels are high
Per cent positivity is very high
New COVID-19 hospitalizations are moderate
New confirmed outbreaks are moderate
Key Takeaways
The levels of COVID-19 circulating in our community remain high.
The fall respiratory illness season is underway, and it will likely be a challenging one. Learn more about what you can do to protect yourself and those around you at OttawaPublicHealth.ca.
Remember, not everyone shows symptoms when infectious. When going to indoor and/or crowded public settings be aware of added risk and act accordingly (wear a well-fitted mask, keep your distance if you can, etc.).
Staying up to date on your recommended COVID-19 vaccine doses is essential towards staying protected. Please note: the locations listed on the Provincial booking site aren't your only options. You can go to your local pharmacy or check with your primary care provider, and we currently have 14 Neighbourhood Wellness Hubs throughout the community where you can drop-in to get a COVID-19 vaccine. OttawaPublicHealth.ca/NeighbourhoodHubs
One-day vaccination clinic (appointments required):
| | | |
| --- | --- | --- |
| West Carleton Community Complex | 5670 Carp Road (at Kinburn Side Road) | Saturday, Nov. 19, 2022: 9:45 am to 4:10 pm |
Ongoing nearby COVID-19 vaccination clinics:
Kanata Recreation Complex
100 Charlie Rogers Place

Tuesday to Thursday: 12:45 to 7:10
Friday and Saturday: 9:45 am to 4:10 pm
Influenza – Protect Yourself
Ottawa Public Health is planning for a fall and winter season with higher than usual levels of influenza in the community and an increase of COVID-19 transmission. Please see the Influenza Vaccine public service announcement for further information or visit Ottawa.ca/flu. Flu shots are now available through your health-care provider, public health unit and in participating pharmacies. Flu shots may safely be given at the same time, or at any time before or after the COVID-19 vaccine. Please visit OttawaPublicHealth.ca/flu for the latest updates.
Eye exams for children and teens
The Canadian Association of Optometrists recommends that children and teens aged 6 to 19 should have an eye examination annually. Wondering where you can find an optometrist? Visit the Ontario Association of Optometrists website for a list of doctors near you.
City of Ottawa News, Programming & Engagements
Ottawa City Clerk declares Ottawa's 2022 Municipal Elections results official
The City Clerk has declared Ottawa's 2022 Municipal Elections results official. Official and poll-by-poll results are available on ottawa.ca/vote.
The elected Mayor, City Councillors, and School Board Trustees will take office on Nov. 15, 2022 when the 2022-2026 Term of Council begins.
In advance of Nov. 15, the Office of the City Clerk is holding orientation sessions for the Mayor-elect and Councillor-elects on topics including but not limited to the City's legislative framework, Council and Committee procedures, the City's budget, the Accountability Framework and introductions to the Planning Act and the Municipal Freedom of Information and Protection of Privacy Act. These orientation sessions are open to the media.
Details on the Inauguration Ceremony for the 2022-2026 Term of Council will be provided at a later date. For more information about the 2022 Municipal Elections, visit ottawa.ca/vote or contact the Elections Office.
New Vacant Property Bylaw came into effect Nov. 1
Do you have any vacant property? The new Vacant Property Bylaw came into effect Nov.1. Vacant lots and buildings that have been unoccupied for 120 consecutive days are required to have a permit, with limited exemptions. More info: bit.ly/3TVlFJi
Take the Cultural Spaces Survey Launched by Apt613 before Nov. 12
The City of Ottawa is building a Cultural Spaces Inventory to support municipal planning processes. The City of Ottawa's new Official Plan states that: "The City's inventory of local cultural assets will inform the evaluation of development proposals, support environmental assessments, and help identify cultural gaps and opportunities when preparing new local plans." The City has partnered with Apartment 613 Community Initiatives on this project. After years of writing about cultural activities and events in Ottawa, Apt613 has a large amount of unstructured data that they are organizing to support the inventory. They have also launched a survey to gather information about cultural venues from Ottawa creators, presenters and producers. If you are an artist, festival producer, promoter, maker, photographer, dancer, musician, writer, actor, composer, choreographer, film and video maker, or any other type of creator or presenter, please fill out the survey before Nov. 12.
Tapestry – City of Ottawa Archives: Share Your Story!
The City of Ottawa Archives and the not-for-profit group Friends of the City of Ottawa Archives are engaging the community via the Tapestry initiative to diversify the Archives' collections and make them more representative of the many different communities within Ottawa. The City would like the Archives to be a place of trust and belonging for all, allowing everyone to share their stories and history and hand them down to future generations. If you are interested in donating to the Archives, please email archives@ottawa.ca and include as much background information as possible relating to the material. An archivist will contact you to discuss your materials, the City of Ottawa Archives collections, and the donation process. Everyone has a part to play in history.
Rebates, incentives, and financing for home energy efficiency upgrades
If you are thinking of improving the energy efficiency of your home there are lots of rebates, incentives and financing programs available to help you. You'll find a handy list of them all at betterhomesottawa.ca. Key programs include:
All programs require you to get a EnerGuide energy audit before and after you complete the work. You can find a list of all organizations offering EnerGuide audits on the Natural Resources Canada website.
Find out more about energy efficiency rebates, incentives and financing.
OC Transpo's Travel Training program takes the spotlight
OC Transpo's Travel Training program teaches people with disabilities and seniors to use transit safely and independently. Watch Daniel's story, produced for OC Transpo by BBC StoryWorks Commercial Productions, to find out how the Travel Training program shaped his experience travelling Ottawa by public transit. Daniel's story is part of The Way We Move online series, presented by the International Association of Public Transport and produced by BBC StoryWorks Commercial Productions. The Way We Move explores the central and meaningful role that public transit plays in our lives. Each film in the series highlights an innovative example of how access to public transit can impact quality of life. Find out more about travel training at octranspo.com.
City of Ottawa Book Awards Recipients
It is time to treat your shelves! A big congratulations to the three authors who were recognized for their literary talent at the City of Ottawa Book Awards ceremony. To see the winning authors along with the English and French books, visit bit.ly/2FOuX9g.
2022 Immigrant Entrepreneur Award Winners
Congratulations to the 2022 Immigrant Entrepreneur Award winners! This year's winners are Emilio Escobedo, Sergey Poltev and Ravinder Tumber. Find out more about the City of Ottawa's latest local entrepreneurial all-stars and their successes: https://bit.ly/3zqvabi
Stay up to date with City of Ottawa news and public consultations
There's a lot happening in the City of Ottawa. There are 33 different e-newsletters to help you stay informed. City news, for example, provides you with the latest news, announcements and traffic impacts that matter to you. Sign up to stay in the loop!
City of Ottawa Rural News

On-Farm Climate Action Fund – Program Update
The On-Farm Climate Action Fund (OFCAF), delivered by the Ontario Soil and Crop Improvement Association (OSCIA), provides cost-share funding for Ontario farmers to implement new practices under in-field nitrogen management, cover cropping and rotational grazing systems. The OFCAF will be accepting applications from January 4, 2023 until January 18, 2023. Eligible invoice dates for this intake will be January 1, 2023 to January 31, 2024. Projects must be completed, including demonstrated participation in an approved Knowledge Sharing Event, by January 31, 2024. Program information, including a link to the program guide (will be updated November 15, 2022), can be found at Ontario On-Farm Climate Action Fund | OSCIA (ontariosoilcrop.org). The Program Guide will provide details on eligible costs and activities, documentation required with an application, and more. For questions related to OFCAF:
Species at Risk Partnerships on Agricultural Lands – Program Update
The next intake for The Species at Risk Partnerships on Agricultural Lands (SARPAL) Program will be from March 1, 2023 to March 8, 2023. Eligible invoice dates for this intake will be April 1, 2023 to December 15, 2023.New for 2023:
A limit of one submitted application per farm business will be eligible for cost-share funding (for this intake only; projects submitted under previous SARPAL intakes do not count towards this limit).
Eligible delayed haying applications must demonstrate a "high" categorization on the Rating for Grassland Birds self-assessment (see page 12).
2023 program details will be posted as soon as they become available, but in the meantime please see the 2022 brochure as it remains a valid resource. Further information can be found at: Next SARPAL Intake Announced (ontariosoilcrop.org). Any questions about the program can be directed to sarpal@ontariosoilcrop.org or 519-826-4214.
Emergency Services News
Ottawa Police Services Board Announces Hiring of Eric Stubbs as New Chief of the Ottawa Police Service
Ottawa—The Ottawa Police Services Board announced Oct. 21, 2022 that it has selected Eric Stubbs as the new Chief of Police for the Ottawa Police Service (OPS). Eric Stubbs is currently an Assistant Commissioner with the RCMP where he holds the role of Criminal Operations Officer for the Province of British Columbia. He will begin his role as Chief of the OPS effective November 17, 2022.
"What impressed the Board the most about Chief Select Stubbs, in addition to his knowledge and experience, is his ability to connect with people. We are confident he will earn the trust, confidence, and hearts of the members of the OPS, as well as the Ottawa community," stated Board Chair Eli El-Chantiry. "Chief Select Stubbs has a wide breadth and depth of experience in his 30-year long career with the RCMP. He has held key leadership positions both within BC and even in Ottawa, where he was Chief Superintendent for three years. He has successfully managed and overseen substantial budgets at municipal, provincial, and federal levels. He has led teams through states of emergencies and high-profile protests and is well-versed in government relations. He has also been proactively involved with First Nation Leaders and efforts towards reconciliation. Chief Select Stubbs will be an excellent and thoughtful leader for the OPS and the community at large."
"It is truly an honour and I am humbled to become the police chief in the Capital of Canada. I'm looking forward to working with the great civilian and sworn members of the Ottawa Police Service, as we all work together with the communities we serve," stated Chief Select Stubbs.
The Board wishes to extend its sincere thanks to Interim Chief Steve Bell for his dedicated leadership over the last eight months. He has led the Ottawa Police Service through one of its most challenging moments during the convoy and was also at the helm during St. Patrick's Day, Rolling Thunder, the Derecho storm, Canada Day, and a number of other complex operational matters.
Biography of Eric Stubbs
Assistant Commissioner Eric Stubbs joined the RCMP in 1993 and was posted to E Division in British Columbia (BC). Over the course of the next 20 plus years, he worked in six BC communities highlighted by his role as the Chief of Police in the communities of Daajing Giids, Terrace, and Prince George.
In 2014, he transferred to RCMP Headquarters in Ottawa as the Director General, National Criminal Operations, where he served until July of 2017. His portfolio included the National Use of Force, Operational Policy, Traffic Services and the Operational Research Unit.
In July 2017, Assistant Commissioner Eric Stubbs returned to BC and is now in charge of Core Criminal Operations for the BC RCMP. He is responsible and accountable for the overall strategic direction, leadership, and operations of Core Policing functions. His portfolio includes oversight of the province's 125 RCMP detachments. Specialized units such as the Emergency Response Teams, Indigenous Policing, Crime Prevention, Highway Patrol, Police Dog Services, Explosive Disposal Unit, Underwater Recovery Team, Dispatchers and Marine Services are also part of his team.
Since 2017, the BC RCMP have faced a number of exceptionally challenging events that included three significant Wildfire seasons, many high profile protests related to the resource sector and the COVID-19 pandemic. Assistant Commissioner Stubbs has led the BC RCMP's response to these events but is quick to credit the incredible leadership of District/Detachment/Unit commanders across the Division.
The Ottawa Police Services Board is the civilian body responsible for governing the Ottawa Police Service. It is responsible for ensuring the provision of adequate and effective police services to City of Ottawa residents.
Ottawa Police Service
Commercial Motor Vehicle Safety Blitz results in 24 charges
Ottawa Police Service officers partnered with Ministry of Transportation Ontario officers to conduct a Commercial Motor Vehicle Blitz on October 19. In total, 32 vehicles were examined. Inspectors looked at equipment, tires and documentation. This resulted in 24 charges in total. For details, please click here.
Operation Overnight
Overnight on Oct. 30, Frontline Patrol Officers charged 10 drivers with impaired operation of a motor vehicle while intoxicated. Eight of the incidents occurred in downtown Ottawa and two in the city's west end. Click here for details.
Collision Reporting Centres get modernized and streamlined with a new partner
The Ottawa Police Service is pleased to announce that starting in November, users of Collision Reporting Centres will benefit from new technology and a user-friendly reporting tool, thanks to a new partnership with Accident Support Services International Ltd. To learn more, please click here.
Police warn of extortion scam targeting people using escort services and dating sites
The Ottawa Police Service is warning the public of an active scam targeting people contacting escort services and dating sites. In the last month, the number of reports to police involving extortion or threats has doubled. Here's how it works: A person contacts an escort service or dating website. During the course of communicating, the victim is asked for a masturbation video. Once received, the suspect threatens to expose the video to the victim's friends or relatives unless bitcoin or cash is paid. If they don't pay, victims receive threatening phone calls or videos stating the victim and family will be killed if payment isn't made. For details, please click here.
Thirteen officers recognized at October 18 Badge Ceremony
The Ottawa Police Service, along with members of the Ottawa Police Services Board, other dignitaries and family and friends, will have a formal Badge Ceremony tomorrow. A total of 13 Police Constables will be presented with their wallet badge from the Interim Chief of Police, Steve Bell. Fifty per cent of the class identifies as racialized, with 31 per cent identifying as women. For more information, please click here.
The Ottawa Police Service is Hiring
The Ottawa Police Service is looking to hire 80 new recruits in 2022.
For more information: jobs-emplois.ottawa.ca/OttawaPolice/go/Sworn-New-Recruit/8648647
Report Vehicle Thefts
If you have been a victim of vehicle-related theft, report it. This enables the Ottawa Police to track patterns of criminal behaviour and better allocate police resources. ottawapolice.ca/report
Ottawa Fire Services
Training West Carleton Firefighter Recruits
Flashover training was the recent focus for 2022-23 West Carleton firefighter recruits, according to District 6 Sector Chief Bill Bell. Chief Bell thanked the instructors, coordinators and safety staff for providing this training.
Protect Yourself and Your Loved Ones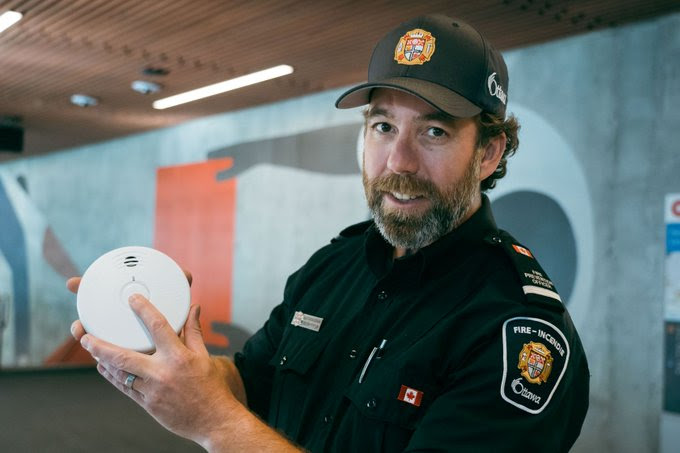 Ottawa Fire Services recommends you install a smoke alarm in each bedroom to protect you and your loved ones. Read more at bit.ly/3eKWsSO.
City Council & Committee News
Finance and Economic Development Committee – Nov. 1, 2022
The Finance and Economic Development Committee received a detailed update on Stage 2 LRT construction. The project has progressed significantly in 2022: rail installation is underway along the O-Train East extension, as well as covering works for the cut-and-cover tunnel on the O-Train West extension. Testing and commissioning of seven new Stadler FLIRT vehicles is underway; they will run on the O-Train South extension. By the end of the year, seven of the 11 new pedestrian bridges will be installed to help enhance resident's active transportation connectivity.
Today's update included forecasted schedules for each alignment. Anticipated completion dates are:

September 2023 for the O-Train South extension
End of 2024 for the O-Train East extension
Late 2026 for the O-Train West extension

The Committee received an update on the City's work on the Ottawa Light Rail Transit Public Inquiry. Staff were directed to bring the inquiry's final report and recommendations to the appropriate Standing Committee and Council as soon as possible, along with a report outlining staff's response to the inquiry report. The Committee also directed staff to improve clarity and rules regarding record keeping and information management, and to apply lessons learned from the Inquiry to ongoing City projects.
Council also received a status report on the Q2 Tax and Rate Operating and Capital Budget). While the City is currently in a surplus, the report forecasts a year-end deficit of more than $12 million as a result of costs associated with the derecho, protests and COVID-19 support.
Planning Committee – Oct. 27, 2022
Upcoming Committee and Council Meetings
City Council meeting – Nov. 9 at 10 am
Ottawa Police Services Board – Nov. 28 at 4 pm
To view the full list of upcoming Council and Committee meetings and to review the meeting agendas, please click here.
To watch the meetings live, please click here.