El-Chantiry: Ward 5 bi-weekly news for July 20
The Councillor's Column

Great Galetta Garage Sale – Donated Items Welcome


The Galetta Community Association is planning for the much-anticipated return of the Great Galetta Garage Sale Oct. 23 to 25 at the Galetta Community Hall, 119 Darwin Street. The Galetta Community Association is always looking for volunteers. Their next meeting is August 22 at 7 pm at the Galetta Hall. Donated items for the sale are welcome. Please drop off gently used items in the collection shed near the Community Hall.

Concerts in the Park Series


WM (Waste Management) and I present the final two concerts in the 2022 Concerts in the Park Series at Fitzroy Provincial Park, hosted by West Carleton Disaster Relief. Joe MacDonald and the Walking Hawks perform July 21. Ambush takes the stage July 28.
Ash Tree Replacement Program


The City of Ottawa's Ash Tree Replacement Program, delivered by Conservation Authority partners, was established in 2018 and has helped replace approximately 2,500 trees infected with the Emerald Ash Border (EAB). The EAB is an invasive beetle from Asia that was first detected in North America in 2002 and has since killed tens of millions of ash trees and continues to spread, causing considerable economic and ecological damage. This cost-share program is administered by South Nation Conservation, on behalf of three Conservation Authority partners (South Nation, Rideau Valley, and Mississippi Valley).
The program is available to property owners with affected ash trees located in the City. Eligible applicants agree to use a forestry professional to confirm and remove EAB infected ash trees and to replace trees with suitable native trees. Private properties affected by the severe storm on May 21 may also be eligible for funding.
For more information and to apply, please call the South Nation Conservation Authority at 1-877-984-2948 ext. 286 or visit www.nation.on.ca/eab.
Bylaw Service Requests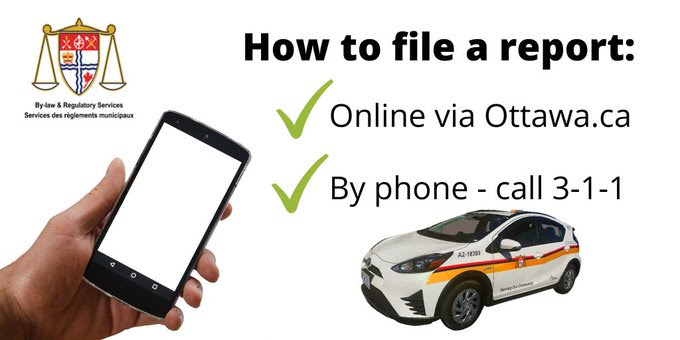 If you have bylaw-related concerns regarding property standards, parking, fireworks, off-leash dogs, rental properties, trespassing, noise or other issues, please call 3-1-1 to submit a request for a review by Bylaw and Regulatory Services staff. Please report each incident as soon as possible. Be sure to note the Service Request number you are provided so that you may track the status of your request. Have a question about a City of Ottawa bylaw? Please call 3-1-1, email 311@ottawa.ca or visit ottawa.ca/en/3-1-1/ report-or-request.
Wild Parsnip, Poison Ivy and Giant Hogweed


To report wild parsnip, poison ivy or giant hogweed on City property, please call 3-1-1 or submit a report at ottawa.ca/en/3-1-1/report-or-request/parks-and-trees. Take note of the Service Request number that is generated so that you may track your submission.
Your Councillor in the Community

Opening Ceremonies of the 2022 Ottawa Lebanese Festival


The evening of July 13 I joined the festivities celebrating the kick-off of the Ottawa Lebanese Festival. After two years it was so nice to see people enjoying themselves, with delicious food and great entertainment! I was pleased to join the opening ceremonies with Mayor Jim Watson, Ottawa South MPP John Fraser and Councillors Tim Tierney, Cathy Curry, Riley Brockington and Rawlson King.
Tournament of Thrones Pickleball Tournament


On July 9, I officially opened the Tournament of Thrones at the Constance Bay pickleball courts. More than 30 participants dressed in medieval costume participated in this event, organized by Pickleball Club Coordinators Suzanne and Bill Monnon.
Concerts in the Park Series


Thank you to everyone who came out to enjoy the first concert of the Concerts in the Park Series at Fitzroy Provincial Park on July 8 since before the pandemic. It was well attended and the music and the weather were wonderful. The next concerts are scheduled for July 21 and 28.
Tour of KIN Vineyards


On July 7 I toured Kin Vineyards in Carp to learn more about the many updates to their business operations. It is exciting that VQA Ontario has listed the Nation's Capital, Carp included, as the newest emerging region in Ontario wine country.
Ward 5 Development & Road Works News

Development Applications
Recently updated development applications can be reviewed at this link: Ward 5 – West Carleton-March. The City of Ottawa's Development Application Search Tool is also available by clicking here.
Culvert Work
Culvert renewal work will be conducted at the following locations:
Barlow Crescent 0.30 km N of Heather St (July 4–8);
Upper Dwyer Hill Road 1.38 km S of Mantil Side Road (July 4–15); and
Old Second Line Road at Maley Lane (July 11–22)
Road Works – Huntmar Drive Widening
The City of Ottawa has initiated the Huntmar Drive Widening (Campeau Drive to Maple Grove Road) and Stittsville Main Street Extension (Maple Grove Road to Robert Grant Avenue) Environmental Assessment (EA) Study. The project limits for the widening of Huntmar Drive starts from Campeau Drive in the north and extend to Maple Grove Road in the south. It is approximately 1.7 km long. The limits of the Stittsville Main Street Extension are from Maple Grove Road to Robert Grant Avenue. To get involved, visit the City's website to fill out the survey.
2022 West Rural 1 Resurfacing
**Please be advised that all work related to CP000702 projects (resurfacing projects listed below) has been suspended pending a resolution to the ongoing labour strike by members of LiUNA Local 527. Updates will be posted to my website as they become available.As part of the City of Ottawa's annual infrastructure maintenance cycle, road resurfacing under contract number CP000702 was scheduled to begin in May 2022 and continue until the late fall.
What: Work will involve select concrete repairs, pulverizing/milling of the existing surface, iron adjustments, granular a base placement, installation of select paved shoulders, granular shoulder reinstatement, pavement marking reinstatement and resurfacing of the roadway as required. Increased noise levels and vibrations to be expected in order to facilitate the work.
Why: The City of Ottawa will be resurfacing roads as preventative maintenance aimed at extending the City's roadway network lifecycle.
Where: Work will occur at various locations across the city between the hours of 7 am and 10 pm as required. All roads will remain open to traffic with lanes closures expected.
The work for the following location was expected to start in May 2022:
Allbirch Road from Bishop Davis Drive to Shady Lane. – Completed.
Donald B. Munro Drive from Thomas Argue Road to March Road.
Huntmar Drive from 350m north of Campeau Drive to 2.7 km north of Richardson Side Road.
Madawaska Boulevard from 240 m north of Ottawa Road 29 to Connifer Lane. – Completed.
Old Carp Road from Old Second Line Road to 120 m east of Old Second Line Road. – Completed.
The work for the following locations was expected to start in mid-June 2022:
Marchurst Road from March Road (OR 49) to Murphy Side Road.
Torwood Drive from Thomas A. Dolan Parkway to Farm Lane.
The work for the following location is expected to start in early July 2022:
Greenland Road from Vances Side Road (OR 129) to Armitage Way
The work for the following location is expected to start in early August 2022:
Upper Dwyer Hill Road (OR 3) 240m north of March Road to Grainger Park Road.

For more information about road renewal, please visit ottawa.ca/constructionmap.

Youth ages 12 to 18 are welcome to drop into The Zone at the NorthWind Community Centre in Constance Bay every Tuesday from 5 to 7 pm. Details here.

Carp Bingo Nights continue July 20, 27 and August 3 at 5 pm at the Carp Fairgrounds, 3790 Carp Road. Gates open at 5:30 pm; Bingo starts at 7 pm. A canteen is available. Cards are $15 each.


WM (Waste Management) and I present the final 2 concerts in the 2022 Concerts in the Park Series on July 21 and 28 at Fitzroy Provincial Park, hosted by West Carleton Disaster Relief. Gates open at 6 pm. The music begins at 7 pm. Click here for details.

The Western Ottawa Community Resource Centre hosts Movies at the Rink for youth ages 12 to 17 at the Huntley Community Centre outdoor rink, 108 Juanita Avenue, in Carp on July 21 at 8:30 pm. For questions and to RSVP, email youth@wocrc.ca.

Interactive heritage demonstrations at Pinhey's Point Historic Site are a fun way to spend a Saturday afternoon. Learn about letter writing on July 23 between 2 and 4 pm. Learn about weaving on July 30 between 2 and 4 pm. Click here for details.

A Company of Fools presents Shakespeare's The Tempest in parks across Ottawa this summer, including Walter Baker Park in Kanata on July 23 at 7 pm and on the grounds of the Diefenbunker Museum in Carp on August 11 at 7 pm. Pay what you can. Details at fools.ca

Saint Gabriel's next bottle drive fundraisers are July 30 and August 13, 10 am to 12 pm. Drop off your empties at 205 Bayview Drive in Constance Bay. Click here for details.
The Carp Farmers' Market hosts its traditional Garlic Market every Saturday in August. There will also be special Garlic Festival-themed events on August 13 and 20. Market hours are from 8 am to 1 pm at the Carp Fairgrounds.
Softball Canada's 2022 U23 Canadian Men's Fast Pitch Championship will feature Canada's top junior athletes at the Carp Fairgrounds baseball diamonds August 2 to 7, 2022. For details and tickets, please visit softball.ca/u23mens.

The Carp Agricultural Society hosts a Junior Craft Night for kids ages 3 to 10 on August 11 from 6:30 to 8 pm at the Agricultural Hall, 3790 Carp Road. Bring your recyclable materials or use what will be supplied.

The Carp Agricultural Society hosts its Duck Race fundraiser on August 13 at 4 pm in the Carp River. Drop by the Carp Fair Office or talk to a director to buy your tickets for a chance to win $4,000. Tickets are $10 each.
The Constance and Buckham's Bay Community Association is bringing back Bay Days in a single fun-filled day – Bay Day is August 20. Click here for details.
St. Mary's hosts an Old-Time Corn Roast on August 24 from 5:30 to 7 pm at 2574 Sixth Line Road in Dunrobin.
For details, please click here.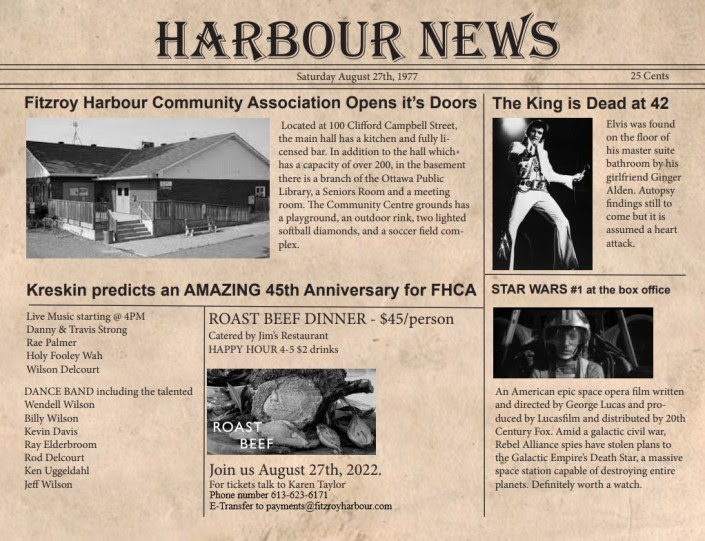 The Fitzroy Harbour Community Association hosts a dinner and dance with live music on August 27, beginning at 4 pm, to celebrate the 46th anniversary of the Fitzroy Harbour Community Centre. For details and tickets, please click here.

The Bay Waves Square Dancing season resumes Sept. 9 at 7:30 pm at the NorthWind Community Centre in Constance Bay. Singles are welcome. For details, email bay.waves@live.ca.
The 12th annual West Carleton Terry Fox Run is scheduled for Sept. 18, 9:30 to 2 pm at the NorthWind Community Centre in Constance Bay. Click here for details.
The Carp Fair returns Sept. 22 to 25, 2022. Be sure to mark the date in your calendars!
The Constance and Buckham's Bay Community Association hosts a Comedy Night and Karaoke at the NorthWind Community Centre in Constance Bay on Oct. 1. Doors open at 6:30 pm. Details to come.
The Great Galetta Garage Sale is scheduled for Oct. 22 to 25.
Volunteers and donated items are needed. Visit galetta.info for details.
The Rural Root Theatre Company presents A Red Plaid Shirt this November at the NorthWind Community Centre in Constance Bay.
More details to come.

The CHEO Foundation hosts a 24hr Tremblant 2022 winter sport event and fundraiser Dec. 9 to 11. Click here for details.
For event details, please visit my website. To submit an event, please email Ward5@Ottawa.ca.
Ottawa Public Health News
COVID-19 Snapshot
COVID-19 Dashboard information for July 15, 2022 showed a sharp increase in outbreaks in long-term care and retirement homes, hospitals and other congregate settings. It's a stark reminder of the importance of being mindful of the risk you may pose to others, especially those at higher-risk. Getting boosted, wearing masks and staying home when sick are essential towards reducing the spread of COVID, especially when visiting or planning to visit a high-risk setting.
2nd COVID-19 Booster Now Available


As per the Provincial Government, individuals 18+ are now eligible for a 4th dose (second booster) of a COVID-19 vaccine. Information about recommendations, eligibility and availability can be found here: OttawaPublicHealth.ca/COVID19Vaccine
Monkeypox Vaccine


OPH has added a new Monkeypox vaccine appointments to their booking tool. Find out if you are eligible for the vaccine and book an appointment here: OttawaPublicHealth.ca/Monkeypox
Ticks and Lyme Disease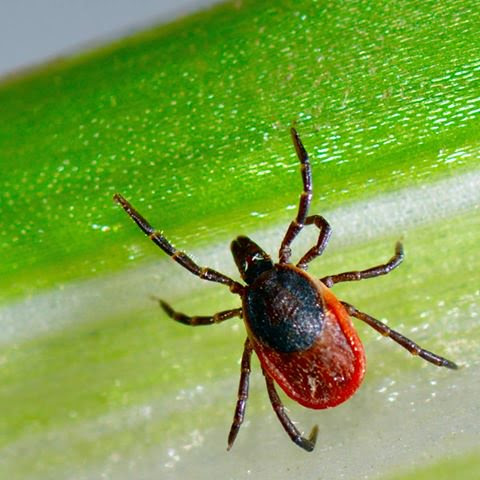 It's always nice to get outside for some fresh air. But what if you find a tick? Remove it ASAP! Typically the tick must be attached to your body for at least 24 hours for you to be at risk. If unsure, contact your health-care provider immediately. Details here: OttawaPublicHealth.ca/LymeDisease
West Nile Virus


Did you know, as little as one-quarter cup of water is enough water for mosquito development? To reduce mosquitoes carrying West Nile Virus, check outside your home for containers and other items that can collect water and empty them regularly or get rid of them.
City of Ottawa News, Programming & Engagements

Ottawa Fire Services Station 45 – Design and Construction Plans

The proposed Kanata North Fire Station 45 will be relocated from 640 Cameron Harvey Drive to the new site at 1075 March Road. The new fire station will serve Ward 4 Kanata North and Ward 5 West Carleton-March. A 2015 Station Location Study confirmed that there would be no operational impacts or adverse impacts to public safety in relocating Station 45. The study assessed projected growth, anticipated risks and benefits of the new station being recommended. The current staffing of Station 45, as well as the equipment and apparatus, will relocate to the station's new location. The projected timeline for construction of the Kanata North station is 2023. Project details remain online until July 22: engage.ottawa.ca/ottawa-fire-services-station-45-open-house
Emergency Services News

Ottawa Police Service


Police Warning Residents to Be Ware of Extortion and Cartel-type Internet Scams
The Criminal Investigation Units have seen an increase in reported Extortion and Cartel-type Internet scams and are warning everyone to beware. The Ottawa Police receives hundreds of public complaints about internet fraud each year and would like to remind Ottawa residents to be vigilant when using the Internet and social media platforms. Individuals you are conversing with online may be falsely representing themselves. Since the beginning of the year, the OPS has received over 80 Extortion and Cartel-type internet scam reports.
Semi-Annual Hate Crimes Data Showing 6% Increase in Reporting to Police
The Ottawa Police Service Hate and Bias Crime Unit released its semi-annual statistics showing an increase of approximately 6% in hate crime reports in 2022 – from 122 cases to 129 compared to the same time last year. The Service received 164 hate crime reports, of which 129 were deemed to be criminal in nature. In 2022, 21 individuals have been charged with 74 counts of various hate/bias-motivated criminal offences.
Ottawa Fire Services


Burn Permits
City of Ottawa residents must obtain an Open Air Fire Permit (Burn Permit) in order to have an open air fire or use an outdoor wood burning fireplace. All burn permits are issued and regulated under the Open Air Fire By-law No. 2004-163. Prior to setting an open air fire, you must first contact the OFS Communications Centre at 613-580-2880.
You can use the online burn permit application tool to verify if your property is eligible for a permit.

Devices that do not require a permit include:
Outdoor natural gas, propane or ethanol fireplaces.
Approved cooking appliances include gas, charcoal or propane BBQ/hibachis or gas or propane outdoor fireplace [must be ULC approved]. Note: the device must be designed and intended solely for the cooking of food in the open air. It must not be used to burn wood, tree limbs, branches and/or non-compostable material.
City Council & Committee News

Planning Committee – July 7, 2022
The City's Planning Committee approved repealing and replacing Ottawa's Parkland Dedication By-law. Whenever development occurs, Ontario municipalities can require developers to either dedicate parkland or contribute cash in lieu to the municipality. The City's by-law sets out rules and rates specific to Ottawa for dedication, but recent provincial legislative changes require the City to replace its current by-law.
The Committee also approved zoning amendments to facilitate redevelopment of an underused downtown property on Nepean Street east of O'Connor Street.
Recommendations from this meeting will rise to Council on August 31.
For details, please click here.

City Council – July 6, 2022
City Council received the Climate Vulnerability and Risk Assessment report which assesses Ottawa's vulnerability to changing climate conditions and prioritizes action where it is most needed.
Council approved additional funding for LRT Stage 2 in 2022. $35 million would go toward the construction utility budget, to be funded from development charge debt, rate reserves, and transit debt. Another $25 million would be budgeted for contingencies, to be funded from development charge debt and transit debt.
Council approved establishing a Community Improvement Plan for the Ottawa International Airport (YOW CIP) to support the Airport's rebound and future resiliency post-pandemic, as well as broader economic growth, job creation and prosperity.
Council approved updates to make the policy for altering a ditch more consistent and transparent. Residents citywide will have two options to legally alter a ditch for non-aesthetic reasons without negatively impacting the City's stormwater management and ditch system.
Council ratified a new collective agreement with Canadian Union of Public Employees Local 5500 (CUPE 5500), representing transit supervisors in bus rail and the Transit Operations Control Centre, transit maintenance, and Special Constables. The bargaining unit represents approximately 180 employees who play an important role in the day-to-day operation of OC Transpo services.
Council also received the 2021 annual report for Ottawa Public Health.
For details, please click here.
Upcoming City Council & Committee Meetings
Ottawa Public Library Board – August 9; 5 pm
Community and Protective Services Committee – August 18; 9:30 am
Built Heritage Sub-Committee – August 23; 9:30 am
Planning Committee – August 25; 9:30 am
The next hybrid City Council meeting after the summer break is scheduled for August 31 at 10 am.
To view the full list of upcoming Council and Committee meetings and to review the meeting agendas, please click here.
To watch the meetings live, please click here.

Connect with Your Councillor!

My team and I continue to respond to your City-related needs. We are available to answer your questions and connect you with the services, resources, information and supports you need. Please let us know how we can help.
Email me at eli.el-chantiry@ottawa.ca or leave us a voicemail at 613-580-2424 ext. 32246.