El-Chantiry: Ward 5 bi-monthly news, Feb. 3
the
LATEST NEWS: COVID-19
Ottawa Public Health resuming after-school COVID-19 vaccine clinics to increase vaccine accessibility
As the COVID-19 pandemic continues to evolve, Ottawa Public Health is shifting capacity in its COVID-19 vaccine clinics. This shift is intended to support vaccination of individuals and families by bringing clinics closer to where people live, work and play.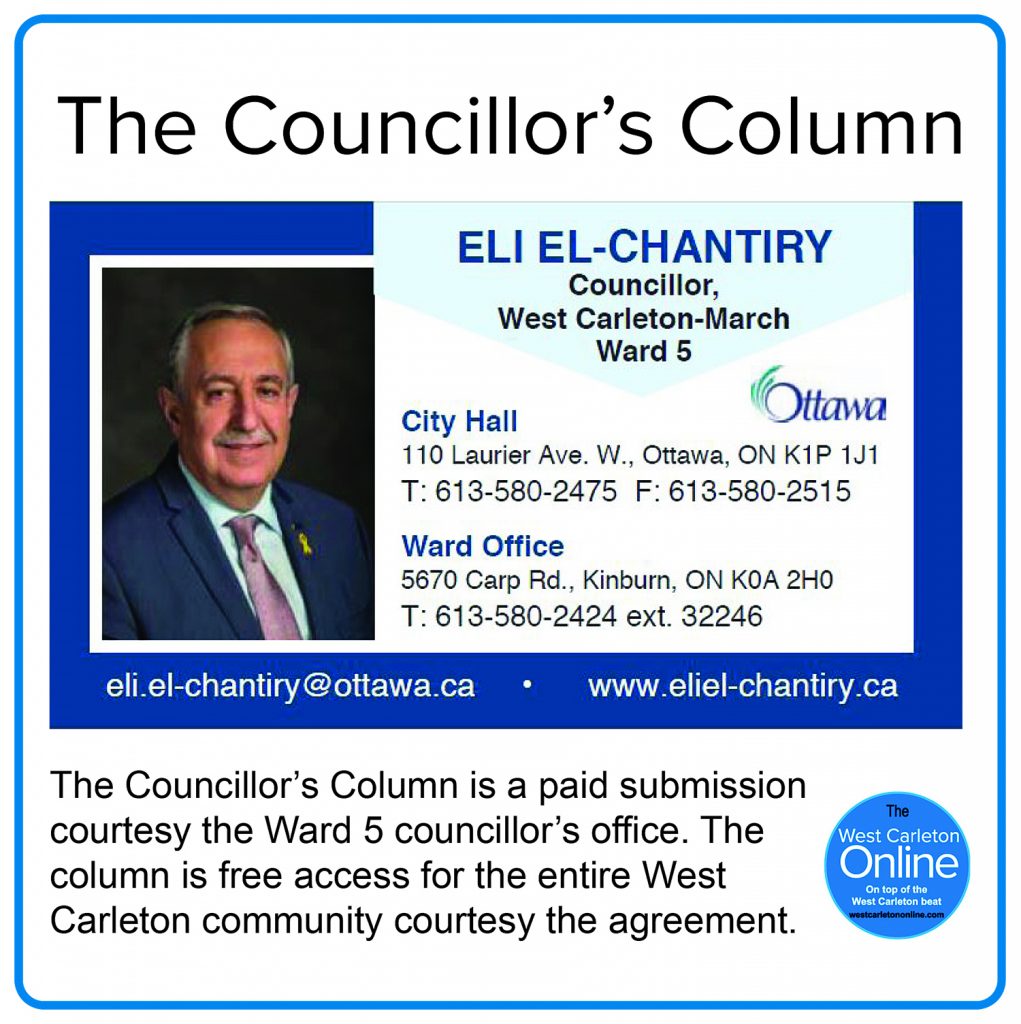 Resumption of after-school COVID-19 vaccination clinics
Starting Friday, January 21, Ottawa Public Health resumed after-school COVID-19 vaccination clinics, initially in neighbourhoods experiencing more barriers to vaccination or that have lower vaccination rates. A total of 49 after-school clinic locations will operate on a rotating schedule over the next several weeks. The initial clinic schedule is available on the Ottawa Public Health website and will continue to be updated with additional clinics. These after-school clinics are drop-in only and will prioritize children aged five to 11 and their families. Those living in the surrounding communities who still need a first, second or booster dose are also welcome.
First, Second and Booster doses available at community clinics
There is ample appointment and drop-in capacity for first, second and booster doses for ages 5 and older at the City's remaining community clinics:
François Dupuis Recreation Centre (2263 Portobello Boulevard)
Nepean Sportsplex Curling Rink (1701 Woodroffe Avenue)
University of Ottawa – Minto Sports Complex (801 King Edward Avenue)
JH Putman School (2051 Bel-Air Drive)
Eva James Memorial Centre (65 Stonehaven Drive)
Orleans Ruddy Family YMCA-YWCA (265 Centrum Boulevard)
Visit Ottawa Public Health's clinic information page for more information including clinic hours. Drop-in capacity for these clinics will be shared daily on Ottawa Public Health social media channels: Twitter @OttawaHealth, Facebook: Ottawa Public Health
Booking for 4th dose vaccine appointments
Ontarians who are immunocompromised are now able to book an appointment for their fourth dose of the COVID-19 vaccine through the Provincial booking system, provided 84 days have passed since their third dose. Anyone who has received a transplant or taking immune suppressant medication is eligible. For more information, as well as the full list of eligible medication, please consult the Ottawa Public Health website.
Links to COVID-19 Resources and Updates:
WARD NEWS
COMMUNITY OUTDOOR RINKS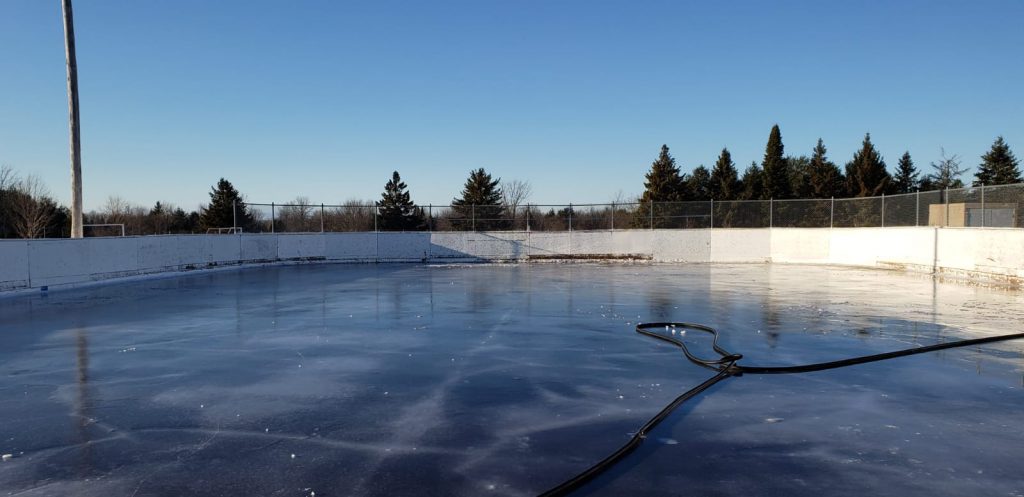 Check out the schedules for your nearest community outdoor rink by visiting your local community association below:
The Council on Aging of Ottawa's 2022 Snow Mole Campaign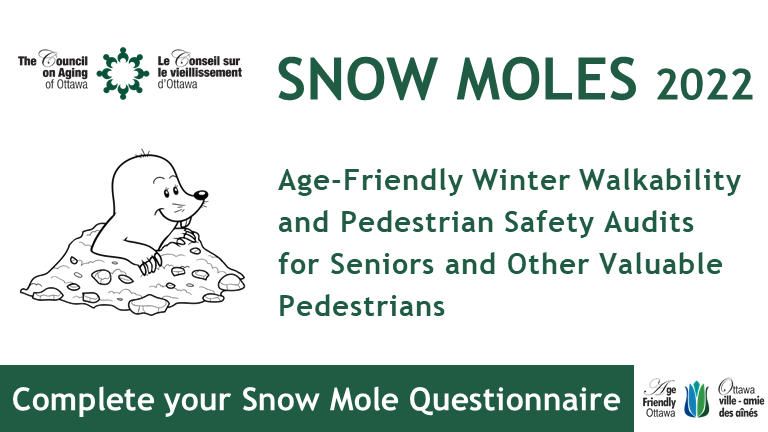 Snow Moles are volunteers who report on what it is like to walk outside on a winter day.
The Council on Aging of Ottawa invites residents across the City of Ottawa to help ensure healthy, accessible and safe winter walking conditions by becoming a Snow Mole and completing a Winter Walkability and Pedestrian Safety Audit. Your answers will be part a 2022 Winter Walking in Ottawa: Snow Mole Report shared with the City of Ottawa for better understanding of the safety of winter walking in Ottawa.
Instructions for Age-Friendly Ottawa Snow Moles:
When you go out for an errand or a walk, please use the Snow Mole Questionnaire to note features and conditions that are "safe" (e.g., a bench cleared of snow) as well as "unsafe" (e.g., snow piled up in intersections).
We encourage you to take and submit photos of both safe and unsafe features and conditions. Send photos to snowmoles@coaottawa.ca.
Complete the questionnaire online or drop it off/mail it to:
The Council on Aging of Ottawa
815 St. Laurent Blvd #217
Ottawa, ON K1K 3A7
Ottawa River Canoe Club – Registration Opens for Summer Camps
Summer camp registration opens Tuesday, February 1 at 5pm. All of our great camps from last summer will be available again; Junior Canoe Kids (6-7 year olds); Canoe Kids (8-11 year olds); Youth Camp (11-14 year olds) and our Intro to Competition Camp (11-14 year olds).
ORCC does highly recommend that all campers are vaccinated. However, at this time, we are not requiring a COVID vaccination for any of our campers. If the Government of Ontario or any of our parent/ affiliate organizations impose a vaccination requirement we will provide a full refund to anyone who may need one.
When you register for camps, you will notice that we have launched a new website. For those of you that are members, all your information has been ported over from the old website. You will need to enter your first and last name, and use the same email that was used on the previous website to access your information. Those of you that are not members, you will need to create a new profile. We apologize for any inconvenience this may cause.
If you are having any problems with registration, or you have questions for us, please feel free to email info@orcc.ca or call 613-850-2628.
Diefenbunker Museum to Re-open
The Diefenbunker Museum opens its doors to the public on Wednesday, February 2, 2022. The museum will operate at 50% capacity, in keeping with Province of Ontario guidelines. It's recommended to purchase tickets online in advance of your visit to ensure spots are available. Virtual educational programming continues.
Kanata Seniors Centre to Re-open
The Kanata Seniors Centre – which services many West Carleton-March residents – is re-opening to permit 50% capacity for drop-in and registered programs. Proof of vaccination is required unless exempt. Reservations are required due to capacity limits at this link. Phone-in reservations are available for those without internet access. Please arrive 15 minutes before your activity. Masks are mandatory. No food and beverages are permitted in the activity rooms.
The drop-in schedule is below: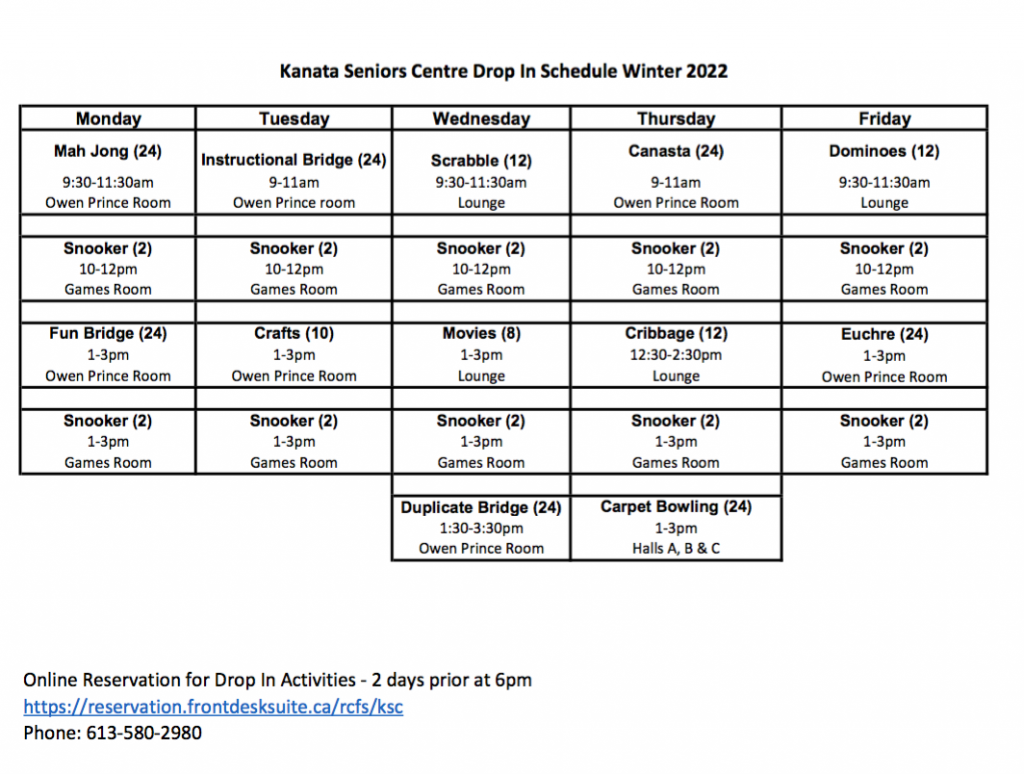 The West Carleton Garden Club Invites You!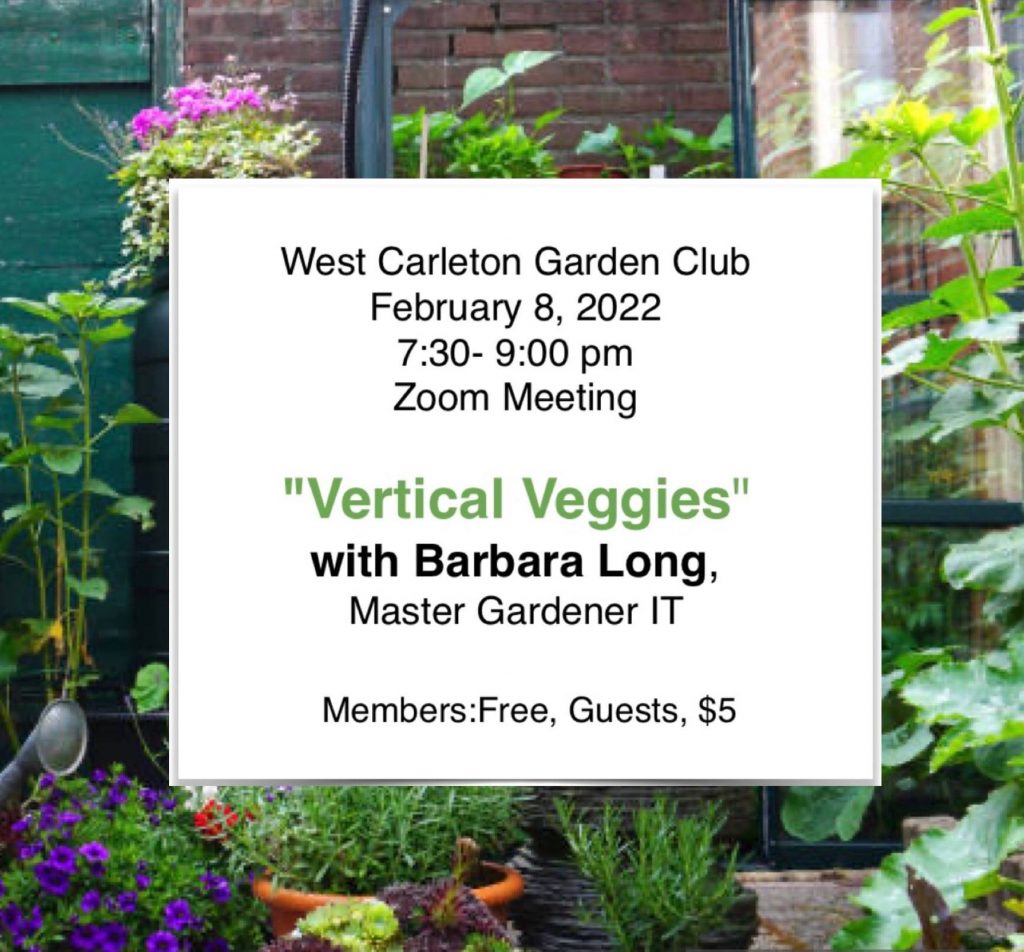 The West Carleton Garden Club and Horticultural Society invites you to learn about "Vertical Veggies" with Master Gardener in Training Barbara Long on Tuesday, February 8 at 7:30pm via Zoom. The cost is free for club members and $5 per guest. Pre-registration is required by emailing presentation@wcgc.ca.
Friends of the Carp Hills Webinar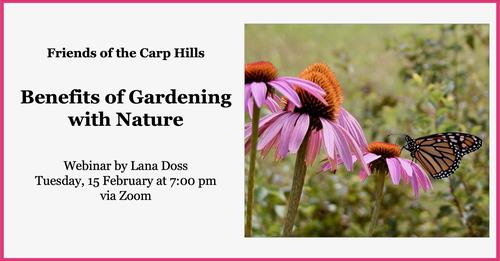 The Friends of the Carp Hills host a webinar with Lana Doss featuring the "Benefits of Gardening With Nature." The event takes place on Zoom on Tuesday, February 15, 2022 at 7pm. To register for free, please click here.
Save the Date: Huntley Winter Carnival 2022
The Huntley Community Association's volunteers are hard at work planning for the Huntley Winter Carnival: Friday, February 18 to Sunday, February 20. Save the dates in your calendar and check the HCA's website and Facebook page for updates.
Galetta Community Association board meeting
Galetta and area residents are welcome to attend the association's next monthly board meeting on Monday, February 28 at 7 pm. The meeting will take place in person at the Galetta Community Hall, 119 Darwin Street, pending approvals from the City of Ottawa. Proof of vaccination required upon entry.
Public Comment Period – 232 Donald B. Munro Drive – Zoning By-law Amendment and Plan of Subdivision
The formal circulation period for 232 Donald B. Munro Drive is now underway. Below are links to the application on the City's Development Application Search Tool where you will find information about the application and all of the submitted plans, reports, surveys and accompanying documents you will need to review the application.
https://devapps.ottawa.ca/en/applications/D07-16-21-0035/details
https://devapps.ottawa.ca/en/applications/D02-02-21-0128/details
Please comment directly to the File Lead using the contact information detailed in the application documents or through the "Send Feedback" link of DevApps. Please note, the deadline date for comments is February 28, 2022.
Recent News from the Diefenbooker Race Committee: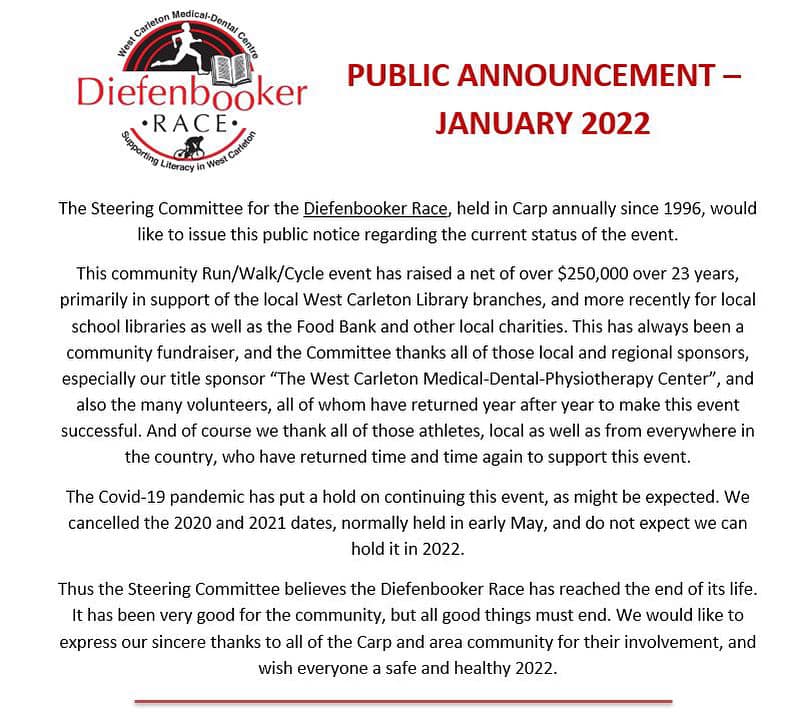 The National Women's Show – Spring & Fall Editions in Ottawa
The largest Women's Show in Canada draws 12,000 to 15,000 attendees over 2 two-day weekends in Ottawa. These are unique opportunities that will feature the "Ultimate Girls' Day Out." Are you a business or service or perhaps you have a community initiative that is looking to promote to thousands of women? If yes, organizers would like to hear from you.
The 2022 Ottawa Women's Spring Show is scheduled for April 9 and 10 at the Shaw Centre in downtown Ottawa. The Fall Show is slated for October 22 and 23 at the EY Centre. To learn more, please click here.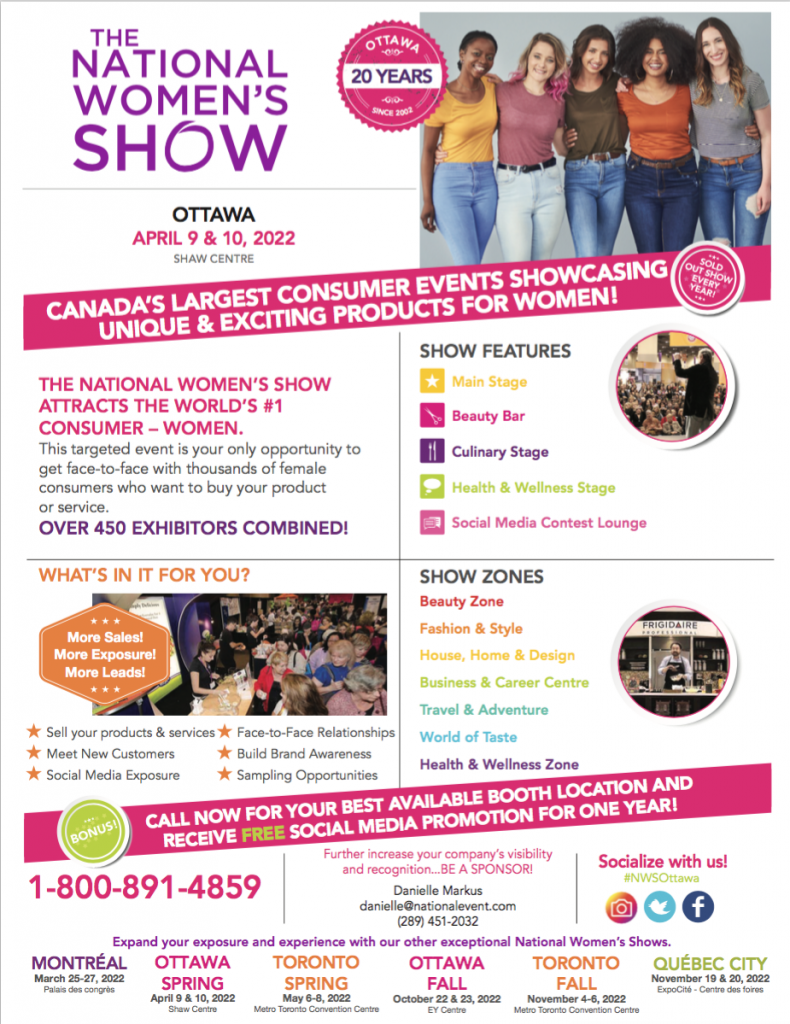 Rural Ontario Institute – Speaking Engagement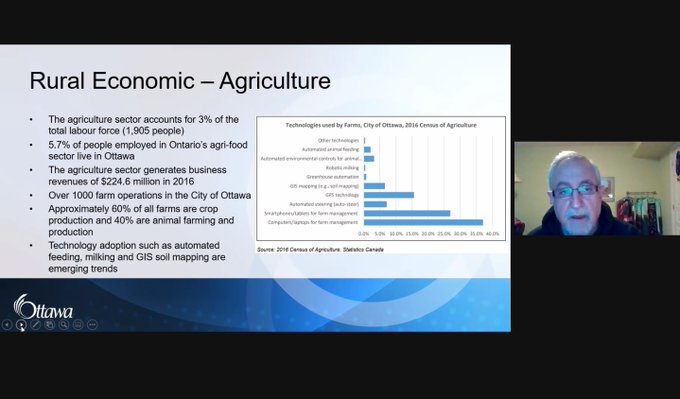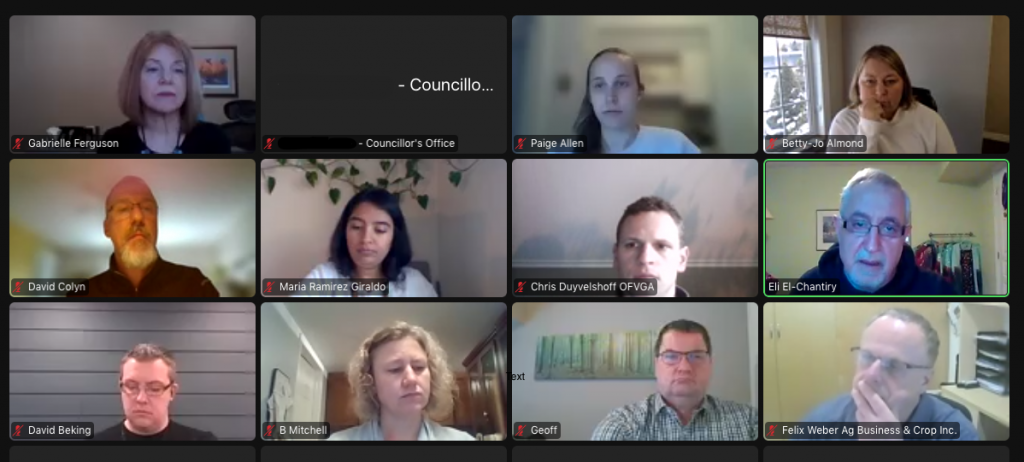 It was my pleasure to speak on Sunday, January 30 about rural Ottawa to the Rural Ontario Institute's Advanced Agricultural Leadership Program students, who want to shape the future of agriculture and the food industry and to make a positive difference in rural communities across Ontario, including here in rural Ottawa.
I dropped into the Village of Carp BIA's virtual annual general meeting on Tuesday, January 25 and attended the Carp Road Corridor BIA's virtual annual general meeting on Wednesday, January 26. Both organizations continue to work tirelessly on behalf of their members during very challenging times. They have my gratitude and appreciation.
Rural Ontario Municipal Association – 2022 Conference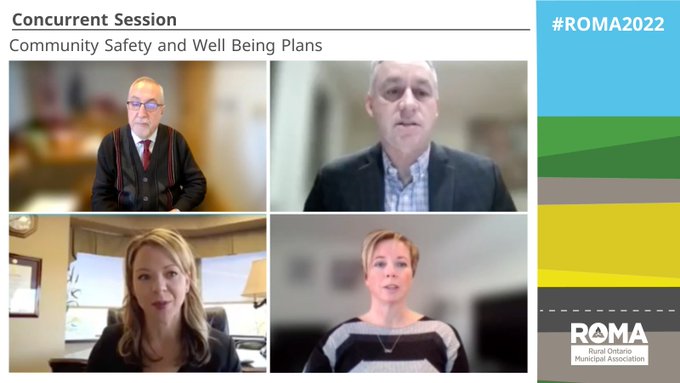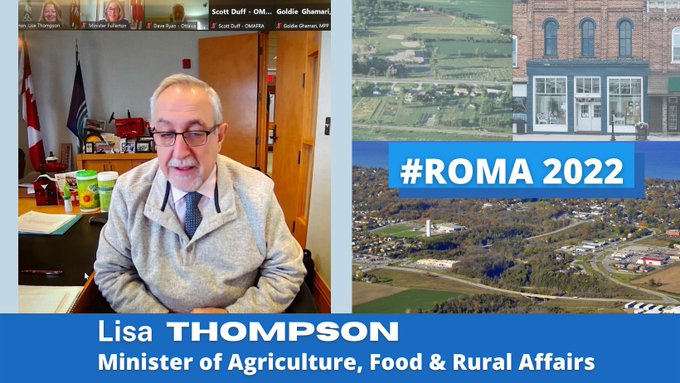 I spent four days attending and facilitating meetings in the lead up to and during the Rural Ontario Municipal Association's annual virtual conference January 24 and 25. Topics of focus included rural housing affordability, rural economic development, Community Safety and Well-Being planning, infrastructure resiliency, rural internet connectivity, and the importance of public utilities. I also met with Ontario's Minister of Agriculture, Food and Rural Affairs Lisa Thompson, Minister of Infrastructure Kinga Surma and Solicitor General Sylvia Jones.
Kinburn Community Association AGM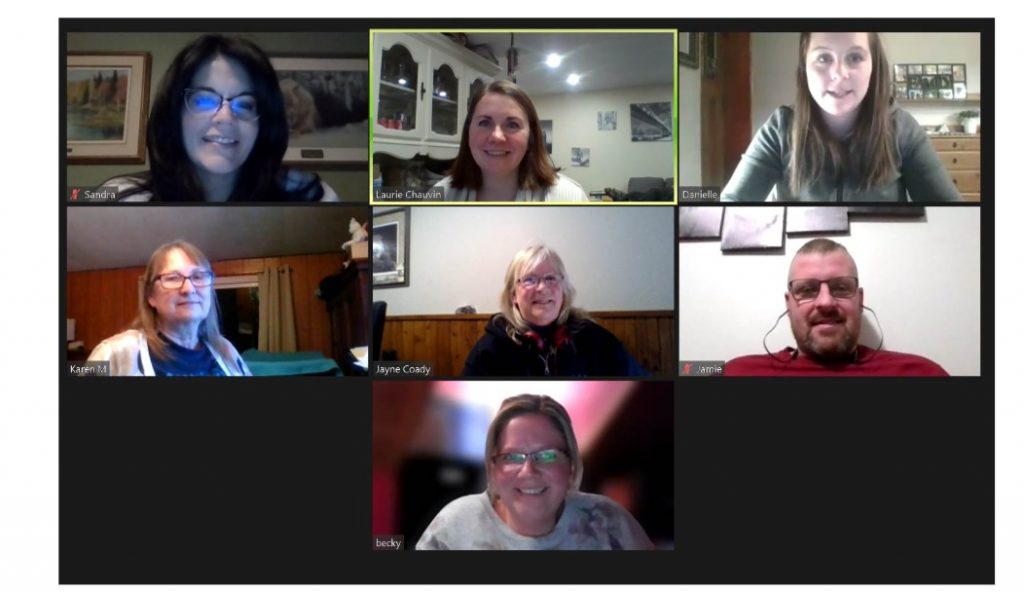 I was pleased to be reunited with neighbours and friends during the Kinburn Community Association's annual general meeting on Monday, January 24. Congratulations to the new and returning members who were elected to the board:
Laurie Chauvin – President
Sandra Grey – Vice President and Secretary
Karen Matt – Treasurer
Becky Benton – Website and Social Media Director
Danielle Stinson – Social Director
Jayne Coady – Advertising and Policy Director
Jamie Boisvert – Bar Director
* Missing from the photo is MaryJane Stelbisky, the Kinburn Seniors Rep
CITY NEWS
City prepares to resume counter services by appointment only
With the Province of Ontario relaxing restrictions, the City is preparing to restart in-person counter services by appointment only on Monday February 7. Starting January 31, clients can start making appointments for the February 7 re-opening week.
Employment and Social Services and Rent Supplement Program Offices are the only exception, with counter and drop-off services resuming on Monday, January 31.
Here is the list of the in-person counter services with their start dates and appointment contact information:
Service Ottawa – Client Service Centres and Building Code Services (February 7)
Service Ottawa will resume the delivery in-person offerings – by appointment only – on Monday, February 7 at two Client Services Centres:
Ottawa City Hall, 110 Laurier Avenue West
Ben Franklin Place, 101 Centrepointe Drive
Appointments can be made through the online booking tool on ottawa.ca. People without internet access can reserve a time by calling 3-1-1 and choosing option #6.
Visit ottawa.ca for the list of in-person service offerings. Residents can still take advantage of the convenience of accessing services online.
Building Code Services counters will be open at these two Client Service Centre locations by appointment only. Building Code Services will continue to support application submissions by mail and electronically at buildingpermits@ottawa.ca.
Employment and Social Services and Rent Supplement Program Offices (January 31)
Starting Monday, January 31, limited counter and document drop-off services will be available at all four centres – 370 Catherine Street, Mary Pitt Centre (second floor west, 100 Constellation Drive), 2020 Walkley Road, and 2339 Ogilvie Road, weekdays from 8:30 am to 4:30 pm. For all other services, staff will provide both telephone and email support on weekdays from 8:30 am to 4:30 pm.
The Mary Pitt Centre location (second floor west, 100 Constellation Drive) will also be the only location for limited counter and document drop-off services for the Rent Supplement Program, which will only be operating on weekdays from 8:30 am to 4:30 pm. The staff will continue to provide telephone and email support on weekdays from 8:30 am to 4:30 pm.
Business Licensing Centre (February 7)
The Business Licensing Centre at 735 Industrial Avenue will restart in-person services on Monday, February 7, by appointment only:
Business licenses (all categories)
Pet registration
To make an appointment, email businesslicensing@ottawa.ca or by calling 613-580-2424, extension 12735.
City Archives (February 8)
The City's Central Archives at the James K. Bartleman Centre, located at 100 Tallwood Drive, and Rideau Archives in North Gower will restart in-person appointments on Tuesday, February 8 for residents wishing to visit the Reference Room. Clients can make a reservation by emailing archives@ottawa.ca or by phoning 613-580-2857.
Provincial Offence Act Court (February 7)
Court services counters located at 100 Constellation Drive and 110 Laurier Avenue West will resume delivering services by appointment only on Monday, February 7. No walk-ins will be accepted. Clients are reminded to visit our counters only if necessary, as many of our in-person services can be accessed online at ottawa.ca/poa.
As a result of court proceedings being heard remotely until further notice, there will be no justice of the peace at any of the locations. If you received a summons to appear in court, do not attend court in person. Your matter will be held remotely at the date and time noted on your summons. Please refer to the conference details listed at ottawa.ca/poa.
Defendants will receive a notice of a new court date by mail to the address on file with the court (please note that changing your address with MTO/Service Ontario does not update your address with the court office). For any changes, please contact us at 613-580-2400 (TTY 613-580-2401) and press option three, Monday to Friday, 8am to 5pm.
City prepares restart of drop-in recreation activities, reduces winter registered programs
With the Province of Ontario relaxing restrictions on Monday, January 31, the City is resuming drop-in recreation and cultural activities at select locations with 50% capacity levels.
Select facilities listed on ottawa.ca have now opened for drop-in activities and facility rentals at 50% capacity. Access to most activities will require a reservation in advance and proof of vaccination will be required for everyone 12 years and older. Reservations for drop-in activities can be made under the "schedule" tab of the facility page beginning at 6pm on Saturday, January 29.
Many of the planned winter registered programs will be cancelled due to limited time remaining in the winter session and capacity restrictions. You will be contacted if your program has been cancelled and receive a refund. The following registered programs will still take place beginning Saturday, February 5:
Advanced aquatic certification programs (modified schedule)
Outdoor programs at Mooney's Bay Ski Centre at the Terry Fox Athletic Facility
Learn to Skate programs
Hockey programs
4-on-4 for ages seven to 12
50+ Game Play
Night Adult Game Play
Ray Friel Hockey League
Instructional powerskating
Nepean Visual Arts Centre programs
Inclusive Recreation programs, including Social Recreation
Seniors Centres programming
"I Love To" programs
Modified rural program offerings (check the guide for availability in your community)
Virtual programs
Before and After school programs
March Break camps will be offered with registration opening on Wednesday, February 16 at 9pm.
These programs will run as staff availability permits. It's a good idea to check for cancellations before heading to your program.
Key to the City
(Key photo)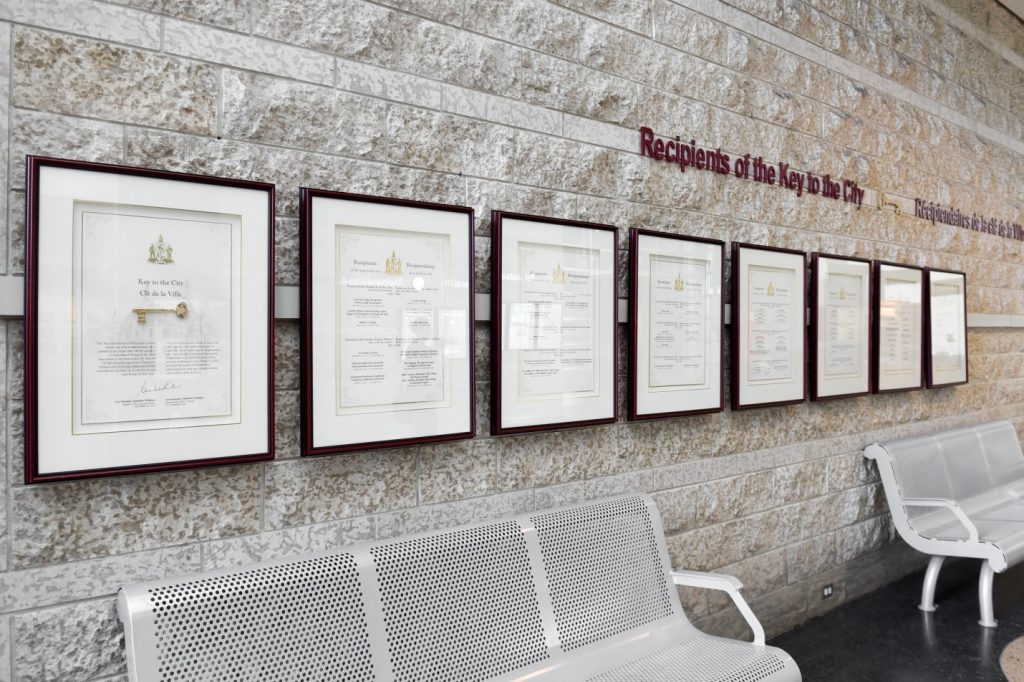 During the first City Council meeting of 2022 on Wednesday, January 26, Mayor Jim Watson announced he will present a Key to the City to Dr. Vera Etches, the City's Medical Officer of Health, for her leadership since the start of COVID-19, and another Key to the entire team at Ottawa Public Health for their outstanding efforts throughout the pandemic. I congratulate Dr. Etches and the OPH team!
Mayor Watson also announced he hopes to recognize the 2021 Key to the City recipients this year due to the postponement of the 2021 ceremonies. Recipients include golfer Brooke Henderson, broadcaster James Duthie, former Governor General Michaëlle Jean and the Ottawa Citizen.
Old Second Line Multi-Use Pathway Extension

The City of Ottawa recently extended an existing pathway on the east side of Old Second Line Road south to meet Terry Fox Drive. Previously, cyclists and pedestrians shared a stretch of paved shoulder next to this high-speed roadway. A new, well-protected 110-metre multi-use pathway now completes a missing link in the active transportation network providing improved connectivity to two nearby schools, public transit stops, recreational areas and the wider multi-use pathway network. As part of the project, a pedestrian crossover (PXO) was provided across Goulbourn Forced Road to allow students and parents to reach St. Isabel School without crossing at the unsignalized intersection at Terry Fox Drive. Cross-ride facilities have also been implemented at the Terry Fox and Old Second Line intersection, which will become active after pavement markings are added in 2022.
What's On At The City
Better Buildings Ottawa
The Better Buildings Ottawa Strategy was approved by Council in October 2021. It lays out how 50-60% energy reductions will be achieved in the private building sector by 2040. As part of this strategy, a financing program for deep retrofits is being explored and the City would like to hear from stakeholders. We want to hear from the following sectors as they relate to industrial, commercial, institutional, or multi-unit residential buildings:
Building owners
Property managers
Building occupants
Service providers
Architects
Please let us know your comments by completing the survey by February 8, 2022.
Stay tuned for further details about the Better Buildings Ottawa program, and be sure to sign up for updates through the final question of the survey.
Ottawa Public Library Celebrates Black History Month 2022
Throughout the month of February, the Ottawa Public Library (OPL) will be celebrating Black History Month. OPL celebrates Black History with a collection of programs and resources that honour Black heritage and consider the historical significance and contemporary contributions of Black activists and artists from around the world. 
OPL invites everyone to discover the history of the Black community through educational and cultural programs at OPL and in person through our materials.
The Ottawa Public library is offering online programming for all ages!
On Wednesday, February 9, 3-4:30: join us for Sound in Living Colour: older adult participants are guided through this multidisciplinary workshop: drawing correlations between music and painting. A feast for the eyes and the ears!
On Tuesday, February 15, 7-8:30pm, check out Hip Hop and Graffiti. A fun way to explore hip hop and release your inner graffiti artist.
Saturday, February 26, at 10-11:30am, check out Hip Hop and Graffiti for Families! A fun way to explore hip hop and the art of graffiti as a family.
To register or for more resources and programming, please click here.
Time Travel with Food: Virtual Cooking Classes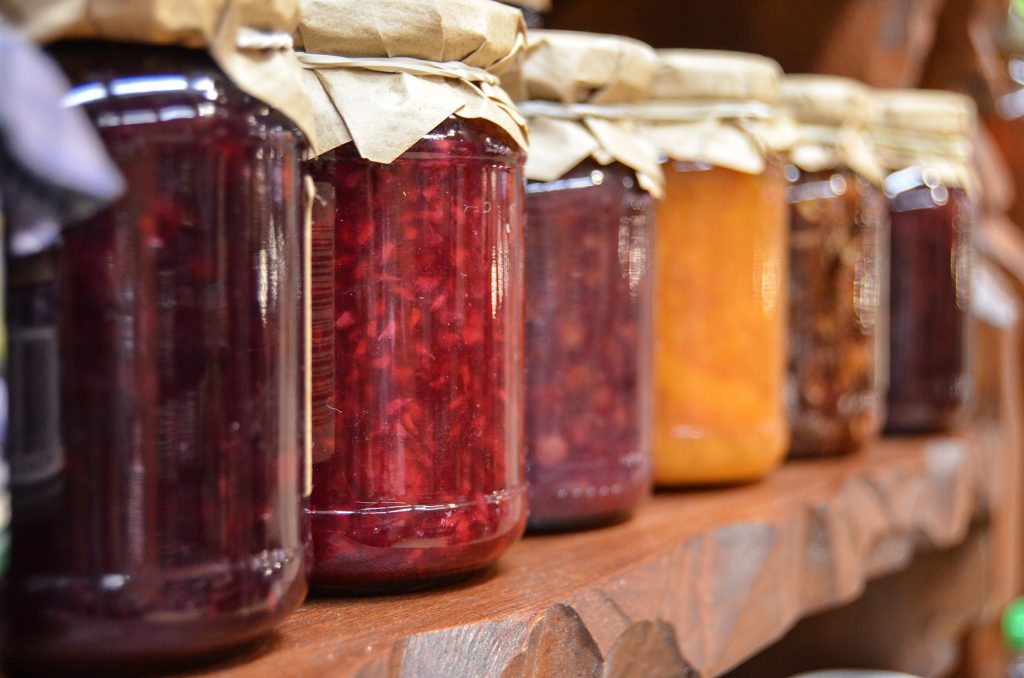 Looking to switch up your meal prep routine? A full series of virtual cooking classes is being offered by the City of Ottawa Museums this February! We're travelling from the 1800s to the 1950s through the magic of food. Registration is for 18+. A fee applies.
Transportation Master Plan – Open House is February 15

The City of Ottawa has launched Phase 3 of its consultation on the Transportation Master Plan. During this phase of engagement, the public is invited to provide input on the close to 70 proposed transportation-related policies to be included in Part 1 of the TMP and use our online engagement tools to provide feedback on the pedestrian and cycling projects that are proposed for implementation from 2023 onwards. The deadline for input has been extended to February 18 though we encourage you to provide feedback as soon as you can.
Residents are also invited to take part in an Open House on February 15 at 6:30 p.m. focusing on the proposed policies. This is an opportunity to learn more about the TMP policies and take part in a question-and-answer session. Those interested in attending can register here.
Residents are strongly encouraged to submit their questions ahead of time. You can submit your questions here.
Active Transportation Candidate Projects and Rural Network
Residents are invited to use the City of Ottawa's online engagement tool to provide feedback on the pedestrian and cycling projects that are proposed for implementation from 2023 onwards.
Projects may add or upgrade facilities such as sidewalks, multi-use pathways, bike lanes, cycle tracks or street crossings to address critical missing links in the City's active transportation networks. Candidate projects are in addition to facilities that will be delivered through road resurfacing, road construction, rapid transit projects, and other planned works. Active transportation candidate projects were informed by public consultation, Councillor input on priorities, and a network review using a policy lens. You can find out more about how the candidate projects were selected here.
The City is also looking for feedback on a proposed network of paved shoulders to be added to rural roads at the time of resurfacing. If you walk or bike on roads in Ottawa's rural areas, we encourage you to view the map and add comments to let us know what you think. You can find more about how the proposal rural network was developed here.
For more information please email tmpupdate@ottawa.ca.
Home Retrofit Considerations Webinar
Join the City of Ottawa and SMARTNet Alliance for the third episode of the Home Retrofit Webinar Series which will be focusing on a few retrofit considerations. There are a lot of things to consider for homeowners who want to make their dwellings more energy efficient. This webinar will examine some important considerations including:
insulation and airtightness
windows and doors
electrical panel upgrades
Three experts in their field will detail what homeowners should consider for these upgrades.
The Webinar takes place Thursday, February 17, 6 to 8pm on Zoom. Be sure to register now for this important session.
Ottawa Energy Collective Home Retrofit Skill Survey
Attention contractors and tradespeople: do you work in the home retrofit sector? The Ottawa Energy Collective wants to hear from you. They are conducting a critically important survey that is examining the skills gap in the home retrofit sector. As the sector grows it is crucial that all those working in the field have the required skills. This survey will help identify the gaps and guide future training opportunities. Please take a few minutes to fill out the survey.
Doors Open Ottawa – Hybrid Edition
Explore Ottawa's culture, history, and architecture for FREE June 4 and 5, 2022!
Whether you choose a virtual or live experience, you will discover the secrets and stories that lie within some of Ottawa's most interesting buildings by way of still photography, in-depth descriptions, 3D and/or virtual tours, YouTube videos, in-person guided and self-guided tours, and more…so stay tuned!
On June 4 and 5, join us for the 20th anniversary celebration of Doors Open Ottawa, and pay homage to our city's history, culture, and stunning architecture! It's free, it's fun, and it's the perfect way to discover how Canada's Capital has become the beautiful city it is today. And don't forget…you can follow and share your #DoorsOpenOttawa experience on Facebook, Twitter, and Instagram.
Building Application Information
It's a special year in more ways than one. Not only are we celebrating 20 years of paying homage to Ottawa's built heritage, but with this year's new hybrid format, buildings and visitors alike will have the choice to participate virtually or in person!
With the continuing presence of COVID-19 in our community, we understand that the health of our building participants and visitors is the number one priority. Therefore, we will continue to offer an enhanced online experience for buildings and visitors who can only participate in a virtual manner. However, we hope that the majority of our building participants will join us in a hybrid or in-person format.
In order to determine the best course of action for your building, please review the following criteria for virtual, hybrid, and in-person participation before completing the building application form.
The deadline to apply is February 18. Learn More.
Heritage Day 2022 – Mark Your Calendar!
Join the virtual Heritage Day celebration on Tuesday, February 22 at noon. This year, Heritage Day is recognizing the many ways through which Ottawa's heritage community helps to engage and inspire local residents to connect with their roots.
Safety Messages from Ottawa's Emergency Services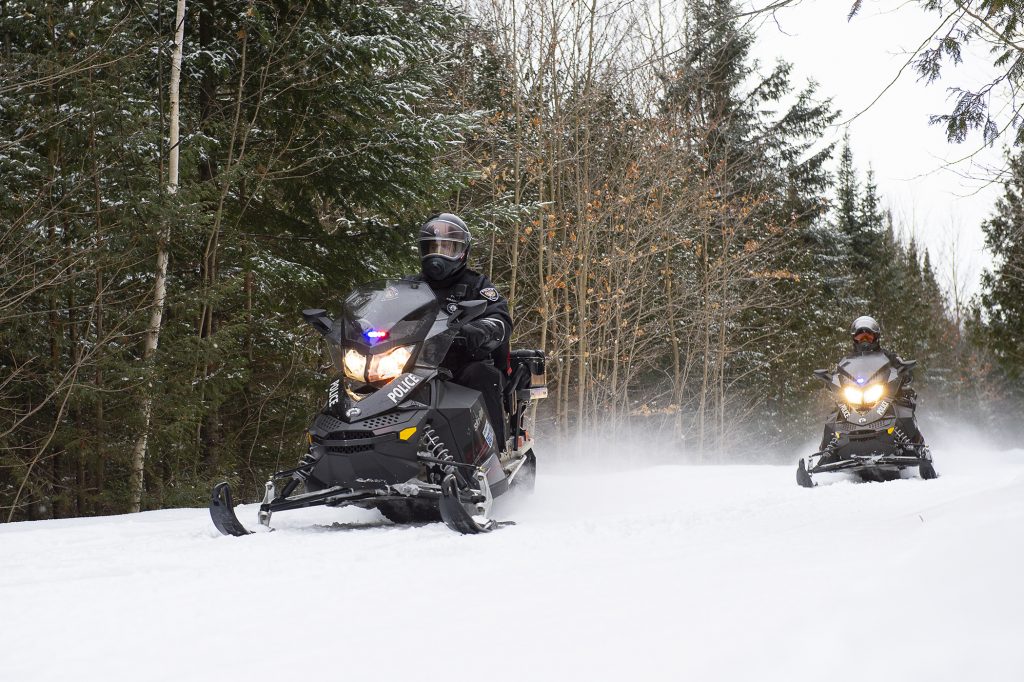 Snowmobile Enthusiasts Make Safety Your First Priority
The Ottawa Police Service reminds enthusiastic snowmobilers of the importance of making smart choices, like riding sober, avoiding lakes and rivers and using established snowmobile trails. Keep in mind that no ice is safe ice.
"Every year there are avoidable injuries and impaired driving charges relating to snowmobiling," said Marine, Dive and Trails Sgt. Walt Lushman. "Think safety first, so you can have an all-around fun experience. This includes obeying speed limits, staying on the trails and carrying your insurance documents and trail permit at all times."
Plan your trip ahead and check available trails in the Ottawa area per the Ontario Federation of Snowmobile Clubs (OFSC) interactive snowmobile trail guides available at: www.ofsc.on.ca/trail-maps/
Here are some quick tips before you head out:
Inform others of your destination and estimated arrival time;
Check your headlights, taillights and brake lights to ensure they are in working order;
Wear suitable clothing to prevent hypothermia – remember that children are particularly susceptible to the cold;
Don't forget your helmet;
Carry first aid and survival kits;
Carry a fully charged cell phone and GPS if available;
Have all permits/documents on hand;
Plan your route and make sure you have ample fuel for your planned route and extra;
Always be prepared to stop, especially for wildlife, which moves along trails at night;
Stay on prescribed trails whenever practical, and ride on the right side;
Exercise extra caution when crossing roadways and railway tracks; and
Never ride alone.
More snowmobile and ice safety tips are available online.
Ottawa Police Issue 'Grandparent' Scam Warning
The Ottawa Police Service is advising residents a 'grandparent' scam is active in Ottawa, and to be vigilant when receiving calls for help from supposed family members.
"Everyone thinks they won't fall for a scam, but these fraudsters are incredibly convincing," says Sgt. Chantal Arsenault, investigator with the Organized Fraud Unit. "They are counting on the emotional factor to let down your guard. These aren't simple tricks people are falling for, they are complex, well-planned scams."
The scenario usually involves a tearful phone call from someone claiming to be a family member. "Their crying will make it difficult to understand what they are saying or to recognize the voice in order to get you to fill in the blanks as to who they are," warns Sgt. Arsenault.
There is always an urgency to the situation. "That's to prevent you from thinking too much about what they are asking you to do. The scam works because the vast majority of people are honest and willing to help, particularly if it involves a loved one."
The caller will advise they have been arrested and they urgently need you to send money or gift cards for their bail.
"That's not how the legal system works," says Sgt. Arsenault. "Bail Hearing in Canada takes place in Court and does not necessarily involve money. If there is a financial penalty involved, it is not paid up front and definitely not by pre-paid gift cards or via transfer to someone's bank account."
If you get a call like this, here's what you should do:
Never confirm any personal information over the phone.
Always verify who is calling. If it is a family member as they claim, tell them you will call them back and use the number you have for this person. Don't use a number given by the caller. Use 411 or the Internet to get the phone number if you don't have it.
Don't be pressured. Take some time to process what you have been told, to see if it makes sense. Ask a trusted friend or family member for their opinion, or if in doubt, call your local police service.
Make sure you, and elderly family members or friends, are aware of current scams and how they work. You can get information from the Canadian Anti-Fraud Centre.
A Message from Ottawa By-law and Regulatory Services
If you have received a Provincial Offences Act ticket such as for driving offences, By-law infractions, summons, and red light cameras, you have options, which are listed on he back of your ticket. Learn more here.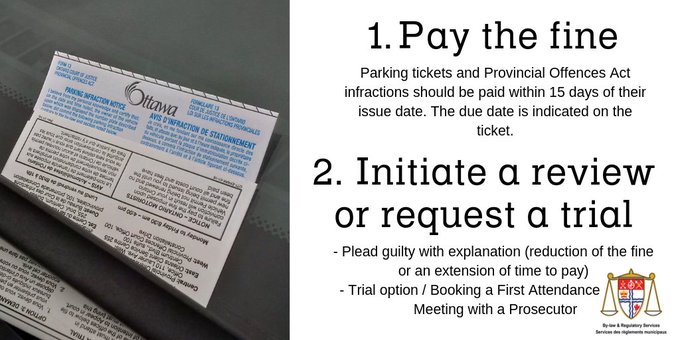 An Important Winter Safety Message from the City of Ottawa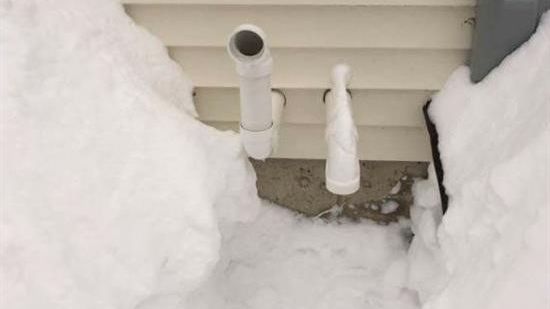 While clearing snow from your driveway/walkway take a minute to clear around your furnace and hot water tank vents. Covered or blocked vents can be a carbon monoxide hazard. Protect yourself and your family from carbon monoxide poisoning.
Ottawa Paramedic Service & University of Ottawa Ottawa Heart Institute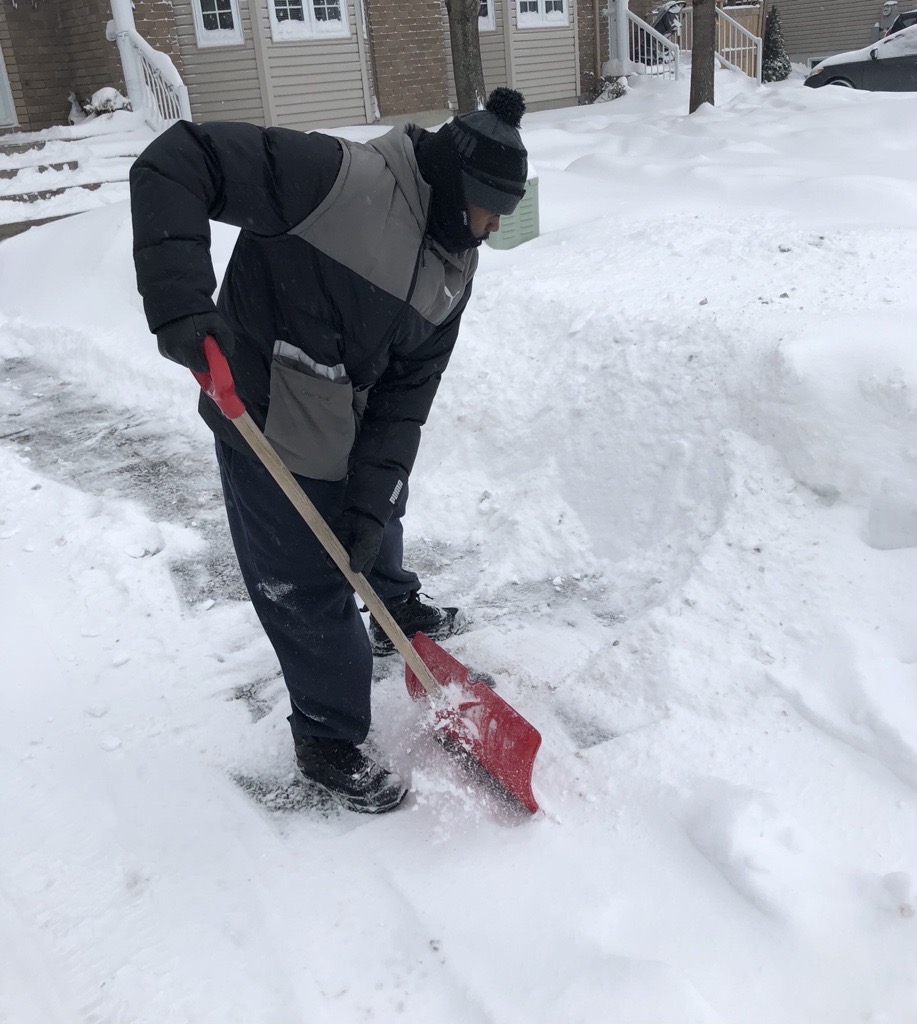 The Ottawa Paramedic Service and the University of Ottawa Heart Institute remind residents that activities linked to snow shovelling come with some risks for many people, and that medical emergencies can be prevented. The Institute urges residents to take caution when shovelling snow to prevent a serious cardiac event. Those with a family history of heart disease or known risk factors should avoid physical overexertion. If you are going to shovel snow, do so safely by following tips such as warming up, and avoid lifting the shovel too high; push the snow to the side rather than lifting it. Find more advice in the Heart Institute's Physical Activity Guide for cardiac patients.
"Learn Fire Safety" Online Colouring Book is Online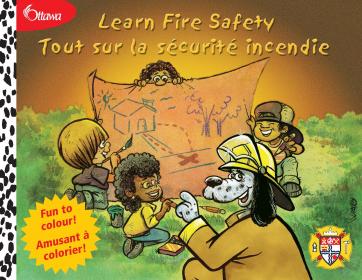 Hey parents, get your whole family involved! See page 5 of Ottawa's Learn Fire Safety colouring book to make a home escape plan and practise it monthly when you test your smoke and carbon monoxide alarm. The book is available online as a pdf. This fun filled book has fire safety messaging delivered at a level that children will enjoy. Print copies for your classroom, group, daycare, or home. Visit the link and learn how to create your home fire-escape plan. Discuss the safety tips with children and teens, as well as any babysitters in your family, to help keep them healthy and prepared!
Create and practise using this home fire-escape plan activity and plan to get out alive in case of a fire in your home.
Government of Ontario News
Ontario Outlines Steps to Cautiously and Gradually Ease Public Health Measures
Ontario Launches Virtual 2022 Budget Consultations – Visit Ontario.ca/budgetconsultations to learn how to submit your ideas by email, mail or by filling out a survey. The 2022 Budget consultations will close on February 11, 2022.
Ontario Helping Municipalities Build Storm and Wastewater Infrastructure: Municipal wastewater and stormwater management discussion paper – Deadline for comments is March 28, 2022.
Ontario Building Strong Rural Communities
Ontario Launches New Intake to Support Economic Opportunities in Rural Ontario
Ontario Investing in Inclusive and Accessible Communities – Applications for Inclusive Community grants are now open and available at Ontario.ca/GetFunding. Eligible organizations have until March 3, 2022 to submit their applications.
Government of Canada News
Government launches budget consultations to hear from Canadians – Deadline for comments is February 25, 2022.
Government extends loan forgiveness repayment deadline for the Canada Emergency Business Account
CITY COUNCIL AND COMMITTEE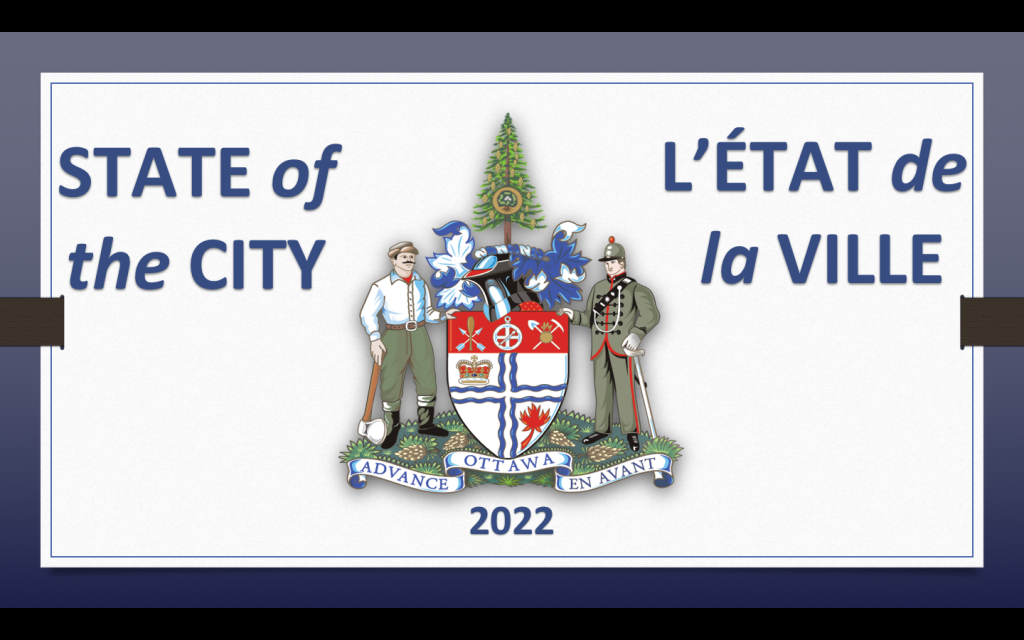 During the first City Council meeting of 2022 on Wednesday, January 26, Mayor Jim Watson delivered his final State of the City address, in which he recognized the importance of Ottawa's rural economy.
To read a summary of his remarks, please click here.
For his full speech, please visit Mayor Watson's website.
For the complete list of Committee meetings until February 4, please click here.
The next City Council meeting is Wednesday, February 9 at 10am.
To view the agenda in advance of the meeting, please click here.
To watch the meeting live, please click here.
Agriculture and Rural Affairs Committee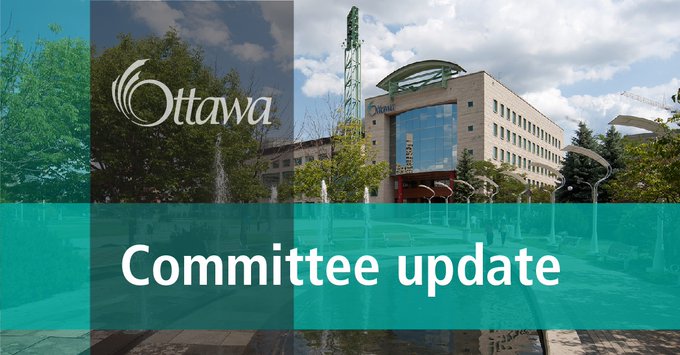 On Thursday, February 3 at 10am, I will be chairing the City's inaugural Agriculture and Rural Affairs Committee meeting of 2022.
To view the agenda in advance, please click here.
To watch the meeting live, please click here