El-Chantiry: Ward 5 bi-monthly news, April 26
The Councillor's Column
Ottawa Public Health News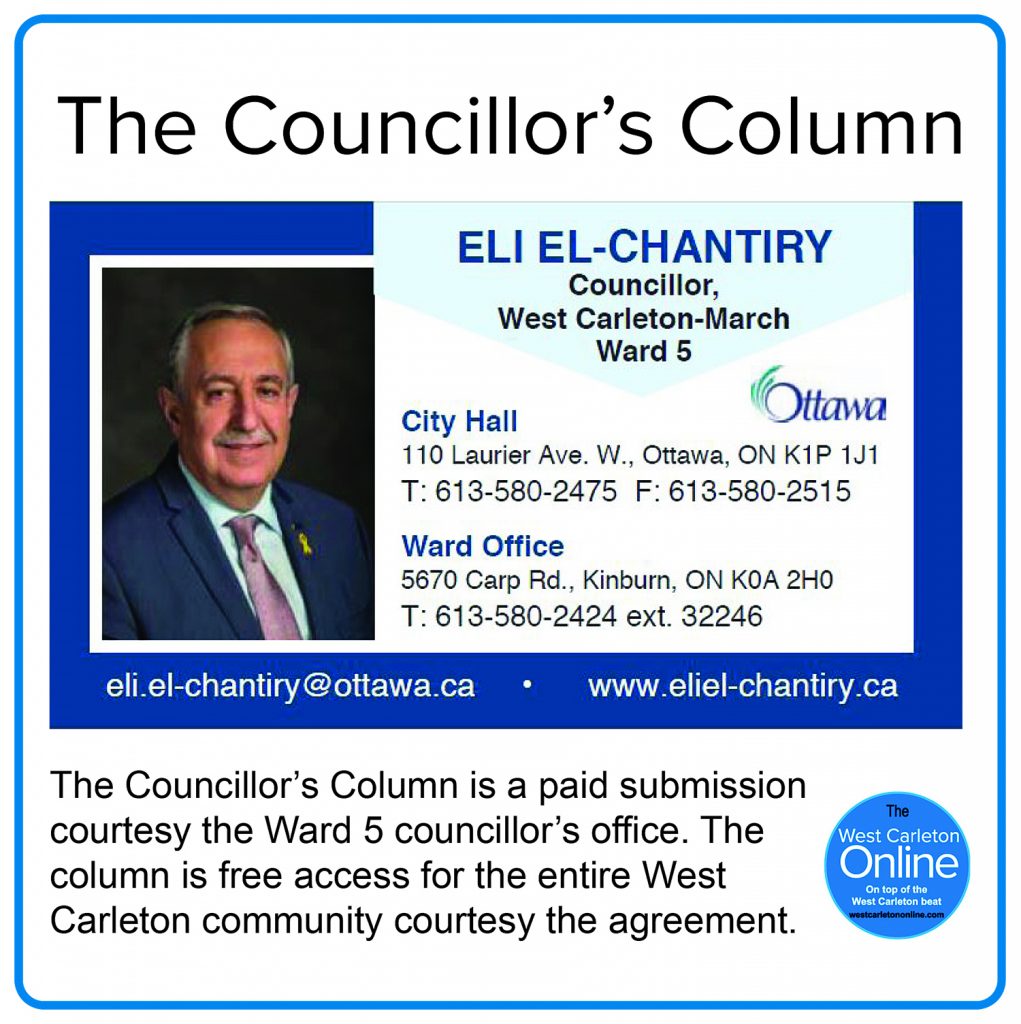 COVID-19 Updates
Mental Health Resources
Mental Health Week begins May 3. Everyone's mental well-being matters each and every day. Many supports available in Ottawa are listed on the Canadian Mental Health Association's website.
As well, 1Call1Click.ca is available to help children, youth and families connect with the right mental health and addiction services and care when they need it. This service is available to assist infants, children and youth from birth to 21 years of age, including those living in Ottawa.
Your Councillor in the Community

Saint Gabriel's Fundraiser


Thank you to the Saint Gabriel's community for hosting a bottle drive fundraiser at their church hall in Constance Bay. Their inaugural bottle drive for 2022 was held April 23, drawing many from the community. Their next bottle drive is May 14.
St. Mary's Church Spring Clean-up


Thank you to the St. Mary's Church community in Dunrobin for inviting me to their spring clean-up on April 23. Their clean-up, bottle drive and barbecue were very well attended. Please remember to register your spring clean-ups by April 30 at ottawa.ca/clean and don't forget to enter my Ward 5 Spring Cleaning Contest.
Solid Waste Master Plan Public Engagement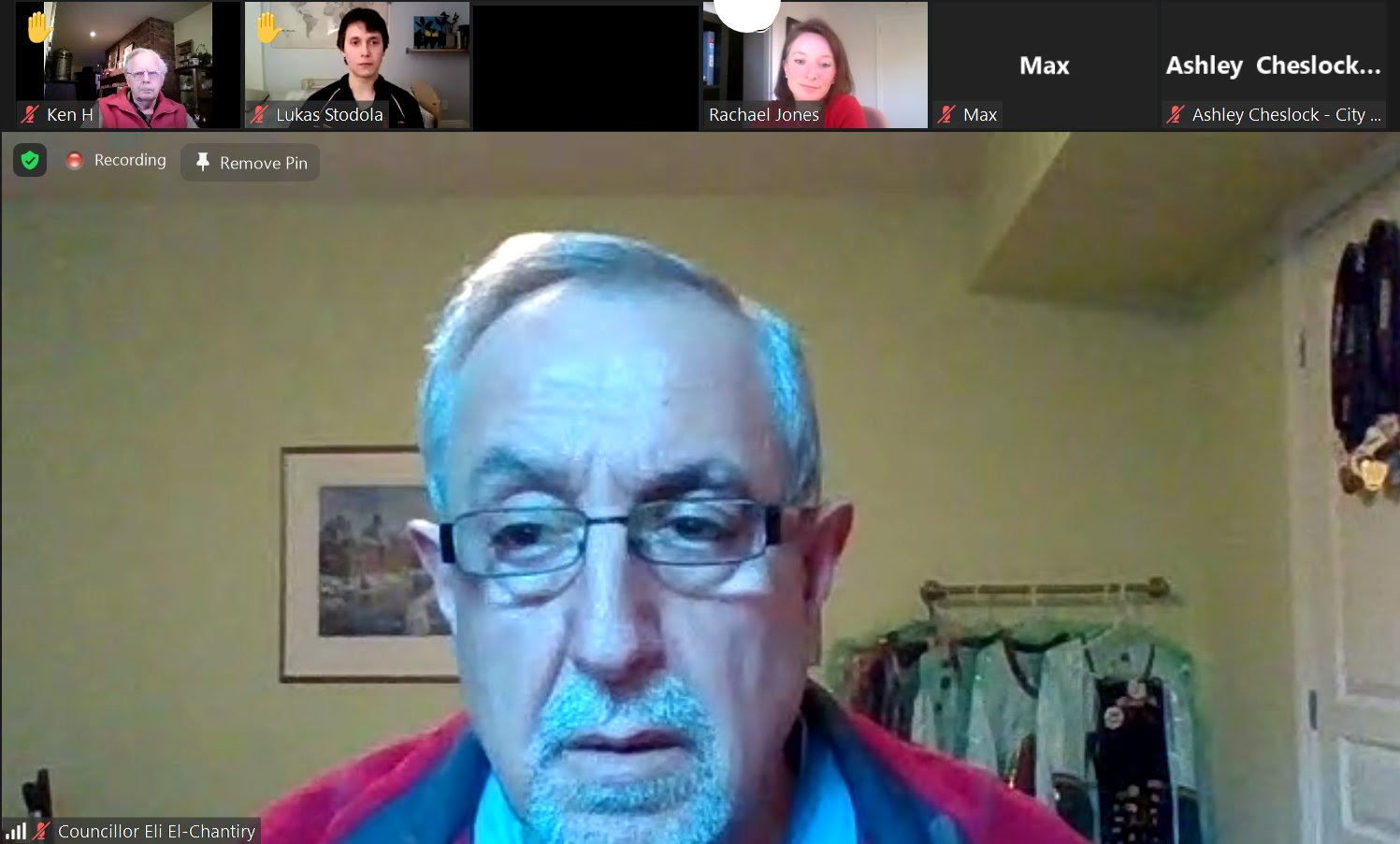 I was pleased to see West Carleton-March residents at the virtual Solid Waste Master Plan meeting on April 21 during which they provided their insight and ideas to help inform the development of the City's new plan. My thanks to staff for their work and to my meeting co-hosts Councillors Allan Hubley, Glen Gower and Keith Egli.
ROMA – "Opportunities for Rural Ontario in a Post-Covid World"


I joined my Rural Ontario Municipal Association colleagues the evening of April 20 for a presentation on "Opportunities for Rural Ontario in a Post-Covid World." ROMA's action plan outlines nearly two-dozen ways to rethink the role of rural communities in the economic and social vitality of Ontario
Carp Farmers' Market – Easter Weekend


The Carp Farmers' Market revived its traditional Easter market on April 16 after a two-year hiatus. It was a wonderful opportunity to do some local shopping and reunite with so many familiar faces. See you on opening day, May 7!
Carp Men's Night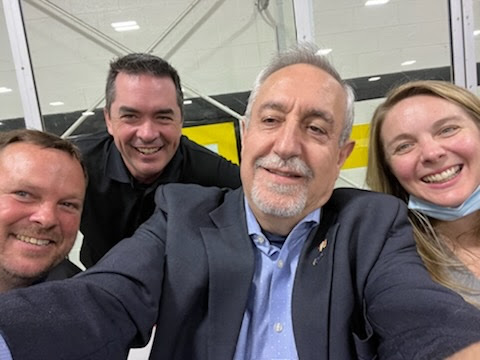 I enjoyed a wonderful dinner in Carp the evening of April 14 to support Carp Men's Night, which serves as an important Carp Fair fundraiser. Thank you to the Fair's volunteer directors and the many others who helped keep the lights on during the pandemic.
International Day of Pink


I participated in the International Day of Pink on April 13 to stand in solidarity with the 2SLGBTQQIA+ community and to continue advocating for equality and acceptance in order to create a more inclusive and diverse world.

Dr. Roland Armitage Receives Order of Ontario
Dunrobin resident Dr. Roly Armitage received the Order of Ontario during a ceremony on April 25. The Order of Ontario is the province's highest civilian honour. An Ontarian who has shown the highest level of excellence and achievement in any field, and whose impact has left a lasting legacy in our province, in our country and around the world is eligible to be nominated. Congratulations, Roly!
Spring Road Maintenance
I have received a number of queries from residents about potholes and road repair. The City's Roads Department is starting to grade roads in West Carleton-March this week.
Seasonal load restrictions for heavy vehicles
Beginning on May 9, seasonal load restrictions will no longer be in effect. Commercial vehicles or trailers with a gross vehicle weight in excess of five tonnes or 11,000 pounds per axle will no longer be prohibited on roads where restriction signage is posted
Spring 2022 Tree Planting
Forestry Services' spring tree planting program is scheduled to begin on April 29 and will run until the end of June. This includes tree planting in parks, at City facilities, and along streets through Forestry Services' lifecycle tree planting programs. Among the Ward 5 locations scheduled to receive trees this spring, a variety of tree species will be planted in the vicinity of the Cavanagh Sensplex and in proximity to the Carp soccer fields on Langstaff Drive.
Minto Brookline Kanata North Parks – Survey


The new Minto Brookline Kanata North subdivision is proposing two new parks, including a 2.57-hectare neighbourhood park and a 0.48-hectare parkette. The neighbourhood park is located at the western edge of the development, with frontage on the main transportation route of the Brookline community, directly abutting and connected to the planned multi-use pathway system within Shirley's Brook. The parkette is to be located central to the new residential development. For details, to review the concept plans and to provide comments on the concepts and playground equipment, please click here. The survey will remain open until May 4.
City of Ottawa Freshet Taskforce – Conditions as of April 22
Water levels and flows on the Ottawa River are expected to continue increasing due to combined snowmelt and rainfall. Levels are expected to be similar to peak levels experienced in 2020 in all locations. City crews will continue to monitor areas for response as required.
Helpful links:
Ward 5 Clean-up Challenge
West Carleton-March residents, community associations and businesses are invited to take part in Ottawa's Spring Cleaning the Capital Campaign. The team that collects the most trash during their registered clean-up this spring will be eligible to win Tim Hortons gift cards (one per person, up to a maximum of 20). Please invite me to your clean-up event so I can see how much trash has been collected. Email me at eli.el-chantiry@ottawa.ca or call 613-580-2424,ext. 32246. Fill out the registration form at ottawa.ca/clean or call 3-1-1 to register your project and request your project starter kit. Registration closes April 30.
School Bus Driver Recruitment – Bus Simulator Experience


Bus company Voyago is actively recruiting school bus drivers year round in order to meet the needs of families. The Voyago/Transdev Bus Simulator is coming to Ottawa on its tour of Ontario. It will be onsite at 100 Cardevco Road in the Carp area May 5 to 19. Everyone is invited to attend. Appointment times for tours and to experience the simulator can be made by emailing Tricia Charles at tricia.charles@voyago.ca. There will be employment applications on site for those interested in becoming school bus drivers.
Ward 5 Development News


Recently updated development applications can be reviewed at this link: Ward 5 – West Carleton-March. The City of Ottawa's Development Application Search Tool is also available by clicking here.

Resurfacing of Donald B. Munro Drive from Thomas Argue Road to March Road
As part of the City of Ottawa's annual infrastructure maintenance cycle, road resurfacing will occur along Donald B. Munro Drive to improve this roadway and the overall citywide transportation network.
What: Work will involve select concrete repairs, milling of the existing surface, iron adjustments, resurfacing of the roadway, installation of select paved shoulders, and granular shoulder reinstatement. Increased noise levels and vibrations to be expected in order to facilitate the work.
Why: The City of Ottawa will be resurfacing roads as preventative maintenance aimed at extending the City's roadway network lifecycle.
When: This work is expected to start in May 2022 and completion is anticipated by fall 2022. Work will take place between the hours of 7 am and 10 pm as required. Donald B. Munro Drive will remain open to traffic with lane closures expected.
Where: Work will occur along Donald B. Munro Drive from Thomas Argue Road to March Road.
Who: The City of Ottawa has retained the Contractor, Aecon Construction Ontario East Limited, to resurface Donald B. Munro Drive.
If you own a subsurface lawn irrigation system, we encourage residents to contact the undersigned to identify and confirm that private irrigations systems have been disconnected or relocated. 
A notice about the work is being delivered to area residents. This has been posted online at Ottawa.ca/constructionnotices. Once the start date and traffic impacts are finalized, this information will be added to the Traffic Impacts page and included on the Traffic.Ottawa.ca map.
4785 Highway 17 Zoning By-law Amendment Application
The City of Ottawa has received a Zoning By-law Amendment application for part of 4785 Highway 17 to fulfill a condition of approval for a surplus farmhouse dwelling severance. The site is situated west of Highway 417, east of Highway 17, and south of Galetta Side Road. The site is currently zoned AG – Agricultural Resource Zone with the surrounding land use consisting of farm fields and solar farms. The purpose of this Zoning By-law Amendment is to prohibit residential development on the remaining farm fields to protect agricultural land for long term use in accordance with the Provincial Policy Statement. For details, please click here.
232 Donald B. Munro Drive Development Application – Public Meeting
A public meeting will be held regarding a development application for 232 Donald B. Munro Drive. The meeting date has not yet been set. The zoning by-law amendment and plan of subdivision application is available for review on the City's DevApps website:
West Carleton Quarry expansion application – 4200 March Road – Comment Period
The City of Ottawa has received an Official Plan and zoning by-law amendment application to permit the expansion of the existing West Carleton Quarry (4048 March Road) by 18.2 hectares. The site is located at 4200 March Road, immediately west of 4048 March Road. The application's supporting documents can be viewed on the City of Ottawa's DevApps website:
To comment on this application, please contact City of Ottawa File Lead, Planner Cheryl McWilliams, by calling 613-580-2424, ext. 30234 or emailing cheryl.mcwilliams@ottawa.ca. Please submit comments by mid-April.
Loggers Way Sewer Replacement Project
What: Sewer Replacement – Project scope covers 293 metres
Why: To address structural deficiencies
When: April 18, 2022 – June 10, 2022
Where: Loggers Way from Kinburn Side Road to Early Avenue
Who: Main Contractor – Core Civil Construction; Sub-Contractor – Englobe (for pre-construction inspections)
Traffic Impacts: A road closure is in place for the duration of the project. Residents, businesses and emergency services have full access.
Fitzroy Harbour Sidewalk Renewal
Sidewalks in Fitzroy Harbour will be renewed this summer. Construction is estimated to begin sometime in June or July 2022.
The project work areas are as follows:
1. Harbour Street (east sidewalk) from Crossland Drive to Nicholson Street
2. Fitzroy Street (north sidewalk and part of the south sidewalk) from Harbour Street to Old Ship Road
Stay informed about Traffic Impacts in Ottawa
There is currently a lot of exciting work happening across the city that can impact traffic and it will only get busier when construction season ramps up this spring. The City of Ottawa has altered its approach to better inform residents about upcoming major traffic impacts.
Ward 5 & City-wide Events
The City's Earth Day virtual speaker series continues April 26 and 28. Learn more here.
Kanata-Carleton MP Jenna Sudds is hosting a Rural Roundtable to hear from residents at the Fitzroy Harbour Community Centre on April 27 at 7 pm. Learn more here.
Softball Canada Men's U23 Canadian Fast Pitch Championship hosts an Alumni Night at the Carp Agricultural Hall on April 29 at 7:30 pm. For details, please click here.

The West Ottawa Ladies Chorus hosts its 10th Anniversary free virtual Spring Concert on April 29 at 7:30 pm. For details, please visit westottawaladieschorus.ca.
Ward 5 Spring Cleaning Contest – Registrations for the City's Cleaning the Capital campaign must be submitted by April 30. For details, please click here.

The Eastern Regional Percheron Association hosts a Spring Dance at the Carp Agricultural Hall April 30. For details, please click here.

CN Cycle for CHEO takes place May 1. Become a rider or a volunteer. For details, please visit cncycle.ca.

To recruit school bus drivers, the Voyago/Transdev Bus Simulator is coming 100 Cardevco Road in the Carp area May 5 to 19. For details, please click here.

The Carp Farmers' Market season officially launches May 7, 8 am to 1 pm. For details, visit carpfarmersmarket.ca.
Have your say on the development of the City's new Solid Waste Master Plan. Fill out a public survey by May 8. Learn more here: ottawa.ca/wasteplan.

Saint Gabriel's next bottle drive fundraiser is May 14. Drop off your empties at 205 Bayview Drive in Constance Bay from 10 am to 12 pm. Click here for details.

Kanata United Church hosts its 30th annual Book Fair May 10 to 14 at 33 Leacock Drive. Proceeds support local charities. For details, please click here.

All West Carleton-March residents and stakeholders are invited to the next virtual West Carleton Community Conversation meeting May 25 at 7 pm. Click here for details.
uOttawa researchers conducting the UPTick project on ticks and Lyme disease in parts of Kanata North & South, Stittsville and Carp will host a virtual town hall meeting for the public on May 26, from 6 to 7 pm. For details, please click here.
The 7th Annual Wonderland Tea Party for youth mental health at CHEO takes place June 12, from 2 to 4 pm, at the Brookstreet Hotel in Kanata North. For details, please visit wonderlandteaparty.ca.
On June 25 the Nepean Sailing Club and the Ottawa River Canoe Club will co-host Give-It-A-Go, a complimentary Open House event aimed at introducing youth and adults living with disabilities and newly disabled individuals the opportunity to experience the joys of sailing and/or paddling! For details or to register, please email ablesail@nsc.ca.
The City is hosting a household hazardous waste depot at the Canadian Tire Centre, 200 Cyclone Taylor Boulevard, June 26, 8 am to 4 pm. Click here for details.
For event details, please visit my website. To submit an event, please email Ward5@Ottawa.ca.
City of Ottawa News, Programming, Grants & Engagements

Online Interactive Flood Plain Maps
An interactive flood plain map has been posted on the City's website. It includes flood extents for three different riverine flood events: a large flood event (1 in 50-year), regulatory flood event (1 in 100-year) and a more severe event that could occur with climate change (1 in 350-year). The content of the map is for informational purposes only and represents results of ongoing flood plain mapping work. The public is advised to contact the relevant Conservation Authority should they require or wish to obtain the most current information or details before proceeding with a project on their property. The links to the maps are:
English: http://ottawa.ca/floodplainmaps
Français: http://ottawa.ca/cartographieinondables

OC Transpo & Para Transpo News

Starting April 24, OC Transpo implemented service adjustments for Stage 2 O-Train construction, service improvements to new areas and schedule changes. The Rack & Roll program is also being reinstated in full this spring with bike racks available on all buses. Customers are encouraged to visit octranspo.com and use the Travel Planner or call 613-560-5000 to see if their regular trips are affected by upcoming changes and construction this spring.
Para Transpo customers now have more self-service options to book and track trips. OC Transpo recently launched the new My Para Transpo online application.


Earth Day Speaker Series
Celebrate Earth Day this April while learning what you can do to reduce your greenhouse gas emissions and protect our planet.

Learn about Electric Vehicles – April 26, 6:30 pm Register now
Better Homes Ottawa Loan Program and Home Energy Retrofits – April 28, 6:30 pm Register now


Mayor for a Day Contest 2022
Ottawa high school students in Grades 9 to 12 are invited to apply to become Ottawa's Mayor for a Day by outlining their vision for Ottawa over the next 50 years, for their chance to experience a day with Mayor Jim Watson! The deadline to submit an application is April 28. The two winners will be shadowing