El-Chantiry: Ward 5 bi-weekly news, Sept. 22
The Councillor's Column
COVID-19 – LATEST NEWS
Almost 1.6 million doses have been administered in Ottawa,
88% of Ottawa residents 12 and over have received one dose, and
81% of residents are fully vaccinated.
Information provided by Ottawa Public Health. Stats are as of September 17, 2021.

ROUTINE AND CATCH-UP IMMUNIZATIONS AVAILABLE FOR ELIGIBLE CHILDREN AND YOUTH

Ottawa Public Health is expanding immunization services offered at its four community vaccination clinics to include routine and catch-up immunizations for eligible children and youth.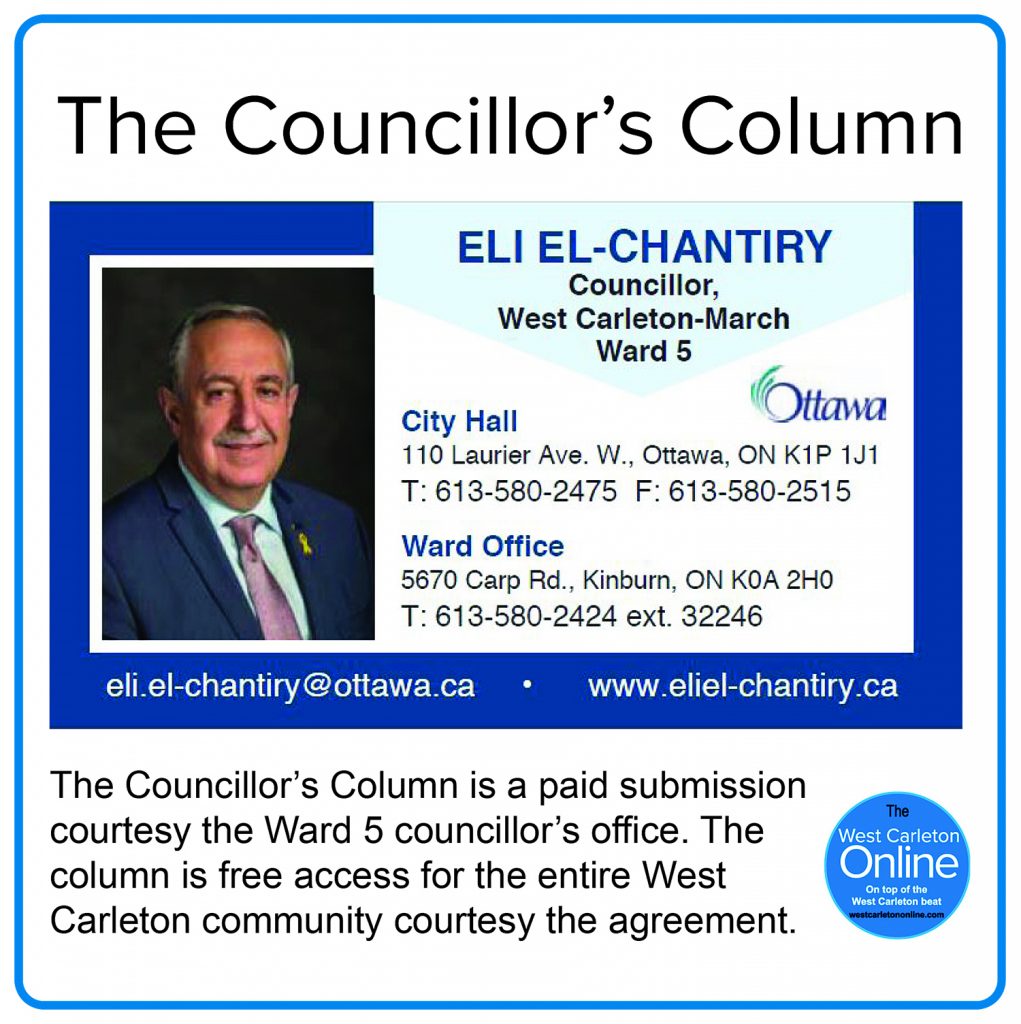 In addition to providing COVID-19 vaccines for people born in 2009 or earlier, the four community clinic locations will offer (by appointment only) publicly funded immunizations for eligible children and youth aged 0-17 years old. This also includes catch-up school-based immunizations for students in grades 7 to 12 who did not receive vaccines at school during the school year.
Routine vaccinations are an essential health service. Learn more about which routine vaccines are recommended for babies and toddlers (birth to three years), children age four to 11, and school-based immunizations for youth age 12 to 18.
Contact your child's health care provider or check your child's online immunization records for their immunization status.
Eligibility for child and youth immunizations at community clinics

If your child has a primary health care provider, such as a doctor or nurse practitioner, please contact them for your child's routine immunizations. However, if your child's primary health care provider is not currently offering routine immunizations due to COVID-19, or if your child does not have a primary care provider, they are eligible to receive routine immunizations at a community clinic.

The following groups are eligible to receive routine and catch-up school immunizations at Ottawa Public Health community clinics:
Children/youth who are newcomers to Canada
Children/youth without an OHIP card
Children/youth who do not have a primary provider care, such as a doctor or nurse practitioner
Youth in grades 9 to 12 who have not completed their school-based vaccine series normally administered at school in grade 7 (hepatitis B, human papillomavirus (HPV) and meningococcal conjugate vaccine)
Youth in grades 7 or 8 who are unable to attend their school clinic. Information on school clinics is available on Parenting in Ottawa.
School immunization program restarting for students in grades 7 and up
After a temporary pause to the school-based immunization program during the 2020/2021 school year due to COVID-19, Ottawa Public Health has restarted its publicly funded school immunization program for the 2021/2022 school year to protect students in grades 7 and up from hepatitis B, human papillomavirus (HPV), and meningococcal disease. Information on school clinics is available on Parenting in Ottawa.

Book an appointment for routine and catch-up immunizations

If your child is eligible, make an appointment for them to receive their routine immunizations or to get caught up on their immunizations at a community clinic using the Ottawa Public Health immunization online booking system. Drop-ins will not be accepted for these vaccines.
ONTARIO TO REQUIRE PROOF OF VACCINATION IN SELECT SETTINGS
To further protect Ontarians as the province continues to confront the Delta-driven fourth wave of the COVID-19, the Provincial government, in consultation with Ontario's Chief Medical Officer of Health, will require people to be fully vaccinated and provide proof of their vaccination status to access certain businesses and settings starting September 22, 2021.
As of September 22, 2021, Ontarians will need to be fully vaccinated (two doses plus 14 days) and provide their proof of vaccination along with photo ID to access certain public settings and facilities. This approach focuses on higher-risk indoor public settings where face coverings cannot always be worn, and includes:
Restaurants and bars (excluding outdoor patios, as well as delivery and takeout);
Nightclubs (including outdoor areas of the establishment);
Meeting and event spaces, such as banquet halls and conference/convention centres;
Facilities used for sports and fitness activities and personal fitness training, such as gyms, fitness and recreational facilities with the exception of youth recreational sport;
Sporting events;
Casinos, bingo halls and gaming establishments;
Concerts, music festivals, theatres and cinemas;
Strip clubs;
Racing venues (e.g., horse racing)
Exemptions include but are not limited to children under age 12, youth under age 18 participating in indoor organized sport, including training, practices, games and competitions, and patrons with a medical exemption will be permitted entry without proof of vaccination.
Individuals can provide proof of immunization by downloading or printing their vaccine receipt from the provincial booking portal, or by calling the Provincial Vaccine Booking Line at 1-833-943-3900.
For more information, including FAQs and the full news release, please visit Ontario.ca
INDOOR CITY RECREATION CENTRES WILL REQUIRE PROOF OF VACCINATION
Starting on Wednesday, September 22, proof of full COVID-19 vaccination will be required for those 12 and older to enter City recreation and cultural facilities, with some exceptions identified below.
Upon entering a recreation centre, swimming pool, arena, or theatre venue, a person must have an electronic or hard copy of their vaccination receipt confirming two doses received at least 14 days prior, and a piece of valid identification, such as:
Driver's Licence
Health Card
Passport
Birth Certificate
Without a proof of vaccination, a person cannot access indoor recreational or cultural activities, including:
Lane and public swims
Fitness classes – including Aquafit
Weight/Cardio drop-ins
Instructional cooking, music or art classes
Adult sports or drop-in activities
Theatre or studio performance or cinema
Rented spaces
Adults who accompany children or youth into a facility for activities – including but not limited to swimming lessons or Learn-to-Skate activities – require proof they have been fully vaccinated.
Residents are reminded to arrive a few minutes earlier before the scheduled session or activity. All COVID-related protocols remain in place – including reservations, capacity limits, masking and physical distancing.
Exceptions
Organized sports for youth between the ages of 12 and 17, including on ice sports, sport leagues, badminton, table tennis, tennis, ball hockey, martial arts, dance, basketball, swimming lessons, aquatic certification courses or volleyball. However, this youth age group will require proof of vaccination for recreational swims, use of a cardio and weight room or attending an activity or sporting event as a spectator.
Religious ceremonies, funeral services or wedding ceremonies hosted in City facilities (This does not include any social gatherings occurring before or after these events)
Brief entry to use the washroom, pick up a participant, seek information or make a payment.
Other City facilities and in-person services
Other City facilities and in-person services do not require proof of vaccination. These services and facilities include:
Service Ottawa Client Service Centres
Building Code Services
Ottawa Public Library branches – with possible exceptions for meeting and program rooms
Transit – including transit stations
Employment and Social Services and Rent Supplement Program Offices
Business Licensing Centre
Provincial Offence Act Court
WARD NEWS
CARP FAIR RETURNS
The Carp Fair is scheduled to return September 24 – 26, 2021. A friendly reminder of COVID-19 Protocols from the Carp Fair Board: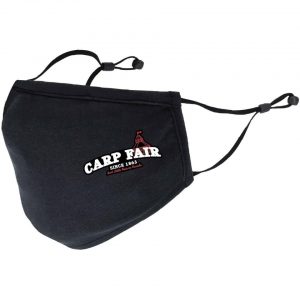 Masks are required for all indoor spaces
You must wear a mask outside on the grounds if you are unable to social distance with others (6 feet apart)
Proof of vaccination is required for all patrons entering any of the public access and indoor buildings. Proof of vaccination will be accepted at the kiosk booths located by the Exhibit Hall and Show Barn (see map for locations).
A bracelet will be issued for ease of access into the buildings.
Please follow ALL Ottawa Public Health protocols when on the fairgrounds.
For the latest news and updates on Covid-19, please visit the Ottawa Public Health Website.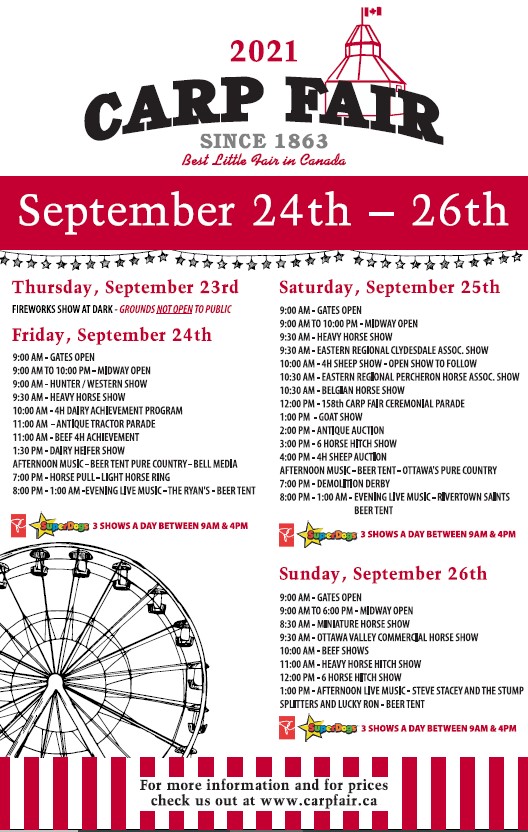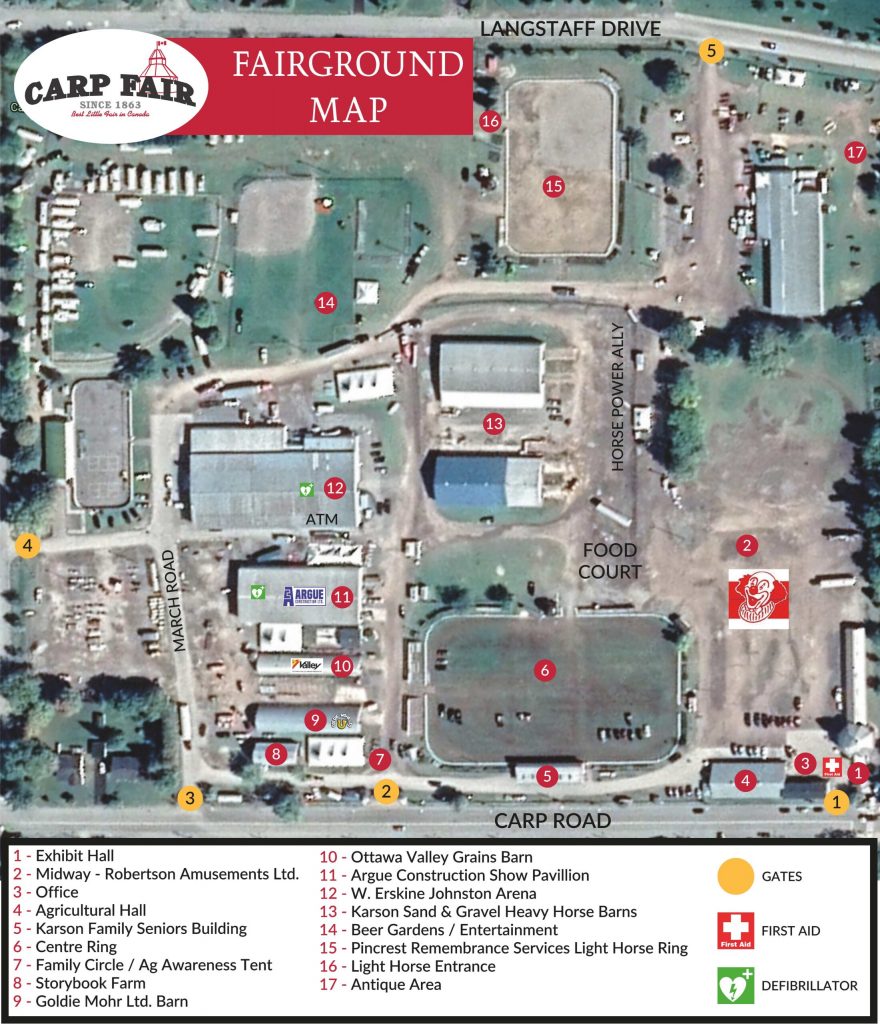 Wishing you a safe and happy 2021 fair experience!
PLANNING YOUR VISIT TO FITZROY PROVINCIAL PARK
Planning a visit to Fitzroy Provincial Park? Here is a helpful Top 5 list of things that the Park Office Staff want patrons to know prior to visiting:
We do not have water/sewage hookups directly on our campsites. However, we do have a filling/dumping station located near our entrance available instead. Similarly, not all of our campsites have electrical hookups.
Pre-register for your campsite booking. This will speed up the registration process. We do not have pre-registration or the ability to reserve ahead of time for day-users.
Only the booking holder should come into the office to register for the campsite. Similarly, if there are additional vehicles associated with the campsite, then the drivers of those vehicles should also come into the office to register and pay for an additional vehicle permit.
Your vehicle must be registered upon entry into our park. This means having a valid parking permit displayed on your vehicle's dashboard.
When getting your permit, be it for day-use or overnight camping, have your licence plate number ready prior to registering.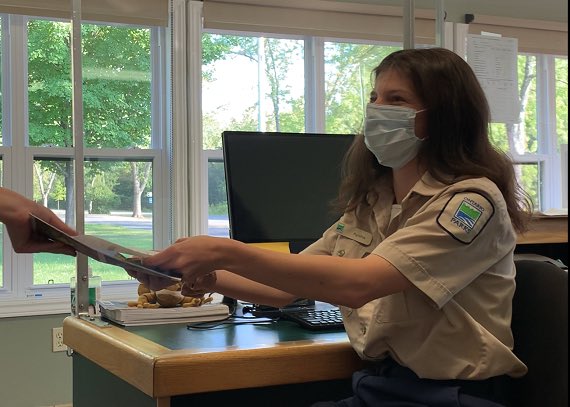 OLDER ADULT PLAN: CARP VILLAGE SELECTED AS BENCH LOCATION
The City of Ottawa Older Adult Plan supports a long-term vision for our community that values, empowers, and supports older persons and their quality of life. The plan is based on much research and consultation with Ottawa older adults.

I am pleased to advise that as a part of the Older Adult Plan Bench Initiative, a bench has been selected to be installed in Ward 5 under this year's 2021 OAP bench program. The location that has been selected is: Langstaff Drive by the Fitness Park and Soccer Fields.

If you are interested in learning more about promoting healthy and active living for our older adult community or to get involved in the OAP 'Seniors Roundtable', please visit the City of Ottawa website or email olderadults@ottawa.ca.
CITY NEWS

The New Official Plan team has continued to review all comments submitted on the draft New Official Plan and the revised version can be found here.
As part of the continued engagement process, the New Official Plan team invites residents to join City staff at a Public Open House on September 29 at 6:30 p.m. to learn more about how the revised draft has changed. Please register for this meeting here. Please submit your questions here.
The Public Open House will be followed by the consideration of the draft New Official Plan by Committee and Council on the following dates:
Thursday, October 14 – Joint statutory meeting of the Planning Committee and Agriculture and Rural Affairs Committee, under the Planning Act, convened in accordance with Subsection 88 of the Procedure By-law pursuant to the delegated authority granted by City Council at its meeting on February 10, 2021. The location and format of this meeting are to be determined. Details will be communicated at a later date.
Wednesday, October 27 – City Council consideration of the report on the final draft of New Official Plan.
Thank you for your continued engagement with the New Official Plan.
CITY COUNCIL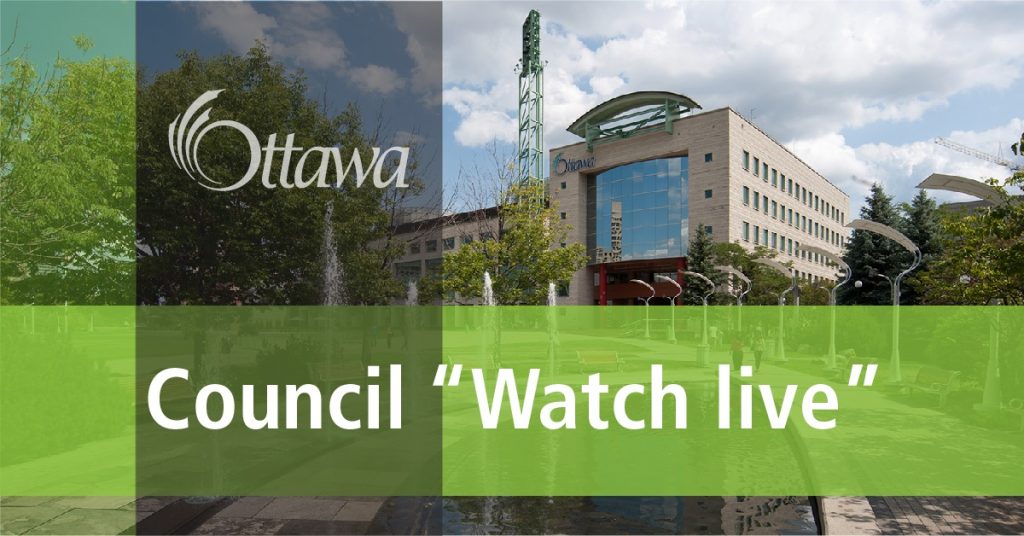 Ottawa City Council will meet virtually this Wednesday, September 22 at 10:00am.
To view the agenda in advance of the meeting, please click here.
To watch the meeting live, please click here.
For a full list of Committee meetings happening September 20 – 24, click here.