El-Chantiry says 2022 budget great for Ward 5
CITY HALL – Last week (Dec. 8) City of Ottawa council passed the $4 billion 2022 city budget in a nine-hour debate-filled council meeting.
It was by no means a budget that appealed to all councillors as the 16 to 8 council vote attests, but West Carleton Coun. Eli El-Chantiry is one of those councillors who approved of the final numbers – which will see the average rural homeowner pay an additional $91 on their tax bill this year.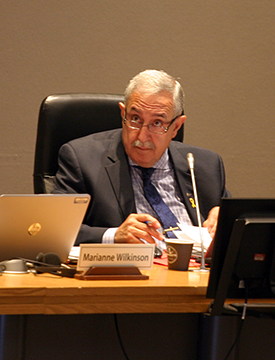 "I think it's a good budget," El-Chantiry told West Carleton Online Monday (Dec. 13). "We're very happy for that, we worked very hard to get that money for West Carleton."
He's happy for good reason. The 2022 budget has $21 million in capital spending in Ward 5. That's more than $10 million more than was spent in the ward in either of the previous two budgets.
The 2021 budget had just more than $11 million in spending, and in 2020 had roughly $10.7 million in capital project spending.
A lot of than money is going to West Carleton's woeful roads.
Nearly $4.5 million is going to build 43 drainage culverts and design another 13.
"With the weather pattern changes we need to keep that going," El-Chantiry said.
There is a long list of roadwork scheduled for Ward 5 including Grainger, Loggers Way, Old Almonte Road, Allbirch, Donald B. Munro, Greenland, Huntmar, Madawaska, Marchhurst, Torwood, Upper Dwyer Hill and Old Carp Road (to read the entire 2022, Ward 5 spending list, click here).
"The list is going to be honoured by the city and that's great," El-Chantiry said. "I wish we had more money, but reality is different. Last year we were able to be very creative in getting those seven roads done in Constance Bay. This year we're focusing on the main roads."
And the long gestating Corkery Community Centre expansion is expected to continue forward in 2022 with shovels finally hitting the ground.
"We will continue with building the Corkery Community Centre," El-Chantiry said. "The contract will go out and the money is still available. It's all budgeted, it's all allocated."
Corkery is becoming a young community with a lot of families of young children making up the area. Last week's Christmas tree lighting was a big example of that. So, the expansion of the Corkery Community Centre is an important project in an area with very few indoor public spaces.
"Shovels should be in the ground this spring," El-Chantiry said. "We have a very well-engaged community association president (Katherine Woodward) and building committee. She does a great job for us, she's very engaged. The money is there, we're aiming for early spring. There's a big demand on building and construction. We're living in a pandemic world. But the funding, design and paperwork are all done."
El-Chantiry says this isn't just election year spending either.
"We're making an investment year after year," he said. "And it's growing year after year. That one per cent will increase year after year."
El-Chantiry also brought up Woodlawn resident Ken Holmes. West Carleton Online readers are no stranger to Holmes who has been an unofficial rural roads activist taking every opportunity available to lobby for improved road maintenance for years.
"He did a great job analyzing the roads and road conditions," El-Chantiry said. "He spent a great deal of time with our staff. Is this enough money? Probably not. Some councillors would probably say do more and tax more. I spent quite a bit of time on roads, because we have the largest ward in the city and the most roads in the city."
El-Chantiry says he regularly takes city staff on tours of the ward to show them in-person, the road infrastructure needs of West Carleton.
"They know, but it's hard to prioritize," he said. "Especially for the entire city. The ward is a huge area. We're trying to do the most needed areas. But the reality is, we don't have the residents. There are only 11,000 dwellings. The mayor used to joke we had more livestock than residents."
El-Chantiry has regularly told West Carleton Online roads are the number one municipal issue in West Carleton. El-Chantiry says while there is still roadwork to do, council has to be aware of the cost to residents as well.
"We don't want to tax people out of their homes," he said. "Paving costs a lot more than it did even five years ago. We have to work hard with the mayor and the councillors to get it through."