Dunrobin's Schmidts win Mayor's Cup
DUNROBIN – LA and Bevin Schmidt, founders of the Ottawa River Canoe Club (ORCC), are the 2019 recipients of the Mayor's Cup, awarded annually to those who have 'contributed many years of direct support and dedication to amateur sports.'
The prestigious award has been presented annually by the mayor of Ottawa since 2004, as part of the Ottawa Sports Awards, a gala event held most recently on Jan. 29 at Algonquin College Nepean campus.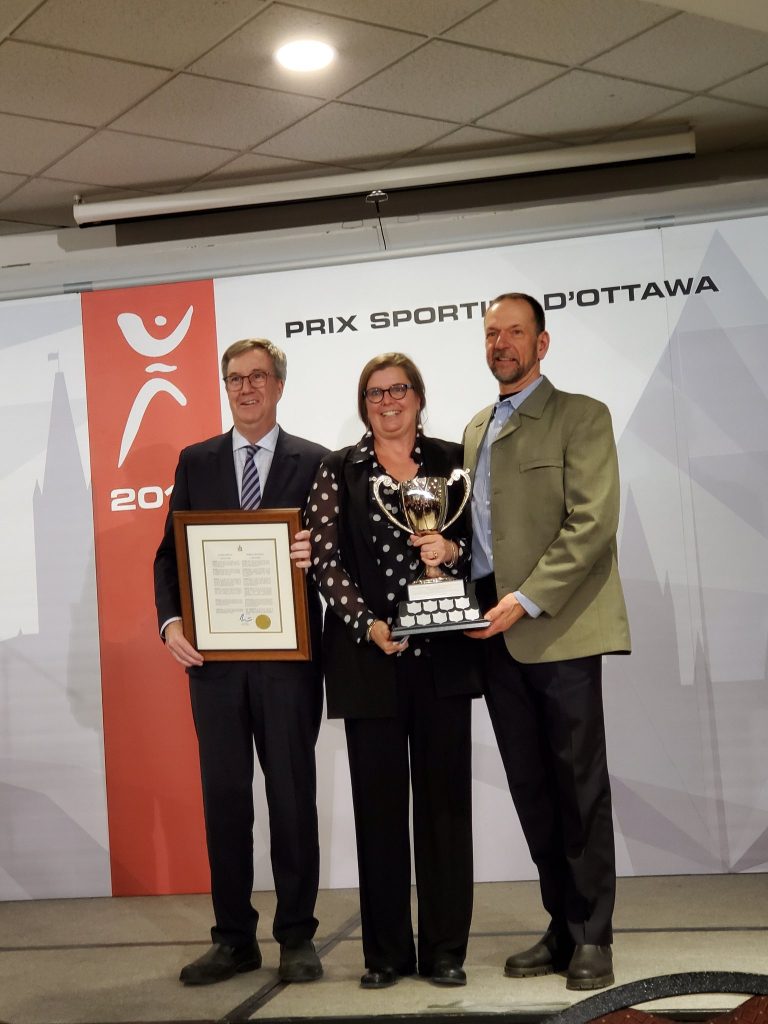 Both LA and Bevin, their daughter Hannah and some close friends were at the event where the founders of the ORCC were presented with the award by Mayor Jim Watson in front of more than 700 other volunteers, athletes, coaches and members of Ottawa's bustling amateur sports community.
"The evening was amazing," LA told West Carleton Online Tuesday (Feb. 4). "Hannah could attend. I had two very good friends there. It was a long evening, but we were able to get our award first. Sitting there and seeing all the talent there and how many people are behind one athlete was incredible. We loved it."
The Dunrobin residents received the honour for their tireless work with founding the ORCC in 2002 and growing it in to the incredible non-profit paddling organization it is today. The canoe club is located on the Ottawa River near Dunrobin just off Cameron Harvey Drive. The ORCC offers a variety of recreational and competitive paddling programs for everyone, including SUP, recreational canoe/kayak, sprint racing, Masters, Paddle All, adventure racing, outrigger or dragon boat. The also host the Constance Bay Dragon Boat Festival.
"I can almost remember it like it was yesterday," LA said of the ORCC's journey. "It was just a small patch of land with nothing on it. Now there's docks, two permanent buildings, three train boxes, a shade tent, six dragon boats and we put a whole bunch of people on the water to take part in an amazing sport. Regardless of their ability."
The club is fully accessible. The club's coaches work with all levels of athletes from elite to the hobbyist just looking to improve his or her skills.
LA coaches Para Canoe and Paddle All while Bevin is the Paddle4Life Coach (Masters) and the Stand Up Paddleboard coach. Joel Hazzan is the club's head coach and has been a sprint canoe kayak coach for 16 years including working with National Team athletes. His experience also includes being head coach for Team Ontario at two Canada Summer Games (2009 and 2013) as well as being a member of the Team Canada coaching staff for the 2009 Junior Worlds and the 2006 Pan American Canoe Championships.
Currently the ORCC is home to Pembroke athlete Mike Trauner who is an Invictus Games double gold medalist and working on qualifying for the Paralympic Games in Tokyo.
"We've had some outstanding performances for a small club," LA said. Mike is working super, super hard and that's so exciting for us."
Hannah Schmidt, LA and Bevin's daughter, has also worked at the club as a coach. Athletics run in the Schmidt family as Hannah and her brother Jared are national ski cross team members based out of Calgary.
LA says the West Carleton community has been very supportive of the ORCC which attracts members from all over west Ottawa and the Valley.
"I have to give a shout-out to (Coun.) Eli (El-Chantiry)," LA said. "He's been with us the whole time. There's very little money available and we know that, but Eli has always been involved. I know I can call him any time. It's huge to have someone in your corner."
LA says the club has lots of people in its corner and that's what makes its success possible.
"We've had amazing volunteers working with us," she said. "The best leaders lead from the middle. We could never have been able to do what we've done without the volunteers."
LA says the award is nice, but the club is in existence to help people.
"Certainly, it was a surprise," LA, who makes her living teaching youth at risk, said. "Bevin and I don't do this for recognition, but it is an honour. We need more places for kids to hang out, for adults to hang out. If we can get children and adults out in boats, it's hard work, but it's so relaxing. We have to keep all these outdoor activities going – not just paddle boating. It's huge for mental health. That's what we try to foster at the canoe club."
For more on the Ottawa River Canoe Club, click here.