Curtains rise on the RRTC's The Viewing Room Nov. 14 to 18
By Jake Davies - West Carleton Online
CONSTANCE BAY – They say tragedy plus time equals comedy, and on Nov. 14 we will see if a play that takes place in a funeral home's viewing room is too soon, as the Rural Root Theatre Company's (RRTC) next production takes over El-Chantiry Hall this week.
The RRTC is presenting its latest performance, a dark comedy, Mark Smith's The Viewing Room, at the Constance and Buckham's Bay community centre (262 Len Purcell Dr.) on the newly renovated stage in El-Chantiry Hall Nov. 14 to 18.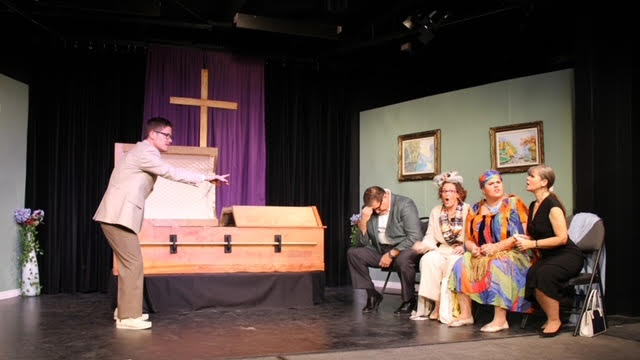 The production debuted Nov. 12 to a packed theatre, and picks up its run starting Tuesday, Nov. 14 to Nov. 18. The Friday and Saturday showing offers a dinner option as well.
"Get ready to immerse yourself in a world of drama and entertainment this fall," RRTC volunteers released in a statement. "Tickets are now available for purchase to our highly anticipated fall play, The Viewing Room."
The Viewing Room is a comedy that takes place in a funeral home.
"Prepare to witness a hilarious and moving journey of the human spirt," the RRTC said. "Our talented cast and crew have poured their hearts into bringing this production to life, and we can't wait to share it with you. Whether you're a theater aficionado or new to the world of live performances, this play promises to be an unforgettable journey of emotions, laughter, and reflection."
There are a variety of matinee and evening shows as well as dinner shows to choose from, including:
Nov. 14 to 16 at 7:30 p.m.
Nov. 17 at 6 p.m. meal, 7:30 p.m. showtime
Nov. 18 at 12:30 p.m. meal, 2 p.m. showtime
Tickets start at $20 per person and are available at Ticketsplease.ca.
"Don't miss out on the opportunity to witness the magic of live theatre," the RRTC said. "Gather your friends and family and be part of this wonderful autumn experience. Remember, seats are limited, so make sure to grab your tickets early. Remember there are only two performances with a dinner theatre option and seats are limited. Let's make this fall a season to remember."
For any inquiries contact the RRTC at info@ruralroot,.org.