El-Chantiry receives regimental flag
By Jake Davies - West Carleton Online
KINBURN – It was light on pomp, but it was certainly a military ceremony as commanders of the Royal Canadian Dragoons presented Coun. Eli El-Chantiry with the regimental flag in a ceremony at the councillor's constituency office last Sunday (June 2).
Garrison Petawawa's Maj. Kevin Wong and master warrant officer Chris LeBlanc of A Squad visited the councillor Sunday to present the municipal leader with a flag and a photo of the Royal Canadian Dragoons who served in Operation Lentus which was the title of the job to help the community with flood assistance.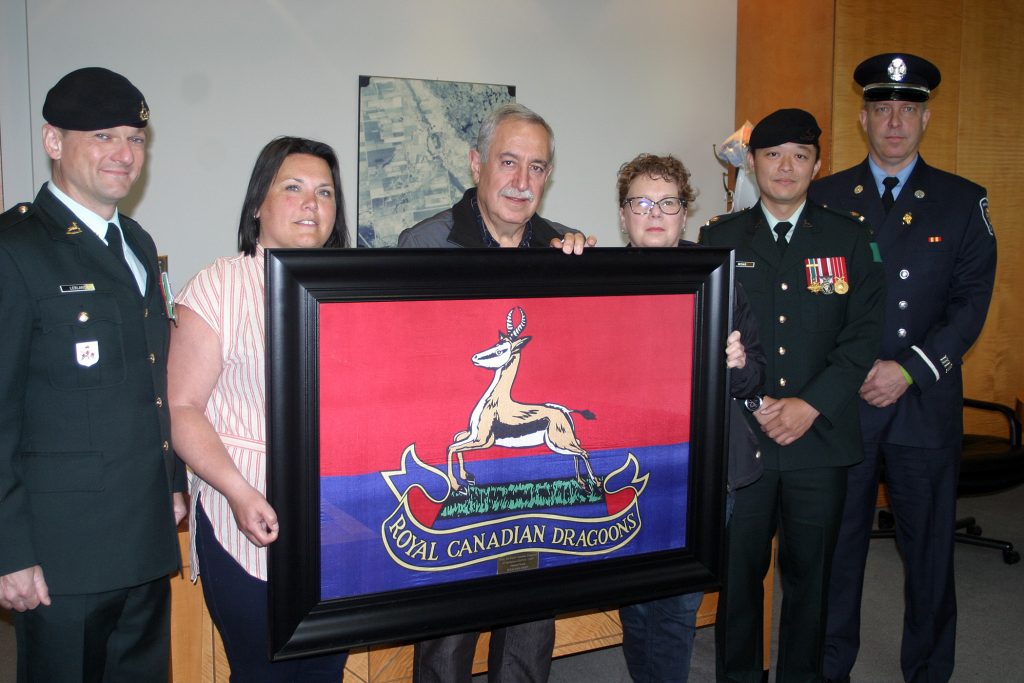 "The sentiment is we were so glad to have our Canadian Armed Forces brothers and sisters on our streets helping us with flood preparations," El-Chantiry said at the ceremony. "Everyone did a great job."
The councillor also had a flag for the unit. El-Chantiry presented the officers with West Carleton's own flag – a relic from pre-amalgamation.
Maj. Wong said he will place the West Carleton flag in the regimental canteen.
"We have hundreds of soldiers who are in there every day," said Maj. Wong who was tasked with Operation Lentus. "We have monuments from Afghanistan and Germany in there as well."
While the two soldiers were heading back to Garrison Petawawa following the brief ceremony, El-Chantiry hopes they may just turn around when they get there and bring back some more reinforcements to help with the clean-up.
The City of Ottawa put out a call for volunteers to help with flood clean-up, but only around 190 volunteers signed up city wide. There are nearly one million sandbags in West Carleton that need to be removed.
The City of Ottawa has not removed the State of Emergency designation and that gives it the leeway to ask for more military help if needed.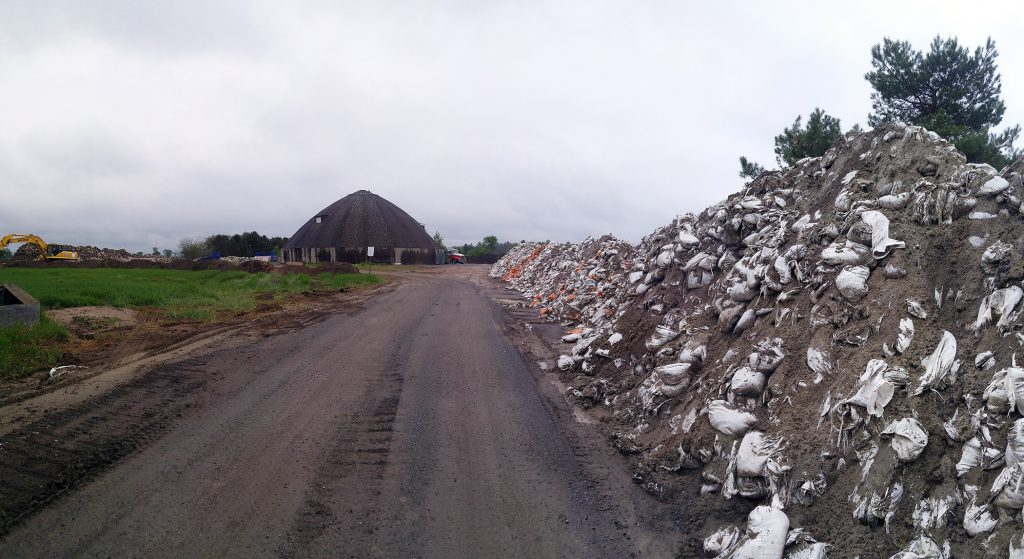 "We are desperate for help," El-Chaniry said Monday. "If you look around, there are still sandbags everywhere you look. My residents are fatigued. If volunteers are not coming, I am not sure what we are going to do other than the military."
The city has put out another call for volunteers for this coming weekend. Work will take place between 9 a.m. and 7 p.m. on Saturday, June 8 and Sunday June 9.
"Work on June 8 will focus on Cumberland and West Carleton wards," city staff released in a statement today (June 5). "Work on June 9 will focus on Bay and West Carleton wards."
If you are able to help, please report to one of the following Volunteer Registration Centres.
The NorthWind Wireless Fibre Centre at Constance and Buckham's Bay Community Centre, 262 Len Purcell Lane. Registration from 9 a.m. to 4:30 p.m.