Constance Bay remembers Gayla this Saturday
By Jake Davies - West Carleton Online
CONSTANCE BAY – The Constance Bay community will be celebrating the life of Gayla Weatherall Ryan with a country music party this Saturday.
On Aug. 25 the Constance Bay and Buckham's Bay Community Association (CBBCA) will host a Remembering Gayla Benefit to help support her family, husband Chico and son Jaxon, following Gayla's recent passing from a heart attack.
The country and bluegrass concert features popular musicians The Bowes Brothers, Ottawa Valley Country Music Hall of Fame member Howard Hayes and the Country Drifters, Eddie Francis, Ron Martin, Mountain Tay, Bonnie and Jim Hodgins, Heather and Barry O'Connor, Mike Fahey, Patsy and Lionel O'Connor and Ron Martin.
The concert will be held at the NorthWind Wireless Fibe Centre (262 Len Purcell Dr.) with the barbecue firing up at 6 p.m. and the show starting at 8 p.m.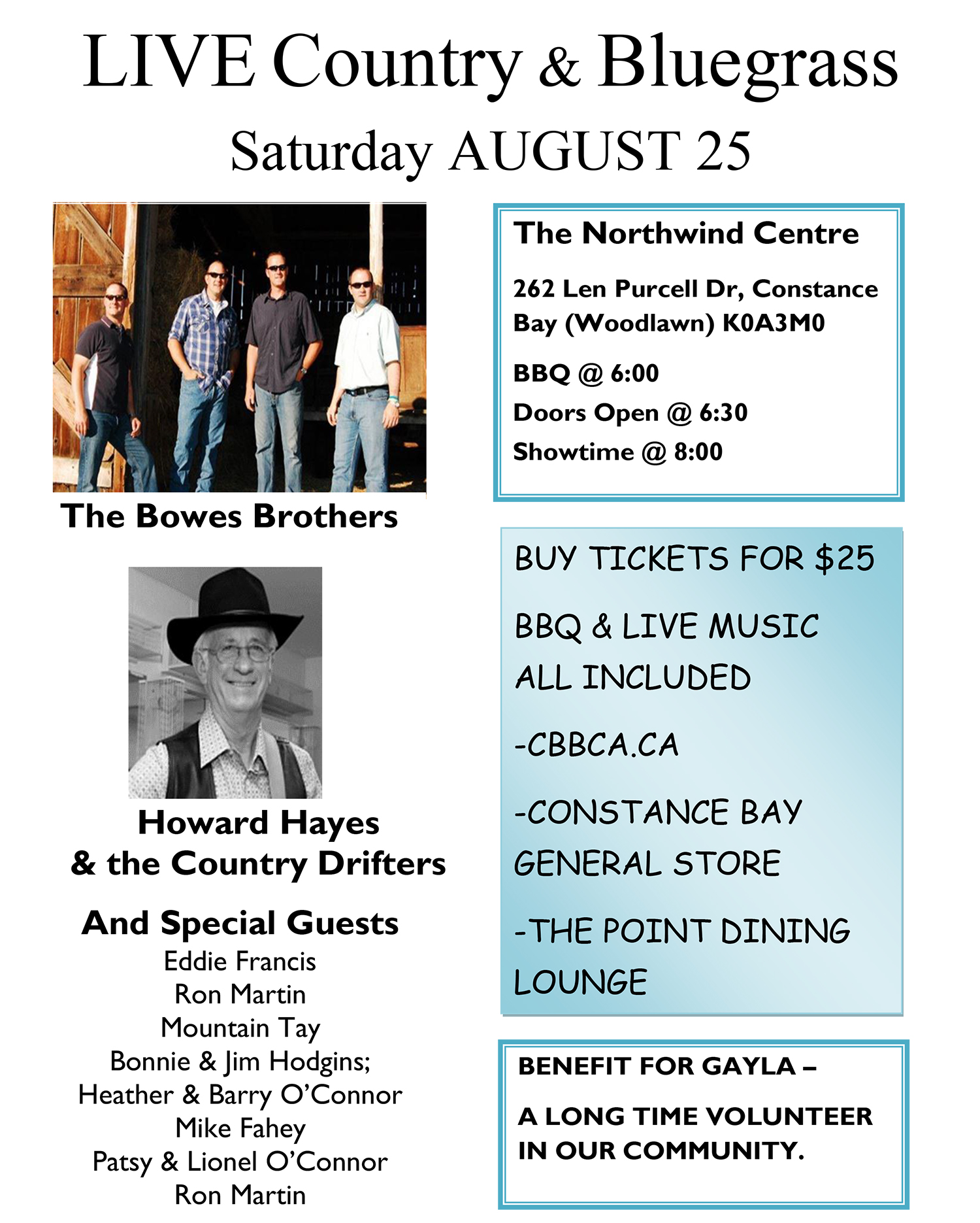 Ryan was a well-known community volunteer. She was a CBBCA member and volunteer at St. Michael School in Fitzroy Harbour. She was renowned for her work with children and volunteering with West Carleton's outdoor hockey league, t-ball and softball. In recent years she had obtained coaching certifications in three sports and coached seven teams in a single year.
"Many people were deeply touched by Gayla in so many ways," the CBBCA wrote in a statement. "She attacked everything with passion and a brilliant smile. She believed in putting the joy back in sport and, despite being seriously injured in two car crashes, never missed a beat in that pursuit. She invested an enormous amount of time making sure kids had positive, memorable experiences."
Tickets are $25 and that includes the concert and barbecue. They are available at the Constance Bay General Store, The Point Dining Lounge and at cbbca.ca.
Capacity is limited to 210 attendees. If you are unable to attend, but would like to help out Ryan's family, visit their gofundme page here.
"CBBCA's goal with this benefit is simply to try and help buy a small space between the emotional trauma of the present and the difficult financial situation ahead," the CBBCA said. "All of the proceeds will go to Jaxon & Chico."