Concert series celebrates 26th kick-off
By Jake Davies - West Carleton Online
FITZROY HARBOUR – Eddy and the Stingrays returned to Fitzroy Provincial Park Thursday, July 6, to kick-off the 26th Concert in the Park series for the second year in a row.
The familiar pink suits of the Stingrays (and Eddy) were back on the Waste Management stage bringing their take on rock and roll classics from the last 70 years, and as usual, they were well received.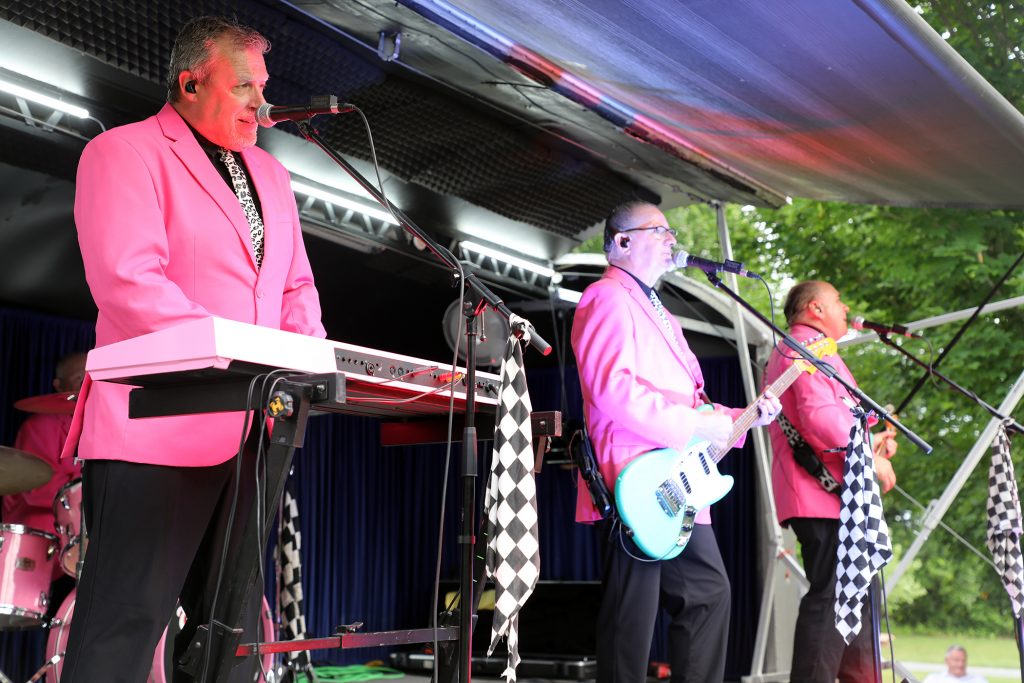 There was lots of pink in the audience as well, a tribute to the 43-year-old band from a group of fans that follow the Stingrays from show-to-show.
In total, West Carleton Disaster Relief (WCDR) whose volunteers help organize the series, estimates roughly 300 people came out to watch the concert series debut. A slight dip from the year before, perhaps due to the oppressive heat as the community battled through a heat wave last week.
The concert series is always a fundraiser, this year raising money for the Children's Hospital of Eastern Ontario (CHEO) and WCDR.
WCDR board member Judy Makin says the concert (so far, West Carleton Online was there pretty early in the performance) raised roughly $835 which will be split between the two organizations.
Another fundraising opportunity is the barbecue, organized by a local youth group who gest to use the money raised to support their programming. Last Thursday that group was West Carleton's competitive robot builders Merge Robotics 2706 (we'll have more on them and their big award later this week, but you can see all our past coverage by clicking here).
The 2023 edition remaining concerts on the Waste Management stage in Fitzroy Provincial Park include, July 13 (Heartbeats), July 20 (Jamie McMunn and Family Tradition) and July 27 (Ambush).
Concerts run from 7 to 8:30 p.m. and spectators are reminded to bring a lawn chair. The event runs rain or shine with a cash-only barbecue starting at 6 p.m.