CBBCA Youth Gym launch draws all ages
By Jake Davies - West Carleton Online
CONSTANCE BAY – It's brand new space for Constance and Buckham's Bay youth to get their sweat on, and Constance and Buckham's Bay Community Association (CBBCA) director and project lead Katrin Bachmann says it's been warmly welcomed.
Last weekend, the CBBCA Youth Gym held a workshop and an open house to let youth and their parents see the new space dedicated to teenagers.
Friday (Feb. 25), personal trainer Mark Whitman led a workshop on proper training and lifting technique.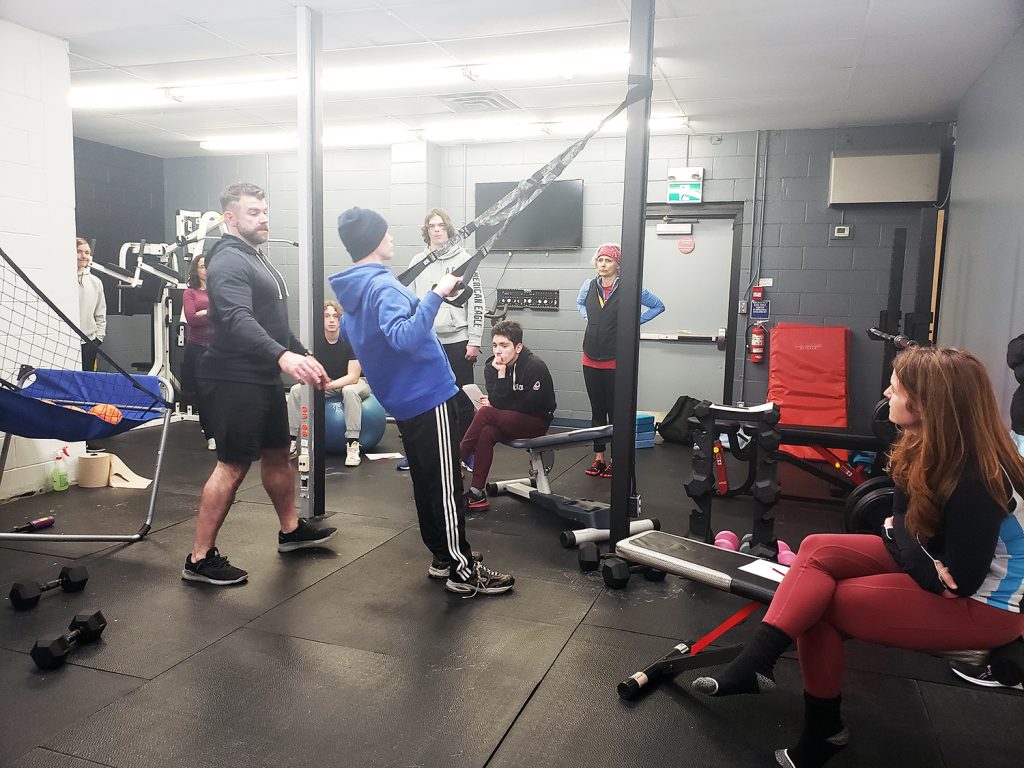 Saturday at noon, the gym hosted its official opening encouraging youth and parents to drop by the gym, to ask questions and see the space and available equipment. Bachmann and the youth gym's other volunteer instructor Diane Boisvert were on hand to share info and answer questions.
Bachmann is a personal trainer, and Boisvert is a retired high school teacher, who became a trainer and group instructor during retirement.
"Our Youth Gym is specifically for our teenagers between 12 and 18," Bachmann told West Carleton Online for the space located on the main floor of the NorthWind Wireless Fibre Centre (262 Len Purcell Dr.). "It is a supervised part of our gym and fitness program because we need our teenagers to be safe and comfortable when working out, so supervisors are an important part of their regular workout routine. It's a brand-new room we have created specifically for them. We had some money available from some sponsors, from the city, so we were able to buy some new equipment."
Currently the gym will be open from Mondays to Thursdays, from 4 to 5:30 p.m., and Mondays and Fridays 5:30 to 7 p.m.
Bachmann hopes with more volunteers, the CBBCA Youth Gym will be able to expand their hours.
"There are quite some gaps where teenagers would like to work out," Bachmann said. "But we don't have enough supervisors yet. We are looking for people who are dedicated to teen sports, have a little bit of knowledge and can support them to do a really good workout, safely and happily."
Bachmann said the CBBCA and Bachmann, who oversees the community centre's gym and fitness programming, were hearing a demand for such a service.
"We had a lot of teenagers approaching us to work out," she said. "The upstairs gym, since 2015 is an unsupervised area so its not suitable for teenagers to work out. We tried having parents work out with their kids, but that wasn't a great solution. We decided we needed to do something so they could work out. I think having teenagers working out in a safe place is much better than them not having a place to work out."
And that demand showed up at the youth gym's opening weekend.
"Oh my god, it started last night with our workshop for teenagers," Bachmann said. "There were 13 people coming, wanting to learn how to do proper workouts and get good progressions. Today (Feb. 25) there has already been eight teenagers who would like to sign up and start working out, literally this minute. They brought their water bottles and were ready to rock and roll. I'm pretty sure on Monday (Feb. 27), during our first round of workouts starting at 4 p.m. it will be a full house."
Not only are the youth excited, so is Bachmann.
"I'm more than happy to have that space," she said. "The kids were literally shearing their hooves to get started. Having this space allows them to work out safely and we want to have the working out rather than doing something stupid in the forest."
Bachmann also hopes, now that the gym is open, she can continue to attract finances and volunteers to extend the CBBCA's hours and equipment.
"We really are looking for sponsors and volunteers," she said. "Not only so we can buy new material, but I do know we have families in the Bay that are not able to financially support their children's extracurricular activities. Money should not be an issue to not being able to work out. If we find sponsors for those kids, that would be good to."
The CBBCA Youth Gym charges $15 a month for a membership.
For more information, or to register for the CBBCA Youth Gym, click here.