Carp's Sample remembers at home
By Jake Davies - West Carleton Online
CARP – The West Carleton War Memorial Remembrance Day service returned to its former pre-COVID glory Saturday (Nov. 11), as several hundred people attended the first full service in Carp since 2019, including a Carp soldier enjoying the opportunity to mark the important day in her hometown for the first time.
West Carleton's beautiful war memorial opened in 2016 and instantly became the location for the community's largest Remembrance Day service. By 2019, the service had grown to, organizers estimated, a ceremony with more than 4,000 attendees.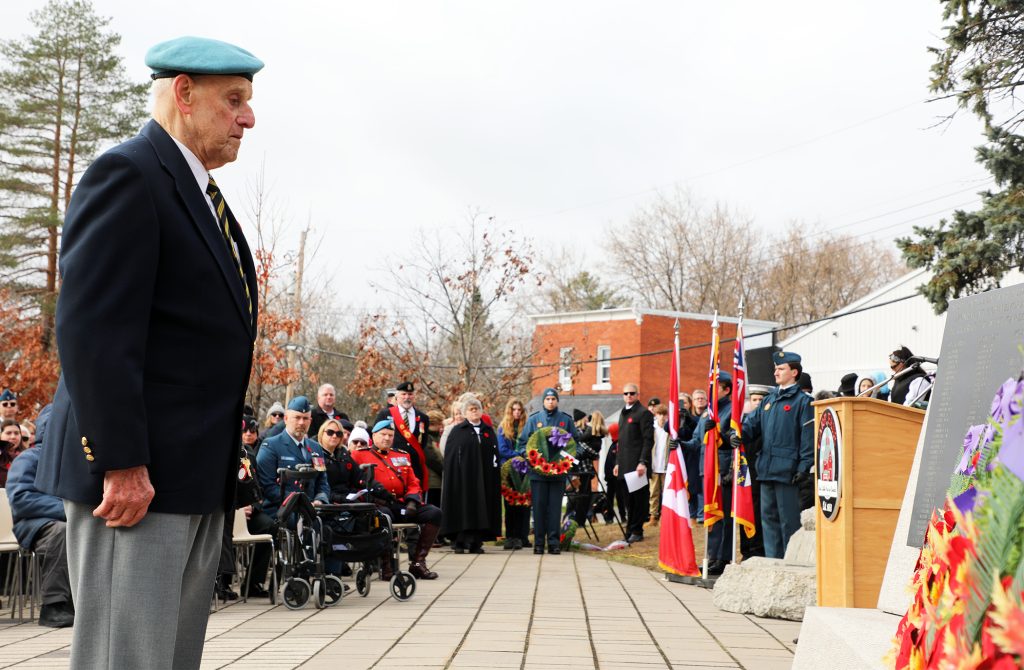 In 2020, COVID-19 hit and the public service was cancelled, although organizers held a private service that was livestreamed over the Internet. Organizers did the same thing in 2021. COVID started to ease and the health regulations surrounding them were lifted. But the past event organizers, the West Carleton War Memorial Committee, felt they were a bit too long in the tooth to organize such a massive event.
In 2022, at the last minute, St. Paul's United Church Rev. Debbie Roi and Anglican Diocese of Ottawa Bishop Peter Coffin, a former military chaplin, hosted a surprise service.
Another call for volunteers went out after that service, and two local retired Canadian Armed Forces members Cheryl Bush and Peter Knowles stepped up to organize the event in 2023.
"You can't stop people from coming," World War Two veteran and Dunrobin native Dr. Roland Armitage told West Carleton Online at the private 2021 ceremony that had a relatively good turnout despite the fact the Remembrance Day ceremony was meant to be private.
Those words were again true in 2023. While both Bush and Knowles were unsure who would come out when we first spoke to them, it turned out almost everybody. A large contingent of active and retired CAF members were present as well as hundreds of community members. They experienced a service that captured the emotion and the poignancy of Remembrance Day.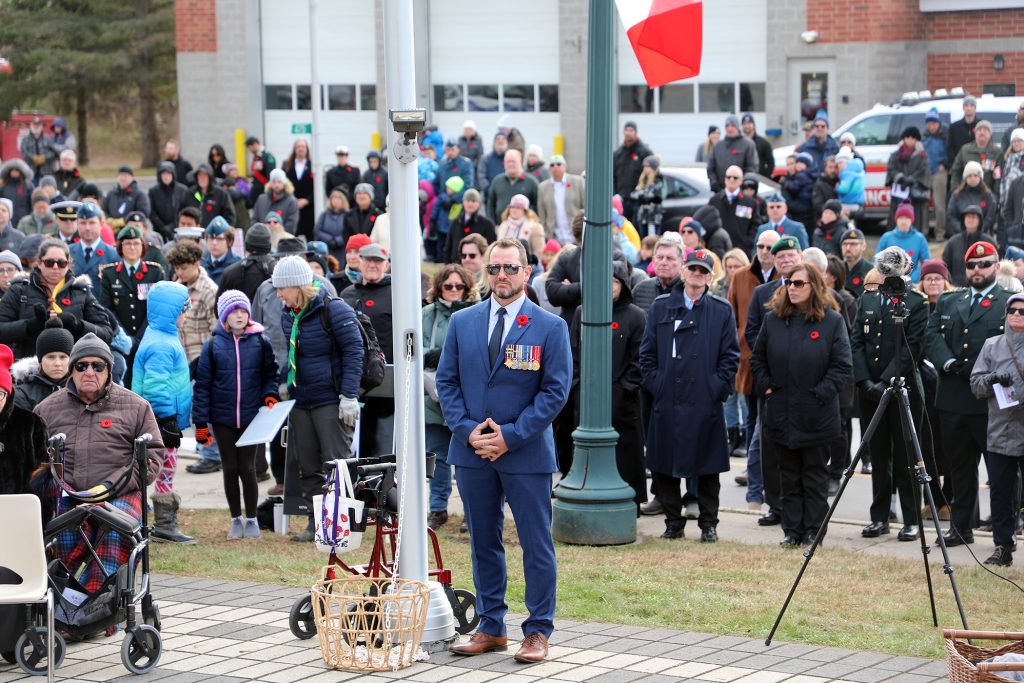 The Goulbourn Male Choir sang as attendees gathered at the war memorial on a cool, sunny day that provided warmer temperatures than recent Remembrance Days.
Anglican Parish of Huntley Rev. Dr. Mary-Cate Garden greeted attendees before everyone sang the national anthem.
West Carleton War Memorial Committee member Peter Maddocks shared the story of the building of the War Memorial and all the incredible symbolism built in to the memorial that might not be obvious to a casual viewer.
The service featured many of the hallmarks of Remembrance Day including Last Post and a minute of silence to reflect. The Lament was played followed by Rouse.
Retired Lt. Col. Todd Hirtle, who also owns Alice's Village Café, read the poem The Act of Remembrance. Huntley Centennial Public School students Benjamin Sammut and Madeleine Snow read In Flanders Field and High Flight.
St. Paul's Rev. Debbie Roi offered prayers and then dignitaries and special guests laid wreaths below the plaque listing all West Carleton residents killed in war.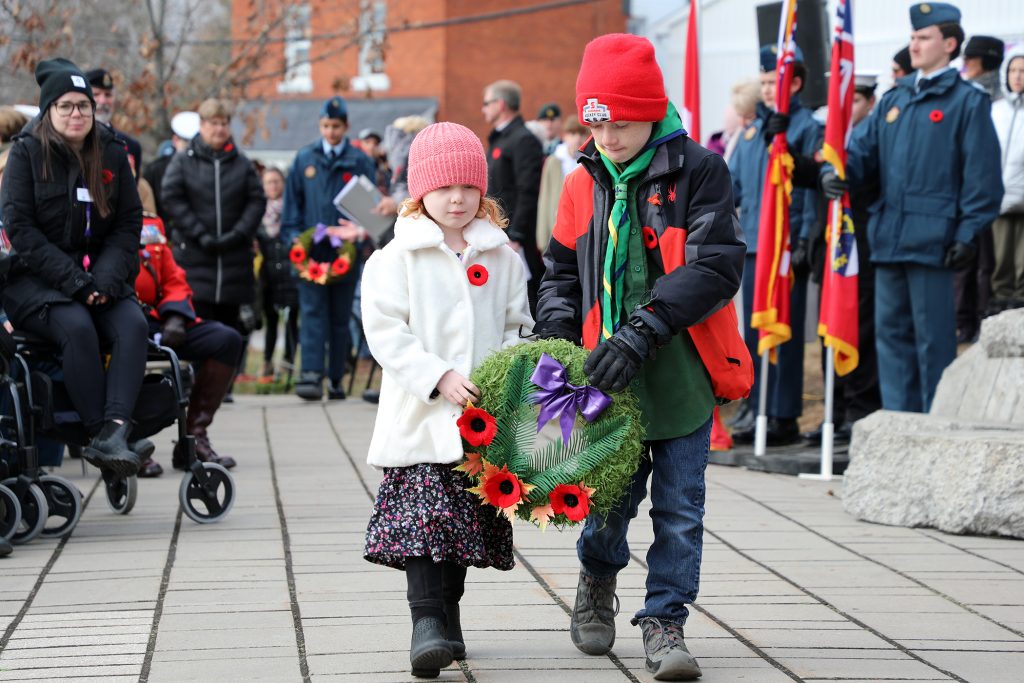 The ceremony ended with God Save the King and attendees placing their poppies on the statue of a soldier reading a letter from home, before retiring to the Carp Agricultural Hall for lunch, drinks and camaraderie.
For Carp native, 12th Canadian Armored Regiment (Garrison Valcartier) Cpl. Samantha Sample, Saturday's service was her first opportunity to attend a Remembrance Day service in the community she grew up in. That meant a lot to her.
"It's super special," Sample told West Carleton Online moments after the service ended. "This is the first time I've been able to come home for Remembrance Day and to be here with my grandfather who is a veteran and my mom and my nana is here as well, is very heartwarming. To be here where I was born and raised and participate in the ceremony is pretty special as well."
Sample, who turns 26 on Nov. 14, went to grade school at Huntley Centennial and then attended high school just up the road at West Carleton Secondary School.
Sample says her grandfather Hubert Hutt had a big influence on her career decision.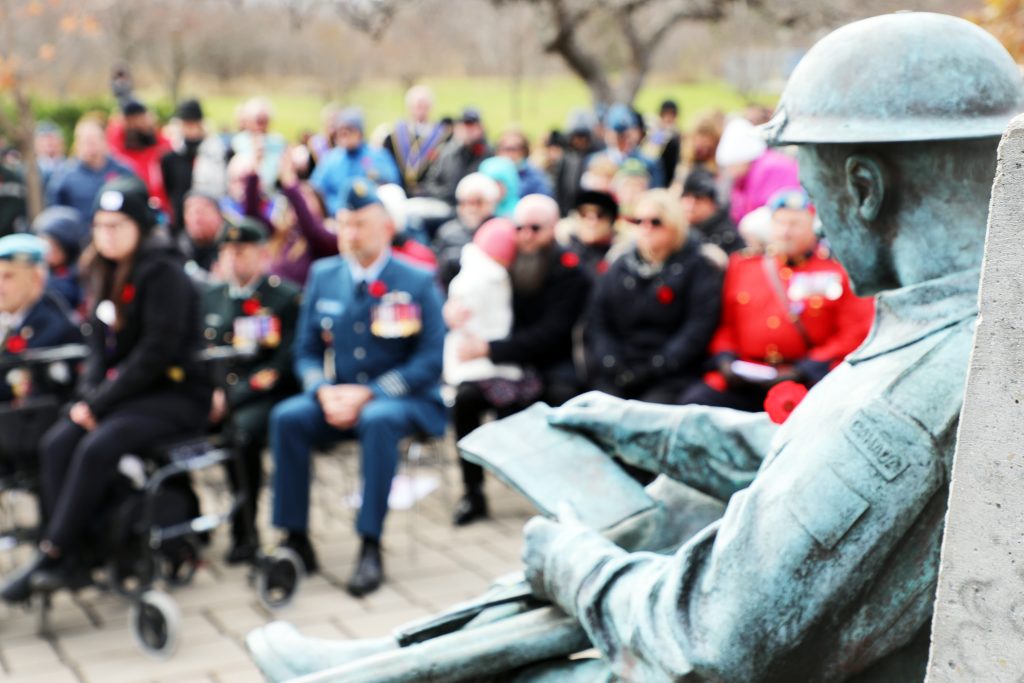 "He started off as infantry and then moved on to the postal corps and was posted in Germany for five years," Sample said. "He came back to Canada, he was posted for another, I think, three years in Borden. Then he left the army and started a construction company."
Sample says her memories of growing up in Carp are all good.
"Growing up in Carp was super-cool because it's such a small town and everyone knows everyone," she said. "I was always involved in sports, hockey, soccer with the West Carleton Talons, I played with the Talons from eight to 16, they were my team."
As she approached adulthood, a decision needed to be made and the Canadian Armed Forces seemed like a good one.
"Just growing up, I didn't know if I wanted to stay in Carp or move around, which led me to the army," she said. "It gave me that opportunity to be able to explore different parts of Canada and around the world as well. I was in the cadets as well with 2870, the Connaught Rangers, and that's what kind of gave me that interest to make it a career, instead of a hobby."
And that decision has given Sample a world of opportunity, while also allowing her to keep playing soccer at the highest level she could.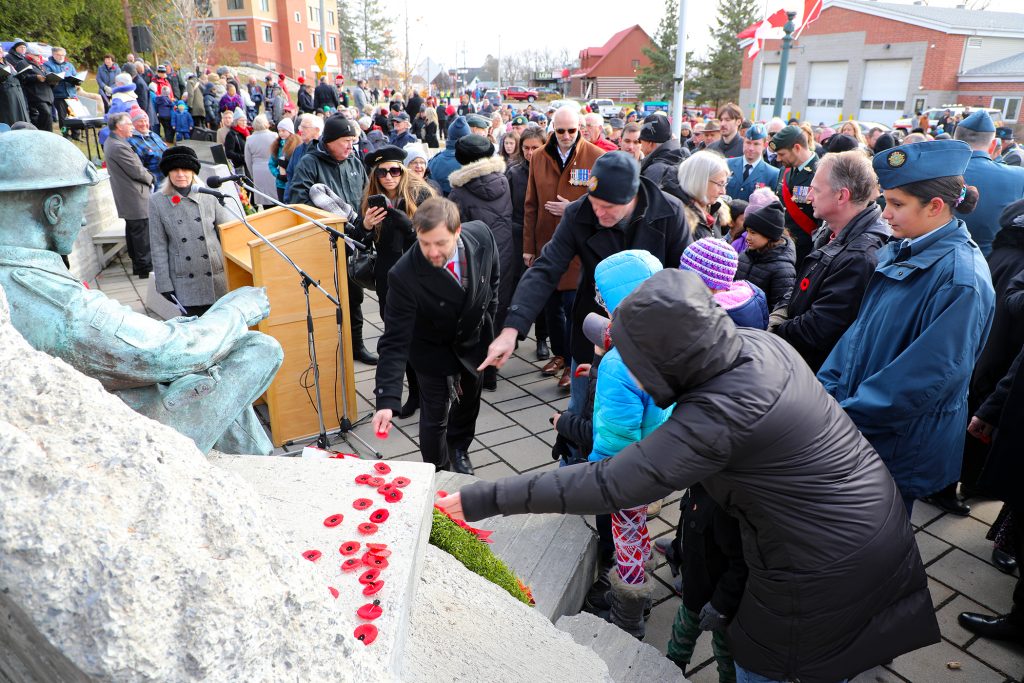 "In 2019, I got really lucky and was able to go to France for a month and work with their army," Sample said. "I pretty much just skied in the French Alps and shot their weapons and got to do their day-in-the-life of the army. I also play with the Conseil international du sport militaire (CISM) which is the Team Canada of the military, so this summer I was actually playing a world cup in the Netherlands with 12 other countries. So that's got me travelling. For me, playing soccer as a kid, the dream was to be a professional soccer player, and this is kind of the closest I can get with that. It's just one of those things, the army can give anyone any opportunity they want if you go for it."
Sample said she was both moved and surprised attending a Remembrance Day service in her hometown for the first time.
"I really enjoyed it," Sample said. "Just the atmosphere of it being in a small town or small village was very special. There were a lot of things I didn't expect. All the wreaths, I didn't expect there to be that many, coming from a small town. It was really cool to see all the cadets out, see all the veterans that were here. It's just things that you don't think of, that they have in Carp. It just brought that hometown feeling to life. It felt really special."