Carp market makes measured return
By Jake Davies - West Carleton Online
CARP – It was a different look to be sure, but vendors and shoppers alike were just happy the 30th season of the Carp Farmers' Market was finally here.
There was a physical distanced-line up to start the morning at 8:30 a.m. on Saturday (June 20) as organizers followed strict guidelines for the first market of the year. Masks were requested and volunteers were only letting 70 people in at a time. But the line-up was gone by 9 a.m. as the first group gained entrance.
There was a steady stream of shoppers, but not an overwhelming number as many stayed away due to their pandemic concerns. This is a market that attracts thousands a day in previous years.
There was no food court filled with hundreds of people enjoying the variety of prepared food on site. No musical entertainment, no kids' games or demonstrations. It was a bare-bones market with about 35 vendors on hand, down from the nearly 100 vendors in previous years.
For Carp Farmers' Market manager Ennio Marcantonio, he was just happy to finally launch the season that traditionally kicks off with an Easter Market and then picks up steam in May.
"Extremely happy," Marcantonio told West Carleton Online Saturday from the market. "The process has been long, it's been difficult, making sure that we have all our P's and Q's together. It's a learning curve right now and I am sure we are going to have to change some things around and make sure they work better for us."
The City of Ottawa sent a representative from Ottawa Public Health to make sure the market was a safe place for people as the province enters Stage Two of its COVID-19 recovery plan.
"He gave us a big thumb's up, so that thumb is a good thing," Marcantonio said.
Despite the vote of confidence, it's been a challenge.
"It's been pretty difficult," Marcantonio said. "We had to scale down quite a bit. We are going to add vendors as we go along. I'm not sure when we are going to add more vendors, but we will add more as we move along. We're going to take it one day at a time."
And thus, the toughest season in Marcantonio's memory has kicked off.
"Absolutely, I've never gone through something like this," he said. "It was a complete learning curve. Everything's changed. From a wide-open market with thousands of people a day, to restricting the flow. Right now, we're at 70 people at a time. As they move out, we let more people in. It's been working out well."
Ottawa Mayor Jim Watson was one of the market's first customers who spent the morning in Ward Five with Coun. Eli El-Chantiry and MP Karen McCrimmon. The mayor is a semi-regular to the Carp Farmers' Market, usually dropping by a few times in the course of a season.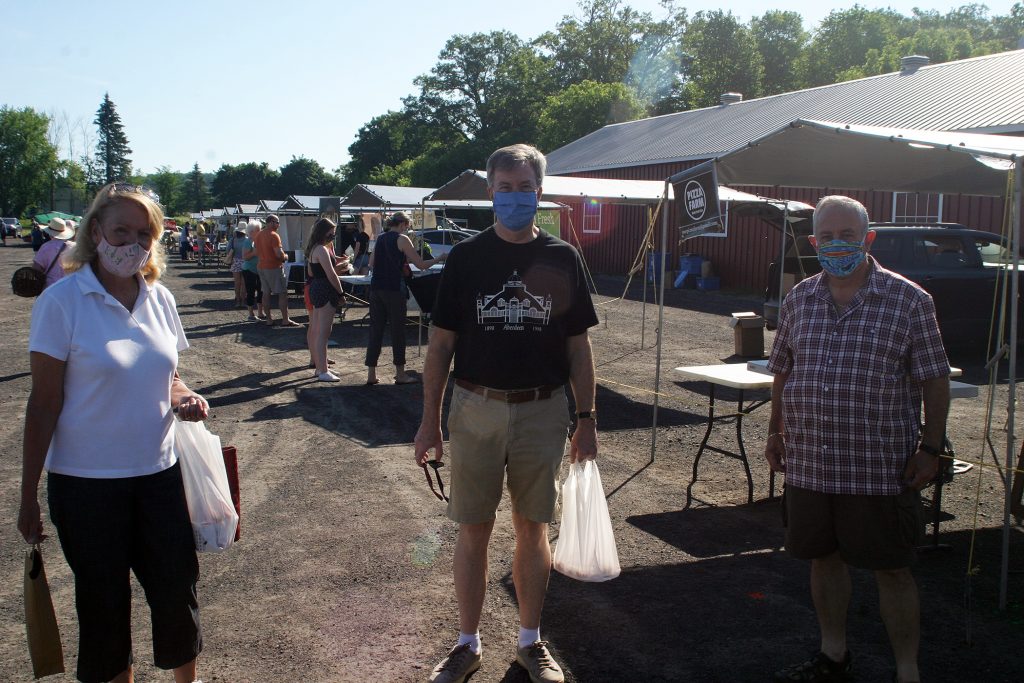 "It feels great," Watson told West Carleton Online of being at the market on opening day. "My only disappointment is the Bacon on a Bun folks are not here yet, but hopefully that will come out in the weeks ahead, but this is one of the great local farmers' markets. Obviously, this year has been really tough for the farmers, so the market helps them get their product out of the ground and in to people's homes."
Watson said being on the Carp fairgrounds also serves as a reminder of the impact the COVID-19 pandemic has had on the community.
"It's bittersweet because we're here at the Carp fairgrounds and there isn't going to be a Carp Fair this year because of COVID-19," Watson said. "I think that was the right call. But I'm very happy the market is open, and they are doing the right things. People are two metres apart, people are washing their hands and they are not using reusable bags. I commend the organizers for a job well done."
That well-done job means there is a different look to the market.
"It's more spread out," Watson said. "You sort of have to reach to pay and get your product but these are small sacrifices to make sure people stay safe and we continue the good work the community has been doing by seeing the number of cases go down significantly over the last two weeks."
But the market is definitely a sign of a slow return to normalcy.
"You have some of the regular farmers and bakers out," Watson said. "I've got my buttertarts and hopefully will be getting some strawberries over there at Needham's and head back and stay in the shade and the air conditioning in my house."