Arnprior holds first community COVID-19 vaccination clinic
Special to WC Online
ARNPRIOR – COVID-19 vaccine shots started to go in to the arms of more Arnprior and area community members today (March 11) at the first Nick Smith Centre vaccination clinic as the Renfrew County and District rollout expands to new priority groups.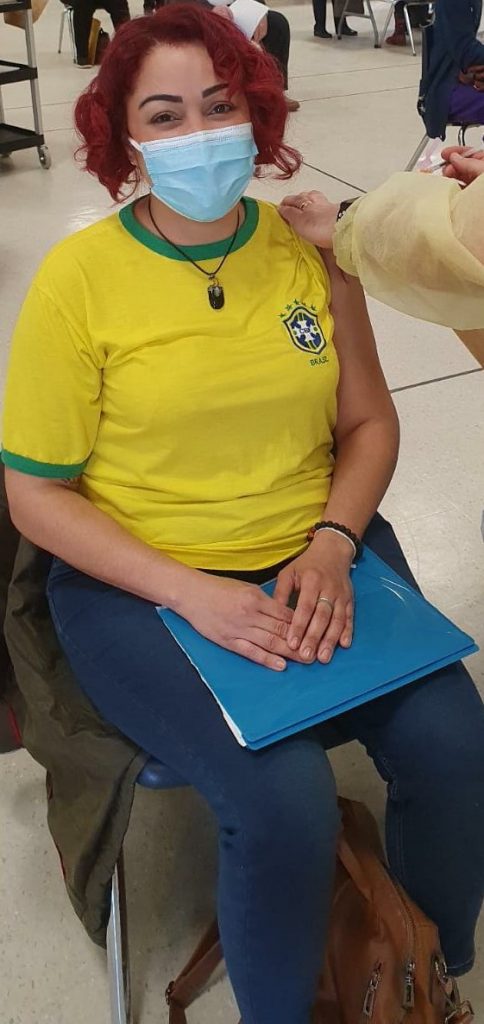 "In addition to the recent drive-thru clinics, the Nick Smith Centre clinics are another way vaccination is being offered in the community, part of the regional vaccination plan led by the Renfrew County and District Health (RDCHU)," Arnprior Regional Health communications manager Melissa McDermott released in a statement today.
The Nick Smith Centre clinics are being led and supported by the Arnprior and District Family Health Team (ADFHT), ARH, Arnprior Regional Health Auxiliary, Arnprior Regional Health Patient Family Advisory Council (PFAC), County of Renfrew Paramedic Service, Town of Arnprior and the RCDHU.
"It was an exciting milestone in the vaccination rollout to hold our first Nick Smith Centre clinic focused on the current priority groups living in the community," ADFHT executive director Karen Simpson said. "Through our collaborative team and efforts, we efficiently and effectively got the first doses of vaccine into hundreds of arms of higher-risk adults."
"Behind the scenes our team has been mapping out our clinics to ensure residents have a safe, straightforward and comfortable way of getting vaccinated," ARH vice president of patient care and chief nursing executive Susan Leach said. "Today, we had a successful launch of our Nick Smith Centre clinic model and we will continue to fine-tune the experience."
The first Nick Smith Centre vaccination clinic immunized 432 residents with plans for additional clinics over the next week.
Priscila Penha, a local Arnprior resident and living assistant at L'Arche Arnprior, a group home for adults with developmental disabilities, had her chance to get vaccinated at today's clinic.
"I was excited and happy to get vaccinated – I'm now protected," she said. "The clinic was super organized, and the vaccination was gentle, quick and easy."
Those individuals who are currently eligible for vaccination can visit www.rcdhu.com to register online. Individuals are encouraged to ask a family member or friend to assist if they are unable to do so themselves. If a person is unable to register online, they can call RCDHU at 613-735-9724 or 1-800-267-1097 extension 200. Residents are asked to only leave one message with their name and phone number, and someone will return their call as soon as possible.
Those who register for a vaccination appointment will receive an email with a link to book into one of Renfrew County and District's upcoming vaccination clinics (located in Pembroke, Deep River, Arnprior, Renfrew and Barry's Bay) ONLY when openings become available. Those who have registered who do not have email will receive a phone call when openings become available.
"Our collective focus is to help our community navigate out of this pandemic by vaccinating priority groups as a quickly as possible," ARH President Eric Hanna said. "It's been a significant collaborative effort and a special thank you to our ARH staff for their contributions and the Auxiliary and PFAC members for volunteering their time to support the clinic logistics."
"Getting vaccines to the residents of Arnprior is a high priority for the Town and I know there has been countless hours spent on rolling out the vaccine clinics, so I want to thank all of the frontline and admin staff who have been working to keep our community safe over that past year," Mayor Walter Stack said. "The town is glad to provide the Nick Smith Centre as a space to bring vaccination clinics to the community in collaboration with Arnprior and District Family Health Team and Arnprior Regional Health and we look forward to moving into this next vaccine rollout stage."
In line with the Ministry of Health's sequencing, the upcoming priority groups for Renfrew County and District will be high-priority healthcare workers, all Indigenous adults (including those under 55 years of age) and adult receiving chronic home care. More details to come when the timelines are confirmed.
As outlined by the province, the latest priority groups include:
Retirement home residents (who will be vaccinated in-home by mobile vaccination teams).
Retirement home essential caregivers.
Residents in the general population who are 80 years of age and older.
Indigenous residents (on or off reserve) who are 55 years of age and older.