A look underneath RRTC's Red Plaid Shirt
By Jake Davies - West Carleton Online
CONSTANCE BAY – The Rural Root Theatre Company's (RRTC) latest production is a lot like an iceberg. There's a lot more going on behind the scenes than what we can see above the water.
Michael G. Wilmot's A Red Plaid Shirt, debuting Nov. 6, has four actors, but a small army working behind the scenes ensuring, among other things, the 14 scene changes throughout the performance are done seamlessly in order to maintain the audience's suspension of disbelief.
The play, directed by the RRTC's Carolyn Walsh, revolves around two friends looking to fill the void left by their retirement. One wants to hit the open road on a motorcycle while the other one becomes increasingly obsessed with his health.
The friends' wives play key roles, coming up with a creative solution to the pair's problem.
Last week, (Oct. 23) West Carleton Online sat down with 13-year RRTC veteran and A Red Plaid Shirt stage manager Charlene Gardner to talk about what the audience doesn't see, but still crucial to a production's success.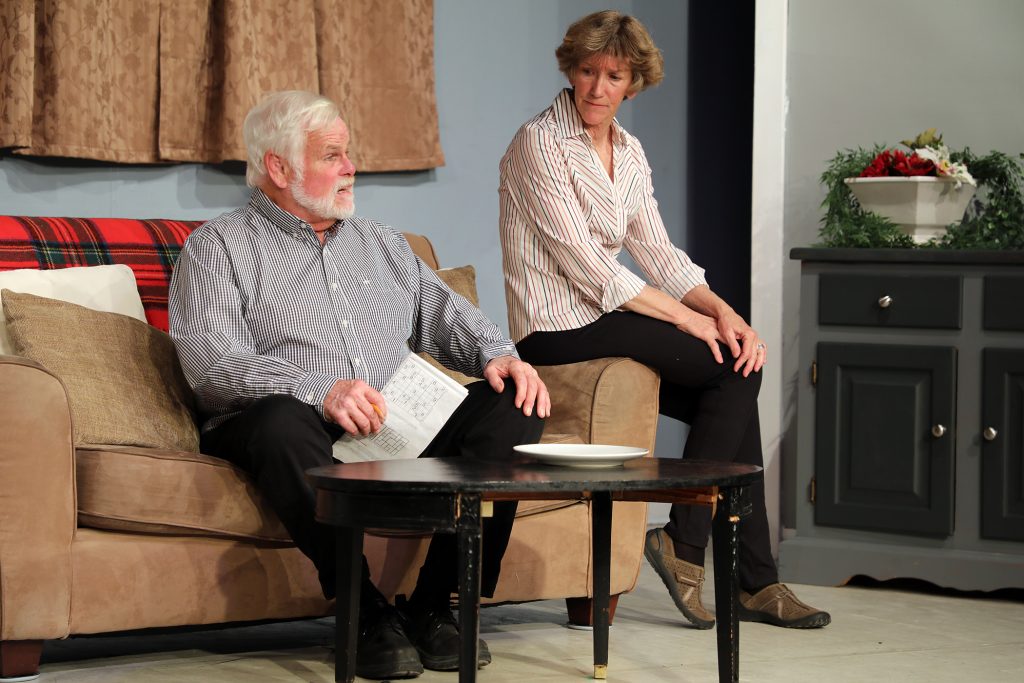 "The stage manager is responsible for all the cues," Dunrobin's Gardner told West Carleton Online just before dress rehearsal for A Red Plaid Shirt was about to get started inside the NorthWind Wireless Fibre Centre Theatre (262 Len Purcell Dr.) Sunday (Oct. 23) evening. "I have to be aware of the lighting cues, props, costumes, entrances, exits, scene changes, sound. I have to be aware of all of those. I'm cuing everything, lights up, lights down, go actor."
Crew safety is also an important role.
"Nobody's stumbling over anything in the dark," Gardner said. "Tripping over anything. If the director wants to try something, and I think it's too dangerous, it's my role to tell her no, she can't have it. I communicate between the crew and the cast. If the director says, 'I want her to come in with glasses,' it's my job to make sure props knows she has to have glasses."
An important role of the stage manager is liaising with the director. Gardner says there are eight people working behind the scenes not including herself and the director.
"I write down all the blocking (to ensure the audience can see the action clearly) for the director," Gardner said. "The director is busy enough watching her actors seeing what they are doing on stage. She's not writing this down, so I'm there to write, 'she stood up on this line, sat back down on this line, she exits on this line,' that sort of thing. You're almost like a conductor because you are pretty much conducting everything that's going on onstage to make sure it runs smoothly and the director's vision comes through."
During the performances, Gardner is positioned at the very back of the theatre. Gardner also has a couple assistant stage managers who act as her "eyes and ears behind the stage."
"I can see the stage, and if I need somebody standing by, or I need my prop standing by, we all have headsets and I will say 'standby, Gladys,' and my assistant stage manager will say 'Gladys standing by,' Gardner said. "When I say go, she's already in position and ready to go."
Gardner will go through what is called the cue-to-cue with the director, backstage team, and actors as the production works toward perfection.
"You basically go through all the cues and technical stuff," Gardner said. "The entrances and exits, lighting cues, sound cues, at that point the production becomes mine, the director has done her job and then the run is all mine. I'm the one who makes sure everything runs smoothly from day one to the last performance."
Gardner has been an RRTC stage manager for four previous productions including Ghost of a Chance, Affections of May, 12 Angry Jurors and a one-act play.
Gardner says the role of stage manager suits her well.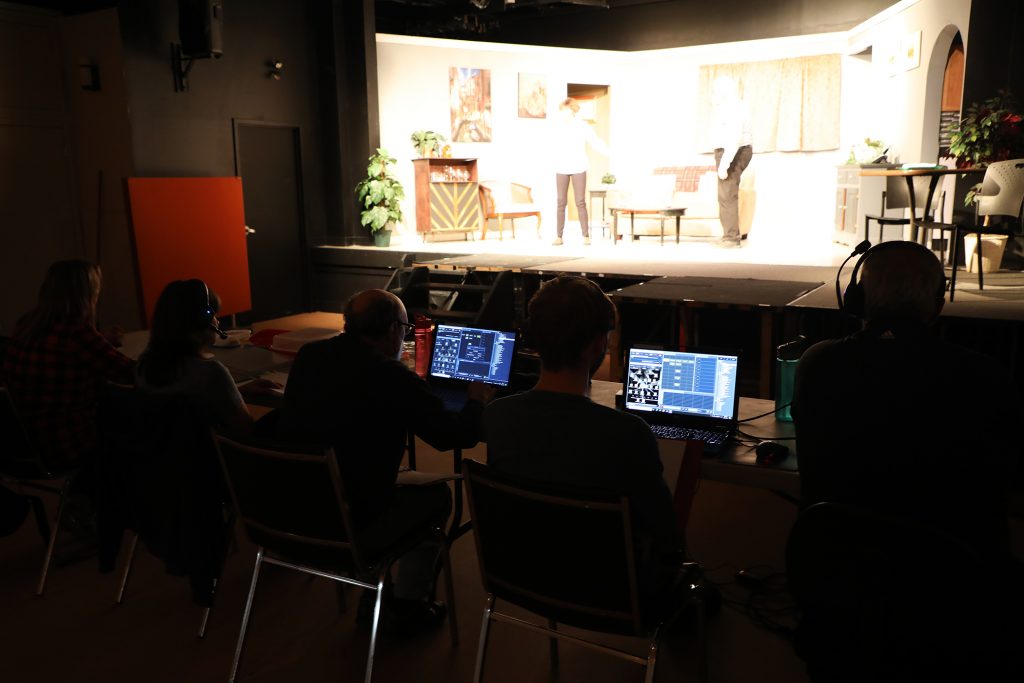 "I like being in control," she says with a laugh. "No, really. I like seeing the performance go from day one to where we are now, and I was a part of it. I helped get it to that point working with the director, working with the producer, working with the cast, and working with my crew. I'll be honest, I have an amazing crew. They are bang on; they know their stuff. I just sit back, relax, and let it go. And I prefer that."
A Red Plaid Shirt has 14 scene changes, one of the highest number of scene changes Gardner has worked on in a single RRTC production.
"It is different," she said. "Every production there are different people you are working with. That gives it a different feel. This one there are 14 scenes, so there are also 14 scene changes I have to work with. 12 Angry Jurors was simple, sit back, lights up, lights down, cue the guard, go in. It was a very simple set. In A Red Plaid Shirt we have three entrances. We have scene changes in the middle of scenes, so we light up one section, then we have to light up another section and go back. Every play is different, it just depends on how it's set up. Timing is everything. You don't want the audience sitting in the dark wondering 'okay, what's going on? Come on, lights up!' I like plays that just flow. I don't like big scene changes and we're doing something interesting with our scene changes. Our crew is dressing up for this one. It's really interesting. They'll come out and it's almost like a tiny little skit setting up the stage. You'll have something to watch. You want to keep your audience entertained no matter what's going on onstage."
With curtains set to open this coming weekend, Gardner says the audience will enjoy A Red Plaid Shirt.
"We have some really great actors," she said. "From day one they were already in character. It was neat to see them grow from there to where they are now. They have completely grown in to their characters and have made them their own. It's fun now because we're seeing the costumes on stage. All the lighting is there, the sound. It's fun seeing it go from day one to the run."
And she guarantees a laugh.
"There are some really funny lines," Gardner said. "I think people can identify with it. Now that your retired, what do you do? All four of them approach it differently. I don't want to give anything away. Come see it."
The four actors include Marianne Black playing Deb, Judi Bastable playing Gladys, Lee Powell playing Marty and Jason Matheson playing Fred.
Performances begin Nov. 6 with a 2 p.m. matinee, from Nov. 8 to 11 at 7:30 p.m. and finishes up with another matinee on Nov. 12.
Tickets are $17 and available here or call 613-485-6434.
For more behind-the-scenes action, visit the RRTC's Facebook page here.