Sudds: High costs and the holidays
The MP's Report
It's hard to believe that we are only eight weeks away from the Holidays. It is a time of joy, but Christmas is also a hard time for many families who face additional expenses on top of the increased cost of living.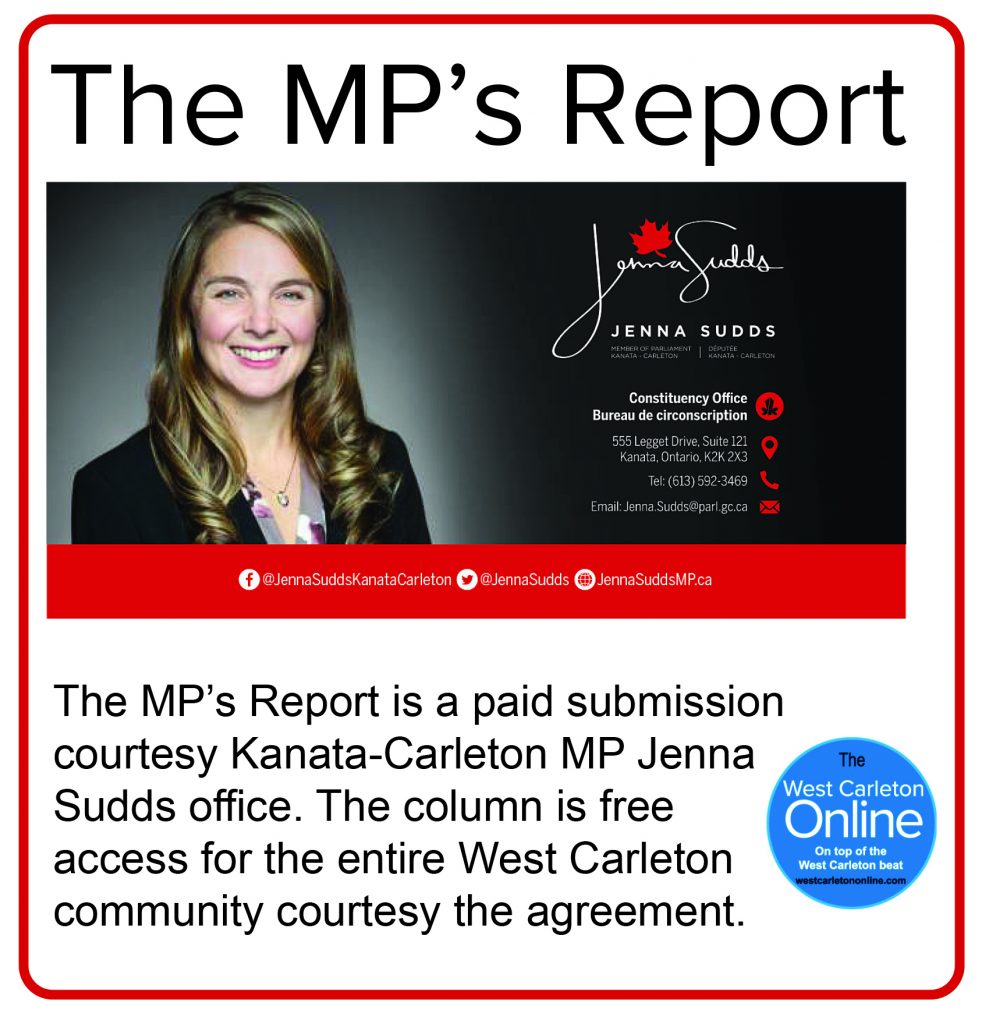 Both the West Carleton Food Access Centre and the Kanata Food Cupboard are expecting to see a rise in the number of families requesting assistance this holiday season. If you are able, please consider supporting them—whether by donating food, money, toys, or by hosting a food drive this holiday season.
Prime Minister Visits Kanata Food Cupboard
Early October, I had the pleasure to join Prime Minister Justin Trudeau at the Kanata Food Cupboard to work alongside the organization's many volunteers, packing Thanksgiving hampers for local families in need. My thanks to everyone donating and volunteering time for stepping up, helping out, and giving back.
Affordability Update Arriving in Mailboxes
Affordability is important to me, and I've heard from many Kanata—Carleton residents that reducing the cost of living is one of your top priorities, too. That's why I want to ensure you have information about the federal benefit programs and tax rebates available to you.
All Kanata—Carleton residents will receive a mailout from me, which details the financial supports available to help you weather the elevated cost of living. Enclosed with the mailout is a survey, and I encourage you all to take this opportunity to share with me (postage-free) the economic actions that are most important to you.
I'm focused on creating solutions that bring economic relief, affordability, and good-paying jobs to our community. Your feedback is valuable, and I read every response personally.
Ottawa Election
Congratulations to the new Mayor of our City, Mark Sutcliffe! To the three west Ottawa city councillors who serve in my riding of Kanata—Carleton, Cathy, Allan and Clarke, I look forward to working alongside you in our amazing community.
Click here to watch MP Sudds' speech on the new mayor in the House of Commons.
Nokia Announcement
This month, Nokia Canada announced their intention to redevelop their 26-acre campus in the Kanata North Technology Park into a sustainable, accessible mixed-use corporate, residential, and commercial hub. The new R&D hub will help secure Canada's position as a global leader in the green digital future by broadening expertise in 5G, cyber security, and artificial intelligence.
I am proud our government is supporting this important project with up to $40 million in Strategic Innovation Funding, which means more jobs and more valuable Canadian IP. Kanata—Carleton is already home to one of Nokia's largest R&D sites, with more than 2,300 employees working at its campus in Kanata. With this redevelopment and $340 million investment, an additional 340 high paying jobs will be created right here in our community.
Click here to see MP Sudds' speech at Nokia.
GST Tax Credit Receiving a Boost on November 4
This month, our government's Cost of Living Relief Act received Royal Assent, doubling the Goods and Services Tax Credit for six months to help make life more affordable for millions of Canadians.
Eligible Canadians—who already receive the GST Credit—will automatically receive their payments starting on November 4. Canadians without children will receive up to an extra $234 and couples with two children will receive up to an extra $467 this year. Seniors will receive an extra $225 on average.
Doubling the GST Tax Credit for Canadians who need it most is compassionate, targeted, and fiscally responsible, while not adding fuel to the fire of inflation.
Click here for more information.
Door Knocking Across Kanata—Carleton
My team and I were in Bridlewood, Morgan's Grant, Glen Cairn, Carp, Beaverbrook, and many other Kanata—Carleton neighbourhoods this past weekend, door knocking and hand-delivering surveys to you and your neighbours. If you received a survey card in your mailbox, I hope you'll complete the short survey and mail it back to me, postage-free. I'm always looking to hear what issues are top of mind for you and your family, and how I can better represent you on Parliament Hill.
You can also always share your thoughts with me via email or online at JennaSuddsMP.ca/survey. I look forward to hearing from you!
Click here to take the online survey.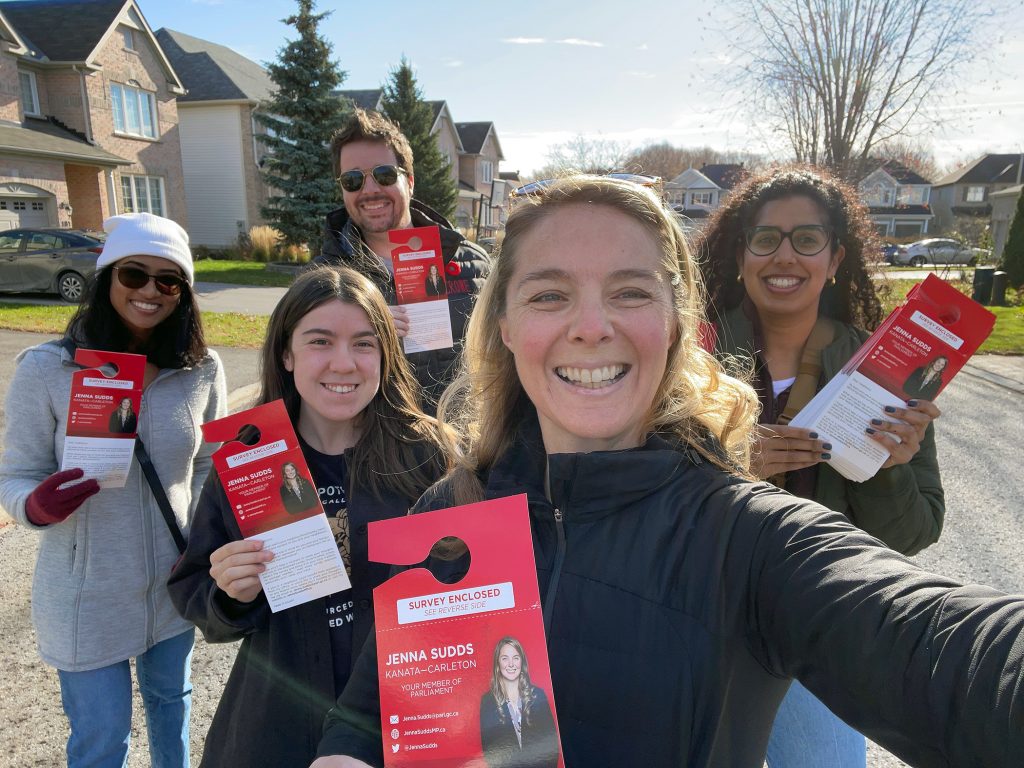 Sanctioning the Iranian Regime
In response to the death of Mahsa Amini and the human rights abuses perpetrated by the Iranian regime, Canada has landed some of the strongest sanctions available against the IRGC and senior Iranian officials—those directly responsible for human rights violations:
Banning tens of thousands of IRGC officials from Canada, forever.
Restricting IRGC financial transitions in Canada.
Ending the influence and reach of the Iranian regime in Canada.
Creating a new sanctions bureau to enforce and increase sanctions on Iran.
Expanding Canada's ability to seize and freeze Iranian assets.
Foreign affairs and security experts like Professor Thomas Juneau, as well as the families of the downed flight PS752, agree that our approach is strategic, targeted, and impactful.
I've been actively listening to and marching in demonstrations alongside Kanata–Carleton's Iranian-Canadian community in support of women's rights in Iran, and I thank them for sharing their experiences and knowledge, which has informed our government's sanctions against the Iranian regime.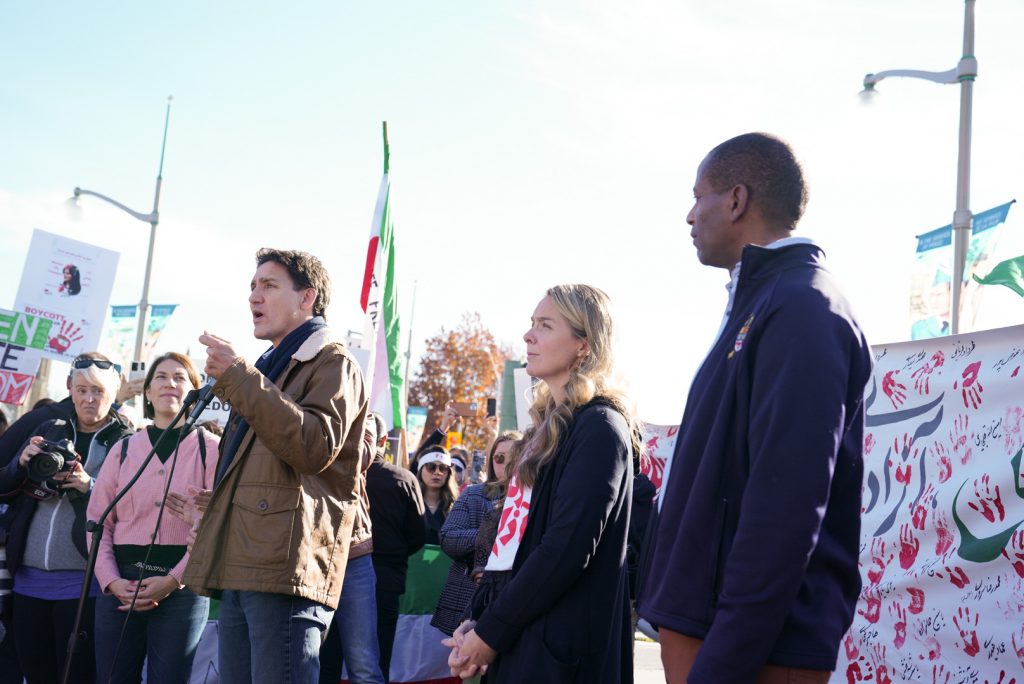 New Horizons for Seniors
Are you part of an organization that helps make a difference in the lives of seniors? The New Horizons Seniors Program is a federal funding avenue for organizations that promote volunteerism among seniors, engage seniors in the community, expand awareness of elder abuse, and support the social participation and inclusion of seniors. Community programs are eligible to receive up to $25,000 in funding. Applications close November 1, 2022. For details, please visit JennaSuddsMP.ca/news/NewHorizons.
Thank you to our Local Farmers' Markets
I enjoy shopping local, especially picking up fresh fruit, vegetables and other produce and goods, produced and distributed by locals at the Kanata Farmers' Market and Carp Farmers' Market. It's been a fantastic season, and I'd like to thank the organizers, vendors, partners, and volunteers, and—of course—everyone shopping and supporting local. Both markets had their last regular market day of the season this past weekend, but be sure to mark your calendars for the Carp Farmers' Market Christmas Market on December 2nd and 3rd.
Important Benefit Dates
GST Tax Credit Special Affordability Payment: November 4
Canada Child Benefit: November 18 & December 13
Canada Pension Plan: November 28 & December 21
Old Age Security: November 28 & December 21
Canada Workers Benefit: January 2023
Veteran Disability Pension: November 29 & December 22
Climate Action Incentive: January 2023
GST/HST Credit: January 2023
You can sign up for direct deposit to automatically receive benefits in your bank account. To do so, visit the Canada Revenue Agency website or call 1-800-959-8281.
Other Important Dates
October 31: Happy Halloween!
November 2: Día de Muertos
November 5-11: Veterans' Week
November 8: Indigenous Veterans Day
November 11: Remembrance Day
November 15: Day of Eight Billion
November 20: National Child Day
November 20: Transgender Day of Remembrance
November 20-26: Canada History Week
November 25: International Day for the Elimination of Violence against Women
November 25-December 10: 16 Days of Activism Against Gender Violence
November 26: Holodomor Memorial Day
Please Keep in Touch
I am always happy to hear from you. My team and I also work hard to continue to update constituents on important government events and programs on my website.
In addition to these monthly newsletters, I also provide regular updates about my work in the House of Commons on my website, and I encourage you to follow along and get involved.
Again, please don't hesitate to reach out by email Jenna.Sudds@parl.gc.ca or by phone (613) 592-3469. I'd welcome your input and look forward to continuing to work together.