El-Chantiry: Ward 5 bi-monthly news for Feb. 15
The Councillor's Column
Downtown Demonstration

I have heard from many current and former Ward 5 residents regarding the convoy demonstration in downtown Ottawa. I continue to advocate for a peaceful and sustainable resolution through City Council channels in my capacity as a Councillor.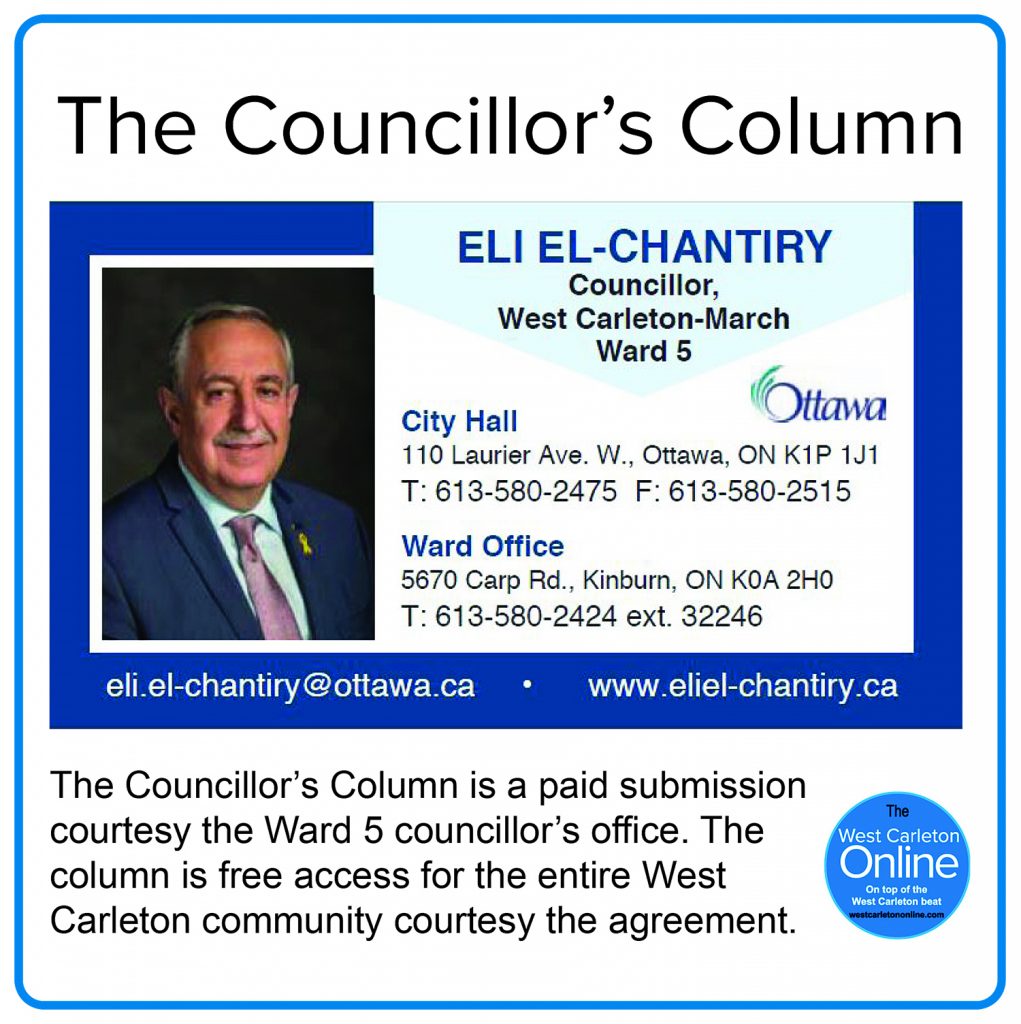 The situation changes daily. For the latest City of Ottawa news and announcements regarding the demonstration, please click here. You can also sign up to receive City of Ottawa updates by clicking here. For demonstration-related updates from the Ottawa Police Service, please visit the department's dedicated page.
Report hate-motivated incidents directly to the Ottawa Police Service by calling 613-236-1222 ext. 5015.
Criminal offences related to the demonstration can be reported to Ottawa Police by calling 613-236-1222 ext. 7300.
Human Needs Task Force
A Human Needs Task Force was implemented as part of the City's Emergency Management Plan and emergency response to COVID-19 to ensure that we are responsive to the emerging needs of the community.
Residents are reminded of these services once again during this difficult time as demonstrations continue to impact those that live and/or work in our downtown core. The task force is focused on responding to immediate, medium and long-term community needs on:
Financial and food security
Homelessness and sheltering
If you or anyone you know are experiencing distress during this difficult time, residents are reminded to call 3-1-1 for information on City services and 2-1-1 for information on local community-based health and social services. Residents can equally reach out to the Human Needs Task Force directly at 613-580-2424 ext. 26753 or HNTF@ottawa.ca. To learn more about the Human Needs Task Force, including ways you can help, please visit Ottawa.ca.
COVID-19 Updates

The Ontario government, in consultation with the Chief Medical Officer of Health, is easing public health measures sooner, with the next phase of measures being eased on February 17 at 12:01 a.m. For the list of changes, please click here.
In addition, as of 8:00 a.m. on February 18, Ontario is expanding booster dose eligibility to youth aged 12 to 17. Appointments can be booked through the provincial booking system and the Provincial Vaccine Contact Centre, as well as at select pharmacies administering the Pfizer vaccine. Appointments will be booked for approximately six months (168 days) after a second dose. To book an appointment online, individuals must be 12 years old at the time of appointment.
Effective March 1, the Ontario Government intends to lift capacity limits in all remaining indoor public settings if public health and health system indicators continue to improve. Ontario will also lift proof of vaccination requirements for all settings at this time. Businesses and other settings may choose to continue to require proof of vaccination. Masking requirements will remain in place at this time, with a specific timeline to lift this measure to be communicated at a later date. To manage COVID-19 over the long-term, public health units can deploy local and regional responses based on local context and conditions.
To read the February 14 Special Joint Statement from Ottawa Medical Officer of Health Dr. Vera Etches and Donna Gray, the City of Ottawa's General Manager of Community and Social Services, please click here.
To read a separate February 14 Special Statement from Dr. Vera Etches, please click here.

Ottawa Public Health continues to host community vaccination clinics. Drop-ins are welcome at all community clinics to everyone eligible for a 1st dose, 2nd dose and booster dose of the COVID-19 vaccine. You can find locations and hours here:
OttawaPublicHealth.ca/COVID19Vaccine
Your Councillor in the Community
I am sponsoring a Family Day Free Skate!

Longest Snowmobile Bridge in the World Opens
I was proud to take part in the opening of the longest snowmobile bridge in the world right here in Vydon Acres on February 12. The span crosses the Ottawa River, connecting snowmobile trail networks in West Carleton and Quebec. Thank you to the volunteer-based West Carleton Snowmobile Trails Association for their hard work and advocacy. The project was also made possible with support from all three levels of government, along with funding partners and organizations that provided generous support to the WCSTA. My thanks to Mayor Jim Watson, Kanata-Carleton MP Jenna Sudds, Kanata-Carleton MPP Merrilee Fullerton, Osgoode Councillor George Darouze, Ottawa Tourism, MRC Pontiac and Pontiac Tourism.
Hugh O'Gorman Soccer Field
A bronze plaque commemorating the legacy of Dunrobin resident Hugh O'Gorman was recently installed on the exterior of the Dunrobin Community Centre. Mr. O'Gorman passed away October 15, 2021. Just two days prior, my motion requesting the large Dunrobin soccer field be named after him was unanimously supported by City Council. My thanks to the Dunrobin Community Association board for their support and to Joel Bondy, president of the West Carleton Soccer Club, for nominating Mr. O'Gorman for this commemorative naming. A ceremony will be held at a later date.
Happy 97th Birthday, Roly!
I visited Dr. Roly Armitage on February 8 to wish him a very happy 97th birthday. West Carleton-March and Ottawa are so grateful for the Dunrobin resident's many contributions over the years. His resumé is long and impressive. His many accomplishments include: Second World War veteran, veterinarian, horse expert and noted horse show judge, author, former Mayor of West Carleton Township, inducted into the Order of Ottawa and the Ottawa Sports Hall of Fame, recipient of the Key to the City, a member of the Canadian Horse Racing Hall of Fame, and the former general manager of the Rideau-Carleton Raceway. Thank you for your service, Roly!
Ward 5 & City Events – For event details, please visit my website.
CITY OF OTTAWA – Get Engaged, Stay Informed!
Transportation Master Plan Open House – Postponed
The Transportation Master Plan Open House originally scheduled for February 15 at 6:30pm has been postponed due to the City of Ottawa State of Emergency. For details, please visit Engage Ottawa. In the meantime, please submit your feedback about the almost 70 proposed projects, including pedestrian and cycling projects, by February 18 at Engage Ottawa or by emailing TMPupdate@ottawa.ca.
2020 Ottawa Road Safety Report – Collision Data Released
The City of Ottawa's 2020 Collision Data has been released on ottawa.ca and will be available shortly on Open Data Ottawa. Collision Data reports are based on the analysis and summary of information in motor vehicle collision reports obtained from various policing agencies. In 2020, there was a significant decrease in collisions in comparison to prior years. Fewer daily displacements given the various COVID-19 restrictions implemented throughout the year are likely a contributing factor. Based on a study of intersection volume counts in 2020, on average, traffic volumes were 26 per cent lower than in 2019.
EnviroCentre Wants to Hear From you – Future Homes Ottawa Survey
The first phase of the Future Homes Ottawa pilot project is wrapping up. Everyone is invited to share feedback and let the EnviroCentre know what you want to learn more about when it comes to improving home energy efficiency. You don't need to have participated in the project. Respond by February 16 for a chance to win a $25 IKEA gift card. Take the Future Homes Ottawa survey.
March Break registration is open!
The City of Ottawa is happy to be offering March Break Camps this year for four to 14 year-olds. Registration is now open. The City will be offering both in-person and virtual options in English and French and camps for inclusive recreation.
Vacant Building Strategy Review
The Vacant Building Strategy Review is currently underway. This review was approved by Council as part of the 2019-2022 By-law Review Work Plan, and staff anticipate reporting findings of this project to the Community and Protective Services Committee and City Council in Spring 2022. Information about this project is available on Engage Ottawa. If you have views or experiences regarding vacant buildings or vacant lots, please share your feedback.
Have your say on Ontario's Building Code
The provincial government is accepting comments on the next edition of Ontario's Building Code. The Ontario Building Code sets out minimum administrative and technical requirements for new construction, renovation, and change of use of buildings. Energy efficiency requirements for houses and large buildings is one of the areas being considered. Find out more about the Ontario Building Code and provide your feedback. Comments are being accepted until March 13.
CITY COUNCIL & COMMITTEE
On February 9, Council approved a plan to implement citywide road safety measures in 2022, building on projects completed in 2021. For additional details about the City's Strategic Road Safety Action Plan, please click here.
Council also passed a motion to cancel all committee meetings until February 18 due to the current demonstration in Ottawa, with the exception of the Planning Committee on February 10 at which The Ottawa Hospital's site plan control application for 930 Carling Avenue, 850 Carling Avenue and 520 Preston Street was approved.
As well, Council named a street after Canadian actor and philanthropist Ryan Reynolds in recognition of his generosity and engagement with Ottawa. Ryan Reynolds Way will be located in a new subdivision being built at the corner of Mer Bleue Road and Brian Coburn Boulevard.
To view the list of upcoming Council and Committee meetings and review the meeting agendas, please click here.
To watch the meetings live, please click here.

Connect with Your Councillor!

My team and I continue to respond to your City-related needs. We are available to answer your questions and connect you with the services, resources, information and supports you need. Please let us know how we can help.
Email me at eli.el-chantiry@ottawa.ca or leave us a voicemail at 613-580-2424 ext. 32246.