El-Chantiry: Ward 5 bi-weekly news for Jan. 5
The Councillor's Column

COVID-19 LATEST NEWS
ONTARIO TEMPORARILY MOVING TO MODIFIED STEP TWO OF ROADMAP
ONTARIO NEWS RELEASE – In response to recent trends that show an alarming increase in COVID-19 hospitalizations, the Ontario government, in consultation with the Chief Medical Officer of Health, is temporarily moving the province into Step Two of its Roadmap to Reopen with modifications that take into account the province's successful vaccination efforts.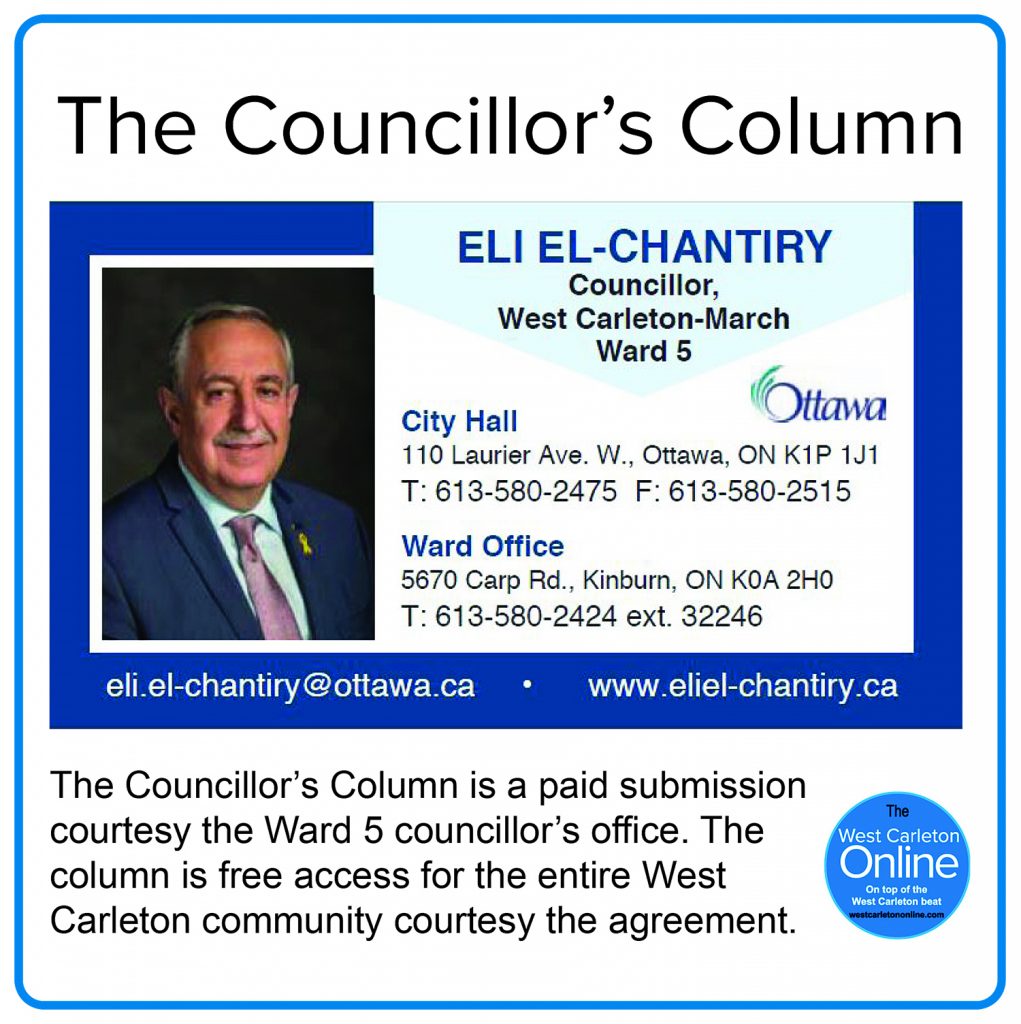 These time-limited measures will help blunt transmission and prevent hospitals from becoming overwhelmed as the province continues to accelerate its booster dose rollout. As part of the province's response to the Omicron variant, starting January 5, students will pivot to remote learning with free emergency child care planned for school-aged children of health care and other eligible frontline workers.
Unlike other variants throughout the pandemic, evolving data is showing that while the Omicron variant is less severe, its high transmissibility has resulted in a larger number of hospital admissions relative to ICU admissions.
Staff absenteeism is also expected to rise and affect operations in workplaces across Ontario due to Omicron infection and exposure, including in hospitals and schools. Real-world experience and evidence in Ontario reveal that approximately one per cent of Omicron cases require hospital care. The rapid rise of Omicron cases, which may soon number in the hundreds of thousands, could result in the province's hospital capacity becoming overwhelmed if further action isn't taken to curb transmission.
When one in 100 cases goes to hospital, it means that with this rapid increase in transmission the number of new cases requiring hospitalization will also rapidly increase daily. For example, 50,000 cases per day would mean 500 hospital admissions per day, which is greater than the peak daily hospitalizations of 265 per day from last spring, when hospitals were under significant strain during the third wave of the pandemic.
In response, the province will return to the modified version of Step Two of the Roadmap to Reopen effective Wednesday, January 5, 2022 at 12:01 am for at least 21 days (until January 26, 2022), subject to trends in public health and health system indicators.
These measures include:
Reducing social gathering limits to 5 people indoors and 10 people outdoors.
Limiting capacity at organized public events to five people indoors.
Requiring businesses and organizations to ensure employees work remotely unless the nature of their work requires them to be on-site.
Limiting capacity at indoor weddings, funerals, and religious services, rites and ceremonies to 50 per cent capacity of the particular room. Outdoor services are limited to the number of people who can maintain 2 metres of physical distance. Social gatherings associated with these services must adhere to the social gathering limits.
Retail settings, including shopping malls, permitted at 50 per cent capacity. For shopping malls, physical distancing will be required in lineups, loitering will not be permitted and food courts will be required to close.
Personal care services permitted at 50 per cent capacity and other restrictions. Saunas, steam rooms, and oxygen bars closed.
Closing indoor meeting and event spaces with limited exceptions but permitting outdoor spaces to remain open with restrictions.
Public libraries limited to 50 per cent capacity.
Closing indoor dining at restaurants, bars and other food or drink establishments. Outdoor dining with restrictions; takeout, drive through and delivery are permitted.
Restricting the sale of alcohol after 10pm and the consumption of alcohol on-premise in businesses or settings after 11pm with delivery and takeout, grocery/convenience stores and other liquor stores exempted.
Closing indoor concert venues, theatres, cinemas, rehearsals and recorded performances permitted with restrictions.
Closing museums, galleries, zoos, science centres, landmarks, historic sites, botanical gardens and similar attractions, amusement parks and waterparks, tour and guide services and fairs, rural exhibitions, and festivals. Outdoor establishments permitted to open with restrictions and with spectator occupancy, where applicable, limited to 50 per cent capacity.
Closing indoor horse racing tracks, car racing tracks and other similar venues. Outdoor establishments permitted to open with restrictions and with spectator occupancy limited to 50 per cent capacity. Boat tours permitted at 50 per cent capacity.
Closing indoor sport and recreational fitness facilities including gyms, except for athletes training for the Olympics and Paralympics and select professional and elite amateur sport leagues. Outdoor facilities are permitted to operate but with the number of spectators not exceeding 50 per cent occupancy and other requirements.
All publicly funded and private schools will move to remote learning starting January 5 until at least January 17, subject to public health trends and operational considerations.
School buildings would be permitted to open for child care operations, including emergency child care, to provide in-person instruction for students with special education needs who cannot be accommodated remotely and for staff who are unable to deliver quality instruction from home.
During this period of remote learning, free emergency child care will be provided for school-aged children of health care and other eligible frontline workers.
Please view the regulations for the full list of mandatory public health and workplace safety measures.
In addition, on January 5, 2022 the Chief Medical Officer of Health will reinstate Directive 2 for hospitals and regulated health professionals, instructing hospitals to pause all non-emergent and non-urgent surgeries and procedures in order to preserve critical care and human resource capacity.
Read the full news release here.
Read COVID-19 Public Health measures and advice here.
UPDATED ELIGIBILITY FOR PCR TESTING AND CASE MANAGEMENT
With so much COVID-19 in our community and reduced access to testing, we need to treat possible COVID symptoms as if they are from a COVID-19 infection. New provincial guidance is shifting to new practices when in isolation with COVID-19-like symptoms, regardless of access to a rapid antigen test or PCR test. Some people may need help to self-isolate, and are encouraged to reach out for support from the City by calling 3-1-1 if needed.
The information we have – available on the Ottawa Public Health COVID-19 Dashboard – shows us that COVID-19 transmission is increasing at an exponential rate in our community. The positivity rate in Ottawa is over 30 per cent, a significant increase compared to the beginning of December when it was around two per cent. The wastewater COVID-19 signal is also increasing steeply. The wastewater monitoring and the number of hospitalizations are indicators that do not rely on testing.

Over the coming weeks, everyone in Ottawa must focus on reducing transmission of COVID-19 to get to the other side of this Omicron surge with a more vaccinated, and more protected community. We have a lot of control when it comes to protecting each other, our loved ones and community to help get through this surge. For the next few weeks, regardless of your vaccination status, please:
We know the process of booking booster doses has been challenging for some. The Ottawa Public Health team is working harder than ever to increase available vaccination appointments and protect our vulnerable sectors. Vaccination has saved lives and prevented hospitalizations from COVID-19 and it is continuing to do so. Over the coming weeks, we will continue to:
Monitor, adjust and adapt public health measures as required in discussion with the Province.
Support schools in implementing the new provincial guideline to keep children in school to support their well-being.
QR CODES FOR PROOF OF VACCINATION
Effective January 4, 2022, the Province will require the use of the enhanced vaccine certificate with QR code and the Verify Ontario app in settings where proof of vaccination is required. The QR code can be used digitally or by printing a paper copy. Individuals can download their enhanced certificate with QR code by visiting https://covid-19.ontario.ca/book-vaccine/.

NOTE: If you do not have access to a printer, ask a friend/neighbour, visit your local library or visit a business like Staples or a local print shop to print and laminate your QR code printout if you wish.
The enhanced vaccine certificate with official QR code and the free, made-in Ontario Verify Ontario app make it easier, more secure and convenient for individuals to provide proof of vaccination where required to do so. As of December 10, 2021, almost 11 million enhanced certificates with QR codes have been downloaded through the COVID-19 vaccination portal and there have been more than 1.4 million downloads of the Verify Ontario app.
WARD NEWS
WARD 5 HOLIDAY DECORATING CONTEST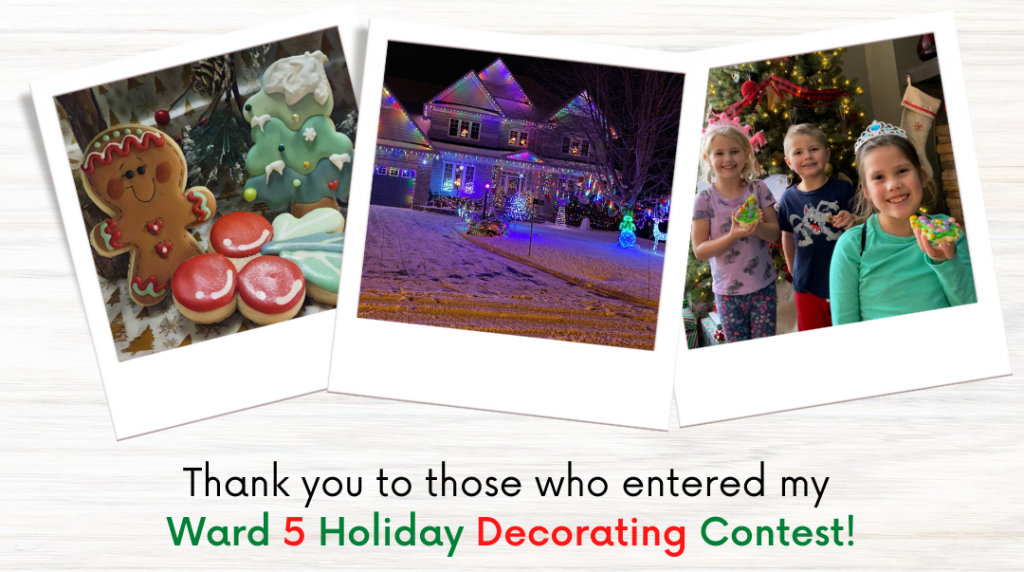 HYDRO ONE WOOD POLE REPLACEMENT PROGRAM 2022
A Class Environmental Assessment (EA) has been initiated to refurbish a damaged and aging wood pole structure(s) along the existing transmission line that runs through our Ward (as shown on the map).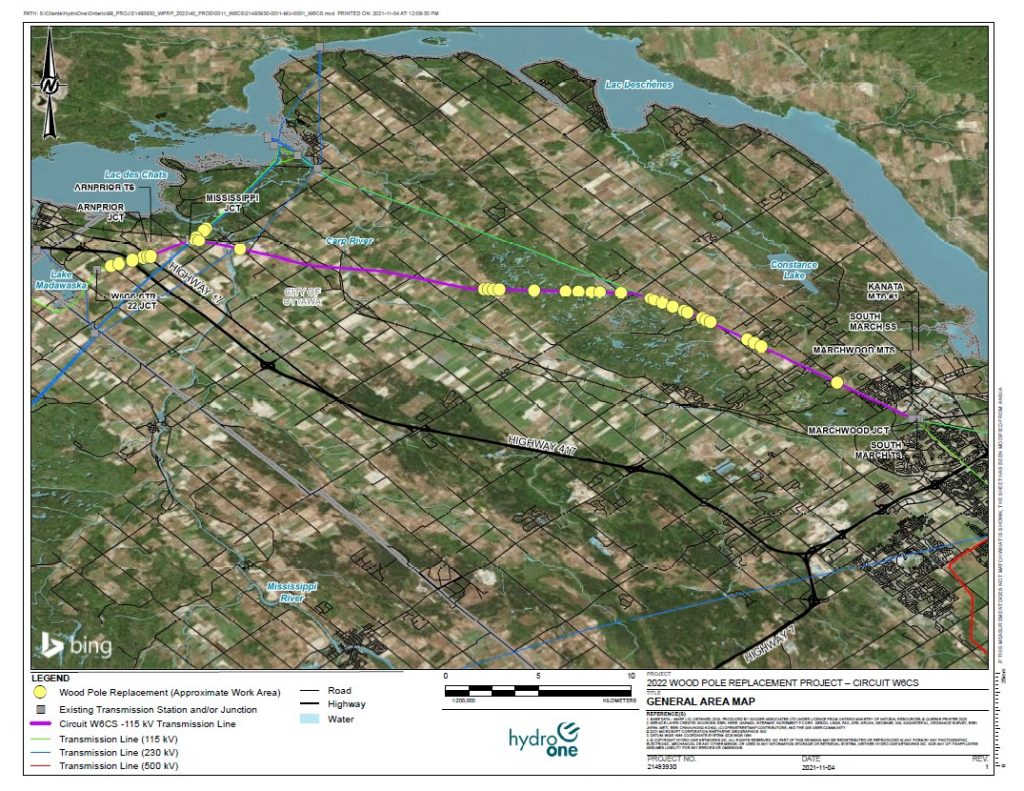 Replacing this structure will ensure the continued reliability and integrity of the transmission line and electricity supply to the area. This type of project is considered routine maintenance work with relatively minor effects.
Contingent on the outcome of the Class EA, the replacement work may begin as early as January 2022. Hydro One will be notifying property owners adjacent to the work areas. Hydro One has also notified First Nations and Métis communities.
CITY NEWS
COMMUNITY ECONOMIC DEVELOPMENT FUNDING
I am happy to announce the 2022 Community Economic Development (CED) funding program. If you know of any non-profit organization with a job growth/entrepreneurship mandate for disadvantaged populations that you think might find this program beneficial please pass along this information.
The annual Community Economic Development (CED) Funding Program provides financial support to selected projects (not programs that are ongoing) that are anticipated to result in:
Job creation
Business creation
Entrepreneurship skills development
Employability skills development
The CED Funding Program is focused on having a positive impact on disadvantaged populations (e.g. lower income youth and older adults, rural residents, new immigrants, visible minorities, etc.), while also helping to overcome social justice and inclusion barriers, and/or cultural diversification benefits.
Projects should help build community capacity to support these objectives beyond the funding period. Projects should help targeted populations to overcome identified impediments. Projects should build inclusivity for populations that are under-represented in the mainstream economy.
The CED Funding Program awards a total of up to $270,000 (in 2022), distributed among the proposals that are selected by a jury panel of reviewers. While proposals may have inherent merits, funds are awarded only among the top-ranked projects, until the annual funding maximum is reached. Please follow this link for more information and to submit your proposal: https://ottawa.ca/en/city-hall/funding/economic-development-funding
Applications are being accepted until February 25, 2022.
ENGAGEMENT OPPORTUNITY: TRANSPORTATION MASTER PLAN
Ottawa has grown into a city of one million residents. Over the next 25 years, that number is expected to grow to more than 1.4 million. With that kind of growth, we need to revisit how people, vehicles and goods move through our city.
As we set the vision for our updated Transportation Master Plan, we have important decisions to make as individuals and as a city. While some might be easy, others will require more thought. We need to have thoughtful and meaningful discussions to ensure Ottawa becomes the most liveable mid-sized city in North America.
Transportation decisions affect all of Ottawa's residents and businesses. No matter if you walk, drive, cycle, bus, taking light rail transit or scoot, whether you ship products or have them delivered, or whether you own or share a car, how people and goods move through the city affects you. All the choices we make moving forward will require some give and take. Tell us what's important to you and how our transportation system can move us in the right direction for decades to come.
Launch of Phase 3 Transportation Master Plan (TMP) Consultation
The public is invited to provide feedback on close to 70 proposed transportation-related policies to be included in Part 1 of the TMP.
The full draft document can be found here: Transportation Master Plan
Proposed policies include, among others, policies to:
build a clean and sustainable transportation system;
create a more equitable transportation system;
use transportation to support the city we want to build;
maximize walkability;
develop a great cycling city;
expand and improve transit city-wide;
provide safe, multimodal streets;
manage the curb, parking, and the movement of goods; and,
advance transportation demand.
These draft policies, developed in line with the Official Plan and the new realities of our growing city, will guide our transportation decisions and networks to 2046 and will help Ottawa fulfill its vision of becoming the most liveable mid-sized city in North America.
The public is encouraged to review the draft policies and complete the surveys by February 7, 2022. Residents can also provide feedback directly by emailing tmpupdate@ottawa.ca. The Phase 3 consultation strategy will also include a Public Open House to be scheduled for early in 2022. Please say tuned for more details.
Residents are also invited to learn more and provide feedback on Active Transportation candidate projects and the proposed rural network. Find that information here.
CITY COUNCIL AND COMMITTEE
There are no committee or board meetings scheduled for this week. The next City Council meeting is set for January 26, 2022 at 10:00am.
To view agendas for upcoming meetings, please click here.
To watch meetings live, please click here.