El-Chantiry: Ward 5 bi-weekly news, Dec. 14
The Councillor's Column
COVID-19 – LATEST NEWS
THIRD DOSE OF COVID-19 VACCINE NOW AVAILABLE TO RESIDENTS 50+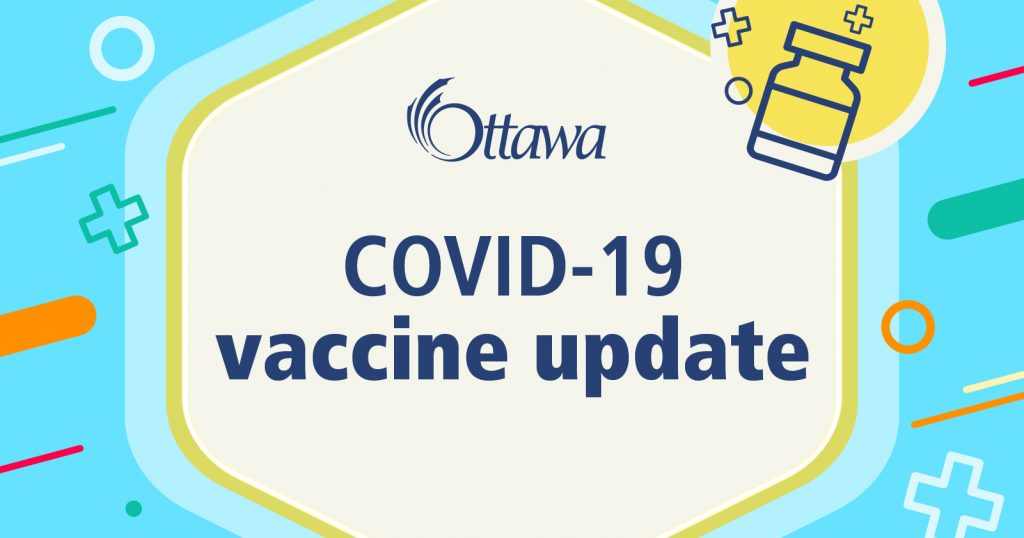 Based on the recommendation of the Chief Medical Officer of Health and in alignment with the National Advisory Committee on Immunization (NACI), the province has begun offering third doses (booster doses) of the COVID-19 vaccine to the following populations if at least six months (168 days) have passed since their last dose.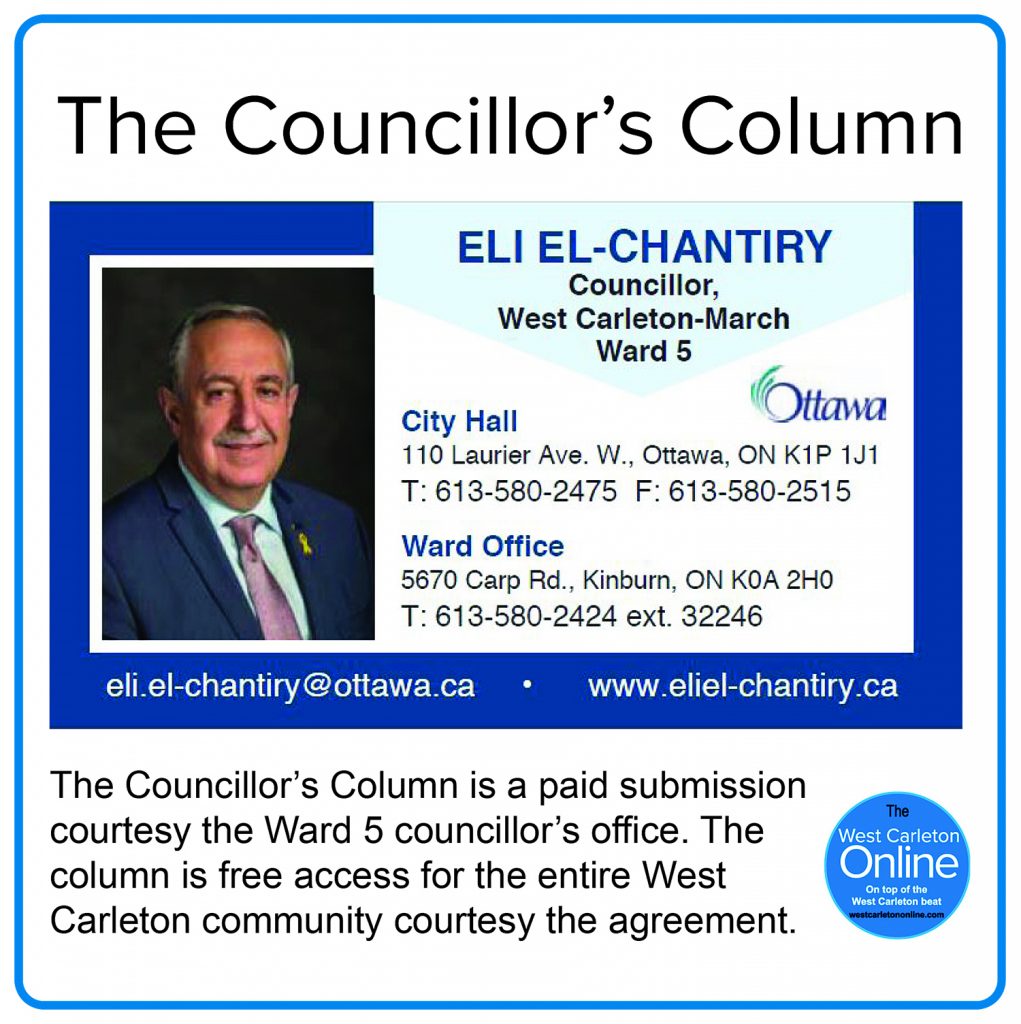 Individuals aged 50 and over (born in 1971 or earlier);
Designated essential caregivers in congregate settings (including long-term care home and retirement home staff and designated caregivers);
Individuals who received a complete series of a viral vector vaccine (two doses of the AstraZeneca vaccine or one dose of the Janssen vaccine); and
First Nation, Inuit and Métis adults (16+) and their non-Indigenous household members.
Ottawa residents who meet the criteria are encouraged to reach out to local pharmacies using the provincial pharmacy locator to find those that provide the booster dose. Some primary care physicians are also providing boosters.
Eligible residents can book an appointment at a community clinic through the Provincial COVID-19 Vaccination Portal or by calling the Provincial Vaccine Contact Centre at 1-833-943-3900. Drop-in spots are limited, so it is recommended to book an appointment.
Please note 6 months (168 days) must have passed since your second dose before you receive your booster dose.
Starting on Tuesday, January 4, 2022 at 8:00am, individuals aged 18 and over will be eligible to schedule their booster dose appointment through the COVID-19 vaccination portal, by calling the Provincial Vaccine Contact Centre, through Indigenous-led vaccination clinics, select pharmacies and primary care settings. Appointments will be booked for approximately six months (168 days) after a second dose.
LATEST SPECIAL STATEMENT, DECEMBER 13: DR. VERA ETCHES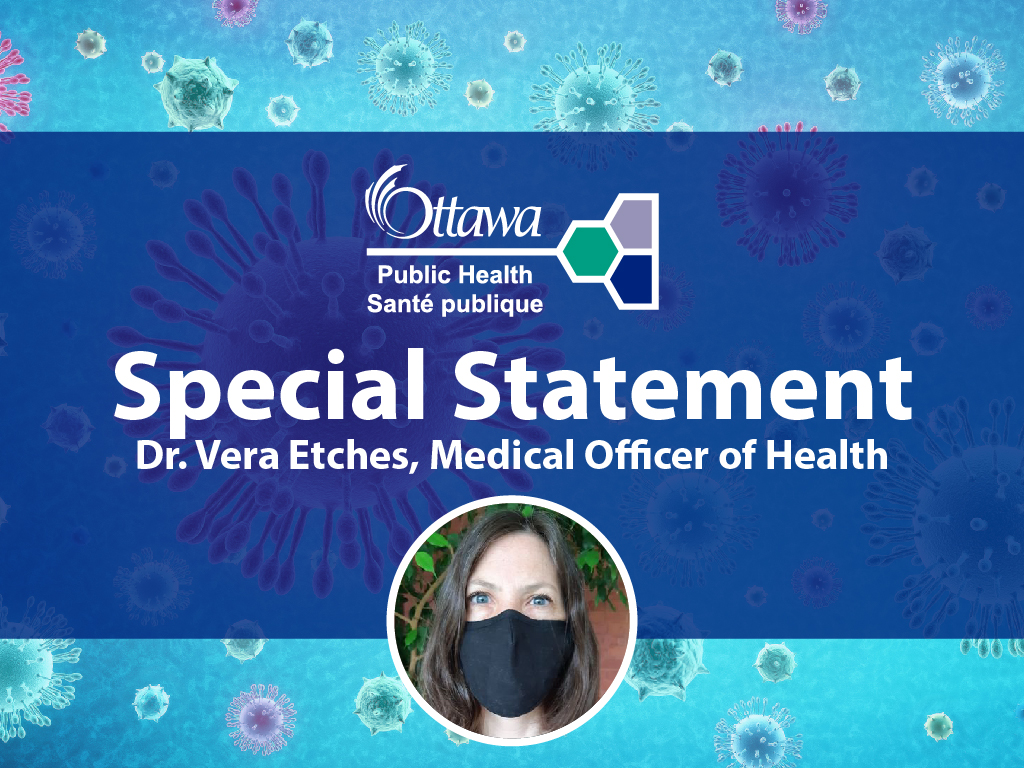 The emergence of the Omicron variant has led to a large increase in the number of people testing positive for COVID-19 in Ottawa. As a result, Ottawa Public Health is currently experiencing a backlog with its case and contact management system, resulting in delayed notifications to people who have tested positive for COVID-19 and their high-risk contacts.
To address this backlog of cases, Ottawa Public Health is asking individuals who test positive for COVID-19 to self-isolate and notify your high-risk contacts immediately of your positive COVID-19 status, as there may be a delay in Ottawa Public Health contacting you. If a close contact tells you they have tested positive, please book a COVID-19 test immediately, even if fully vaccinated – do not wait for Ottawa Public Health to contact you. Read the full statement here.
GUIDANCE FOR GATHERING DURING THE HOLIDAYS

Virtual gatherings or events are the safest way to celebrate, especially if people in the group are unvaccinated, if their vaccination status is unknown, if you are immunocompromised or at higher risk of severe disease and/or exposure to COVID-19.
If you choose to host an indoor gathering in your home, below are tips to help prevent the transmission of COVID-19:
If you are gathering as a group of fully vaccinated individuals, you may consider removing your mask if everyone is comfortable.
If you are gathering with people from multiple households who are unvaccinated, partially vaccinated or status is unknown, you should wear a mask and physically distance.
Regardless of the setting, you can wear a mask and physically distance if you feel it is right for you, especially if you or others are immunocompromised or at high-risk of severe disease and/or exposure to COVID-19.
Remind your guests to follow the recommended practices for protecting themselves and others.
Wash your hands frequently.
Open windows, if possible.
If you start to feel symptoms of COVID-19, and are hosting a gathering, cancel or postpone to a later date or until you have tested negative and you have not had any symptoms of COVID-19 for at least 24 hours.
If one of your guests has symptoms during your gathering, have the guest safely leave your gathering. Clean and disinfect all areas the guest may have come in contact with and inform everyone in attendance so they can monitor themselves for symptoms. Consult with OPH for further advice.
If you choose to hold or attend a New Year's Eve party or other festive events at a business or your workplace, then:
you must follow the applicable provincial restrictions for that setting, such as rules for restaurants, bars or meeting and event spaces. Local restrictions may also apply.
follow the advice and guidance outlined in the 'hosting social gatherings section' above.
workplaces should choose venues with sufficient space for physical distancing.
WARD NEWS
WARD 5 HOLIDAY DECORATING CONTEST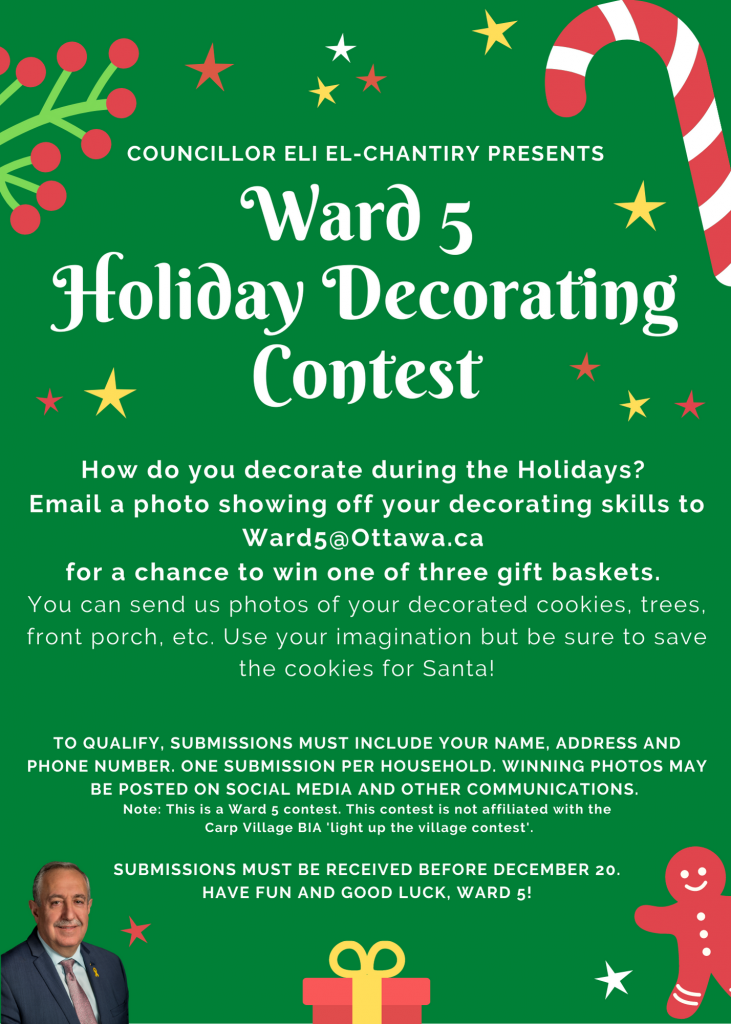 DONATIONS FOR WEST CARLETON FOOD ACCESS CENTRE

Despite the cancellation of the Carp Santa Claus drive-thru parade, donations are still being accepted for the West Carleton Food Access Centre! Please support our local food bank and bring your donations to the Carp Fairgrounds this Thursday, December 16 from 5:00 – 8:00pm.
Enter the Fairgrounds at the Carp Arena and enjoy the beautiful Christmas lights and a visit with Santa! Thank you for your support, Ward 5.
RURAL TRANSPORTATION SURVEY
Throughout 2021, the Rural Transportation Solutions Group has been conducting surveys and focus groups about rural transportation needs and suggested solutions. Some really great feedback has been received. Based on that feedback, they are now asking for your participation in a brief survey. If you're able, please take 2 – 3 minutes to fill out the following questionnaire: https://www.surveymonkey.com/r/JZRVPK5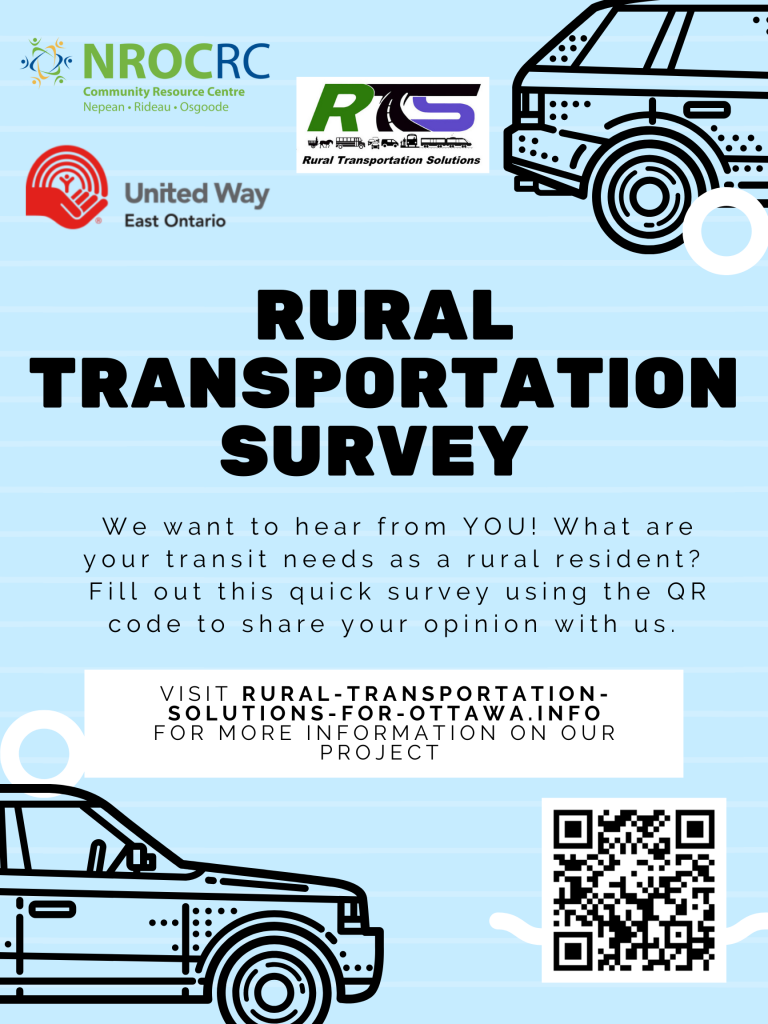 CITY NEWS
BUDGET 2022 APPROVED BY COUNCIL

At the December 8 City Council meeting, Council approved the City's 2022 budget ensuring the City can continue to deliver essential services while still advancing Council priorities, including affordable housing, support for social services, affordability for small businesses and the health and safety of residents.
The budget will help keep Ottawa affordable by capping the overall municipal tax increase at three per cent, valued at an estimated $56.1 million. This means the average urban homeowner will pay an additional $119 per year while the average rural homeowner will pay an additional $91 per year.
The budget includes $427.3 million in capital funding to improve roads, bridges, culverts, sidewalks, pathways and intersections. It provides $194 million for the integrated program, which includes $76 million for road resurfacing. The program also includes $118 million for integrated projects that reduce costs by coordinating underground infrastructure work with reconstruction of roads, sidewalks and pathways. Another $62 million will fund major road construction projects while $13.4 million will enhance active transportation through programs like the Cycling and Pedestrian Facilities Programs.
The City will invest $17 million to develop more affordable and supportive housing, which includes $15 million in capital and $2 million in development charge exemptions for residents in greatest need. That investment builds on commitments in the previous three budgets totalling $51 million in this Term of Council. An additional $1 million in City funding will help local landlords make essential repairs and further increase the supply of affordable rental units in Ottawa.
The City has earmarked $27 million in Community Funding to non-profit social services agencies. With this largest increase to the Community Funding Framework since 2006, the funding demonstrates the City's commitment to sustaining a strong social services sector to support communities that are most marginalized in Ottawa. The cost of the EquiPass for low-income residents and the Community Pass for Ontario Disability Support Program recipients will also remain frozen at 2018 rates.
Council allocated $2.1 million from the Ottawa Police Service budget to support racialized youth program solutions, community-based, culturally appropriate mental health prevention services, addictions and crisis outreach services, and culturally safe mental health programs, services, crisis and social supports for our Indigenous community. It also directed up to $550,000 to develop an alternative call referral program identifying how and to whom low-risk, low-acuity 911 calls should be redirected.
Council allocated $435,000 from the Ottawa Police Service budget to fund a mental health strategy for the ByWard Market and Lowertown areas. The initiative is a partnership between local stakeholders, service providers and City representatives.
A proposed 2.5 per cent general fare increase for OC Transpo will only come into effect one full month after 15 trains are made available by Rideau Transit Group (RTG) for revenue service on O-Train Line 1. Once available, the number of trains in use to meet customer demand will be at the discretion of the General Manager of Transit Services. OC Transpo is also providing up to 2,000 no-charge transit passes to emergency shelters for the use of shelter clients.
The budget commits to greater affordability for local small businesses as well. The City has implemented a 15-per-cent tax discount for small businesses on qualifying properties. The full discount will be phased in over two years starting with a 7.5-per-cent reduction in 2022, benefiting about 10,000 small businesses.
Council received three new audits, examining the City's grants and contributions program, benefits processing for long-term disability and the competitive procurement process. In all cases, the City agreed with recommendations from the Office of the Auditor General. Council also approved the Auditor General's 2022-2023 workplan.
Council approved a zoning amendment on the creation and placement of outdoor commercial patios and retail pop-up spaces on private property. The amendment eliminates the minimum separation required between a patio and a residential zone, offering more flexibility for potential patio operators. While the City introduced these measures on a temporary basis in 2020, the amendment approved today will make those changes permanent.
Council also approved a new secondary plan to clarify the types of development permitted on or adjacent to Bank Street, between the Rideau Canal and Highway 417. The Bank Street in the Glebe Secondary Plan would make future growth in the area more predictable and ensure intensification happens in ways that protect the Glebe's heritage character and build on the community's pedestrian-oriented nature.
HOW TO PROPERLY DISPOSE OF HOLIDAY WASTE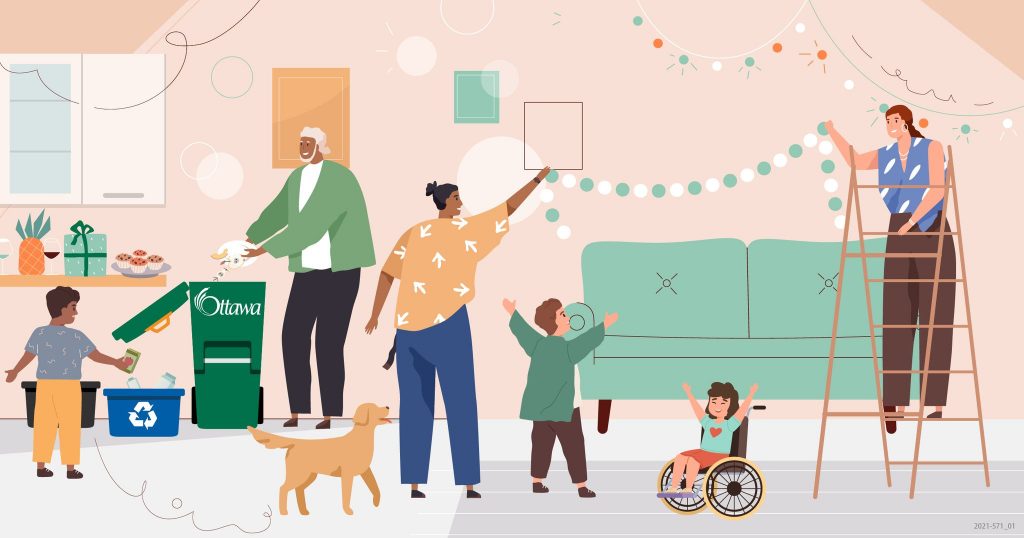 The holiday season has arrived and with that comes the potential for a lot more waste. If you are buying gifts, consider how you can make your wrapping 'eco-friendly'. Reuse shipping boxes, wrap with brown paper bags or recyclable craft paper or simply Google 'eco-friendly wrapping' for some fun, festive ideas and tutorials (regular festive paper goes in the regular garbage).
Check out the City's Waste Explorer to find out how to dispose of all your holiday waste and nearly any other household item.
WINTER MAINTENANCE: WHAT TO EXPECT DURING AND AFTER A STORM
Snow removal is based on a road-priority system, with high-use roads and emergency and transit routes cleared first.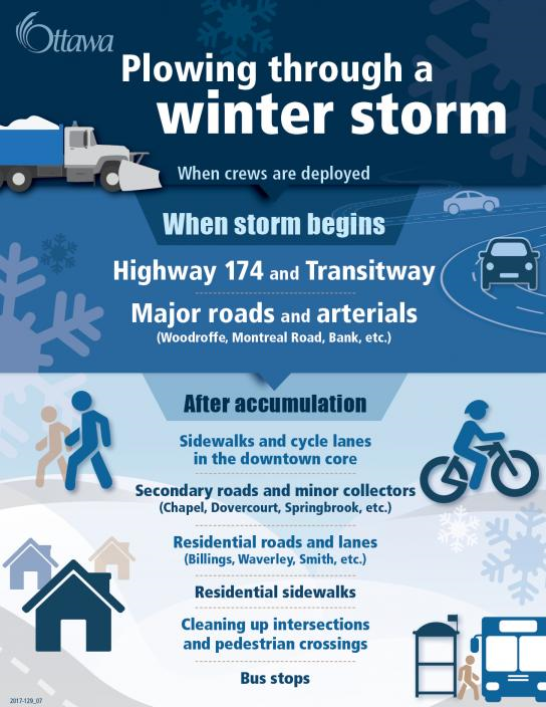 After a severe snow storm, operators may have to plow a street twice. Sometimes a grader or dump truck with front and wing plows will do a first pass, followed by a sand/salt truck, to clear a small amount of snow and make sanding/salting more effective.
To clear a cul-de-sac, operators will push the remaining snow to the centre or outside of the street, depending on the available area.
In the early winter, the City removes ruts that have formed on snow-packed surfaces. This keeps catch basin open and helps prevent flooding.
Plowing Through a Winter Storm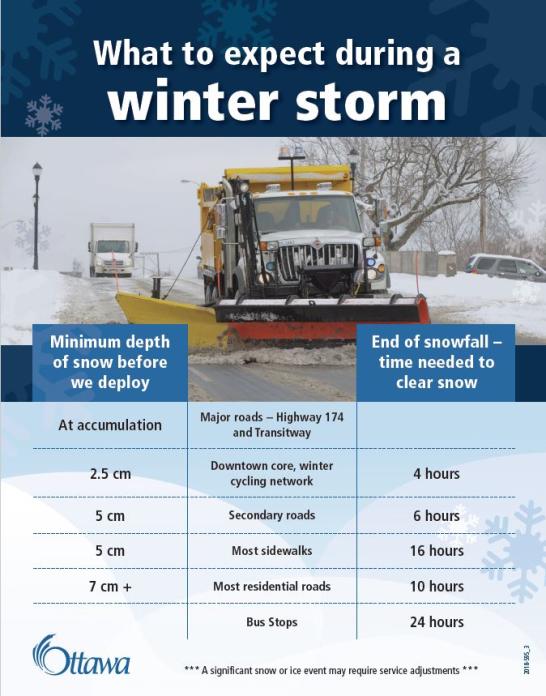 Major roads, arterials and major collector roads: plows are deployed at the start of accumulation.
After the last snowflake falls:

Major roads, arterials and major collectors: within four hours. Roads will not be bare pavement during a storm.
Minor collector roads: Within six hours
Residential roads and lanes: Within 10 hours
Under extreme winter storm conditions (i.e. those that exceed normal conditions), snow and ice control operations will be carried out based on the capacity of resources in as continuous a manner as practicable. This will give crews the flexibility to provide relief in residential areas while simultaneously maintaining and clearing priority roads.
Please consider the information above before reporting uncleared roads to Service Ottawa (3-1-1).
A friendly reminder from By-law and Regulatory Services (when clearing your driveways): It is not permitted to dump, throw, or place snow on the road, sidewalk, or property across the street. The fine under the by-law is $615. Snow obstructions present a mobility and safety issue for pedestrians, motorists and cyclists.
Thank you for your cooperation, Ward 5!
FESTIVE RIDE SEASON: A MESSAGE FROM THE OTTAWA POLICE SERVICE
The Festive RIDE season is upon us. Please do not drive impaired. As holiday gatherings return, the Ottawa Police Service (OPS), the Ottawa Insurance Brokers Association and MADD Ottawa remind everyone not to drive impaired.
"It's exciting to see family and friends or celebrate the holidays with coworkers, but as you plan your festivities, include a plan to get home safe," says Sgt. Troy Froats, with OPS Impaired Countermeasures.
Sgt. Froats says there are plenty of options available. "Take public transit, a taxi or arrange a ride with a sober driver. There's no excuse for impaired driving."
If you are hosting a party, there are things you can do to prevent impaired driving. Serve food to your guests, keep an eye on alcohol and drug intake, don't let anyone who is impaired get behind the wheel.
It is an offence to operate a conveyance while impaired by alcohol or drugs to any degree – including cannabis and prescription drugs. Persons charged with impaired driving face an immediate 90 day driving suspension and lose their vehicle for seven days.
If convicted, an impaired driver can face a minimum one-year driving suspension and monetary fines. "That may be the lesser issue, when you consider the risk that a driver may have to live with a resulting tragedy as a consequence of their decision to drive impaired."
A reminder that the same rules apply to all terrain vehicles, bikes and snowmobiles. "There will no doubt be people out on the trails during the festive season, but the same rules and penalties apply, as do the risks and consequences."
If you suspect someone is driving impaired, call 9-1-1.
The Festive RIDE campaign will run every weekend until January 2022.
CAREER FIREFIGHTER APPLICATIONS NOW OPEN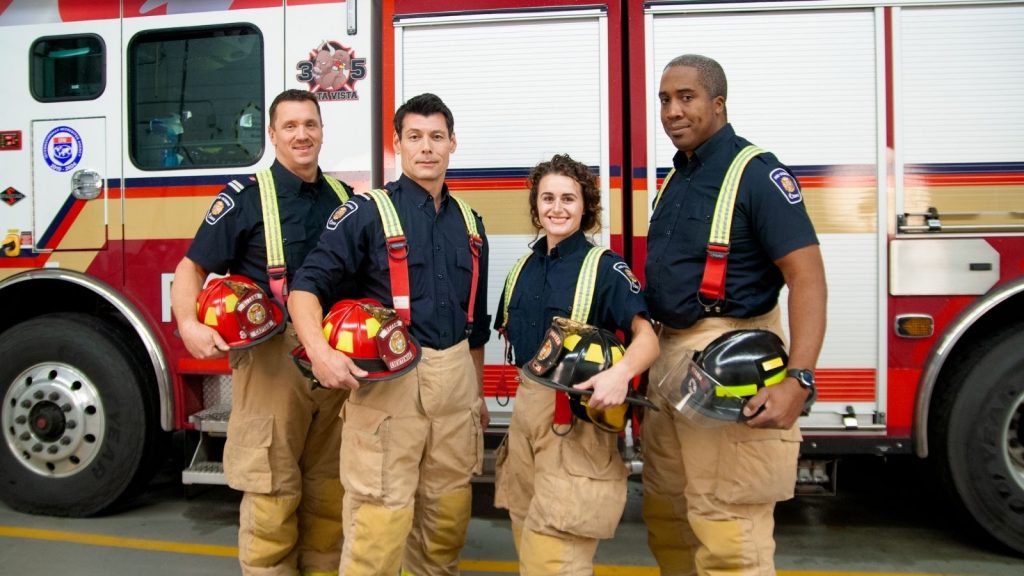 Following an extensive review, Ottawa Fire Services has modified the Career Firefighter recruitment process and the minimum qualifications needed to apply. The application process is now open at ottawa.ca/careers and will close January 3, 2022.
To ensure that you are prepared when you apply, please visit Career firefighter recruitment to review the new recruitment and selection process.
At the time of application, applicants are required to upload all required documentation in order to confirm that they meet the minimum qualifications.
CITY COUNCIL AND COMMITTEE
For a full list of committee meetings happening December 13 – 17, click here.
To view the agendas in advance of the meetings, please click here.
To watch the meetings live, please click here.
ARAC UPDATE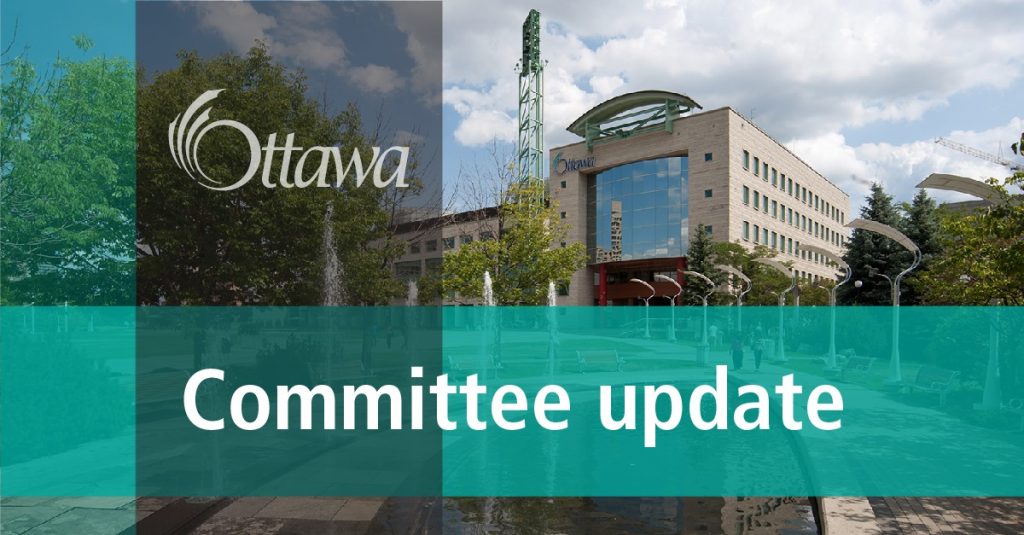 At the last Agriculture and Rural Affairs Committee meeting (on December 2), the Committee approved its portion of Draft Budget 2022, which commits $4.4 million to renew rural infrastructure. That funding includes $3 million to renew and replace guiderails and $1.4 million to upgrade rural roads.
When added to funding approved through other Committees, the City's draft budget invests about $67 million in rural infrastructure, an increase of approximately $25 million compared to the previous year. This includes $10.2 million for rural culverts, $4.1 million for bridge structures, $6.5 million for buildings and parks, including accessibility, and $41.6 million for road resurfacing, road preservation and sidewalk renewal.
The Committee approved zoning measures to relax regulations around the establishment and placement of outdoor commercial patios and outdoor retail pop-up spaces.
The amendment eliminates the minimum separation required between a patio and a residential zone, offering more flexibility for patio operators. Patios within 30 metres of a residential zone, however, would be prohibited from having an amplified sound system and would need to be screened with an opaque structure that is at least two metres tall.
The City adopted these measures on a temporary basis in 2020 to support businesses during the COVID-19 pandemic. The measures are set to expire in 2022 and the amendment would make them permanent, in part to help encourage some of the kinds of businesses that will foster 15-minute neighbourhoods across Ottawa, including in rural villages.
The Committee also approved a preliminary engineer's report regarding the Kizell Municipal Drain. The report determined that work to widen and deepen the existing drain, extending it to the Beaver Pond Storm Water Management Facility, is feasible. The Committee recommended the City proceed with a final engineer's report.