El-Chantiry: Ward 5 weekly news, May 11
The Councillor's Column
COVID-19 – LATEST NEWS
Latest statement from Dr. Vera Etches (as of May 5, 2021): Last week, Dr. Vera Etches provided her latest statement regarding the COVID-19 pandemic in Ottawa. An important point she made in her statement was her advice regarding vaccination. She stated, "My advice to you has been and continues to be to take the first vaccine that is made available to you." This is important messaging and residents should keep this in mind as they become eligible for vaccination. You can read her statement in its entirety here.
Vaccine eligibility: Residents can check all the latest information regarding vaccinate eligibility in Ottawa by using this vaccine eligibility tool. Please also see the below graphic which outlines eligibility in the coming weeks.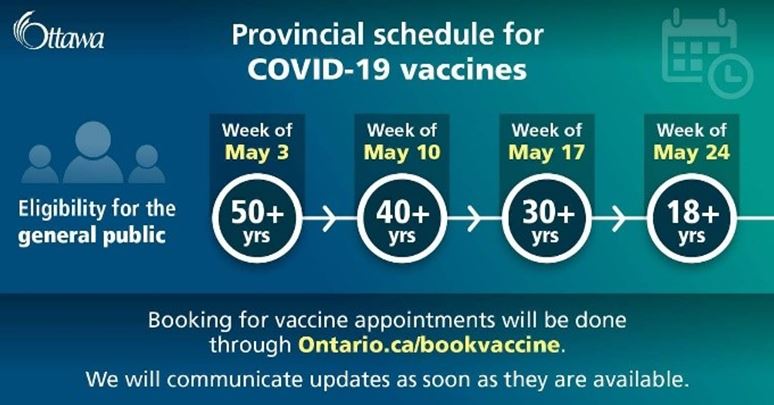 LITTERING & DOG WASTE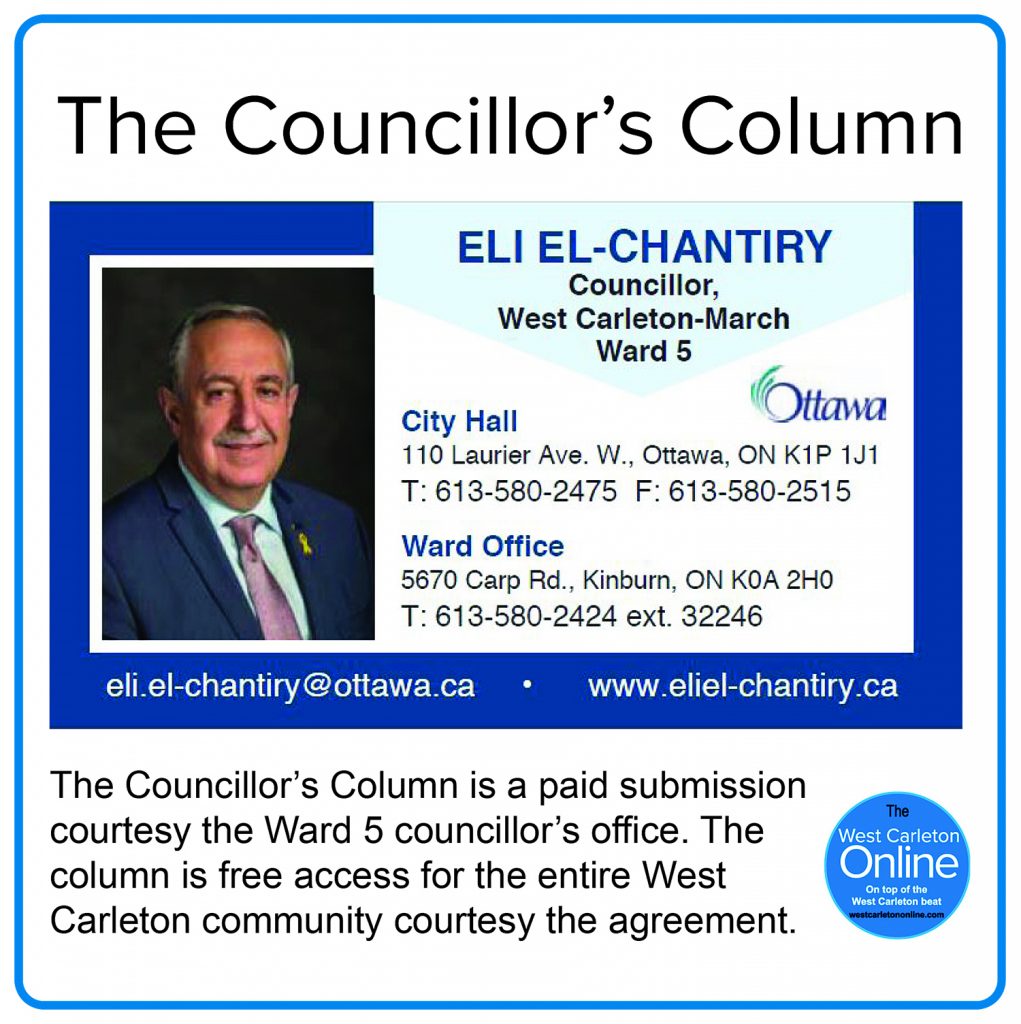 My office has received a large number of emails and calls from residents regarding concerns relating to littering and dog waste. West Carleton-March prides itself on being clean, green and litter free. Keeping our neighbourhood clean is everyone's responsibility. Please remember:
If you see excessive litter please report it to the City of Ottawa online at ServiceOttawa or by calling 311
Discard your litter products in the garbage/recycling on your premises
Dog owners must pick up after their pets and take the waste home to dispose of it
Failure to pick up after your dog and discarding it properly is a by-law offence
Dog feces can be put in your green bin (must be contained in a sealed, leak-proof bag)
Did you know discarded cigarette butts are the most commonly discarded waste product in the world? The core of the cigarette butt is made up of a form of plastic called cellulose acetate, which can take 18 months to 12 years to break down. Cigarettes contain more than 7,000 chemicals, such as arsenic and formaldehyde. Littered cigarette butts can leach toxic chemicals into the environment and can contaminate water, poisoning fish and animals.
Do not throw your butts out your car windows. Discarding cigarette butts in this manner can very easily start a grass fire.
SAFETY CONCERN – RAIL CROSSING AT TERRY FOX NEAR SOUTH MARCH HIGHLANDS
There is a safety concern brought to my attention by City staff in the area around the Terry Fox rail crossing at the south end of the South March Highlands Conservation Forest (on the border of Ward 5 and Ward 4 – Kanata North). The City of Ottawa was recently contacted by RailTerm, which is the company maintaining the tracks at this location. They have concerns about trespassing and parking issues near the crossing. As seen in this Google Streetview photo, there is a small laneway for servicing equipment for both the railway and Hydro Ottawa/Ontario Hydro. Apparently, this area is frequently used by residents to park and walk either along the tracks, or to access the trail system within the South March Highlands. Vehicles parked in this area are parked illegally and could prevent employees from either Railterm or Hydro Ottawa from accessing their equipment. Additionally, walking along the tracks is trespassing and dangerous, as it is still an active railway line.
FARM GRANT PROGRAM
City Council approved the continuation of the annual Farm Grant Program to provide financial relief to working farmers. The grant program assists eligible farm property owners by allowing the June final property tax instalment to be paid in December. To be eligible, properties must be defined by the Municipal Property Assessment Corporation (MPAC) in the farmlands property class, must not be owned by a commercial enterprise, and taxes must be paid up to date before the June instalment. There is no application to fill out. The City will automatically apply the grant to eligible properties. CLICK HERE for more information.
COMMITTEE HEARS ABOUT THE CIVIC CAMPUS PLANS
The City's Finance and Economic Development Committee met on May 4 and received a presentation from the Ottawa Hospital outlining development plans for its new Civic Campus. The Ottawa Hospital has completed the next stage of planning for the campus and plans to open in 2028 as one of the largest and most advanced hospitals in Canada. The facility will serve Ottawa, Eastern Ontario, Western Quebec and Nunavut.
The Ottawa Hospital has submitted stage two of the Capital Planning Process to the Ontario Ministry of Health for development of the new campus. As part of the follow-up to that submission, The Ottawa Hospital presented to the May 4th Committee and shared the proposed design. The Ottawa Hospital will also organize consultations in the coming months to give the public opportunities to ask questions and provide feedback on the proposal.
The new campus will house the most advanced trauma centre in Ottawa. The main hospital building, including the emergency department and the inpatient and outpatient clinics, will sit atop the escarpment across from Dow's Lake. Additional clinic space, medical offices, research and education buildings and a parking garage will be located on the lower portion of the site, connected to nearby Dow's Lake Station. The project is estimated to cost $2.8 billion. Construction of the project will help drive the regional economy, creating an estimated 20,000 jobs along with research and training opportunities and health investments. Once open, it will offer world class health care in Eastern Ontario that will attract health care providers, researchers and students from around the world.
This item will rise to the City Council on Wednesday, May 12.
ARAC MEETING – MAY 6, 2021
The Agriculture & Rural Affairs Committee (ARAC) met on May 6 and ARAC approved modifications to make the Ottawa Rural Clean Water Program even more successful over the next five years.
The program provides cost-share grants to farmers and rural landowners for projects that protect surface and groundwater quality. With an annual budget of $200,000, applicants are eligible every year for grants of up to $15,000 for 18 different project types. Over the last five years, the program provided more than $627,000 to 234 projects. Landowners invested an additional $1.4 million into those projects.
Following a five-year review, the Committee approved changes to the program, adding wetland habitat restoration to the list of eligible projects. To promote certain priority project types, the Committee also approved modified criteria that would give precedence to specific erosion control projects. The grant structure for tile drain control projects would change to increase cost sharing, while grant amounts for chemical or fuel storage projects, nutrient management planning and precision farming projects, and work on septic system repair or replacement would increase. The City has been running the program since 2000, and in that time, it has delivered $2.1 million in grants to more than 1,300 projects. Landowners have contributed an extra $10.1 million towards those projects. Learn more about eligible projects and how to apply at ottawa.ca/cleanwater. Recommendations from this meeting will rise for final approval to the City Council meeting taking place on Wednesday, May 12.
The next regularly scheduled ARAC meeting is happening Thursday, June 3. The agenda will be posted on the City of Ottawa's website closer to the date.
CITY COUNCIL – UPCOMING MEETING
City Council's next meeting is happening this week on Wednesday, May 12. You can review the agenda here and listen live to the meeting via the City's YouTube channel.