acupuncture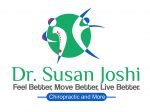 Short Business Description:
Hands on health care providing you with individualized care for pain relief, injury prevention, management of chronic conditions, sports performance enhancement and achieving optimal health and function.
Long Business Description:
Helping patients since 1996 and since 2001 at this location with one on one treatments.
Chiropractic treatments (diversified, flexion distraction, activator, drop)
Various soft tissue techniques
Functional Integrated Acupuncture & Dry Needling
Theralase Cold Laser
Kinesiotaping & Rocktaping
Custom foot orthotics
Ergonomic assessments
Exercise prescription
Cyto-Matrix supplements
Ice packs, cervical pillows, supports, etc.
Online booking available.