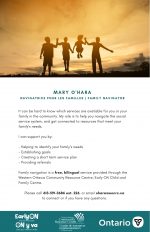 Short Business Description:
Family navigation | Navigation Familiale
Long Business Description:
Does your child or family need extra support right now? We're here to help! Get in contact with our family navigator to explore goals, create an action plan, and get connected to community resources.
Est-ce que votre enfant ou votre famille a besoin de plus d'appui maintenant ? Vous n'êtes pas seuls. Nous sommes ici pour vous appuyer ! Contactez notre navigatrice pour les familles pour explorer les buts, créer un plan d'action et accéder aux ressources dans la communauté qui correspondent à vos besoins.