The Olde Meeting House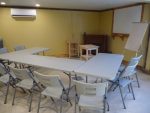 Business Name:
The Olde Meeting House
Short Business Description:
We are pleased to bring a new meeting and training facilities in the Ottawa Valley to your attention, The Olde Meeting House.
As a meeting house and training centre, it offers a warm and welcoming home-cottage atmosphere. It is conducive to information sharing and learning. Whether you need to hold
Workshops, training, information sessions or sales meetings, all can be managed for groups as few as 6, up to a maximum of 30 people. The "Olde Meeting House" offers a variety of venue options to address a variety of needs from idea sharing, workshops, lectures, wellness, board room meetings to family gatherings for special occasions.

Long Business Description:
Make It Yours
Whether it's a small group get-together off-site for generating ideas or the need to share an idea in a workshop setting, the Olde Meeting House is yours to use to your best advantage.
Customize in No Time.
Whether you want to do a 30-person presentation or a simply share an idea for discussion we can customize the Olde Meeting House to meet your needs within minutes. As people who have worked in many training and presentation venues over many years, Syd and Judy are very familiar with what people want to succeed in their presentations, workshops and idea sharing needs.
Focus on What You Do Best
When you don't have to worry about the niggly little things, then you can focus on what matters most…and that is your message! By allowing us to be your hosts, you can focus on what you do best!
Send Message to listing owner
Listing Title: The Olde Meeting House