Carp Ridge EcoWellness Centre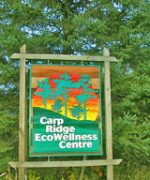 Business Name:
Carp Ridge EcoWellness Centre
Short Business Description:
Carp Ridge EcoWellness Centre is a place for healing, learning and enjoying nature through our natural health clinic, retreats, programs, children's camps and our new beautiful Forest Retreat Bed and Breakfast.
Long Business Description:
Our Natural Health Clinic includes naturopathic doctors, a chiropractor, an osteopath, Reiki practitioners, reflexology and aromatherapy. We treat most conditions, do preventative work and offer a variety of tests to assess your health.
The new Forest Retreat Bed and Breakfast is used for healing stays as well as tourists looking for relaxation. We receive rave reviews for our organic beds, cotton sheets and exquisitely delicious local and organic food. People often leave here feeling 10 years younger!
For people who enjoy learning we can offer a wide variety of programs and retreats that support a healthy life. We pride ourselves on being able to host small or large groups for day retreats, either guided or self directed.
Our children's nature programs include, summer, winter, March break, PA Day and ADHD camps; field trips and birthday parties.
The Ridge Nature Club is a new addition to our activities, allowing families and individuals to enjoy our trails, gardens and wilderness playground while receiving discounts on all our programs.
We host the charity Willow Community Circle, whose focus is to support local families and youth.
Send Message to listing owner
Listing Title: Carp Ridge EcoWellness Centre