Ottawa Speech Language Services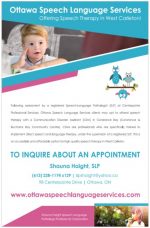 Business Name:
Ottawa Speech Language Services
Short Business Description:
Offering Speech Therapy in West Carleton!
Long Business Description:
Ottawa Speech Language Services in West Carleton can help with:
-Language Delays/Disorders
-Phonology/Speech Delays
-Preschool Language Delays
-Auditory Processing Disorders
-Oral Motor/Apraxia
-Developmental Disabilities
-Learning Disabilities
-Reading Disabilities
Following assessment by a registered Speech-Language Pathologist (SLP) at Centerpointe
Professionals services, Ottawa Speech Language Services clients may opt to attend speech
therapy with a Communication Disorder Assistant (CDA) in Constance Bay.
CDAs are professionals who are specifically trained to implement direct speech and language
therapy, under the supervision of a registered SLP.
This option brings an accessible and affordable option for high quality speech therapy to West
Carleton.
– Shauna Haight Speech Language Pathology Professional Corporation –
Send Message to listing owner
Listing Title: Ottawa Speech Language Services