Gambit Music Academy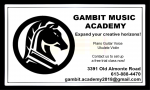 Business Name:
Gambit Music Academy
Long Business Description:
Jennifer at Gambit Music has been a working, professional musician and private instructor for over 20 years in Montreal, Kingston and now Ottawa! She has Royal Conservatory accreditation, a Bachelor's degree in Music Theory and Composition, and a Master's Degree in Musicology and experience teaching all sizes of classes from one on one to full lecture hall courses. Beyond her musicianship and experience is a genuine love for teaching students of all ages, skills and backgrounds. There is an art to teaching that Jennifer takes very seriously and always endeavors to adapt her lesson plans and goals to meet the needs and ambitions of each individual student.
Visit our website for more information, or give us a call now to book a free private lesson!
Send Message to listing owner
Listing Title: Gambit Music Academy